50 Free and Top Procurement Software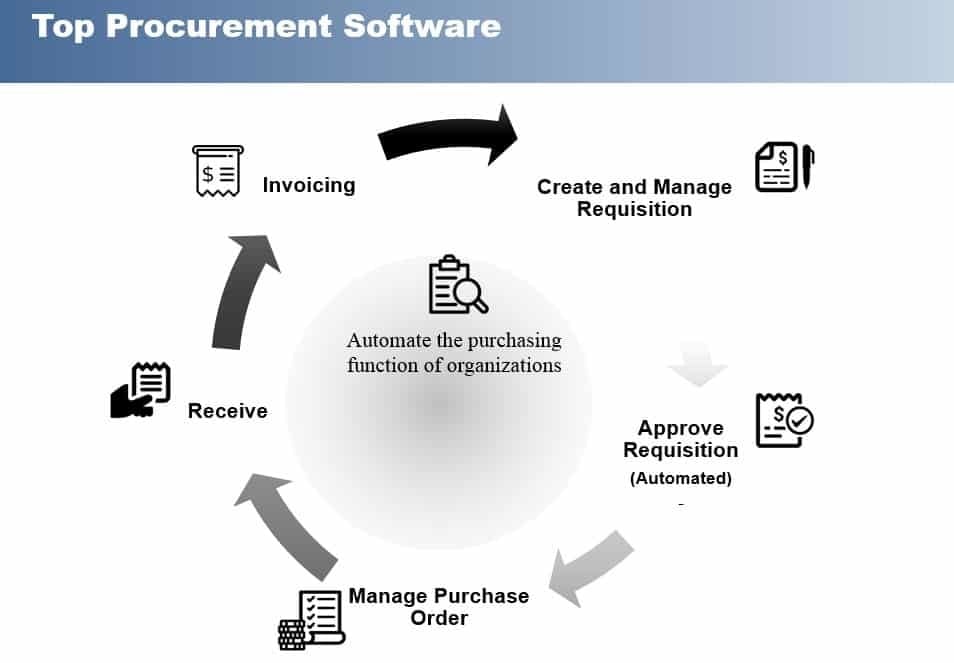 Increasingly, organizations are looking for ways to create smooth functioning and manage every aspect of their business well. Well managed procurement services are one of the most vital strategies a company is more focused on since the ability to purchase and maintain the inventory of certain materials determines whether the company operations will continue.
Before businesses acquire goods and services from external sources, they require doing proper planning according to the current demand for the end product.
An organization needs to plan the bidding and tendering process that includes the purchase of raw materials. It needs to determine the standards, and the specifications of the products do thorough supplier research and selection, negotiate the prices and finance, control inventory and disposals. Organization need procurement software needs to cut down on the costs of procurement and also alleviate any potential risks for it to survive and thrive.
Procurement Software helps to automate the purchasing function of organizations.
Procurement Software helps in the activities including raising and approving purchase orders, selecting and ordering the product or service, receiving and matching the invoice and order, and paying the bill is handled electronically, enabling the procurement department to see everything that is ordered, ensure that nothing can be ordered without correct approvals, and lets them get the best value by combining several orders.The use of procurement software include ease of administration and potential long-term cost savings
Examples of Free Procurement Software: SpendMap Free, SAP Ariba Start Sourcing are some of the best examples of Free Procurement Software.
Examples of Procurement Software: Ivalua, SAP Ariba Procure to Pay, JAGGAER Procure to Pay, Procurify, Bellwether, Fullstep Suite, Zycus Procure to Pay, Xeeva, SAP Procure to Pay, Coupa Procure to Pay, Basware Procure to Pay, Unleashed, Zycus eProcurement, Vroozi, GEP Procure to Pay, Precoro, Tradeshift, Bonfire, Proactis Procure to Pay, BravoAdvantage Procure-to-Pay, SellerCloud, Determine Procure to Pay, BuyerQuest, SynerTrade, Market Dojo, Expenzing Procure to Pay, Spendmap Procure to Pay, ProcurePort, SuperProcure, ProcureWare, ProcuMan, Comarch Procure to Pay, Rubberstamp, Oracle Procure to Pay, Eyvo, JetProcure, SourceSuite, Acumatica Purchasing, Claritum, Ariett Purchasing, Determine, Retailops, Basware, Tradogram, VENDX Suite, CF Source, GMDH Procurement, SutiProcure are some of the best examples of Procurement Software.
You may like to read:  How to Select the Best Procurement Software for Your Business and Top Contract Lifecycle Management Software
What are Procurement Software?
Procurement software also called e-procurement allows an organization to automate the purchasing functions of a company and maintaining the inventory of goods. It handles activities such as raising and approving purchase orders, selecting and ordering the product or service, receiving and matching the invoice and order, and paying the bill. It enables the procurement department to see everything that is requested, ensures that nothing can be ordered without certain approvals, and lets the company get the best value by combining multiple orders for the same type of good or even getting different suppliers to bid for the business.
A multinational or otherwise large organization will use a shared procurement system to take advantage of economies of scale to pull down the cost of purchases. While traditionally most e-procurement software systems had been designed for larger organizations, now there are also systems available for the SMB market including the Free-Procurement Project and an open source alternatives. Some of the benefits organizations get from using procurement software are easing of the administrative tasks and reducing the potential long-term cost.
When a business has a single interface for procurement related management information, it cuts down the time and effort required to monitor a company's' spending. The use of procurement software also allows procurement managers to control the vendors used by the entire company, so all employees take advantage of negotiated rates and better terms of service.
Procurement is a set of activities, measures, and tasks performed for the purpose of purchasing reproduction materials, machines, devices, accessories and tools in order to smoothly conduct the work process. It is a link between production processes and the market. In order to make the procurement profitable, optimal quantities and stocks must be taken into account.Procurement Software helps to automate the purchasing function of organizations. Procurement Software helps in the activities including raising and approving purchase orders, selecting and ordering the product or service, receiving and matching the invoice and order, and paying the bill is handled electronically, enabling the procurement department to see everything that is ordered, ensure that nothing can be ordered without correct approvals, and lets them get the best value by combining several orders.
Requisitions: Procurement software should help in the creation of a purchase order to ensure it's in line with items to be fulfilled by a vendor. It should verify a purchase order with line items to be completed by a vendor and enable automated Sending via Fax or Email.
Vendor Management: Procurement software should allow vendor management, computerised reminders to follow up with Vendors to Confirm Purchase orders or confirm recent cancellations. Help in maintaining a physical inventory of goods so that they are sufficient to prevent spot shortages. Procurement software should provide quick and seamless payments to vendors coordinating with deliveries, so that time and effort are saved. It should ensure that all the different transactions that take place within the organization can be accessed with greater detail and speed whenever the need arises.
Financial Settlement: Procurement software should help in the creation of financial and inventory related transactions as goods are physically received. It should execute financial and inventory-related transactions as materials arrive.
Document Management System: E-procurement should help to archive relevant documents.
Electronic Signature: Procurement software should provide the tools to sign documents online.
Reporting and Analysis: Procurement Software should help gather data and analyse trends to maximise or improve profitability.
Manage risks: Procurement software should give the user the facility to manage the risks in a better way and offer more significant benefits to the company. It can be easily fulfilled by gaining additional insight into the supplier's performance and ensuring supplier engagement which is most important in today's time.
Purchasing Automation: Procurement software assists in the purchasing process, reduce paperwork and can be customized to meet the particular needs of your industry and business face. It helps create an original purchase order based on need, inputted from appropriate personnel. The user can submit a pending purchase order to appropriate personnel for approval or rejection. It automates electronic purchase-order transmission and helps streamline administration and standardization across multiple platforms.
Top Free Procurement Software
SpendMap Free, SAP Ariba Start Sourcing are some of the Free Procurement Software.
1
SpendMap Free
SpendMap, develop e-procurement software systems to help organizations simplify their Purchasing processes and better control spending. SpendMap automates things like requisitions and approvals, purchase orders, expense reports, supplier invoice approval and inventory control. SpendMap's Free-Procurement Project brings the benefits of Purchase Order Software and e-Procurement to small businesses and small buying groups in larger organizations. SpendMap is modular and easily expandable, so you can automate just your Purchase Orders if that's all you need or you can add optional modules at any time to streamline more of your procurement process, from initial requisition all the way through to supplier invoice…
Overview
• Fixed Asset Management
• Automatic Email Reminders
• Accounts Payable
• Invoice Management
• Status Reporting
• Quotation Management
• Search Functionality
2
SAP Ariba Start Sourcing
Leading companies and analysts view strategic sourcing as a key to holding down costs and improving savings. And the SAP Ariba Start Sourcing solution, powered and supported by FreeMarkets, the online marketplace that started it all, is the most effective solution in the market for driving it. Leveraging FreeMarkets technology and services, SAP Ariba Start Sourcing allows companies to overcome the challenges of sourcing in volatile global markets. A unique software-as-a-service (SaaS) solution, SAP Ariba Start Sourcing gives small businesses and midsize companies access to enterprise-class technology they can use to structure and execute sourcing events online that deliver real,…
Overview
• Rapid, efficient communications
• More competitive bids
• Two-user capacity
• Handy dashboards and reports
• Up-to-date supplier information
• Easy supplier and catalog enablement
• Financial reporting
Top Procurement Software
Ivalua, SAP Ariba Procure to Pay, JAGGAER Procure to Pay, Procurify, Bellwether, Fullstep Suite, Zycus Procure to Pay, Xeeva, SAP Procure to Pay, Coupa Procure to Pay, Basware Procure to Pay, Unleashed, Zycus eProcurement, Vroozi, GEP Procure to Pay, Precoro, Tradeshift, Bonfire, Proactis Procure to Pay, BravoAdvantage Procure-to-Pay, SellerCloud, Determine Procure to Pay, BuyerQuest, SynerTrade, Market Dojo, Expenzing Procure to Pay, Spendmap Procure to Pay, ProcurePort, SuperProcure, ProcureWare, ProcuMan, Comarch Procure to Pay, Rubberstamp, Oracle Procure to Pay, Eyvo, JetProcure, SourceSuite, Acumatica Purchasing, Claritum, Ariett Purchasing, Determine, Retailops, Basware, Tradogram, VENDX Suite, CF Source, GMDH Procurement, SutiProcure are the Top Procurement Software.
Top Procurement Software
PAT Index™
1
Ivalua
Ivalua is an end-to-end software solution for top performing procurement teams. Ivalua is a global provider of spend management solutions and a recognized leader in procurement, sourcing and supplier risk management by top industry and technology analysts. Users will be able to manage contract commitments in one place and get reminders as critical dates approach. This includes Configurable contracts and hierarchical relationships in a single repository, Granular contract access by user profile and perimeter scoping (helps with SOX compliance), Any contract version can be made private (internal access) or external (supplier access), Contracts can be accessed by named users and…
Overview
Contract Management
Price List & Catalogs
Contract Authoring
Asset & Tooling
Item & Service MDM
Contact for pricing information.
2
SAP Ariba Procure to Pay
SAP Ariba Procure to pay is an easy-to-use, procure-to-pay software solution that sets procurement standards, and provides fast guided buying experience. Some of the leading features of SAP Ariba include guided buying, easy integration, more visibility and more control, lower costs and risks, global reach and more efficient collaboration. SAP Ariba is offered as a subscription-based service. There is nothing to install and all updates are automatic. SAP Ariba is user friendly, with a streamlined catalog maintenance and a configurable interface. SAP Ariba helps business become more agile by allowing better control of global spend with flexible management and visibility…
Overview
• Guided buying
• Easy integration
• More visibility, more control
• Lower costs and risks
• Global reach
• More efficient collaboration
3
JAGGAER Procure to Pay
Jagger is an SaaS based source to pay solution that provides unparalled , has a centralized Cloud repository and provides direct solutions like the supplier management, sourcing, eprocuurement, project management, supply chain, quality management, data intelligence and BYOD. Jaggaer provides indirect solutions like the spend analytics, sourcing, contract management, eprocurement, inventory control, accounts payable and savings management. With Jaggaer, implementing an integrated Source-to-Pay solution enables organizations to strategically manage the entire process in a consistent and efficient manner, leveraging a common data set and user experience across suppliers, goods and services, and internal buyers for a majority of the goods…
Overview
• Spend analysis & Sourcing & Intergrations
• Contract Management & Supplier Management and eProcurement & Inventory control
• Accounts payable & Savings management
• Education & Public sector and Automotive & Plant Engineering
• Manufacturing & Distribution
• Life sciences & Healthcare
• Retail & Consumer packaged goods
4
Procurify
http://procurify.com/demo?utm_campaign=predictive%20analytics%20Today&utm_source=predictive%20analytics%20Today&utm_medium=Referral
https://www.procurify.com/?utm_campaign=predictive%20analytics%20Today&utm_source=predictive%20analytics&utm_medium=Referral
Procurify is a spend management platform for medium-sized companies. It is beautifully designed to empower companies worldwide to develop a proactive spend culture. Procurify offers an agile requisition process that allows businesses to create online purchase order requests in seconds either from desktop or mobile. Procurify makes budgeting an easy process, by making visible the company spending and also enables access to insights to make better business decisions. It enables team needs to be met without having to go through the budget and cuts audit time by half. Procurify vendor management feature makes creating and sending purchase orders to vendors…
Overview
• Mobile procurement
• Real-time budgets
• Vendor management
• Quality control
• Three-way match
• Request Approve
• Receiving
• Spend Analytics
5
Bellwether
Bellwether is a purchasing and inventory software for controlling spend and can be hosted on cloud or premise. Bellwether is easy to implement and it eliminates out of control manual purchasing process and eliminates paper work for tracking and preparing reports. Bellwether centralizes purchasing and invoicing processes reducing costs and provides a clear picture of accruals. Bellwether makes purchasing process more efficient and reduces company supply cost and shortens the length of purchase supply. Bellwether assists companies define approval levels to reduce maverick purchasing, it also enhances transparency at all levels of corporate spending at every stage. Bellwether customizes workflows…
Overview
• Inventory management
• Self-services order status
• Invoice matching
• Mobile friendly
• Requisition and Approvals
• Purchasing and Receiving
6
Fullstep Suite
Fullstep Suite is the expert in Purchase Management Optimisation. Fullstep help companies to reduce costs swiftly and sustainably. Fullstep Suite's expert purchasing management consultants offers their users all their knowledge and experience acquired across multiple sectors, to help them become more competitive. Fullstep Suite's team of consultants will place itself at user's disposal to learn about their resources, processes, structure, priorities, market, and relationship with suppliers and others that are vital to the organization. Fullstep Suite offers an in-depth analysis and diagnosis of the situation, identifying possible purchasing improvements, corrections and needs. Finally, it will define a strategic plan in…
Overview
Procurement Consulting
Purchasing Platform
Outsourced Purchasing
Purchase Order Management
Expert Support
Contact for pricing information.
7
Zycus Procure to Pay
Zycus Procure to pay is a next generation procure to pay solution that specifically addresses first generation P2Padoption challenges. It acts as a GPS for P2P process. Zycus has robust modules and the procure-to-pay solution helps organizations make better and faser purchases. The first-generation challenges that are addresses include complicated requisition approval process making organizations purchase outside P2P systems, users struggling with difficult to use tools, difficulty to locate and order products and services needed and low adoption and compliance to implement P2P. Zycus guided buying innovation closes compliance blind spot for off-catalog requisitions which account for 30% of all…
Overview
• Catalog management
• Requisition management
• PO management
• E-invoice capture
• Matching workflow
• Payment discounting
8
Xeeva
Xeeva is an all-in-one solution which optimizes the user's supply chain management from invoices to strategic sourcing and procurement, where the innovative technology fueling Xeeva's procure-to-pay (P2P) software will do the heavy lifting and give the user value in all stages of "req to check" process. Xeeva offers solutions such as visibility results, sourcing results, procurement results and supplier results. Xeeva's experience spans across multiple industries and technologies, which results in a richer solution set for the user's business needs. Xeeva's users get to leverage Xeeva's AI-driven, full suite source-to-settle software to increase the users' overall operational efficiency. Xeeva's Visibility…
Overview
• Use Xeebot to pick suppliers, automate tasks, and find savings
• Track real-time spending and identify ways to improve
• Handle requests and invoices with secure, easy-to-use tools
• Delivers immediate insights into spend & procurement data
• Provides a goal-to-results sourcing technology
9
SAP Procure to Pay
SAP ERP Procure-to-Pay is software that helps you to maximize cost savings across procurement, manage your purchase orders more efficiently and find new ways to realize your full purchasing. SAP ERP is a suite of enterprise resource planning (ERP) solutions including supply chain management, product lifecycle management, human capital management, financial management, and customer relationship management (CRM). Procure to Pay in SAP ERP helps you to gain an edge, you need to accelerate and automate your procurement processes, proactively ensure compliance, and find new ways to cut costs. The key capabilities of Procure to Pay in SAP ERP is that…
Overview
• Sourcing and Contract Management
• Operational Procurement
• Inventory and Warehouse Management
• Invoice and Payables Management
• Globalization Capabilities
10
Coupa Procure to Pay
Coupa is a cloud-based procure to pay software which is pre-integrated to give you visibility and control over the entire procurement process. Coupa is an integrated cloud-based spend management solution that addresses all aspects of your business where employees spend money and its major features and capabilities include spend management, budgeting, spend analysis, contracts, supplier networks, catalogs, and dashboards among others. Coupa allows customers to instantly roll out and implement solutions so they can quickly realize significant savings. Coupa helps you drive your business to success while keeping your operational and other costs within your allotted budget. Coupa helps to…
Overview
• Helps in Procurement
• Improves Invoicing
• Cut Expenses
• Improves Sourcing
• Helps in Inventory Management
• Contract Lifecycle Management
• Helps in Budgeting Analytics
• Open Business Network
• Supplier Information Management
• Acts as a Storefront
11
Basware Procure to Pay
Basware is a provider of networked purchase-to-pay solutions, e-invoicing, and financing services for businesses. Basware offers scale and reach for organizations of all sizes, enabling them to grow their business and unlock value across their operations by simplifying and streamlining financial processes. By using Basware as a financial solution, small and large companies across the globe get to achieve significant cost savings, more flexible payment terms, greater efficiency and closer relationships with their suppliers. Basware simplifys operations with a seamless purchase-to-pay solution. Basware helps you to stay competitive by automating your purchase-to-pay process to make smarter buying decisions, create financial…
Overview
• Helps in Analytics
• Creates Paperless invoicing
• Provides an AP automation
• Provides Financial services
• Creates E-invoicing
• Creates E-procurement
• Helps inn Travel and expense management
12
Unleashed
Unleashed is an inventory management software solution that makes inventory management easier and more efficient. Inventory purchasing management also makes purchasing easy by creating purchase orders, record stock coming in and manage supplier information. Unleashed enables creation of purchase orders based on minimum reorder levels to ensure businesses do not exceed stock levels. It includes freight costs, custom charges and any other costs incurred during ordering. With unleashed businesses can manage variety of stock returns easily both multiple and single product items. Receipt part purchase maintains visibility by tracking delivery and receipts of shipment from suppliers. Unleashed keeps track of…
Overview
• Mobile sales app
• Real-time inventory control and reporting
• Product lifecyle traceability with serial and batch
• Perfect for manufacturers
• Small - $85
• Medium - $165
• Large - $329
• Large plus - $579
13
Zycus eProcurement
The Zycus e-Procurement software helps the user avoid difficulty in selecting the right category or supplier for making the business purchase and ending up spending a disproportionate amount of time on non-value added activities where the user experience is driven to much higher levels of end-user adoption and compliance with Zycus e-Procurement innovation - Guided Buying. The Zycus e-Procurement software is comprised of features like Catalog Management, Requisitions & Approvals, Purchase Orders and Supplier Portal. Zycus eProcurement solution can integrate seamlessly with the user's ERPs to offer the user a combined view of information and a cohesive central platform for…
Overview
• Suppliers can publish regional, buyer-specific or global catalogs and punch outs through Zycus' supplier portal
• Drive requisitioners to preferred buy/pay channels
• Create touchless POS from requisitions for catalog/punch out items/services
14
Vroozi
Vroozi is an eProcurement software that simplifies purchasing. It makes business purchasing accessible, easy, and insightful. Vroozi customer searching and shopping experience has many features some of which include comparison, filters, categories, lists, reviews. Vroozi understands comprehensive needs of a procurement department and provides exactly what is required to operate to maximize spend and minimize costs. With Vroozi, businesses are able to understand wide variety of industry and features that are equipped to fit any specific businesses. It centralizes spends with approved vendors, by driving contract realization with the central spend analysis. Vroozi handles procurement for all sizes of businesses…
Overview
• Shop from any device
• Google-like search for procuring anything
• Spend analytics
• Drag and drop catalog approvals
• Supplier portal
• Product and service reviews
15
GEP Procure to Pay
GEP is a procure -to- pay software that provides solutions to the procurement, supply chain management, consulting and outsourcing. GEP end-to-end procure-to-pay outsourcing services help you drive greater efficiency across all your P2P processes – from the point of order to the point of order fulfillment and payment. The GEP software leverage cutting-edge transaction processing capabilities, state-of-the-art procurement software, and experience of optimizing procurement operations. GEP is the global leader in unified procurement and supply chain solutions like procurement consulting, procurement outsourcing and procurement software. Procurement consulting involves procurement transformation, strategic sourcing, strategic cost management, opportunity assessment, low cost country…
Overview
• Procurement BPO & Procure-to-pay
• Category management & Spend analysis
• Supply market intelligence & Supply risk management.
• Accounts payable &Tall-spend management
• Procurement support services & Supply chain services
• Cost recovery & invoice auditing
• Procurement transformation & Source-to-contract
• Strategic sourcing & Strategic cost management
• Opportunity assessment & Low cost country sourcing
• Supply chain consulting & M & A services
16
Precoro
Precoro is a cloud-based spend management solution for small and midsize businesses that helps automate procurement processes, simplify procurement processes and greatly improve the visibility of your spend. Precoro automates multiple procurement workflows such as purchase request, approval, purchase order, and more, effectively reducing the workload of your employees, purchasing manager, as well as the procurement and financial department. Precoro accelerates the whole expense management journey and facilitates the entire purchasing process. The software comes with all the tools to automate purchasing management, such as requisition, order management, contract management, and budget control among others. The platform also speeds up…
Overview
• Purchase order creation and Delivery
• Enhances billing
• Spend data analysis
• Approval workflow
• Real-time budgeting
• Vendor management
• Catalog management
• Simple pricing: $15/user per month
• Enterprise – Custom Enterprise Pricing contact Precoro
17
Tradeshift
Tradeshift is a flexible business commerce platform used by agile companies to buy and sell more effectively. Tradeshift procure-to-pay helps companies tailor solutions for sellers and SMBs that quickly adopt to their changing needs. Tradeshift stands out as a platform that helps business succeed be it a buyer or seller or both. Tradeshift P2P is very flexible. It brings all spend under management and gives a total global compliance and offers a superior supplier onboarding experience. The Tradeshift P2P takes a modern approach that simplifies day-to-day processes with the unique buy and spend products. Tradeshift buy helps in procuring things…
Overview
• Marketplace management
• Marketplace search
• Services procurement
• Virtual cards
• Electronic invoicing
• Document fire wall
• Legal country compliance
• Basic - $10/user/month
• Pro - $18/user/month
• Business - $21/user/month
• Entreprise – call for pricing
18
Bonfire
Bonfire is a collaborative and powerful toolkit for modern sourcing teams which goes beyond the basic automation of eProcurement suites and older bidding tools. Bonfire offers eProcurement solutions for business and enterprise with features such as Project launch. Bonfire for business and enterprise turns the user's buyers into a powerful and efficient modern sourcing team by supercharging collaboration and strategic decision-making. . Bonfire for business an enterprise provides Richer supplier data, Instant team involvement, Deeper optimization, Focus on strategic goals, 360° balanced evaluations and Built-in coaching & improvement. Bonfire for public sector goes beyond the basics of older bidding tools…
Overview
• Turns your buyers into a powerful and efficient modern sourcing team by supercharging collaboration and strategic decision-making.
• Go beyond the basics of older bidding tools and reap the rewards: air-tight compliance, powerful evaluations, and immediate uptick in your clients' happiness.
19
Proactis Procure to Pay
Proactis Procure to Pay is an eprocurement software application that acts as a single repository of information capture of all spend activity. Proactis can be deployed on cloud, on-premise or hosted. Proactis helps to incase savings, reduce risk and improve efficiency by increasing organization's level of spend under management. It helps to tackle immediate objectives and long-term goals. Proactis helps in specific tasks including to gain clear picture of organization spending, improve quality of supplier records, get a handle of organization existing supplier contracts and help in running series online auctions in selected categories. With Proactis organizations can increase procurement…
Overview
• Supplier management
• Contract management
• Content management
• Spend analysis
• Supplier network
• Proactis sourcing
20
BravoAdvantage Procure-to-Pay
BravoAdvantage procure-to-pay is a software solution that helps companies simplify their purchase and payment for goods and services. This results in streamlining paperless processes which improve organizational efficiency. Its main features include spend analysis, sourcing and sourcing plus, contract lifecycle management, supplier value management, procurement, invoicing and savings management. BravoAdvantage P2P is fully automated as part of a full source-to-pay (S2P) process integration that enables upstream strategic procurement and downstream transactional and operational procurement on a single platform. BravoAdvantage P2P focuses on procurement which automates and streamlines purchasing process from requisition to receiving with ease of online shopping, and invoicing…
Overview
• Spend analysis
• Sourcing/sourcing plus
• Contract lifecycle management
• Supplier value management
• Saving management
• Procurement management
• BravoAdvantage invoicing
21
SellerCloud
SellerCloud is an ecommerce software that helps retail businesses meet the challenge of multichannel selling through synchronization, simplification, and automation. Sellercloud has unique features which include catalog, orders, purchasing, multichannel, shipping, reports, accounting and web service API it also has multiple software features that are wrapped in one bundle. It integrates with more sales channels compared to other market providers without charging per channel fees and company maintains the broadest exposure to virtually all leading marketplaces. Sellercloud encompasses every aspect of business merchandise flow from when the items are purchased until when they are purchased to when they are accepted…
Overview
• Catalog- single entry for product specs
• Automate and simplify
• Purchase order management
• More channels, More sales
• End-to-end automation
• Shipping management
• Sales reporting
• Accounting QuickBooks
22
Determine Procure to Pay
Determine is a cloud-based source-to-pay suite that meets the various needs of businesses from different industries in supplier management, invoicing, procurement and analytics. Determine provides powerful solutions that can be utilized either as standalone solutions or when layered and combined. Determine delivers total operational agility that is available anytime, anywhere, and on any device. Determines software's core BPM engine is the most powerful tool that can turn business process complexity into a simple competitive advantage. Determine also offers an enterprise contract lifecycle management (ECLM) solution that provides a holistic contract management strategy that works across the enterprise, including procurement, legal,…
Overview
• Runs on Amazon
• Makes the process Secure
• Increases Collaboration
• Ensures Compliance
• Increases Visibility
• Improves Accessibility
• Ease of use
• Web Services
• It is Scalable
23
BuyerQuest
BuyerQuest is a Procure-to-Pay ("P2P") solution that delivers a world class experience to corporate and institutional clients around the world. BuyerQuest is an enterprise Procure-to-Pay platform that delivers an eCommerce-like shopping experience for the world's largest companies. BuyerQuest evolutionary software streamlines the buying process to increase user adoption, realized savings, contract compliance, and invoice efficiencies. BuyerQuest customers have the transparency, deep insights, and advanced intelligence capabilities to focus more on their jobs, and less on paperwork. Global organizations use BuyerQuest to transform and manage their enterprises. Buyer Quest offers three core solutions that offer the power and agility you need…
Overview
• Used in Storefront
• Helps in Requisition
• Used to Order
• Enables Payables
• Acts as a procurement Platform
• Manages Suppliers
• Creates Analytics
• Used to Quote
• Manages Services
24
SynerTrade
SynerTrade Accelerate is a cloud-based platform designed to cover the entire purchase process and address the specific challenges and needs of any organization or business. It is a flexible and customizable platform that is focused on ergonomics and ease-of-use that ensures rapid user adoption and greater satisfaction in the process. SynerTrade Accelerate provides a host of elaborate global and local procurement strategies catered to the different procurement needs of a business or organization. Its dedicated web solutions help procurement executives manage the full source to contract cycle and help them achieve more savings while working faster and in a more…
Overview
• Inventory management
• Supplier database
• Supplier assessment
• Supplier development and measures
• Quality management
• Management information system
• Project management
• Artwork packaging and design
25
Market Dojo
Market Dojo software solution helps procurement specialists run reverse auctions, weighted RFQs and RFX's with public sector functionality. It offers affordable, on-demand strategic sourcing tools and it helps procurement professionals collect information from and negotiate with suppliers online. Users can create RFQ events, source prices from their market, create a centralized place to manage, store and track all RFQ activities. Market Dojo software solution allows users to design their questionnaires and they can score them or weight them to their choosing and take them forward to a weighted RFQ or auction. This flexibility lets companies drive the most complex sourcing…
Overview
• Integrated questionnaires
• Request for quotation capability
• Qualification bids and auction
• Weighted RFQS and auctions
• Public sector functionality
• Innovation portal
• Quick Quotes - £50/per user/month
• On Demand eSourcing - £500/per user/month
• Enterprise – Contact the company for a quote
26
Expenzing Procure to Pay
Expenzing P2P is a software that manages and regulates vendor spend and helps businesses effectively manage their purchases. Expenzing is good for procurement processes, tight controls and automation. It brings together in three cloud based products for vendor spend optimization enhancing the procure to pay processes. Expenzing procurement manager offers systematic record of vendors or procurers and procured items. With systematic workflows and systematic MIS. Expenzing Invoice manager brings tight control to the invoice authorization process with automated checks from purchase order to goods received note to invoice. Invoices are authorized only quality, rate and terms are as per the…
Overview
• Vendor spend
• Employee expenses
• Travel expense management
27
Spendmap Procure to Pay
Spendmap Procure to Pay is a cost-effective software system for companies that need to automate and streamline their procurement processes. Some important capabilities of Spendmap P2P include requisition, RFQ, purchase, supplier integration, receiving, inventory, assets and invoice approval. Spendmap P2P is available on both in the cloud Saas version for customers who prefer to purchase their system to run in the cloud, this does not need hardware, software installation and has affordable monthly subscription. The traditional on-premise/installed P2P software systems that is 100% browser based which is easy to use and easy to deploy. Spendmap P2P offers a robust and…
Overview
• Purchase orders
• Requisitions and approvals
• Invoice approvals
• Request for quotation
• Receiving goods and services
28
ProcurePort
ProcurePort is an eProcurement solution that delivers services on demand via cloud with leading technology in reverse auction, spend analysis and contract management. It provides a robust e-sourcing tool kit for organizations of any size with easy to use and affordable software accompanied with consulting services to enable procurement excellence. ProcurePort cuts purchasing costs and streamlines bid collection process using the cloud hosted solution to conduct reverse, forward Japanese, Dutch and other custom formats auctions which helps organizations to capture savings provided by these unique methods. It can be used as a standalone solution that seamlessly integrates with existing ERP…
Overview
• Spend analysis
• Reverse auction
• Contract management
• RFI-RFP-RFQ
• E-sourcing technology
29
SuperProcure
SuperProcure is a cloud-based logistics management solution designed to help shippers reduce logistics spend, manage all dispatches and track their performance in real time. The cloud-based logistics management software help manufacturers to reduce logistics spend, manage all vendors and track their performance. SuperProcure is both flexible and easy to use, and it can also be custom tailored to meet industry-specific demands. SuperProcure Logistics management software allows companies to manage multiple dispatches through a single platform. And they can get accurate pricing from their vendors as they compete with each other. Users can also manage vendor accounting, billing, and compliances under…
Overview
• Order management
• Purchasing order
• Shipping management
• Container tracking
30
ProcureWare
ProcureWare is an integrated procurement system for supplier management, sourcing, and contract management. The system enables organizations to drive process efficiency and cost savings throughout the procurement lifecycle. It centralizes procurement data for informed decision making and drive consistent adoption of procurement best practices across the organization. ProcureWare provides a centralized location where all stakeholders can collaboratively view important supplier information, participate in sourcing decisions, and manage supplier engagements. ProcureWare's contract management capabilities support ongoing management of supplier engagements, including centralized access to contract documents, modifications, and contract milestones. With integrated contract management tools, users can view of all vendor…
Overview
• Auction Management
• Contract Management
• Global Sourcing Management
• Rfx Management
• Self Service Portal
• Sourcing Management
• Supplier Risk Management
• Supplier Web Portal
• Template Management
31
ProcuMan
ProcuMan provides fully customizable software to support your specific procurement process. ProcuMan provides budgeting, purchase requests, approvals, document management and asset management features. Suppliers can submit Prequalification Questionaires, Product Catalogs, Invoices, Respond to Claims and maintain contact information. Portal lists all open e-tenders and allows quote submissions online. Online e-tendering for supplier quotes. Email requests to selected suppliers who can reply online. Attach request documents and define deadline for submitting quotes. Do direct comparison between bids and select the winner. With a well-established open source platform ProcuMan Software has been able to provide customers the exact match for their needs,…
Overview
• Supplier and Contract Management
• Product Catalog
• RFx Requests
• Purchase Requisitions
• Received Invoices
• Goods Receipts and Stock Withdrawals
• Cost Centers and Budget
•Supplier Portal
• Auction Management
• Bronze Level - $99 / month
• Silver Level - $299 / month
• Gold Level - $699 / month
32
Comarch Procure to Pay
Comarch procure to pay is a software that combines e-sourcing, e-procurement, e-invoicing and accounts payable automation capabilities into a single integrated suit. Cormach P2P unifies and automates order creation, delivery registration, the circulation and approval of invoices. Comarch P2P enables implementation of procedures for purchasing hence increasing expenditure control and simplifies the approval process. Important features of Comarch P2P include e-sourcing for purchase event creation and provides for collaboration between internal stakeholders and suppliers. It helps companies to make transparent decision, conclude on best available contracts and streamline tendering process. Comarch P2P supplier information management enables companies perform various tasks…
Overview
• Supplier information management
• Contract management
• Electronic workflows
• Spend analysis
• Supplier portal
• Integration with external systems
• E-archive for all P2P documents
33
Rubberstamp
Rubberstamp is a purchase order solution that helps companies to manage sped and reduce wastage. Rubberstamp helps to protect budgets and gives owners control. It is simple to use suitable for even technophobes, it is easy to navigate as it acts as a 'follow you' nose system. Rubberstamp streamlines purchasing process by recording discussions from request to pay. Rubberstamp simplifies workflow process and saves team a lot of time that would otherwise be wasted it also frees up time for staff to be able to get approvals for the resources they need faster than was possible. Rubberstamp has an easy…
Overview
• Same day implementation
• Intuitive
• 1 click approval
• 24h support
• Concierge services
• Customizable pdf
• Tailored reports
• Approval rules
34
Oracle Procure to Pay
Oracle Purchasing is cloud – based software that enables you to free up time to find savings opportunities by automating routine transactions. Oracle helps to enforce negotiated pricing with approved suppliers. Oracle also automates invoice validation via full integration with accounts payable. Oracle Purchasing Cloud provides an overview of all deliverables and their status, enabling you to take action and prioritize your work. Oracle cloud helps to streamline the procure-to-pay process. Oracle cloud helps to easily manage workload and review all open requisitions, purchase orders, and agreements. With Oracle, teams can collaborate and edit documents, such as purchase orders, using…
Overview
• Cross-channel customer interaction history and custom policy automation tool.
• Customizable and pre-built reports and dashboards.
• Email support, live chat, and virtual assistants and Face book experience builder.
• Actionable insight reports and Add-ins and custom code compatible.
• Case management and guided resolution.
• Complete customer profiles and Compliance management.
• Knowledgebase creation and management.
• Start for free
• From $90/seat - Standalone Chat Dynamic Agent Desktop
• From $110/seat - Standard Dynamic Agent Desktop
• From $140/seat - Enterprise Dynamic Agent Desktop
• From $250/seat - Enterprise Contact Center Dynamic Agent Desktop
35
Eyvo
Eyvo is a fully integrated cloud based Saas eProcuement system used to assist all eSourcing and supply chain activities. Evyo aims at improving corporate workflow and provides organizations with an unprecedented level of financial control over their operations. Envyo can be used by small and large private firms, Governments and NGOs. Eyvo eProcurement system enables for streamlining of every detail of the purchasing process from requisition to fulfillment. Users make requisitions by simply completing request entry screens which is routed for approval by line managers and other relevant individuals. After adequate approval, the requisition is issued to the buyer. Eyvo…
Overview
• EProcurement management
• Employee expenses
• Vendor risk management
• RFQ/RFP/RFI management
• Contract management
• Asset management
• Inventory management
• Small business edition - $39/user/month
• Enterprise edition - $49/user/month
• Custom edition -$69/user/month
36
JetProcure
Jetprocure is a cloud based procurements application that manages purchasing for businesses. It streamlines business purchasing processes to track and manage every step of the procurement process including requisition, purchase orders, received good and vendor invoices. Jetprocure eliminates paper work hence reducing errors using the easy cloud based paperless system. The system allows for scanning and attaching documents and storing them where they belong, it maintains the record of full activity related to purchasing. Jetprocure system enhances transparency by automatically tracking who is responsible for every step of the purchasing process, it sets up proper approval procedures to eliminate unauthorized…
Overview
• Requisition purchasing
• Product management
• Vendor management
• Accounts payable
• Budget management
• Cloud infrastructure
• Standard user -- $5/user/month
• Power user - $20/user/month
37
SourceSuite
Sourcesuite is a cloud based procurement solution that makes management of the purchasing process with Saas procurement easy. Sourcesuite provides a wide range of robust features that configure to purchasing, each feature helps in creating a more efficient procurement process for the organization. Public and private entities can leverage the features of Sourcesuite to ensure compliance, optimize efficiency, improve transparency and achieve cost savings. Sourcesuite eliminates many manual steps from purchasing procedures and bidding process ranging from supplier management, document distribution, integrating the bid process to an ERP or financial. Challenges solved by Sourcesuite include supplier management, document distribution, audit…
Overview
• RFP and Bid Notification Management
• Solicitation Management
• Document Management
• Collaborative Approval workflows
• Supplier Qualification
• Supplier Rotation
• Bid Evaluation
38
Acumatica Purchasing
Acumatica is a comprehensive cloud based ERP system that offers a variety of tools and features for businesses that cater to the needs of different industries. Acumatica is an all in one package which can automate your business operations and improve its flow. Acumatica automatically generates purchase orders based on the inventory stock level and the inventory replenishment algorithms. Acumatica creates different approval rules based on the type of order, vendor information, order amount, and other order specific information. Acumatica tracks when purchase orders are received. Acumatica automatically creates accounts payable vouchers when goods are received for complete, partial, or…
Overview
• Helps in Drop Shipments
• Landed Cost Functionality
• Vendor Selection and Performance Analysis
• Reporting and Drill Down
• Provides an Audit Trail
• Simplified item tracking
• Automatic payment vouchers
39
Claritum
Claritum is cloud spend management platform that enables businesses and service providers to gain spend visibility and control of every transaction. Claritum's cloud based spend management platform helps companies streamline sourcing, procurement and invoicing of complex expenditure. Claritum helps to gain visibility & control of your hard to manage expenditure. Claritum specializes in streamlining hard to manage 'tail spend' categories such as marketing services, print & packaging, gifts & premiums, uniforms & apparel, office supplies and other low order value / high frequency products and services. Claritum products include Sourcing, Supplier Management, Catalog Management, Procurement, Invoicing, Reporting, Internationalization and Access…
Overview
• Custom & Catalog Pricing
• Intuitive catalogs for online shopping
• Expert Service Desk
• Automate source-to-settle processes
• Lots of Powerful Data
• Localized for Global Commerce
• Plans starting from:$800.00/month
40
Ariett Purchasing
Ariett Purchasing is a cloud solution for midmarket business spending that transforms accounts payable to optimize spending with a unified purchase to payment platform for every requisition, purchase order, contract, AP invoice, Expense Report and Payment. Ariett's automated workflows make it easy for your team to collaborate on price quotes, specifications, contracts and approval. Ariett helps employees to buy better with purchasing pre-approval and self-service tools. Ariett streamlines the entire purchase order management process for employees with flexible requisition approval workflows, vendor catalogs, re-occurring templates, and online shopping with cXML Supplier Punchout. Ariett creates, approves and automatically delivers purchase orders…
Overview
• Approval workflow
• Budget checking
• Reporting & analytics
• Travel expense
• Requisition approval and spend management with ReqNet
• Shopping online
• Receive and invoice matching
• Contract pricing
• Purchase order
• Payment and Receipts
41
Determine
Determine Cloud Platform provides procurement, legal and finance professionals' analytics of their supplier, contract and financial performance. Determine software has an ability to support complex, global e-procurement configurations (including multi-ERP integration, cross-border, accounting and related scenarios). Deterrrmine technologies empower customers to drive new revenue, identify savings, improve compliance and mitigate risk. The Determine Cloud Platform seamlessly integrates with major ERP or third-party systems such as SAP, Oracle, Sage, QAD and Microsoft. Determines' Google-like internal/external catalog search experience and easy-as-Amazon shopping with easy CART keeps everyone on-contract. Determines' built-in supplier collaboration tools allow them to maintain real-time catalog content updating. Getting…
Overview
• Shopping Cart and Off-Catalog Management
• Requisition Management and Multi-Catalog Versioning
• Tiered Pricing and Amazon Integration
• Item Attribute Management and Classification Mapping
• Requisition to Quote and Award Process
• Quotation Collaboration and Quote to PO and Automatic Requisition to PO Creation
• Purchase Order Creation Assistance and Blanket PO Processing
• PO Modification Management and Purchasing Dashboard
• Blanket Contracts & Contract Expiry
• Recurring Contract Management and Time-Sheet Submission & Approval
42
Retailops
RetailOps is a Purchase Order and Vendor Management tool which allows the user to make better decisions and forge great relationships with the user's dropship and Just-in-Time vendors. RetailOps offers products such as Warehouse & Inventory Management (WMS) with features like Drop Shipper Support, Just-In-Time Fulfillment (JIT) Support, Automated Vendor Inventory Sync, Multi-Warehouse Awareness & Support, Bin/Location Look-Up, Shipment/Lot/Product Barcoding, Shipment/Lot/Product Receiving, and Inventory Search. Purchase Order and Vendor Management tool is the remedy for all buying problems. The innovative tool allows you to make better decisions and forge great relationships with your dropship and Just-in-Time vendors. Quickly add vendors,…
Overview
• Offers accurate and detailed sales analysis
• Fully-automated submission of vendor POs
• Keeps all your vendor contacts, terms, addresses, and PO history in one place
• Reduce miss-orders by transmitting Dropship
• Augment any SKU with vendor inventory data
43
Basware
Basware simplifies operations with a seamless purchase-to-pay solution and lets the user join the largest open business network and leverage actionable analytics to create efficiencies, improve forecasting and grow the user's business. Basware offers solutions such as Purchase to Pay, Network Services: Sending, Network Services: Receiving and Financing Services. Basware simplifies and speeds-up paying and getting paid using end-to-end source-to-pay solutions and services, remove the need for paper invoicing with e-invoicing and help streamline the procurement process. Basware lets the user get cost savings of 60-80% using automated e-invoicing compared to conventional paper invoice processing. Basware lets the user deliver…
Overview
• Speed-up invoice processing, increase productivity and get early payment discounts.
• Create a more compliant P2P process and reduce risk.
• Reduce costly finance operations
• Transform your business by saving time and freeing up teams to add more value to your operations
• Choose a system that works with your existing ERP, that's scalable and easy to get up and running without large-scale IT projects.
44
Tradogram
Tradogram is a cloud-based and secure procurement management solution designed to help and empower buyers and decision makers to become fully in control with their procurement processes. The software allows users to manage suppliers, control costs and maximize their expenses efficiently. Tradogram allows its users to connect with their suppliers and reduce costs while getting all the raw materials, supplies and any other products or services. Tradogram is the ideal procurement management platform business in healthcare, education, construction and other service industries, enabling its user to build customized requisitions. The software lets companies procure materials straight from their items database…
Overview
• Purchase Order Management
• Order Requisitions
• Approval Routing
• Budget Tracking
• Project Management
• Contract Management
• Custom Reporting
• Customization Options
• Enable/Disable Any Feature
• Free Basic - $0/month
• Premium - $10/per user/ month billed annually
• Enterprise – Contact the company for a quote
45
VENDX Suite
The VENDX Suite consists of modules that automate several procurement functions, and they are developed in line with customer requirements. It is a valuable stand-alone tool, and users can smoothly integrate it with their existing software environment. Companies can be up and run with Vendx suite almost immediately since it doesn't require implementation time and very minimal training for the user. To use VENDX software, the company suppliers are just required to input an email id, and they can start responding on Vendx from day one. The software solution fits into company's procurement organization. The tool is easy to prioritize…
Overview
• Transaction Engine
• Decision Authorization Engine
• Procurement Intelligence Engine
• Auction Engine
• Procurement Spend Engine
• Purchase Requisition Engine
• Audit Engine
• Financials Module
46
CF Source
CF Source is a one-stop project management solution for all of the user's procurement needs, providing a simple way to implement, collaborate on and standardize eSourcing processes across the user's business. CF Source offers features such as project management, task organization, comprehensive reporting, dashboards, Gantt charts and financial tracking. CF Source project management allows the user to easily run a sourcing project from start to completion, storing all project information in an easily accessible location the user can track each stage of the project and keep those involved updated and where the user can also monitor project benefits, such as…
Overview
• Run a request for information or negotiate a new contract
• Tactical, smart and super quick Lite-Sourcing
• Developed auction technologies
• Track your spend and savings against your budget
47
GMDH Procurement
GMDH Procurement automatically generates the replenishment suggestions and creates the Order plan. The software calculates and provides your purchasing systems (e.g. MRP systems) with optimized order proposals. A reorder point, a min level and a max level are also available for compatibility with MRP systems. GMDH Procurement Software highlights any issues with short or excess inventory, and then provides recommendations to optimize your inventory. The projected inventory level can also highlight exceptions such as shortfall, potential stock outs and excess stock. GMDH prevents situations of short or excess inventory. Using inventory optimization helps you to target service levels, reduce inventory,…
Overview
• Order Planning
• Inventory Optimization
• Accurate Demand Forecast
• Stockout / Overstock Alerts
• Projected Inventory Levels
• Fast and intuitive user interface
• Statistical Forecast
• Demand Planning - contact for pricing
• Demand & Inventory Planning - contact for pricing
48
SutiProcure
SutiProcure streamlines requisitions, sourcing, purchase orders, inventory management, invoicing, and payments and lets you build excellent relationships with your suppliers. This online purchasing software gives you a quick ROI by helping you efficiently manage your day-to-day purchasing and gain control over your spending. Gain the visibility and control you need on procure-to-pay processes with SutiProcure. From requisition to approval, automate every procedure and achieve greater operational efficiency with our procurement solution. The applications are designed to suit the needs of companies of all sizes - from small businesses to large global enterprises. We are proud of having one of the…
Overview
• Drag & drop functionality and rule-based workflow
• Hierarchy-based access permission
• Collaborative supplier portal
• Centralized purchasing system
• Automated notifications
• Vendor scorecard
• Reverse Auction
• Payment Management
• Order acknowledgement
• Professional - $100 / month per user
• Premium - $200 / month per user
You may like to read:  How to Select the Best Procurement Software for Your Business and Top Contract Lifecycle Management Software