Top 35 Extract, Transform, and Load, ETL Software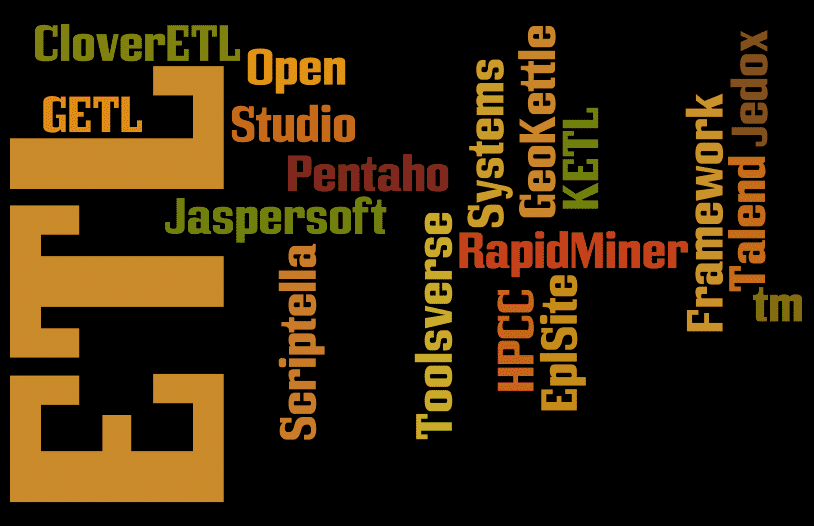 Top 35 Extract, Transform, and Load, ETL Software : Extract, transform, and load (ETL) refers to the process of extracting data from outside sources, transforms it to fit operational needs, loads it into the end target database, more specifically, operational data store, data mart, or data warehouse. ETL systems are commonly used to integrate data from multiple applications, typically developed and supported by different vendors or hosted on separate computer hardware. The first part of an ETL process involves extracting the data from the source systems. The transform stage applies a series of rules or functions to the extracted data from the source to derive the data for loading into the end target. The load phase loads the data into the end target, usually the data warehouse (DW) and this process vary depending on the requirements of the organization.
Top Free Extract, Transform, and Load, ETL Software : Talend Open Studio, GeoKettle ETL, Dataiku Data Science Studio, Jaspersoft ETL, HPCC Systems, Jedox, Pentaho ETL, No frills transformation, EplSite ETL, GETL ETL, Scriptella, KETL(tm), Apatar ETL, RapidMiner, Anatella, Apache Falcon, Apache Crunch, Cascading, and Apache Oozie are some of the top free Top Free Extract, transform, and load,ETL Software in no particular order.
Top Extract, Transform, and Load, ETL Software : IBM InfoSphere DataStage, Microsoft SSIS, Adeptia ETL suite, Informatica Powercenter, Pervasive Data Integrator, Talend Intergation Suite, CloverETL, Petntaho Kettle Enterprise, Oracle Data Integrator Enterprise Edition, SAP Data Services, SAS Data Management, Elixir Data ETL, iWay DataMigrator, Sagent Data Flow, OpenText Integration Center, Syncsort DMX, Toolsverse ETL Framework  in no particular order.
Top Free Extract, transform, and load,ETL Software: Trending
Top Free Extract, transform, and load,ETL Software
1
Talend Open Studio is a versatile set of open source products for developing, testing, deploying and administrating data management and application integration projects. Talend delivers a platform that makes data management and application integration easier by providing a unified environment for managing the entire lifecycle across enterprise boundaries. For ETL projects, Talend Open Studio for Data Integration delivers a rich feature set including a graphical integrated development environment with an intuitive Eclipse-based interface. Drag-and-drop job design, and a unified repository for storing and reusing metadata. The broadest data connectivity support of any data integration platform, with more than 400 built-in connector components that let you quickly bridge between databases, mainframes, file systems, web services, packaged enterprise applications, data warehouses, OLAP applications, Software-as-a-Service and Cloud-based applications, and more. The advanced ETL functionality including string manipulations, automatic lookup handling, and management of slowly changing dimensions and support for ELT (extract, load, and transform) as well as ETL, even within a single job.
2
GeoKettle is a powerful, metadata-driven spatial ETL (Extract, Transform and Load) tool dedicated to the integration of different data sources for building and updating geospatial databases, data warehouses and services. GeoKettle enables the Extraction of data from data sources, the Transformation of data in order to correct errors, make some data cleansing, change the data structure, make them compliant to defined standards, and the Loading of transformed data into a target DataBase Management System (DBMS) in OLTP or OLAP/SOLAP mode, GIS file or Geospatial Web Service.
3
Dataiku Data Science Studio (DSS) is a software platform that aggregates all the steps and big data tools necessary to get from raw data to production ready application. It provides Visual interactive data preparation (80+ processors), Visual transformations (Group, join, union, split, sampling, …), Smart incremental rebuild, Concurrent jobs, Builtin engines (Streaming and in-memory), In-database processing. Provides Interactive data cleaning and enrichment with easy access to over 80 built-in visual processors for code-free data wrangling, automatically suggested contextual transformations and perform mass actions on your data.
Data Science Studio (DSS) Community Edition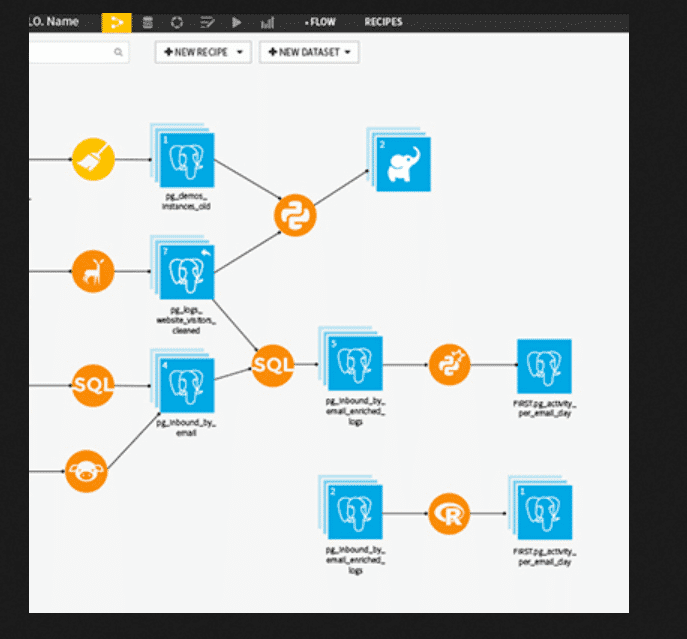 4
Jaspersoft ETL is easy to deploy and out-performs many proprietary and open source ETL systems. It is used to extract data from your transactional system to create a consolidated data warehouse or data mart for reporting and analysis.Features include business modeler to access a non-technical view of the information workflow, display and edit the ETL process with Job Designer, a graphical editing tool, define complex mappings and transformations with Transformation Mapper and other transformation components and generate portable Perl or Java code that can be executed on any machine. Also the ability to track ETL statistics from start to finish with real-time debugging, allow simultaneous output from and input to multiple sources including flat files, XML files, databases, web services, POP and FTP servers with hundreds of available connectors and use of the Activity Monitoring Console (AMC) to monitor job events (successes, failures, warnings, etc.), execution times, and data volumes.
5
HPCC Systems is an Open-source platform for Big Data analysis with a Data Refinery engine called Thor. Thor clean, link, transform and analyze Big Data. Thor supports ETL (Extraction, Transformation and Loading) functions like ingesting unstructured/structured data out, data profiling, data hygiene, and data linking out of the box. The Thor processed data can be accessed by a large number of users concurrently in real time fashion using the Roxie, which is a Data Delivery engine. Roxie provides highly concurrent and low latency real time query capability.
6
Jedox is an Open-Source BI solution for Performance Management including Planning, Analysis, Reporting and ETL. The Open Core consist of an in-memory OLAP Server, ETL Server and OLAP client libraries. Powerfully supporting Jedox OLAP server as a source and target system, Jedox ETL is specifically designed to meet the challenges of OLAP analysis. Working with cubes and dimensions couldn't be easier. Flexibly generate frequently-needed time hierarchies and efficiently transform the relational model of source systems into an OLAP model – with JEDOX ETL.
7
Pentaho ETL is an intuitive, graphical, drag and drop design environment and a proven, scalable, standards-based architecture. Pentaho Data Integration also called Kettle is the component of Pentaho responsible for the Extract, Transform and Load (ETL) processes. Features include migrating data between applications or databases, exporting data from databases to flat files, loading data massively into databases, data cleansing and integrating applications.
8
"No frills transformation" (NFT) is intended to be a lightweight transformation engine, having an extensible interface which makes it simple to extend with Source Readers, extend with Target Writers and extend with additional Operators (if you can't do with the Custom Operators)
Out of the box, NFT will read from CSV files in any encoding Salesforce SOQL queries, SQLite Databases, MySql Databases, Oracle Databases, SQL Server Databases and from SAP RFCs if they have a TABLE as output value and write to CSV files in any encoding (including with or without UTF-8 BOMs), Salesforce Objects (including Upserts and using External IDs), Oracle Databases and Rudimentary XML files.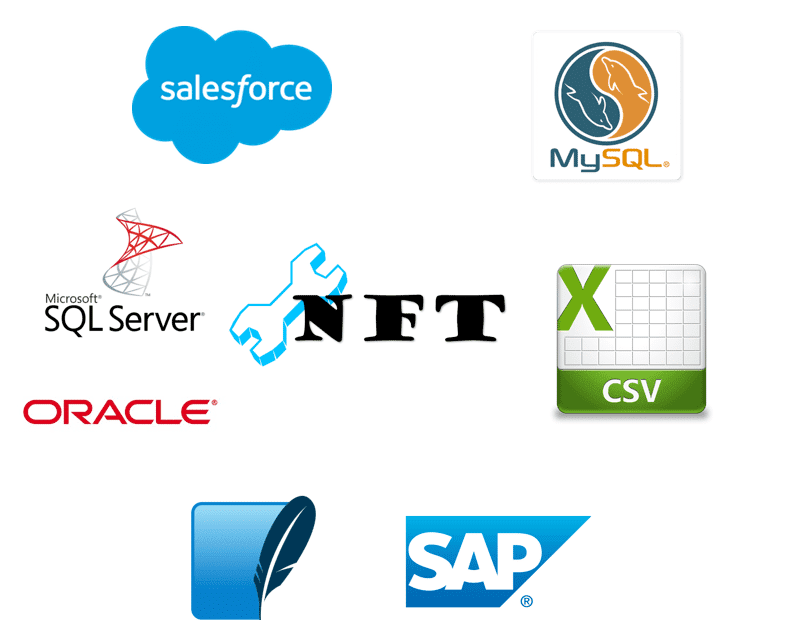 9
EplSite ETL is a tool to do easy the data migrations and fact table creation, doing extraction, transformation, validation and load in a very fast way. EplSite ETL is low resource consuming, has a Web interface, and very easy to customize it because it is developed in Perl. It is possible to run transformations using cron jobs on Linux or task manager on Windows.
10
GETL, automates the work of loading and transforming data. GETL is a set of libraries of pre built classes and objects that can be used to solve problems unpacking, transform and load data into programs written in Groovy, or Java, as well as from any software that supports the work with Java classes. GETL features include simpler the class hierarchy, the easier solution, the data structures tend to change over time, or not be known in advance, working with them must be maintained. All routine work ETL should be automated wherever possible, compiling the code on the fly bail speed and reserve for the optimization, sophisticated class hierarchy guarantee easy connection of other open source solutions.
11
Scriptella is an open source ETL (Extract-Transform-Load) and script execution tool written in Java. Its primary focus is simplicity. The features include executing scripts written in SQL, JavaScript, JEXL, Velocity .Database migration,interoperability with LDAP, JDBC, XML and other datasources. Cros database ETL operations, import/export from/to CSV, text and XML and other formats.
12
KETL(tm) is a production ready ETL platform. The engine is built upon an open, multi-threaded, XML-based architecture. The data integration platform is built with portable, java-based architecture and open, XML-based configuration and job language. KETL major features include support for integration of security and data management tools, proven scalability across multiple servers and CPU's and any volume of data and no additional need for third party schedule, dependency, and notification tools.
13
Apatar ETL brings a set of unmatched capabilities in an open source package. Features include connectivity to Oracle, MS SQL, MySQL, Sybase, DB2, MS Access, PostgreSQL, XML, InstantDB, Paradox, BorlandJDataStore, Csv, MS Excel, Qed, HSQL, Compiere ERP, SalesForce.Com, SugarCRM, Goldmine, any JDBC data sources. There is a single interface to manage all integration projects, flexible deployment options, bi-directional integration, platform-independent, runs from Windows, Linux, Mac; 100% Java- based, no coding, visual job designer and mapping enable non-developers to design and perform transformations.
14
RapidMiner is one of the leading data mining software suites. RapidMiner supports all steps of the data mining process from data loading, pre-processing, visualization, interactive data mining process design and inspection, automated modeling, automated parameter and process optimization, automated feature construction and feature selection, evaluation, and deployment. RapidMiner can be used as stand-alone program on the desktop with its graphical user interface (GUI), on a server via its command line version.
15
Anatella is an ETL tool built especially for analytical purposes and predictive datamining. It includes some features such as data transformations and meta-data transformations that are unique and extremely valuable in this field. Anatella enables to use the flexible JavaScript language to easily create new, extremely complex data transformations. Using, creating and debugging new data manipulation scripts is simple and intuitive.Anatella offer you a direct access to a complete & powerful "debugger" with an interface similar to the famous MS Visual Studio debugger. Anatella provides some primitive OLAP reporting functionalities through the usage of a "Microsoft Office Data Injection operator": This operator allows you to automatically inject "in batch" some data extracted from the Anatella-Graph into any chart or graphics contained in any Microsoft Office document.
16
Falcon is a feed processing and feed management system aimed at making it easier for end consumers to onboard their feed processing and feed management on hadoop clusters.Falcon establishes relationship between various data and processing elements on a Hadoop environment. Feed management services such as feed retention, replications across clusters, archival etc. Easy to onboard new workflows/pipelines, with support for late data handling, retry policies. Integration with metastore/catalog such as Hive/HCatalog and provide notification to end customer based on availability of feed groups.
17
Crunch, is a Java library that aims to make writing, testing, and running MapReduce pipelines easy, efficient. Running on top of Hadoop MapReduce and Apache Spark, the Apache Crunch library is a simple Java API for tasks like joining and data aggregation that are tedious to implement on plain MapReduce. The APIs are especially useful when processing data that does not fit naturally into relational model, such as time series, serialized object formats like protocol buffers or Avro records, and HBase rows and columns. For Scala users, there is the Scrunch API, which is built on top of the Java APIs and includes a REPL (read-eval-print loop) for creating MapReduce pipelines.
18
Cascading is a Java library and does not require installation. The data processing APIs define data processing flows. The APIs exposed provide a rich set of capabilities that allow you to think in terms of the data and the business problem such as sort, average, filter, merge etc. The data integration API allows you to isolate your integration dependencies from your business logic. You can easily read/write from a variety of external systems to Hadoop, and then write those results to another system. Taps and Schemes enable read/write capabilities between any source and in any format. Cascading comes with several pre-built taps and schemes and also provides you the flexibility to quickly build your own.
19
Apache Oozie is a Java Web application used to schedule Apache Hadoop jobs. Oozie combines multiple jobs sequentially into one logical unit of work. It is integrated with the Hadoop stack, with YARN as its architectural center, and supports Hadoop jobs for Apache MapReduce, Apache Pig, Apache Hive, and Apache Sqoop. Oozie can also schedule jobs specific to a system, like Java programs or shell scripts.
Top Free Extract, transform, and load,ETL Software at a Glance
Top Extract, transform, and load,ETL Software: Trending
Top Extract, transform, and load,ETL Software
1. IBM InfoSphere DataStage
IBM InfoSphere DataStage integrates data across multiple systems using a high performance parallel framework, and it supports extended metadata management and enterprise connectivity. The scalable platform provides more flexible integration of all types of data, including big data at rest (Hadoop-based) or in motion (stream-based), on distributed and mainframe platforms.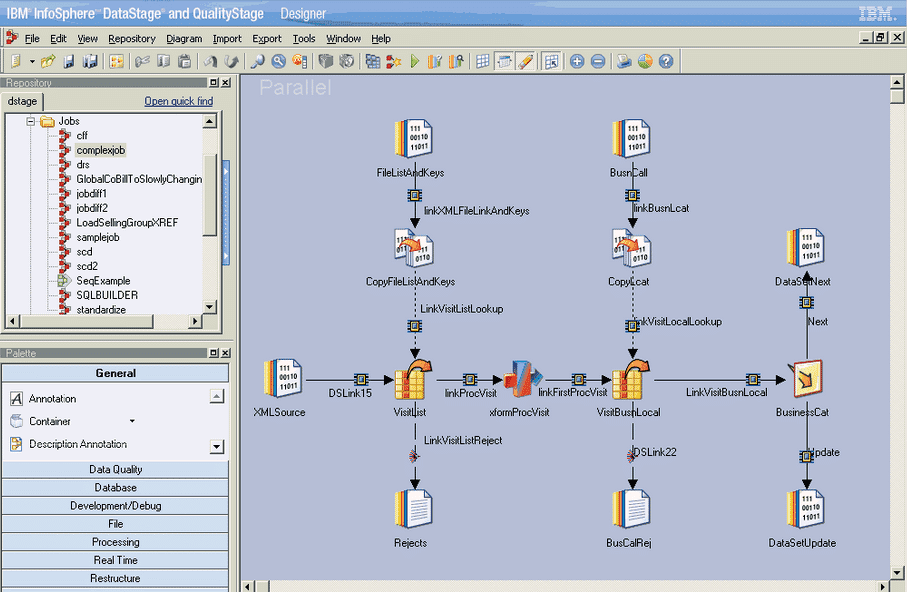 2. Microsoft SSIS
Microsoft Integration Services is a platform for building enterprise-level data integration and data transformations solutions. Integration Services is used to solve complex business problems by copying or downloading files, sending e-mail messages in response to events, updating data warehouses, cleaning and mining data, and managing SQL Server objects and data. The packages can work alone or in concert with other packages to address complex business needs. Integration Services can extract and transform data from a wide variety of sources such as XML data files, flat files, and relational data sources, and then load the data into one or more destinations.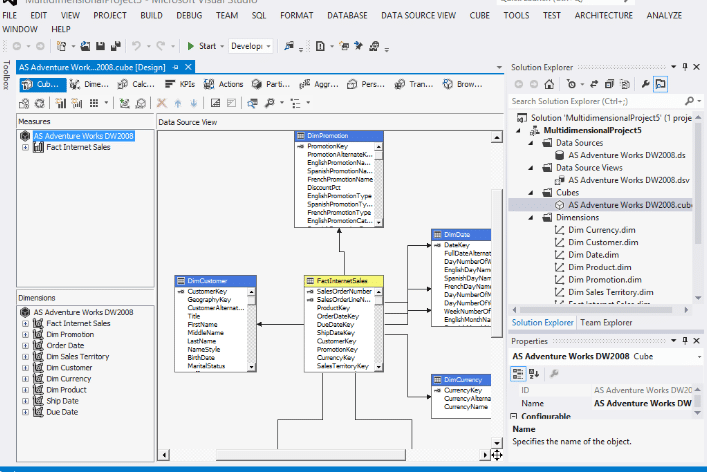 3. Adeptia ETL suite
Adeptia ETL suite offers ETL functionality combined with an easy, intuitive interface giving users the ability to transform a number of different files formats.By allowing business analysts to easily aggregate data, they can make Business Intelligence reports faster, leading to increased revenue, better productivity, and a competitive advantage. There are two flavors of ETL tools available : the Adeptia Connect platform, is run entirely in the cloud and the Adeptia Integration Suite, designed to be run on-premises within the enterprise.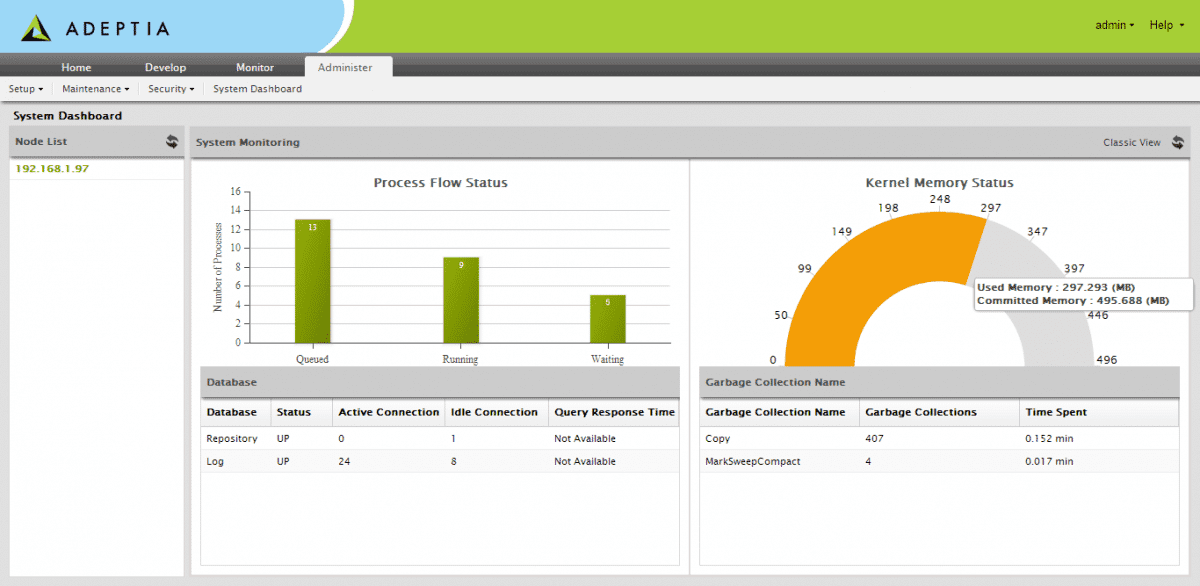 4. Informatica Powercenter
Informatica Powercenter is a scalable, and high-performance enterprise data integration platform that promotes automation, reuse, and agility.PowerCenter forms the foundation for all your data integration initiatives, including analytics and data warehousing, application migration, or consolidation and data governance.Provides accurate and timely data for operational efficiency, next-generation analytics and customer-centric applications.Script-free automated and repeatable audit and validation of data moved or transformed across development, test, and production environments.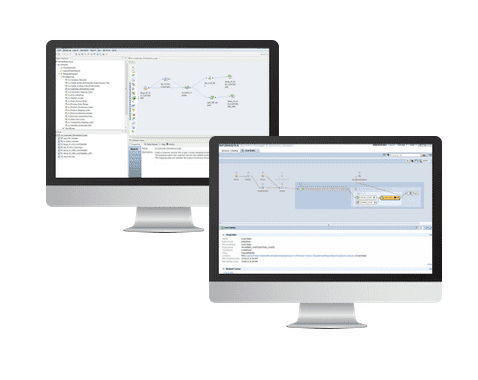 5. Pervasive Data Integrator
Pervasive's Data Integrator platform is a robust enterprise data integration software solution that enables you to quickly build powerful and frictionless connections between any kind of data source and application. Data Integrator supports countless integration scenarios in real time, from data exchange and data migrations to Master Data Management and data warehousing.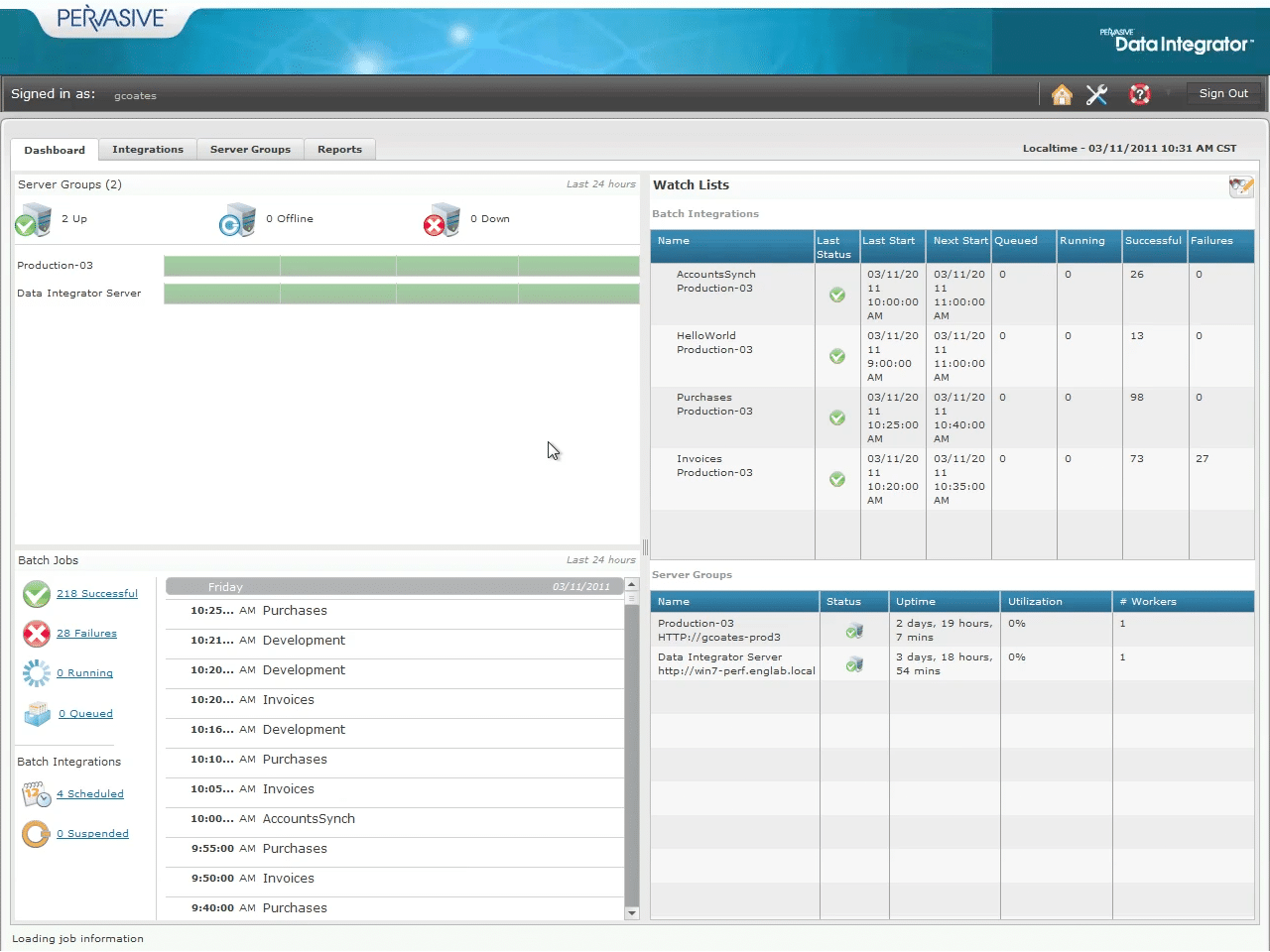 6. Talend Intergation Suite
Talend offers robust data integration in an open and scalable architecture to maximize its value to your business. As part of the Talend Data Fabric, Talend Data Integration software provides the unified tools to integrate, cleanse, mask and profile all of your data, enabling you to turn data into decisions faster.Simple, graphical tools and wizards get you up and running quickly with over 900 connectors to natively connect databases, flat files, cloud-based applications and more.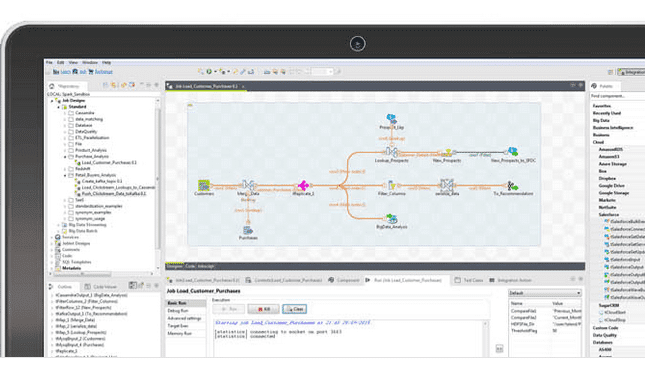 7. CloverETL
CloverETL gives IT teams, data engineers, and data ops teams a portfolio of power tools for rapid data movement and transformation, enterprise manageability and clear visibility into data connections between systems and applications.With CloverETL, you can build and maintain data integration processes from a simple migration on your desktop, to large deployments with dozens of automated work flows operating hundreds of data transformations, processing hundreds of millions of records.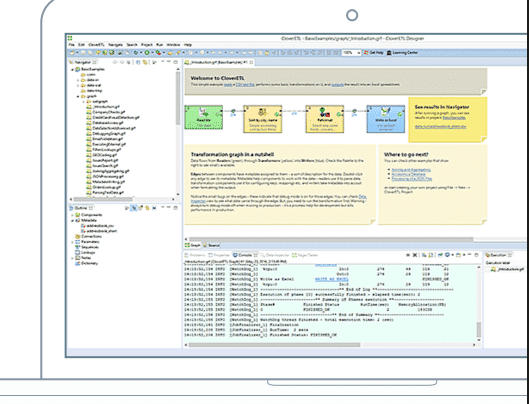 8. Petntaho Kettle Enterprise
Pentaho Data Integration prepares and blends data to create a complete picture of your business that drives actionable insights. The platform delivers accurate, analytics-ready data to end users from any source. With visual tools to eliminate coding and complexity, Pentaho puts big data and all data sources at the fingertips of business and IT users.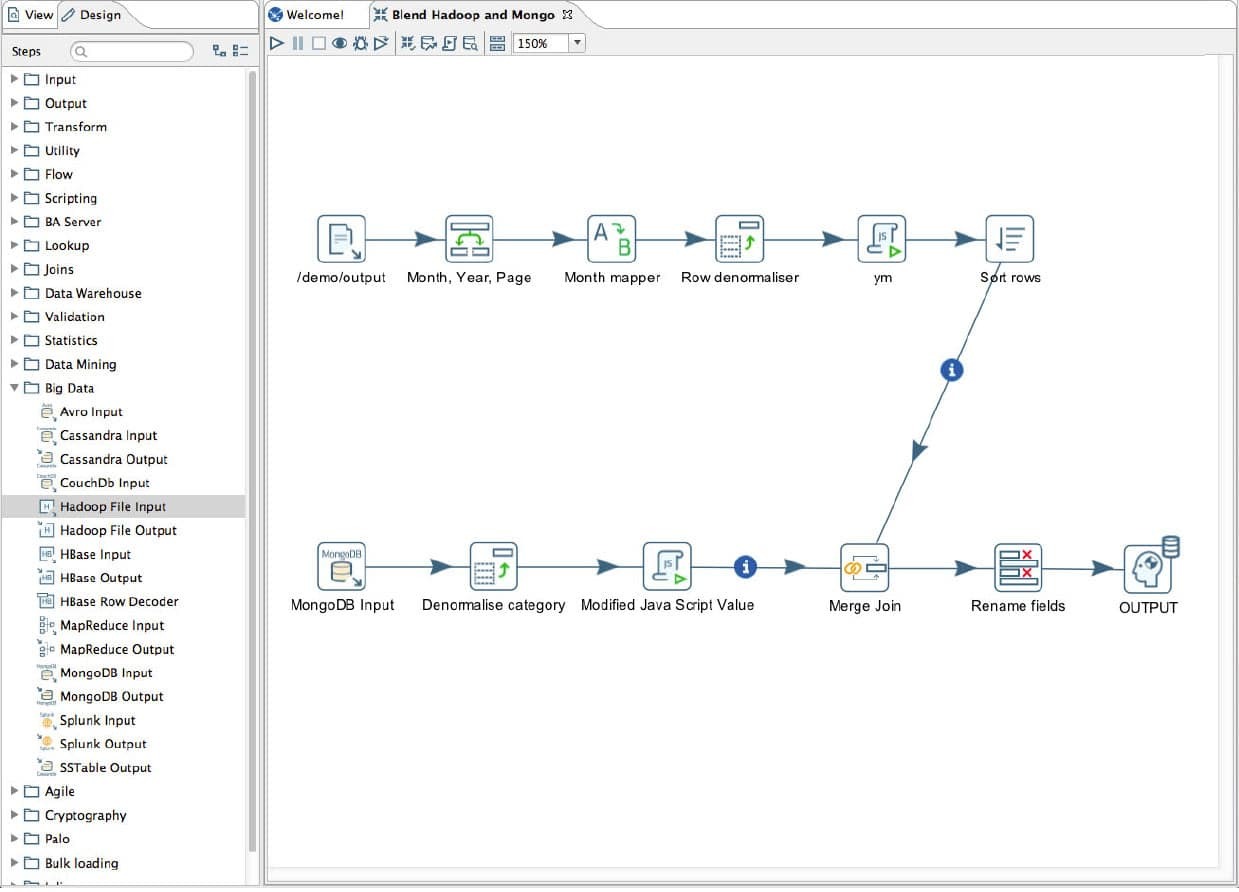 9. Oracle Data Integrator Enterprise Edition
Oracle Data Integrator Enterprise Edition delovers Extract Load and Transform (E-LT) technology that improves performance and reduces data integration costs—even across heterogeneous systems. Provides high-performance bulk data movement and data transformation, E-LT architecture for improved performance and lower TCO, Heterogeneous platform support for enterprise data integration and Knowledge modules for optimized developer productivity and extensibility.
Oracle Data Integrator Enterprise Edition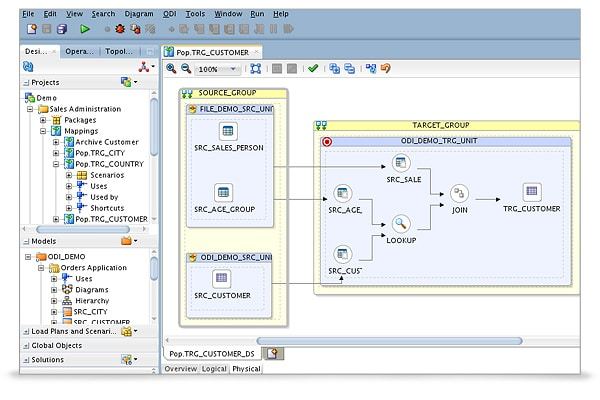 10. SAP Data Services
SAP Data Services data management software provides functionality for data integration, quality, cleansing, and more. Transform your data into a trusted, ever-ready resource for business insight and use it to streamline processes and maximize efficiency. Features include discover, cleanse, enhance, and integrate data – and make it ready for business use, ensure consistency across data sources – whether they are on-premise, in the cloud, or embedded in applications, maximize the value of your data by enabling users to make confident decisions based on data they can trust and improve processes and customer engagement by connecting customer, product, supplier, material, and other data.
11. SAS Data Management
SAS Data Management enables your business users to update data, tweak processes and analyze results themselves, freeing you up for other projects. Plus, a built-in business glossary as well as SAS and third-party metadata management and lineage visualization capabilities keep everyone on the same page.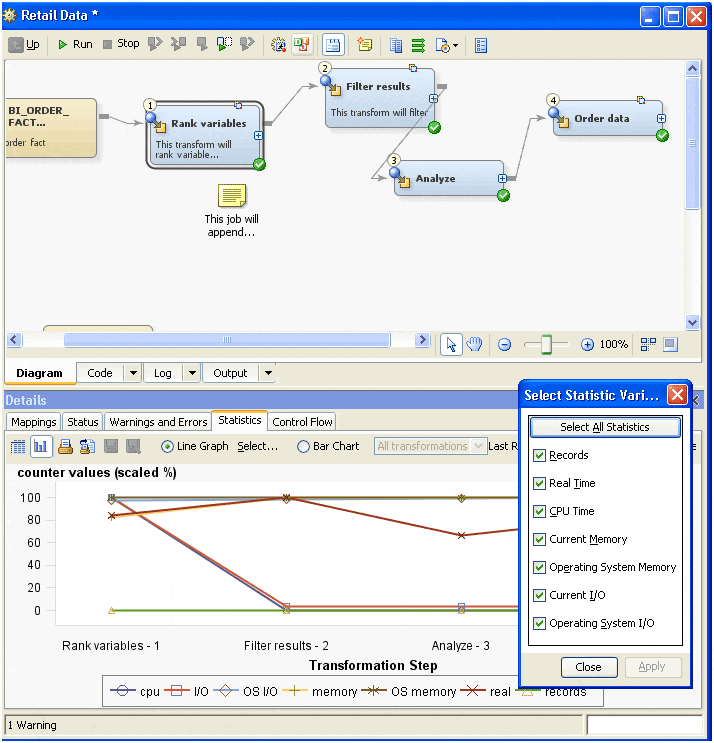 12. Elixir Data ETL
Elixir Data ETL is designed to provide on-demand, self-serviced data manipulation for business users as well as for enterprise level data processing needs. Its visual-modeling paradigm drastically reduces the time required to design, test and implement data extraction, aggregation and transformation – a critical process for any application processing, enterprise reporting and performance measurement, data mart or data warehousing initiatives.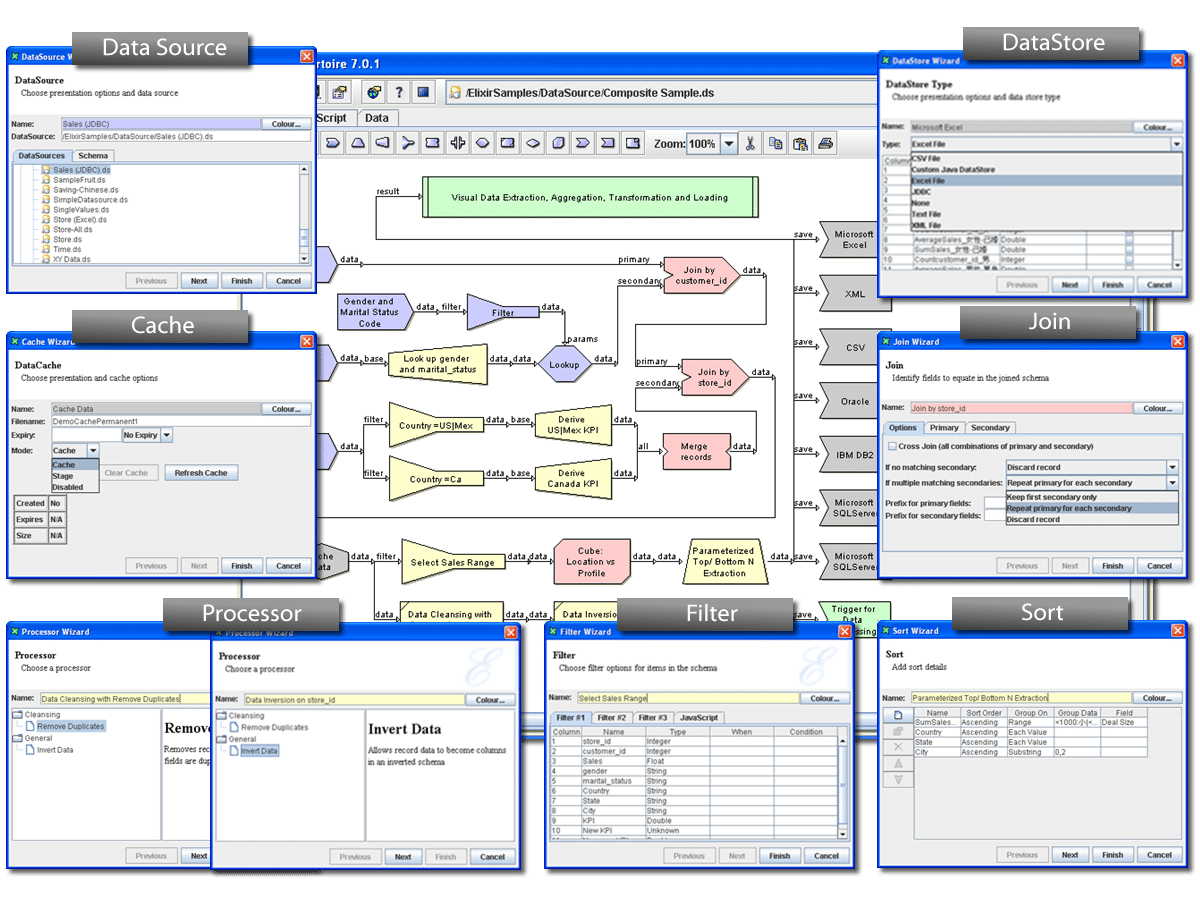 13. iWay DataMigrator
iWay DataMigrator is a powerful and comprehensive set of fully automated tools designed to dramatically simplify data integration, including the creation, maintenance, and expansion of data warehouses, data marts, and operational data stores. With its intuitive, easy-to-use interface, DataMigrator enables fast, flexible, end-to-end ETL process creation involving heterogeneous data structures across disparate computing platforms.
14. Sagent Data Flow
Sagent Data Flow from Pitney Bowes Software is a powerful and flexible integration engine that collates data from disparate sources and provides a comprehensive set of data transformation tools to enhance its business value.
15. OpenText Integration Center
OpenText Integration Center is a data and content integration platform that gives organizations the ability to quickly adapt to new and changing business processes with powerful and flexible capabilities that transforms information from where it is to where it needs to be.
16. Syncsort DMX
Syncsort DMX brings all data transformations into a high-performance, in-memory ETL engine. Transformations are processed on the fly, eliminating the need for costly database staging areas or manually pushing transformations to the database.

17. Toolsverse ETL Framework
Toolsverse ETL Framework is a standalone Extract Transform Load engine written in Java. It includes executables for all major platforms and can be easily integrated into other applications. The Key Features include embeddable, open source and free, uses target database features to do transformations and loads, manual and automatic data mapping, data streaming, bulk data loads, data quality features using SQL, JavaScript? and regex and data transformation.
For a review of the top business intelligence companies, click on the button below:
Top Business Intelligence companies
For a review of open source and free business intelligence solutions click on the button below :
Open Source and Free Business Intelligence Solutions
For a review of the top Cloud – SaaS – OnDemand Business Intelligence Solutions, click on the button below:
Cloud – SaaS – OnDemand Business Intelligence Solutions
For a review of Online Analytical Processing Tools click on the button below :
Online Analytical Processing Tools
Top Extract, transform, and load,ETL Software at a Glance