Review
Vero Analytics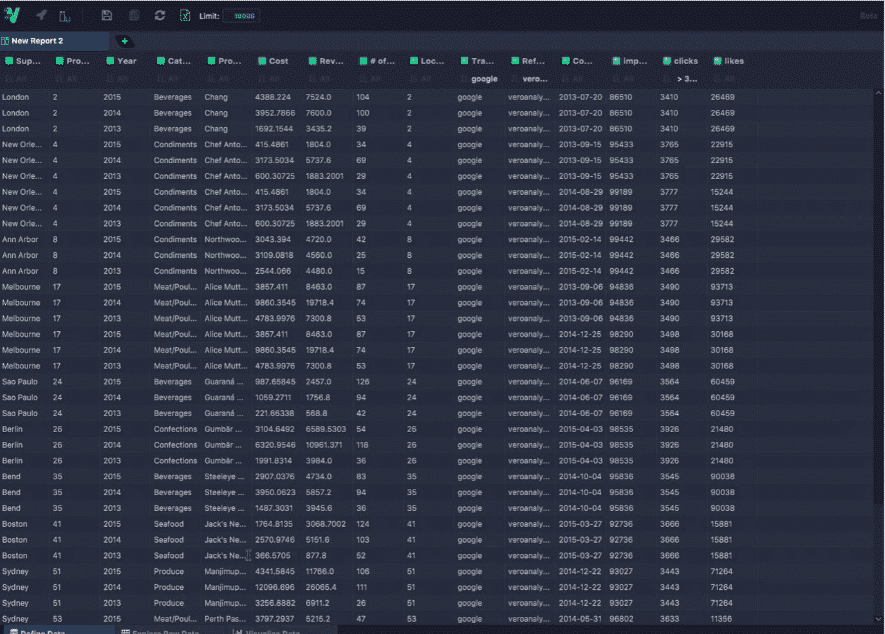 Overview
Vero goes beyond keywords by generating complete queries, automatically resolving complex join trees, and providing Alias Aware code completions.
Business Intelligence Software
Multi-Pass SQL Scripting
Data Blending / Federated Queries
SQL IDE
Data Exports
Wrangle & Load Files
Metadata
Small (<50 employees), Medium (50 to 1000 Enterprise (>1001 employees)
Vero is an SQL IDE that can Write SQL. It goes beyond providing basic keyword hinting to generating complete queries, automatically resolving complex join trees and providing Alias Aware code completions. Vero generates Multi-Pass SQL Scripts that Data Engineers and Analysts write manually. This makes automatic join resolution, in database blending and federated queries easier.
Vero also allows its users to run queries across separate databases as if they are collocated. Users can drag and drop to generate a data blending query scaffold and then proceed to hack the query. Vero's high performance data blending tech takes care of moving data, translating data types and efficiently executing queries.
Vero provides intelligent hints that are Alias Aware therefore its users have an IDE that writes useful analytical SQL, queries across databases and provides contextual code hints. Vero also handles data type resolutions and data movement. Data can easily be moved into the cloud and SSH tunnels are used to secure easy access. Vero users can also export data to Amazon S3 and CSV files.
Vero also enables its users to easily wrangle and upload CSV and Excel files to Amazon RedShift, MySQL, or Postgres. The users can also instantly load the data into Vero directly and start writing SQL on files with ease. Vero comes with a world class metadata layer that works with its users in a natural way. Users simply drag and drop to create new concepts and use a micro-IDE to define complex formulas. Users can therefore compose complex queries from a reusable Metadata layer. Furthermore, all metadata is expressed using SQL so Vero users do not need to learn a new language or framework.
You may like to read: Top Extract, Transform, and Load, ETL Software, How to Select the Best ETL Software for Your Business and Top Guidelines for a Successful Business Intelligence Strategy