Review
Matillion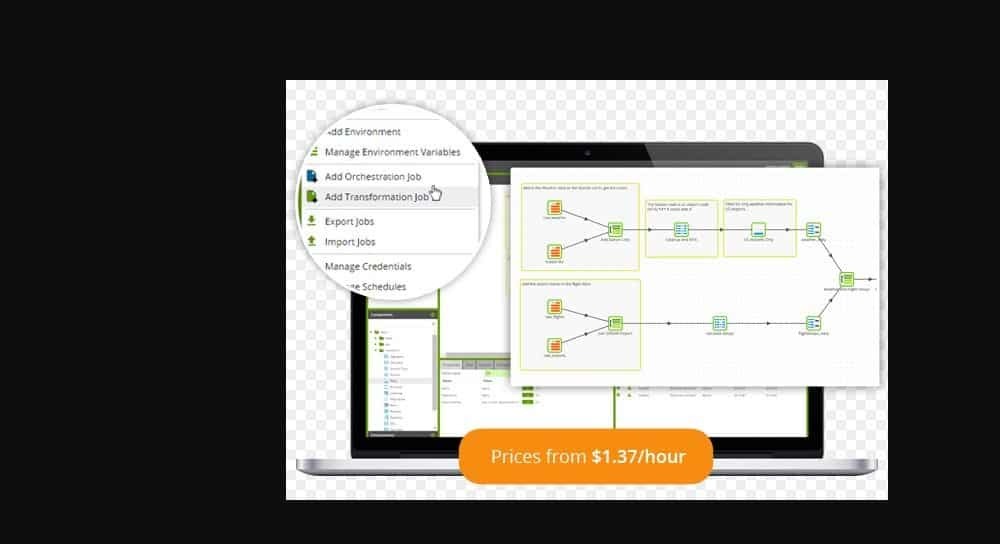 Overview
Matillion delivers modern, cloud-native data integration technology solving individual's and enterprise's top business challenges.
• ETL for Amazon Redshift
• ETL for BigQuery
• ETL for Snowflake
• t2.medium: $1.37 p/hour or $9,950 p/annum
• m4.large: $2.74 p/hour or $19,950 p/annum
• m4.xlarge: $5.48 p/hour or $39,950 p/annum
Small (<50 employees), Medium (50 to 1000 Enterprise (>1001 employees)
What is best?
• ETL for Amazon Redshift
• ETL for BigQuery
• ETL for Snowflake
What are the benefits?
• Orchestrate
• Work as a team
• Cheap billing via AWS
• Simple to deploy and scale
• Enterprise ready
• Security
• Monitoring, Logging and Alerting
• Trusted
Matilion is a modern powerful Exact Transformation Load (ETL)and Exact Load Transform (ELT) tool specific for amazon Redshift. It makes loading and transforming data on redshift fast, easy and affordable.
Sets and delivers results faster than other ETL technologies. It is easy to load data from dozens of sources including S3 and RDS, multiple databases and ATIs systems like google analytics even on social media like Facebook. Matillion makes orchestration and automation of data load, transformation and integration with other systems an AWS services. It transforms data speedily in a graphical job development environment.
Matilion reduces ETL development and maintenance effort because of streamlined UI, perfect integration and AWS and Redshift and shear speed. Integrates with DevOPs and 3rd party SCM systems like GIT using matillion ETL'S REST API. Matilion is easy to deploy and scale because it is delivered as an Amazon Machine Image (AMI) and need no infrastructure.
It is very secure as it implements encryption which includes user authentication and security subsystem. Matillion as a wide range of options on monitoring, logging and alerting real-time and historical. Email and text messages alerts can be set up and integrated with Amazon CloudWatch, SNS and other monitoring tools available.
Matillion is one of the very few AWS big data competency certified software companies worldwide and an AWS Advanced Technology partner. Matillion has a support portal for free trial, hourly, annual customers to get support. You can inquire, access help documentation, view video tutorials and read articles. Email and phone communication available for annual and free trial. After every 6 weeks there is and upgrade of matillion ETL for Amazon Redshift which can be accessed via AWS marketplace or the matillion public repository.
You may like to read: Top Extract, Transform, and Load, ETL Software, How to Select the Best ETL Software for Your Business and Top Guidelines for a Successful Business Intelligence Strategy