Review
Mule Runtime Engine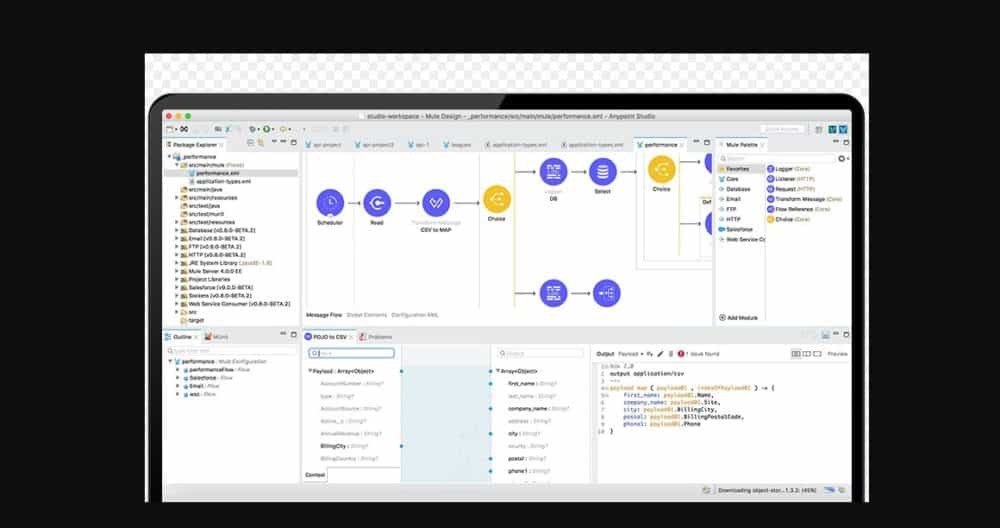 Overview
Mule Runtime is the engine of Anypoint Platform. It is the industry's only unified platform that combines data and application integration across legacy systems, SaaS applications, and APIs with hybrid deployment options for maximum flexibility.
• Flexible deployment modaties
• Open architecture
• Extensible
• Compose in real-time or batch
• Map and transform any data
Small (<50 employees), Medium (50 to 1000 Enterprise (>1001 employees)
What is best?
• Open architecture
• Extensible
• Compose in real-time or batch
• Map and transform any data
What are the benefits?
• Single runtime deployable in the cloud or on-premises
• Enables SOA, ESB patterns, SaaS connectivity, API management and microservices
• Open architecture supports common standards and new technologies
• Extensible to SOAP or REST, JMS or AMQP, AS400 or IoT
• Compose in real-time, connect in batch, or do both if required
• Map and transform data with highly maintainable and reusable DataWeave code
Mule Runtime Engine is a universal building block for connectivity. It connects world's applications, data and devices by combining data and application integrations across legacy systems, Saas applications and APIs. The engine provides integration both on premise and in the clouds. It supports millions of transactions in the largest clouds.
It enables splunk to orchestrate across multiple cloud and on premise in a matter of weeks versus months. Mule runtime technology uses hybrid technology for maximum flexibility. It manages and sources connectivity in one powerful yet light weight package.
It is light enough to run in a developer's laptop in micro-service architecture. Mule runtime has the following capabilities: flexible deployment which combines orchestration in one API package and supports millions of transactions in the clouds, open architecture supports open standards and can be modified to take advantage of new and custom legacy technologies, extensible as it easily connects with thousands of REST and SOAP APIs simplified connector model to build reusable connectors for any system with any point connecter Devkit, compose in real-time every mule component has a clear role completely decoupled from any other component.
Users can compose flows using any required combination. SEPA an event drive architecture orchestrates events in real time, Maps and transforms any data with data weave that is a simple powerful way of transforming data from simple one-to-one mappings to more elaborate mappings, normalization grouping, joins, pivoting and filtering. As a mulesoft product it offers solutions for your data integration, SAP integration, omnichannel, microservices, APIs, Microsoft integration among others. It is suitable for financial, government, healthcare, higher education, retail and media and telecom industries.
You may like to read: Top Extract, Transform, and Load, ETL Software, How to Select the Best ETL Software for Your Business and Top Guidelines for a Successful Business Intelligence Strategy