Review
Confluent Platform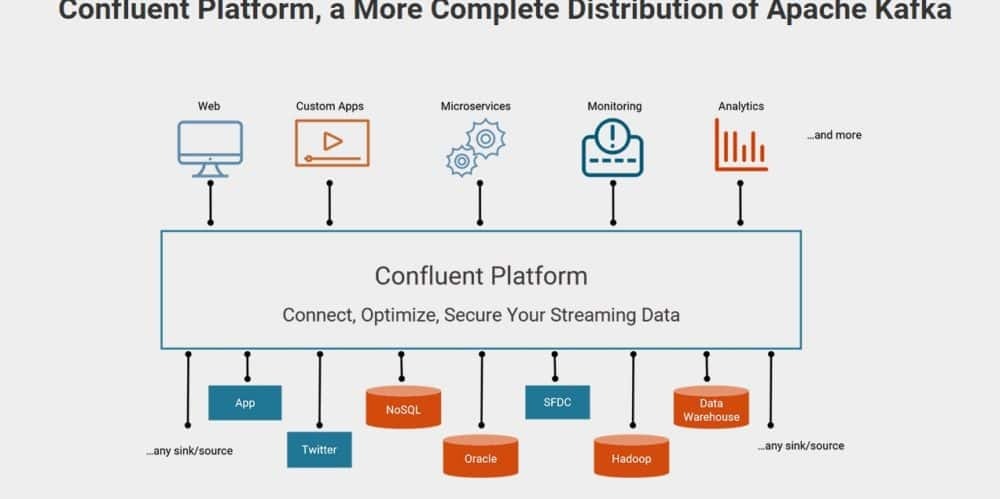 Overview
Confluent Platform improves Apache Kafka by expanding its integration capabilities, adding tools to optimize and manage Kafka clusters, and methods to ensure the streams are secure
• Data encryption
• Authentication and authorization
• Quality of service
• Kafka connect
• Freely downloadable
Small (<50 employees), Medium (50 to 1000 Enterprise (>1001 employees)
What is best?
•Easy to connect many producers to many consumers in a complex architecture
•Recover from failures and add new systems with less time and effort
•Perform data processing on real-time streams; consumers (can) become producers
•Operate in any environment with confidence
What are the benefits?
• Secure multi-tenant operations
• Connect, optimize and secure your streaming data.
• Simplified development
• High-throughput
• Scalable data integration with a wide array of data sources.
• Developers are able to easily integrate various data sources without writing code
• Automatic fault-tolerance
• High-capacity scale-out
• Centralized management
Confluent Platform which is built on the Apache Kafka, works to provide a central stream data pipeline to solve the challenges that come with data integration. It's open source and free. It's good for enabling streaming of data for your organizations data flow.
It's mainly created to help your organization cope with the large-scale data ingestion and requirements for processing of your business networking service. It's excellent for turning your organization's data into low-latency streams that are readily available. In addition, the platform acts as a buffer between your systems that are capable of producing or even consuming your data at different rates.
With the confluent platform, your organization will be able to evolve your data architecture which will in turn enable real-time stream data processing. From initial development all through your organizations ongoing operations, you can be able to take full advantage of the confluent platform.
Confluent Platform improves Apache Kafka by expanding its integration capabilities, adding tools to optimize and manage Kafka clusters, and methods to ensure the streams are secure. Confluent Platform makes Kafka easier to build and easier to operate. Confluent Open Source is freely downloadable, while Confluent Enterprise is available through our subscription.
You may like to read: Top Extract, Transform, and Load, ETL Software, How to Select the Best ETL Software for Your Business and Top Guidelines for a Successful Business Intelligence Strategy