Review
Toolsverse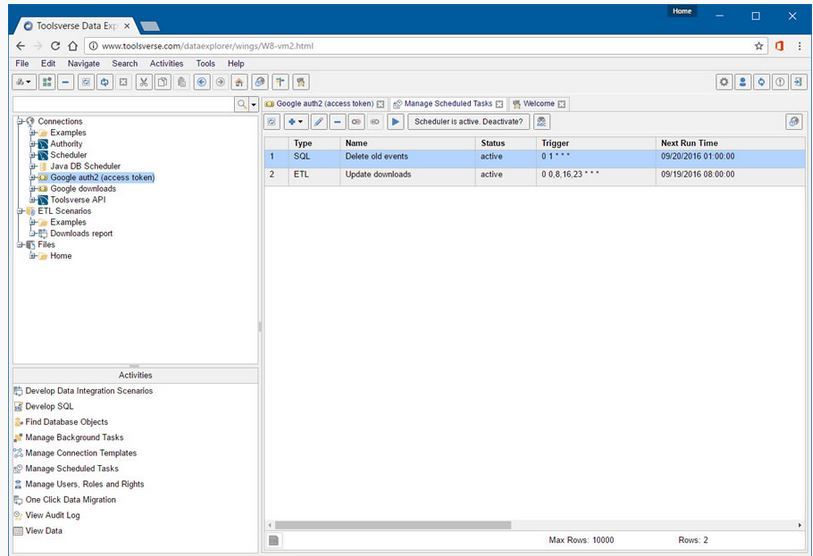 Overview
ETL Framework allows you to create data integration and ETL scenarios using XML-based language or Java and can easily embed framework in your application or deploy it as a Web application and connect to the open REST API. There is a wide selection of built-in transformations and you can also develop your own using JavaScript and SQL
Easy Start
No coding unless you really want to
Customizable
Personal edition os free, ETL Sever is $2000
Small (<50 employees), Medium (50 to 1000 Enterprise (>1001 employees)
Toolsverse LLC is a privately-held software company based in Pittsburgh, PA, USA. The firm specializes in custom data integration solutions. It has three main products, and they are: platform independent tools for ETL; data integration and; database development.
The Data Explorer allows users to create complex data integration and ETL scenarios using drag&drop visual designer and scripting languages such as JavaScript. The best-in-class universal database development IDE is integrated right into Data Explorer.
It works equally well with SQL and NoSQL data sources, as well as popular file formats and APIs. ETL Framework is a compact, modular, high performance and embeddable ETL engine written in Java. The solution allows users to create data integration and ETL scenarios using XML-based language or Java. Users can easily embed framework in your application or deploy it as a Web application and connect to the open REST API.
There is a wide selection of built-in transformations and you can also develop your own using JavaScript and SQL. ETL Framework is free for personal use. Integration Agent is a zero-maintenance, easy-to-configure, fully autonomous background service which runs behind company's firewall and integrates various heterogeneous systems.
Out of the box, it supports various integration scenarios such as: change replication, incremental backup and bulk load into the data warehouse.The core of any good universal data integration framework is an ability to work with different data sources and formats. ETL Framework offers a great selection of connectivity options and supports most of the widely used databases, file formats and well-known open APIs.
You may like to read: Top Extract, Transform, and Load, ETL Software, How to Select the Best ETL Software for Your Business and Top Guidelines for a Successful Business Intelligence Strategy