Review
Uniserv Data Quality Service Hub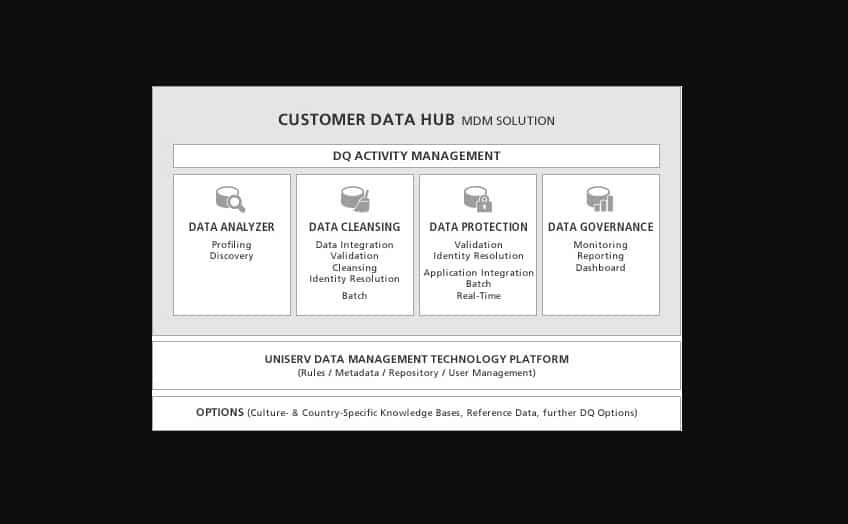 Overview
Uniserv Data Quality Service Hub provides a combination of powerful tools, experienced consultants and proven methods to offer data management solutions
• Data analyzer
• Data cleansing
• Data protection
• Data governance
• Technology platform
• Customer data hub
Small (<50 employees), Medium (50 to 1000 Enterprise (>1001 employees)
Uniserv Data Quality Service Hub
What is best?
• Data protection
• Data governance
• Technology platform
• Customer data hub
What are the benefits?
• General data protection regulation
• Predictive analytics
• CRM migration
• Mergers and acquisitions
• Data governance
• Compliance
• Multi and cross channel management
• Data warehouse and business intelligence
• Enterprise application (CRM,ERP)
• SEPA
Uniserv Data Quality Service Hub provides a combination of powerful tools, experienced consultants and proven methods to offer data management solutions. Its main projects are data quality initiatives, data warehousing, data migration and data master management.
Uniserve optimizes client data for the best possible quality levels with best performance; it is centred on data quality. The ultimate goal is to maintain data quality at the highest level through its life cycle.The data quality service hub offers four unique data management products which are: data analyzer, data cleansing, data protection and data governance. These incorporate seamlessly to your business data to meet demand. The data hub does not only provide complete data management from one source but also from one platform.
It offers data management solution for branches, customer data management, business solutions, cloud solutions and SAP solutions. It analyzes structures and standardizes data, match address components with reference databases. Corrects discrepancies found and passes them on with supplement additional information.
Identify resolution identifies and brings together related datasets and does not store redundant Customer data management allows for companies to collect knowledge and information about their customers and always keep it up to date. Companies are able to master data management to solve data problems, have a 360° customer view whereby you are able to know your customer in depth, understand customer needs better and create a golden profile from the golden record (customer data). The Uniserv data quality hub offers professional services in data quality consulting, data quality audit and data quality scorecard.
You may like to read: Top Extract, Transform, and Load, ETL Software, How to Select the Best ETL Software for Your Business and Top Guidelines for a Successful Business Intelligence Strategy