Review
Talend Data Fabric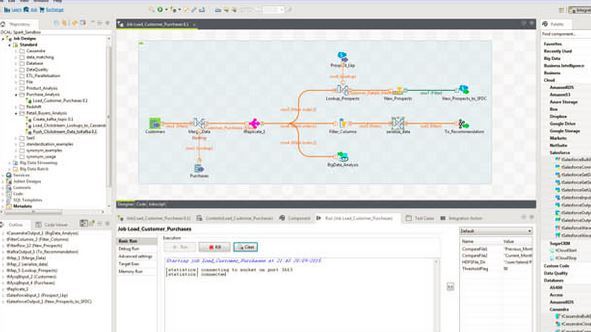 Overview
Talend Open Studio for Data Integration is a free to download GPL open source license tool which fully supports all facets of the ETL process. An intuitive process modeling tool enables business stakeholders to participate in the initial ETL design work.
•Get data from all your sources in any format
•Run across any environment — cloud, on-premises, or hybrid
•Perform any integration style: ETL, ELT, batch processing, or real-time
•Standardize and cleanse data easily with machine learning-augmented tools and tips
•Write once, deploy anywhere
Small (<50 employees), Medium (50 to 1000 Enterprise (>1001 employees)
What is best?
•Discover and resolve data quality problems up front
•Engage data experts for more meaningful and trustworthy data
•Ensure compliance and transparency of data
.
What are the benefits?
•Deliver self-service access to data through a unified cloud platform
•Achieve data governance and privacy without compromising on customer experience
•Find out how to set up a data governance framework at your organization
Talend Data Fabric efficiently handles all your data integration and integrity challenges — on-premises or in the cloud, from end to end. Users can collect data across systems; govern it to ensure proper use, transform it into new formats and improve quality, and share it with internal and external stakeholders.Fully integrated functionality that speeds up all your projects—batch, real-time, APIs, and big data—through one vendor and support organization.
Talend Open Studio also support for highly scalable distributed ETL data load execution that can leverage a grid of commodity computers.
You may like to read: Top Extract, Transform, and Load, ETL Software, How to Select the Best ETL Software for Your Business and Top Guidelines for a Successful Business Intelligence Strategy
Talend Open Studio Pricing
Talend Open Studio Videos