Review
Apatar ETL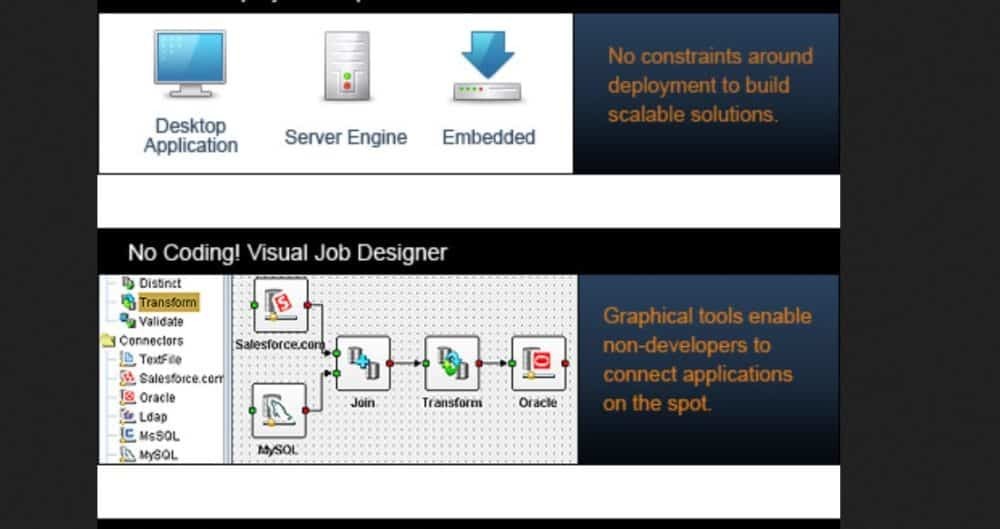 Overview
Apatar, is an an open source data integration software package designed to help business users and developers to move data in and out of a variety of data sources and formats.
• Bi-directional integration
• Platform-independent, runs from Windows, Linux, Mac; 100% Java- based
• Easy customization, Java source code included
• No coding! Visual job designer and mapping enable non-developers to design and perform transformations
Small (<50 employees), Medium (50 to 1000 Enterprise (>1001 employees)
What is best?
• Connectivity to Oracle, MS SQL, MySQL, Sybase, DB2, MS Access, PostgreSQL, XML, etc
• Single interface to manage all your integration projects
• Flexible deployment options
Apatar brings innovative and powerful data integration to end-users, partners and developers. Apatar offers features such as flexible deployment options, mapping, visual job designer and bi-directional integration. Apatar allows connectivity to Oracle, MS SQL, MySQL, Sybase, DB2, MS Access, PostgreSQL, XML, InstantDB, Paradox, BorlandJDataStore, Csv, MS Excel, Qed, HSQL, Compiere ERP, SalesForce.Com, SugarCRM, Goldmine and any JDBC data sources.
Apatar offers easy customization since Java source code is included so no coding is required. Apatar supports cross systems such as source system, FTP logic, application to application, queue to queue and flat files. Apatar can be used anywhere, even in a new application, presented in a single front end or data warehouse.
Apatar's provided module is the SugarCRM connector. Apatar provides a de-duplication and cleansing tool which dramatically reduce time to results and costs and in summary improves productivity. XML metadata files that store all the information captured by mapping graphical user interfaces and the Apatar designer can be generated by Apatar.
Apatar has been projected with a repository that can be shared across multiple clients and server component. Being a Unicode-compliant, Apatar supports any language, including languages such as Japanese, Chinese, and Arabic that use multi-byte character sets.
Apatar has also established sophisticated techniques to ensure that the data integration achieved during "drag and drop" is 100% accurate which guarantees efficiency and time saving. Apatar's open source code enables easy building of add-on connectors for any data integration applications which can be semi-structured data sources (targets), APIs or legacy.
You may like to read: Top Extract, Transform, and Load, ETL Software, How to Select the Best ETL Software for Your Business and Top Guidelines for a Successful Business Intelligence Strategy