Review
Fivetran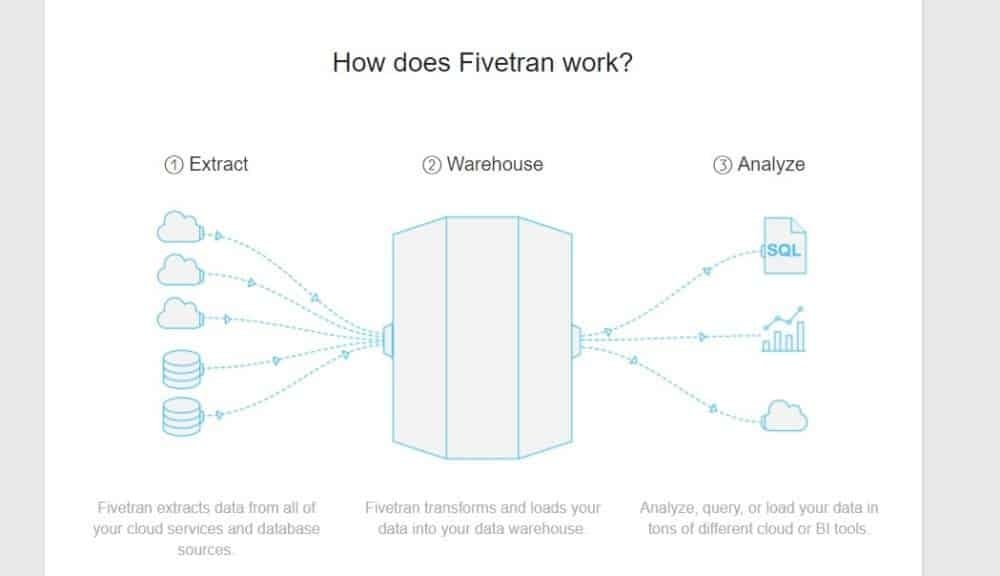 Overview
Fivetran is a completely integrated pipeline for all of your cloud services, databases, and business intelligence (BI) tools.
• Complete integration
• All historical data
• Fast deployment
• Important notification always up to date
• Fully managed
• Full control
• Full security
• Personalized set up
• Raw data access
• Connect any BI tools
• Directly mapped schema
• Integration monitoring
Small (<50 employees), Medium (50 to 1000 Enterprise (>1001 employees)
What is best?
• Complete integration
• All historical data
• Fast deployment
• Important notification always up to date
• Fully managed
• Full control
What are the benefits?
• A single hub to manage all your data integrations.
• Direct Integration
• Integrate your data, centralize your company.
• Take control of your data
• All your data centralized in minutes
Fivetran is an intergrated system for cloud services, databases and business intelligence. It extracts all your data from cloud to your warehouse, analyze the queries and leads it to tons of different cloud and BI tools.
Fivetran as a cloud middleware, integrates data from all your Saas service and databases to a single hub directly through completely secure connections. It uses sophisticated caching layer to move data from point A to point B without storing copy of your data on its application server. It centralizes your company performance indicators (KPIs) helping business focus on its top metrics.
Fivetran integrates all your business data for a single source to base all your company numbers. You will take control of your data by arching and securing your cloud data and will have full structured data from your data sources. Fivetran middleware does heavy lifting duties of data integration and allows business to focus more on its growth rather than mastering data management or ETL tools.
In addition, it delivers all data to a relational data warehouse. Business can use full power of SQL to understand all its data across data sources. Fivetran has web interface for connecting data and allows you to receive important notifications when needed. Fivetran updates data at intervals therefore KPIs are always reliable. It customizes how often data is fetched and imported to the warehouse.
Fivertran system is built up to petabytes of data therefore there is no room for data limits. It does not have code requirements for data authentication and connecting to auxiliary business intelligence. It monitors all data from all cloud sources as it is imported and loaded. Cloud applications supported by Fivetran include Salesforce, mailchimp, Zendesk, GIThub, google analytics among many others. It also supports many databases including MySQL, oracle, mariaDB among others.
You may like to read: Top Extract, Transform, and Load, ETL Software, How to Select the Best ETL Software for Your Business and Top Guidelines for a Successful Business Intelligence Strategy