Review
RedPoint Data Management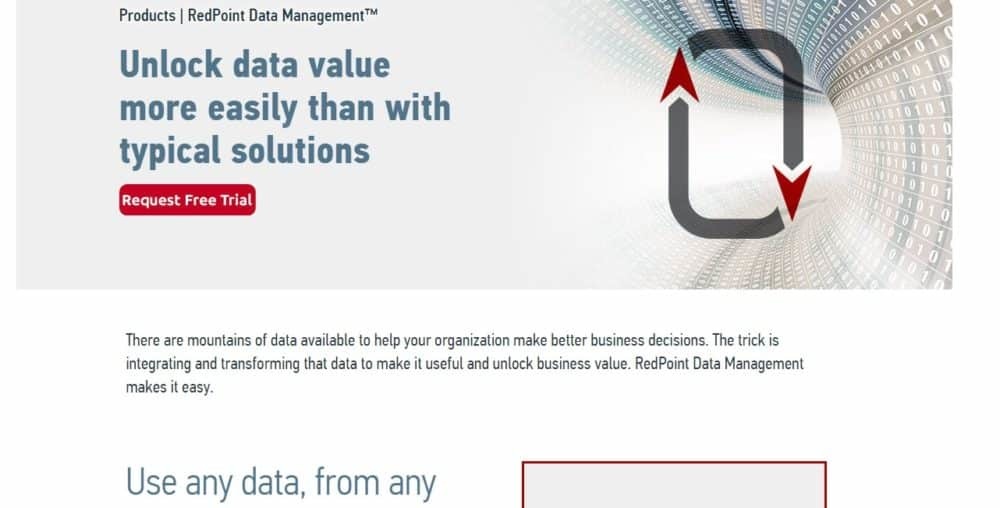 Overview
RedPoint Data Management empowers organizations to collect data from any source, cleanse and transform it and gain
immediate insight. RedPoint's graphical user interface makes designing and executing these data management processes easyand fast.
• Rep point convergent marketing platform
• Red point interaction
• Red point interaction real time
• Red point data management
• Red point management for Hadoop
Small (<50 employees), Medium (50 to 1000 Enterprise (>1001 employees)
What is best?
• Red point interaction real time
• Red point data management
• Red point management for Hadoop
What are the benefits?
• Use any data from any source
• Achieve high data quality faster
• One application for data quality and integration
• Increase productivity by automating processes
• Centralize control of data
Redpoint global is a data management expert. Redpoint makes data management easy by integrating and transforming data to make it useful for businesses. Its main goal is to empower data driven organizations by unlocking the full value of their data to drive customer engagement, profitable and sustainable growth.
Redpoint empowers customer success by optimizing customer engagement. Its customer engagement capabilities are customer engagement hub, customer interaction platform, customer data platform and convergent marketing platform.
Redpoint provides a connected, open ecosystem therefore getting started is simple and fast. Redpoint offers support in all stages of data management to your business: Pre-implementation planning, deployment, testing, up to user training and support stage. Redpoint bridges the gap between strategy and execution to hyper-personalized customer interactions at the speed of a customer.
Redpoint has top rated user survey by a leading analyst for match quality, ease of use and speed, integrated data quality and data integration to one product, works on data both in traditional databases and Hadoop, graphical user interface and re-usable macros and procedure making tasks quick and easy. Redpoint has a convergent marketing platform that combines all the three capabilities that is: connected data, intine analytics and intelligent orchestration for effective customer engagement.
They are built into one product not multiple, loosely-connected modules and have pre-built integrations. Red point products have an edge over other market solutions. They are powerful for sophisticated users and easy enough for novice users. Their next generation solutions are made for fast, low-TCO and non-disruptive and non-discriptive implementation, usage and support.
Redpoint offers any deployment option is available be it SaaS, on-premises or hybrid appliance. It is flexible for you whether a business enterprise or mid-market organizations.
You may like to read: Top Extract, Transform, and Load, ETL Software, How to Select the Best ETL Software for Your Business and Top Guidelines for a Successful Business Intelligence Strategy