Top 89 Social Media Management Software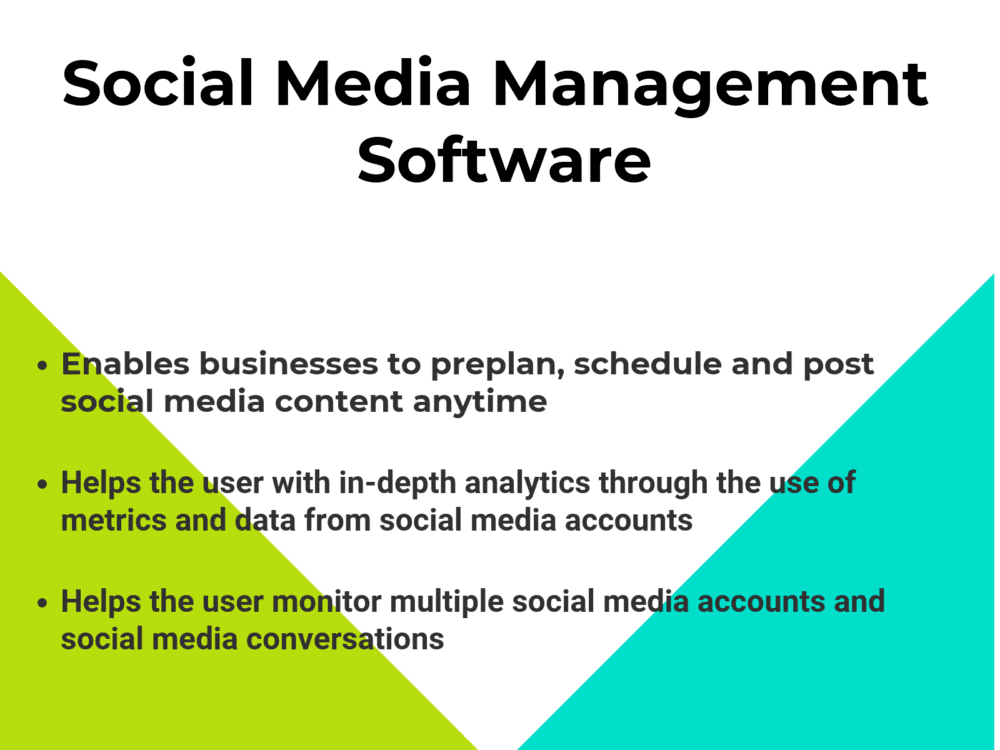 In today's world, social media is a powerful tool for any business to use to reach a broader range of potential customers and engage with the existing customers. Having an active presence on all major social networks such as Facebook, Twitter, Instagram and LinkedIn is a necessity for any firms that want to interact and engage with its current and potential customers.
Managing a social media account requires you to create and repurpose content to find the best way to engage with your online audience and community. Managers need to create a comprehensive posting schedule to participate and monitor the impact of their posts. They need to track the best time to post and time that the post-release is likely to get higher views and engagements.
It helps the companies brand to make a significant impact on their followers. It is thus crucial to possess the right set of social media management software and tools that have the perfect combination of features.
Top Social Media Management Software : NapoleonCat, Crowdfire, Viraltag, Metigy, Snaplytics, Digimind, Socialbakers, NetBase, NUVI, Sysomos, Buffer, SocialWeaver, Sprinklr, Adobe Social, Spredfast, SocialHub, Oracle Social Cloud, Plumlytics, Salesforce Social Studio, HootSuite, Buzzlogix, Simply Measured, Sociota, Sendible, Cision, Smhack, MavSocial, ContentCal, SocialBoost, Sprout Social, Oktopost, Everypost, Sentiment, Agorapulse, SocialPilot, SocialLadder, eClincher, Kontentino, Buzzmonitor, Echobox, Falcon Social, KUKU.io, Dimelo, Friends+Me, HeyOrca, Crimson Heagon, Likeable Hub, BuzzBundle, Amplifr, Repucaution, Symphony Tools, SOCi, Manalto, CrowdControlHQ, Rignite, Engage121, Social Report, Crowdbooster, ViralWoot, OctopuSocial, Swift Social, Buffer Reply, RebelMouse, Gremlin Social, PlanGram, SocialFlow, DrumUp, CoSchedule, Commun.it, Driftrock, Tailwind, ManageFlitter, SocialMotus, webZunder, Digital Roots, Qualifio, Komfo, Send Social Media, Social Elephants, Likeable Local, Post Planner, Edgar, Knackmap, Beatrix, Allin1Social, DigitaleBox, Swizly, Bundle Post, Meshfire are some of the Top Social Media Management Software
What are Social Media Management Software?
Social Media Management Software also referred to as Social Media monitoring Marketing, selling, customer service or relationship software is a platform that helps the user to schedule and monitor interactions across different social media networks. It is a system used to streamline processes and allow better collaboration across teams which makes it ideal for complex organization.
Social Media Management Software helps businesses to grow their social media presence and they make it easy to handle one or more social media profiles. Social Media Management Software offers Publishing features which makes it simple to schedule posts, analyze performance, and manage all your accounts in one place. As these tools combines publishing management and response feature sets for marketing and customer service to manage multiple social media accounts.
Platform Integration: Social Media Management Software should have the ability to manage the users' social media platforms in a single dashboard.
Social media Monitoring and listening: Social media monitoring and listening is a feature that enables the users to know what people are saying in regards to their brand, industry, and competition. It helps the user to monitor and keep a tab on the existing conversations.
Scheduling: Some Social Media Management Software help the user to schedule the time to post through the use of content calendars'. It also allows for the anticipation of the post-release and enables the user to publish posts at times when a huge audience is likely to view and engage with them.
Engagement: Social Media Management Software also have a feature that can boost customer engagement, which is more effective if the company is also active and responds to customers comments and messages on time. Companies can make use of pre-fabricated messages that companies can send to respond to the messages, comments, and mentions.
Analytics: Social Media Management Software use real-time analytics to measure the brands' performance on social media which helps them to evaluate their social media strategies. The feature helps monitor metrics such as retweets, likes, and follows among other indicators.
Collaboration: Social Media Management Software can support teams in processes like message assignments, stream and message sharing which helps reduce risks of multiple responses from individual team members.
Content Library and Mining: Social Media Management Software content library and mining feature to enable the teams to know what content could be shard guaranteeing that the brands social channels remain intact.
Social media advertising: Social Media Management Software should have the ability to manage social media ads as well as marketing campaigns and posts. It also helps simplify the social media managers' workflows.
Software integration: Social Media Management Software should also be capable of seamless integration with other existing social media platforms.
Social Media Management Software is ideal for any brand to manage all their social media channels from a central location, engage with clients, listen and monitor mentions and comments from across all their social media channels.
Enables businesses to preplan, schedule and post social media content anytime.
Helps the user with in-depth analytics through the use of metrics and data from social media accounts.
Helps the user monitor multiple social media accounts and social media conversations.
Top Social Media Management Software
NapoleonCat, Crowdfire, Viraltag, Metigy, Snaplytics, Digimind, Socialbakers, NetBase, NUVI, Sysomos, Buffer, SocialWeaver, Sprinklr, Adobe Social, Spredfast, SocialHub, Oracle Social Cloud, Plumlytics, Salesforce Social Studio, HootSuite, Buzzlogix, Simply Measured, Sociota, Sendible, Cision, Smhack, MavSocial, ContentCal, SocialBoost, Sprout Social, Oktopost, Everypost, Sentiment, Agorapulse, SocialPilot, SocialLadder, eClincher, Kontentino, Buzzmonitor, Echobox, Falcon Social, KUKU.io, Dimelo, Friends+Me, HeyOrca, Crimson Heagon, Likeable Hub, BuzzBundle, Amplifr, Repucaution, Symphony Tools, SOCi, Manalto, CrowdControlHQ, Rignite, Engage121, Social Report, Crowdbooster, ViralWoot, OctopuSocial, Swift Social, Buffer Reply, RebelMouse, Gremlin Social, PlanGram, SocialFlow, DrumUp, CoSchedule, Commun.it, Driftrock, Tailwind, ManageFlitter, SocialMotus, webZunder, Digital Roots, Qualifio, Komfo, Send Social Media, Social Elephants, Likeable Local, Post Planner, Edgar, Knackmap, Beatrix, Allin1Social, DigitaleBox, Swizly, Bundle Post, Meshfire are some of the Top Social Media Management Software
1
NapoleonCat is an analytics and social media marketing platform that is created to help businesses develop marketing efforts required to conquer their competitors on social media. NapoleonCat presents the analytics feature that provides an in-depth analytics on any profile or page on Twitter, Facebook, Google+, You Tube and Instagram. The analytics feature facilitates effective tracking of your competitors' marketing efforts. With the analytics feature, translation of rough data into information is done enabling users turn the information into actionable knowledge rather than dumping it in the Big Data Ocean. The social inbox feature provided by NapoleonCat facilitates moderating of user's…
2
Crowdfire is a content marketing software that uses clean-engage-grow philosophy to guarantee rapid growth on the social media. Crowdfire smart features are accessible through Android, Web and iOS apps. Crowdfire simply provides powerful solutions that are targeted to attract followers on Instagram and Twitter. Crowdfire powerful solutions provide powerful connections to users that enable them achieve their social media goals that include brand popularity, brand recognition, and increased fans and sales. The 'clean' features provided by Crowdfire facilitates keeping away of irrelevant, unwanted and spam accounts. The 'clean' features are ideal to individual and organizational feeds as they are provided…
3
Viraltag is a tool that helps you share visuals in the social media and also manage multiple social networks and schedule unlimited posts. It helps you recycle evergreen content and also collaborate with your team to analyze performance all from a single dashboard. When it comes to Pinterest, this tool provides you with the simplest way to schedule your pins. You are able to automate your Pinterest marketing with Viraltag's Pin Scheduler. With Viraltag, you can pin to multiple boards and multiple Pinterest accounts at once. Also, VIraltag helps you to pin multiple images at once, you can effortlessly schedule…
4
Metigy is a software that enables saving of time and automation of mundane tasks, therefore enabling users focus on actions that make a real difference to their business. Metigy software main features include analysis and insights, actionable ideas, trending conversation, timing insights, competitor and influence tracking, and automated reporting. All these features simply make marketing on social media easy and fun. The analysis and insights feature provides the AI-driven dynamic insights that provide a good platform for users not to look for ideas in hard to understand data reports. The actionable ideas provided by Metigy facilitates deep targeting of user's…
5
The goal of Snaplytics is to shed light on what marketing efforts are working on Snapchat. Snaplytics is a powerful tool and a must when considering a presence on Snapchat. Being able to automatically document users' work has saved the users countless hours and resources. Metrics that provide meaningful insights are increasingly important to the users' efforts. This, along with great customer service, makes Snaplytics a valuable partner. Users can let Snaplytics focus on the management so that users can engage with their customers and brand advocates. Sign-up for Snaplytics and watch users' social data transpire within an hour. The…
6
Digimind is a social media analytics company that provides businesses with unrivaled insights into their true standing in the market. Digimind enables to see the conversations that matter most, in real-time, across millions of online sources, in order to gain valuable insights to drive and improve your marketing strategy. Digimind analyze and benchmark an unlimited number of social accounts simultaneously with Digimind Social Analytics.Top Reputation module, follow in real-time what your customers want to know about your brands, products, people, and those of your competitors, or any subjects that interest you.Digimind's Social Media Command Center, makes it easy to capture…
7
Socialbakers is a marketing & analytics suites, with over 2,700 clients in 100 countries.In addition to offering one of the largest databases of free social media statistics and insights in the world, they provide user-friendly social media solutions that allow brands to measure, compare, and optimize their social campaigns with competitive intelligence that is second to none. The analytics platform provides global industry benchmarking and local categorization in social media. Socialbakers tracks, analyzes and benchmarks over 8 million social profiles across all the major social platforms including Twitter, Facebook, YouTube, LinkedIn, Instagram, Google+ and VK in Russia. Socialbakers provide comprehensive…
8
NetBase provides real-time consumer insights across the organization, from brand and digital marketing, public relations, product management to customer care. NetBase provides real-time, fast and accurate Social Media Analytics solutions that help businesses grow. The advanced Natural Language Processing (NLP) technology is uniquely capable of understanding and classifying complex language to ensure businesses are making decisions based on highly accurate data. NetBase provides deep insights into emotions, purchase behavior, and attitudes help you know what consumers are thinking and the language processing technology reads millions of social posts in 42 languages, giving you more meaning out of social. The NetBase…
9
NUVI Social Media Marketing Suite, is a real-time research, monitoring, publishing and analytics platform. NUVI make social conversations on the web actionable and insightful using elegant dashboards and unique visualizations. The platform allows brands to instantly see what people are saying about them across the internet, respond to the most important conversations, and influence behavior in real time. NUVI let to monitor the conversation surrounding your brand across the entire social world. Track and monitor customers, markets, industries, products, and competition. Control crises from one centralized platform, built with you in mind.
10
Sysomos brings business intelligence to social media, providing instant and unlimited access to all social media conversations to quickly see what's happening, why it's happening, and who's driving the conversations. Through the use of contextual text analytics and data mining technology, Sysomos collects data from blogs, Twitter, social networks, messages, boards, wikis and major new sources. Sysomos' products include: Media Analysis Platform (MAP), our flagship service that offers customers the ability to analyze and understand social media conversations; and Heartbeat, a cost-effective, real-time monitoring and measurement tool that provides constantly updated snapshots of social media conversations. Sysomos MAP is a…
11
Buffer is a software to manage social media sites, share everything users find worth sharing, browse on Twitter, Facebook or wherever users like to hang out, reply to people and make new friends and connections. Buffer has features such as link shortening, Google Analytics campaign tracking, team members, content suggestions, reconnect, schedule, content and happiness team. Buffer also has extensions, apps and extras like Zapier, If This Then That, Pablo (new), Feedly, Pocket, Reeder, ReviewPush, Crowdriff, Echofon, Trap.it, Tweetcaster, Followerwonk, Mr. Reader, Feeddler, Instapaper, Scoop.it, Bottlenose, Flare, Commun.it, Digg Digg for WordPress, Buffer via Email, Social Bro, Tweetings, Tracky, Tweriod,…
12
SocialWeaver is a platform that facilitates managing of user's brands as well as listen to their brands. SocialWeaver simply facilitates easy scheduling of never-ending content, increasing engagement, and listening to customers' impressions for both you and your competitors. SocialWeaver platform provides users with an excellent platform for managing of social media in a smart way. The SocialWeaver platform main features are publishing, engaging, and listening. The publish feature simply functions by automating a huge number of posts in a few minutes. The publish feature consists of create, schedule and re-use features. In creating, SocialWeaver facilitates easy creation of content for…
13
Sprinklr is an enterprise social technology purpose-built for global brands to drive business outcomes and manage customer experiences across all touch-points. Sprinklr's fully integrated social media management software powers social connections across 77 countries. Sprinklr, brands can truly know their customers not as data points, but as people. With deeper, richer context across touchpoints, organizations can seamlessly craft meaningful experiences customers will want to share with others. Sprinklr's premium modules help brands expand upon their core social infrastructure, creating a custom environment that's finely tuned to drive even more powerful experiences for their customers.
14
Adobe Social is a social management platform that ties every piece of data to your bottom line. Beyond just the likes and follows, manage the deep relationship between your customers' sentiments and your business goals.Monitor and moderate conversations, publish and promote content and analyze engagement and conversion data in one, mobile-friendly interface.Automatically attach tracking codes to your social content to identify what activity drives engagement and conversion.Use social insights, through Adobe Marketing Cloud integrations, to improve targeting and optimize the customer experience. Adobe Marketing Cloud aims to help organizations better understand and serve their customers by creating a platform that…
15
Spredfast is a powerful, open social software platform that connects every business in the world to the people they care about. Spredfast social marketing platform changes how you connect with the people your business cares about most, leveraging the power of social to help you build your brand—and brand loyalty. Streamline content planning, respond efficiently with context, and share social insights with your entire marketing team—from one secure platform. Spredfast's smart social software enables companies to build lasting relationships with today's digitally connected consumer. Brand and media companies use the Spredfast Social Software Platform to manage, integrate and amplify social…
16
Socialhub is a smart social media management software for users' team that lets users work less and achieve more. With the automated actions of SocialHub Smart Inbox users can automatically assign tickets to the Community Manager that is able to answer the request the best. Socialhub will help the users' team to do a better job. Users can measure their social customer service with SocialHub Insights. Socialhub lets users analyze their team's response time to find opportunities to boost performance. Users can enter their business hours into SocialHub to avoid inaccurate data. Socialhub receives response metrics only for the hours…
17
Oracle Social Cloud is a scalable, enterprise-ready social relationship management solution that empowers brands to leverage the power of social media across their organizations. Oracle Social has deep listening, global reach, a unified social media management platform, and integrations with Customer Experience (CX) applications. Oracle Social Cloud provides Deeper Listening uses Latent Semantic Analysis (LSA) listening technology, filters more spam and gives you more accurate and relevant listening data and indicators feature shows consumer intent, product likes/dislikes, and customer service issues. Social cloud tools allow brands to listen, create, and engage at the speed of social with the consistency and…
18
Plumlytics is an omni channel marketing communication and predictive analytics solution provider, we enable brands to acquire, serve and nurture audiences. Plumlytics is delivered via the Cloud with Telco-Grade Performance and Scale, a pay-as-you grow pricing model, and functionality that is geared towards Online (App, Retail, SaaS) focused Businesses and Agencies. Plumlytics helps to understand and make sense of conversations across social media to gain valuable influencer, topic and hashtag insights on targeting and content messaging to best communicate with your audiences.It predict happiness of your users and proactively manage your subscribed users to reduce churn. Gain visibility from what…
19
With Salesforce Social Studio, users can use social media marketing to listen, analyze, publish, and engage across networks. Users can also align their marketing, customer service, and sales efforts on social media to strengthen customer relationships. Salesforce Social Studio makes it possible to hear conversations from over 650 million different sources with social listening tools. Users can discover what consumers are saying about users' brand, users' products, and users' competitors. Users can also discover trending topics and influential conversations then use that information to inform their marketing decisions. Plan, execute, and track social media marketing campaigns using Salesforce Social Studio.…
20
Hootsuite gives customers a wide scope of controlling and managing their social media activity, by enabling them to manage all their social networks and schedule messages for future publishing. Hootsuite's best-in-class social media monitoring tools allow users to see comments about their on-display brands. Hootsuite's social media analytics give an in-depth view of how well the user's social media efforts are being received, so they can choose the better of what is working or change directions. Adding multiple Team Members feature makes sharing the workload easier because it manages social media well. Vitals like reputations, assets, and financials etc being…
21
Buzzlogix monitor, discover and pinpoint the most important discussions about your brand, products and services, market and competitors. Buzzlogix Smart Assistant offers a unique set of features that assist the social media specialists to simplify their social media campaigns, measure results, extract valuable insights, automate tasks and make valuable suggestions throughout the process. Sentiment analysis discovers whether your audience is talking in a positive, negative or neutral mood. Keyword Extraction enables you to extract from an arbitrary document, webpage or data stream all the keywords and word-combinations along with their occurrences in the text.
22
Simply Measured offers the measurement and reporting solution for social media marketers. They provide reporting should be simple, beautiful, and accessible for everyone not just data scientists and streamlines the process of moving social media data into dashboards and other deliverables. Simply Measured makes it easy to analyze your paid, owned, and earned activity from all of your social networks. Insights are delivered exactly how you need them, whether that's on the web, in dynamic Excel reports, or in PowerPoint. Simply Measured's full suite of analytics arms you with the ability to research conversations, competitors, and audience, across all social…
23
Sociota is a powerful platform for monitoring of social media, management of social media, analysis of social media and engagement of social media platform. Sociota is simply a toolkit designed for providing highly optimized and successful social media campaigns. The social media monitoring feature enables users know what their audience are saying about them on social media sites. The social media monitoring feature also works by monitoring consumer opinions on user's products. With social media monitoring, users are provided with an excellent platform for proactively responding to their consumers, therefore avoiding crisis. The social media analysis feature enables users know…
24
Sendible is a social media marketing platform that allows individuals, agencies and small businesses to engage with their audience across multiple channels at any time. Sendible's powerful analytics allows users to track and monitor the success of their social media marketing efforts and ROI. Sendible makes it easy to effectively engage with your audience, monitor your brand and track results from one dashboard. Sendible allows businesses to manage their social media more effectively and to better understand their ROI. Sendible's platform enables users to quickly and easily compose and share content, monitor their brand, engage with customers and reach their…
25
Cision is a leading global media intelligence company, serving the complete workflow of today's communication professionals.Cision offers comprehensive PR, IR and social media software, rich analytics, content distribution, and influencer outreach, Cision enables clients to engage audiences, enhance campaigns and strengthen data-driven decision making. Cision solutions include PR Newswire, Gorkana, PRWeb, Help a Reporter Out (HARO) and iContact brands. Cision social software searches millions of posts and mines the data that will help you monitor performance of key brand attributes, target emerging brand value drivers and make informed business decisions.
26
SMhack is a social media marketing platform which lets users monitor, post, and collaborate without switching programs. SMhack has features such as engagement monitoring, task management, reporting, performance analysis, and works smooth with Google Analytics and Slack to ensure there will be no manual data entry. SMhack will not simply monitor social media posts, comments and tags, but DMs and conversations too, where it responds to whatever conversation thread in seconds which protects both the users' brand and strategy allowing users to react without leaving the platform. SMhack is an amazing publishing tool to manage and post content and schedule…
27
MavSocial is a social media management and advertising software that is affordable and easy to use. MavSocial social media marketing strategy tool facilitates getting more engagement, driving traffic, and tracking performance in social media platforms. MavSocial enables users publish their content in their top social media networks such as Twitter, Facebook and LinkedIn. Users are also able to manage and schedule content that they post in their social media accounts. MavSocial streamline social media publishing feature enables users to seamlessly maintain active social media profiles. The streamline social media publishing also provides a good platform for managing your business's social…
28
ContentCal provides you with amazing social media planning and publishing tools which you can use to create quality content and plan easily. You can create your content in advance and schedule on auto publishing tools for your social channels. ContentCal is integrated with various popular social networks such as facebook, twitter, linkedIn and instagram for auto publishing. You can manage your approvals and minimize risks, ensuring every post has been vetted prior to going live. With Placeholders you can create draft posts in your Calender, which is great for planning any upcoming content. ContentCal helps you centralise your campaigns with…
29
SocialBoost is a platform that increases ROI of brands and agencies by direct placement into trusted visual narratives that reinforce their story. SocialBoost enables brands and agencies see their data in real time, therefore placing the agencies and brands in a position to know how their business is performing. SocialBoost analyzes each piece of content, hence providing the agencies and brands with an excellent platform to measure the influence their business is having to their pocketbook and audience. SocialBoost presents the sponsored content. The sponsored content feature finds an interface the content of other brands and agencies. The sponsored content…
30
Sprout's collaborative platform ensures smarter, faster and more efficient social communications. Social media has undeniably changed the way brands and customers communicate. Sprout's social media management tools can help users and their team monitor, respond, measure and collaborate to ensure smarter and faster communication. Sprout is a leading social media management platform that provides world-class engagement, publishing, analytics and collaboration tools for teams of all sizes. Sprout's Smart Inbox makes it easy for users and their team to manage social communication so users never miss a message that matters to their business. Whether posting updates or engaging with consumers, Sprout's…
31
Oktopost helps users manage content and measure the true business value of their social media marketing. Users can intelligently manage their social media editorial calendar and maximize brand visibility. Oktopost lets users expand social reach by publishing to multiple networks and deliver engaging content to the target audiences who matter the most. Users can put an end to ad-hoc social posts with Oktopost campaigns. Users can arrange, classify & categorize all their social media content to simplify management and improve analysis. With Oktopost, users can enjoy a company-wide view of all their social content that will enable users to intelligently…
32
Everypost is a social media tool that simplifies social media publishing. Everypost facilitates easy curation of content visually coming from a number of sources, post customization and scheduling, and taking massive control over users' media social pages. The publishing solutions offered by Everypost are unique and provides a good platform for users to share their multimedia content across several social media platforms such as Twitter, Google+, Facebook, Tumblr, Pinterest and LinkedIn. Everypost presents the content curation feature that enables users create content all in one place. The content curation feature is ideal as it makes it simplifies for users the…
33
Sentiment enables you to manage the opportunities and threats presented by social media with confidence.The Cloud platform empowers better customer service, identifies potential new customers and delivers new insights into their behavior with powerful analytics. This brings comments about your company, services, products and your competitors into one easily managed channel- not only from Facebook and Twitter but also 50 million blogs, forums and news sites. Features include Schedule and post content including images and videos to social media platforms using the Sentiment shared calendar. Bring in all your social mentions in one inbox so you can easily respond across…
34
Agorapulse is a simple and affordable Social Media Management. Agorapulse lets users manage all social media messages in one place. Users can schedule and publish content. Users can also get stunning reports. Agorapulse is the perfect, low cost solution to keep users' clients happy and preserve users' margins! Agorapulse offers all the tools users need to help users save time and focus only on what really matters. Agorapulse is the only tool guaranteed to collect 100% of the comments on users' Facebook ads. Agorapulse does this by connecting directly to the users' Facebook ad account. Users can add a separate…
35
SocialPilot is a social media scheduling and marketing tool where all users' platforms can be reached via one network and using only one account. SocialPilot has features such as channel management, auto fill timeslots, import feeds, automated posting schedules, lead management, multi-campaign, easy to use UI/UX, RSS feed, support and API integration. SocialPilot saves time by allowing users to connect as many as 200 social media profiles and up to 500 updates per day. SocialPilot doesn't impose character limits, providing users the free range they need to create and share messages with their target audience. Social pilot allows users to…
36
SocialLadder is a mobile peer to peer marketing platform that usually drives your most influential fans to promote your brand and sell tickets to their followers. This platform usually uses a sophisticated system of rewards and challenges in order to make it easy to manage and grow your brand ambassador team. This tool is fully integrated with EVERY ticketing/e-commerce platform on the planet so you collect the money upfront and your ambassadors can sell with the click of a button. SocialLadder is fully integrated with Facebook, Twitter, and Instagram makes it easy for ambassadors to promote with the click of…
37
eClincher is a powerful social media management tool, designed to help businesses to efficiently manage social media presence and marketing activities. eClincher combines all the social media accounts into one place, a huge time saver. Businesses use eClincher to manage social media, increase brand awareness, publishing, engagement, monitoring, content curation, and social selling. Users can manage all their posting needs in one place. eClincher lets users schedule posts to multiple social networks, profiles and pages: Twitter, Facebook, Instagram, Google+, LinkedIn, Pinterest, Blogger. eClincher lets users gain control of their links with Google utm tracking and Sniply call-to-action attached links. Users…
38
Kontentino is a social media marketing platform that facilitates managing of disparate social media accounts all from one platform. Kontentino provides the simplified content creation and planning feature that facilitates placing of all posts in one place and in an organized manner. The intuitive calendar provided by Kontentino enables users has an overview of all their social media content across all social media channels or platforms. The simplified content creation and planning feature also presents the drag and drop feature that provides a clear overview of content balance or monthly boost budget. The simplified content creation and planning is consists…
39
Buzzmonitor is an innovating solution which involves consultancy, diagnosis, and technology to help users manage their business on Social Media. Buzzmonitor offers features such as real-time dashboards, access to up to 9 Brands, access up to 9 Users, access up to 15.000 items per month and an Account Manager (which is not available in the freemium package). Buzzmonitor monitors users' brand on social media, creates custom reports and turns them into real-time dashboards with one click. Users also gets to compare their Facebook, Twitter and Youtube channels' metrics with the ones from their competition. BuzzMonitor also lets users respond and…
40
Echobox offers Larry, an AI-driven social media assistant for online publishers which helps users curate users' presence and grow users' audience on Facebook and Twitter. Larry analyzes users' historical and real-time data to create an entire social media strategy for users. He also keeps an eye on what's currently trending and what users followers are talking about to adapt users' social media strategy in real-time. Larry helps users pick catchy, summarizing share messages that resonate with users' audience. He also searches for relevant hashtags and adds them to users' shares so that users' content always forms part of a bigger…
41
Falcon. IO features listen, engage, publish, build, measure and audience exclusive features. The feature termed as 'listen' plugs straight into trending discussions, social networks and online sites such as media outlets to proactively identify opportunities, influencers and jump on brand image issues. The Monitor brand perception feature is also a mandatory social media monitoring exercise that is connected to Listen, and channels to see what the world is saying about a certain topic. It also features the facility to track campaign performance which influences the impact of your online campaigns. It allows the comparison of Projects Overview pages. This feature…
42
KUKU.io is a user-friendly social media management platform which lets users edit their posts, edit content, change social media images, meet length requirements, choose the best time to schedule social media posts, manage social media with the social media app, manage multiple social media profiles, groups and pages through channels and change a time zone to engage their audience and transform their social profiles, groups and pages into powerful marketing tools. KUKU.io has features such as a timeline filter, track publication status, track social media campaigns with UTM codes, goo.gl's link shortening, posting schedule, Like and Share" feature, third-party application…
43
Dimelo SocialCRM Suite is comprehensive multichannel software for companies willing to engage in a direct conversation with their customers, allowing them to coordinate, manage and secure conversations in their Internet properties as well as in the web.Dimelo Social is a customer engagement application designed specifically for interactions on social media. The application helps community managers efficiently engage on community websites, Twitter accounts, Facebook pages, FAQs, blogs and forums, as well as feed internal CRM and business intelligence applications. Companies can monitor performance on social media using key indicators designed specifically for the needs of customer service, creating custom reports and…
44
Friends+Me is a scheduling and content management tool that is of high functionality, actuality, and quality and enables user's content fly across social media platforms. Friends+Me is affordable and easy to use and provides a good platform for increasing engagement and driving traffic in social media platforms. Friends+Me enables sharing of content from anywhere. This is achieved by Friends+Me facilitating publishing of content at the right time, reaching more customers, and increasing engagement. Friends+Me also provides a good platform for users to schedule their social media content. Scheduling of posts eliminates the need of publishing a post right away by…
45
HeyOcra is a platform that offers social media planning and client collaboration features all from one place. HeyOcra simply eliminates the frustration experienced by users who have to format every spreadsheet and word docs for each and every campaign. HeyOcra's flexible content sandbox facilitates putting of social media plan into context for clients by accurately visualizing content before it goes live. The flexible content sandbox also facilitates sharing of content that is ready for review. The content planning feature presented by HeyOcra includes a social media calendar. The social media calendar is ideal as it can be shared and customized.…
46
Crimson Hexagon is provider of social media analysis software. It allows businesses to answer strategic questions using flexible, customizable categories. Crimson absorb and index a torrent of data points from Twitter, Facebook, Instagram, Weibo, blogs, forums, and more. Crimson allows access and analyze any data at any time. Intuitive visualizations like topic wheels and word clouds give the power to easily discover and measure key topics of conversation, bringing important trends into focus. Flexible, customizable text analysis allows review conversations, select examples, group posts into categories worth measuring. Crimson adapts, learning to focus on what matters and ignore what doesn't.…
47
Likeable hub is an easy and effective social media platform for your business, it helps you get access to thousands of engaging content ideas to share. Likeable hub mainly intends in making and managing social media easy by just pointing and clicking once you come up with things to post. This platform has quite some interesting features which aid the user in various ways such as; Facebook Advertising & Post Amplification this enables you to reach more fans and prospects by using Turbopost technology. Turbopost increases the reach of your posts across Facebook, Twitter, & LinkedIn. This allows you to,…
48
Buzzbundle is a powerful social media software that allows you to find online conversations about your company, products or brand and further engage with your audience. Buzzbundle has enabled more than one hundred thousand users in order to facilitate wisdom and appropriate measures to be taken so that they can further expand or grow their businesses. This tool has quite a number of useful features which let them get as comfortable as possible. With Buzzbundle social media coverage, you are able to perform the most versatile campaign with Twitter, Facebook, Google+, YouTube, LinkedIn, forums, blogs, and Q7A websites. Buzzbundle also…
49
Amplifr is a tool that helps you schedule posting to social networks and by doing so you earn money. Amplifr helps you post to all the social accounts you manage. Schedule your content and then you don't think about it: it'll be posted on the time you choose and you are notified which posts have gained more user engagement and attract more users to your website. AI algorithm does predictive analysis that automatically detects Time to go data-driven. Amplifr shows which content converts better and helps you adjust your schedule based on that performance data. this tool helps gather the…
50
Repucaution is a free open source system for social media management and monitoring designed to improve your company's online presence. It helps your company track its social media and also its reputation at one place. It requires no special skills. Repucaution is an excellent solution for your social media marketing agency or if you are one of those who want to provide extra tools for your customers. It's very easy for you to install and maintain and regular updates that are readily available. With Repucaution, you will be able to track brand mentions in Twitter, Instagram, Google Plus and manage…
51
Symphony Tools is a platform that facilitates social media publishing and comes with content marketing tools. Symphony Tools main features are visual content, scheduling of posts to be published, automation of posts to be published, and publish of posts to be published at a big scale. Symphony Tools is simply an easy platform for social media publishing and facilitates posting of content to so many pages by using the content marketing tools. The visual content feature presented by Symphony Tools suggests the images to be used by the user when the user updates his or her status. The visual content…
52
SOCi is a platform that facilitates managing of social media marketing campaigns at a given scale using platform tools got from content management to analytics and reporting from SOCi features. SOCi is built for multi-location and capable of managing brands and agencies reputation and social content at local levels. Some of the main features of SOCi include content center, asset management, smart scheduler, lead generation, customer care, reviews and reputation, workflow solutions, and reporting suite. The content center feature facilitates scoring of the social web using unique algorithms that tell the user about engaging content and the one that is…
53
Manalto is a social media management tool that helps your organization to be able to manage its social media presence efficiently across multiple locations within one dashboard. It was designed to help your company better manage social media at scale. It does this across a variety of social platforms which are operated by multiple outlets of your organization. Manalto allows your content to be published through selected or all social media assets and also to selected or even all of your organization's outlets simultaneously. This will remove the need for your organization to have to constantly log into each and…
54
Crowdcontrolhq is a tool that combines cutting-edge integrated technology and exceptional customer service to help brands, enterprises, and organizations protect and grow their reputations online. This tool normally gives organizations the power to protect and grow their brand's reputation online and also provides an enterprise feature set that enables the organization to optimize social engagement in a well-controlled and co-ordinated way. This tools social media crowd features ensures that all social media delivery is targeted where it is needed most - in driving engagement, through insight, collaboration and effective listening! We help to boost productivity, taking away the headache of…
55
Rignite is a powerful social media management software that provides social activity tracking, customer interactions history, collaboration and posting features. It provides your business with powerful social marketing that will grow your business with powerful social media marketing and management modules. This will end up helping you to save on time while you get results. Rignite works to provide your company with a set of social media marketing, monitoring, management and analytics tools. It allows you to create social marketing campaigns and manage social media activities daily from a single solution. Rignite has the advantage of making it easy for…
56
Engage121 Enterprise is a social media management, monitoring, publishing and reporting application serving multiple clients across an enterprise from brand directors and managers, community managers, and the marketing team through to individual outlet owners. Engage121 provides ability to manage the integration of social media into all customer- facing operations.Engage121 helps clients use social media to: grow and gain more customers, build customer loyalty/ satisfaction, and develop leads. Social Media Assistant is the full-service social media management and marketing breakthrough.Engage121 builds communities and executes social advertising campaigns for small and mid-sized businesses. Community building service deals with all aspects of social…
57
Social Report is an all-in-one social media management platform. All features users need is in one concise package. Users can simplify their social media reporting and gain powerful insight from social data to inform smart business decisions. With Social Report, users can track the performance of everything from their Facebook pages and Twitter profiles, to business reviews, website site performance and blogs. The data from the users' social channels is downloaded and laid out on a simple and intuitive dashboard. Data collection is effortless - users just need to connect their social profiles. Users can quickly and easily organize their…
58
Crowdbooster platform helps you measure and optimize your social media marketing. It equips you with the right tools to help you make data driven decisions, there are some several factors and useful features which allow this tool be uniquely successful in the eyes of many. This tool normally saves you time on reporting thus getting real time data that's always up to date and also quickly report your key performance metrics and also share them with your dashboard. Dome of the features of this tool include; collaborate and demonstrate results with others, this enables your clients access to the dashboard…
59
Viralwoot enables you to build and cater for your needs as a freelancing marketer, an enterprise or an agency. You can post schedule, promote on social media, carry out social media analytics, manage your content and influence your management. You can automate your social media presence with Viralwoot's Pin Scheduler, allowing you to spend more time on high value activities like engagement. Scheduling in bulk saves time and extends your reach by posting at the right time for maximum impact. Viralwoot allows you to boost your presence and get more traffic from social media in seconds. You can paste your…
60
OctopuSocial is a social media management platform that helps improve your business by helping you to be connected with your audience. It works to improve your business in social media management while staying connected with your audience. It's perfect for allowing you to schedule, manage and analyze your posts on Twitter, Facebook and Instagram. It has a management feature that centralizes all the tools you need to successfully handle all your Instagram and Twitter profiles in an innovative, simple and user-friendly way. From this management feature, you get to know what people are currently saying about your business in different…
61
Swift Social is not only a twitter management solution provider but also facilitates users with the ability of driving social traffic to their products or services while growing and maintaining a trustworthy and great social presence. In providing Twitter management solutions, Swift Social provides users with an excellent platform for gaining full control of their Twitter accounts, scheduling of posts, curating Twitter content, automating likes, follows, and unfollows. The main features of Swift Social are; discover and share, extras, apps and integrations, optimize, schedule and post, schedule, find and engage, campaigns, and data analytics. The discover and share feature functions…
62
Buffer reply is a social customer service software used to solve customer issues on social, crush your queue and also get to inbox in a fast and efficient way. This tool helps turn your Twitter, Facebook and Instagram engagement into threaded conversations, all neatly organized in one inbox for your team to tackle, together. One of the most important features of this tool is that it is designed exclusively for customer support teams. Most social media tools are built for marketing, not customer service. Buffer is designed to keep your support team perfectly in sync, so you can deliver incredible…
63
Rebelmouse is a tool that enables companies to succeed in the world of distributed publishing. By using groundbreaking distributed content for natively social publishing, the customers of this tool hence launch a fully distributed web properties in a matter of a few days. At the core of the platform are smart distribution tools which help to boost organic reach across social and search, along with built-in publishing to native content formats like Facebook Instant Articles and Google Accelerated Mobile Pages. Rebelmouse has a proprietary tech that identifies influencers across social platforms and even allows you to form relationships with those…
64
Gremlin Social is a tool used in social media marketing for banks. Gremlin Social simply facilitates easy execution of bank's social media strategy, improving of customer engagement, and building of relationships with customers. Gremlin Social uses automated processes that provide an ideal way for making social media management possible in only fifteen minutes a day. Gremlin's unique feature set is specifically configured to help businesses master social media marketing for their banks. The features provides a broad array of required and relevant social media marketing tools that enable users make the most of their online strategies. Gremlin Social provides a…
65
PlanGram is the leading Instagram scheduler. It allows you to easily upload your photos to your server. PlanGram allows you to schedule posts so that there is no need for you to wait for a notification or email to remind you when to post. PlanGram takes care of this. PlanGram allows you to focus on the things that matter while it focuses on giving your audience the content they want. With PlanGram, you are allowed to easily repost previously well performing posts onto your Instagram account. The Simple user interface provided by PlanGram ensures that you will not get lost…
66
SocialFlow increases distribution of owned and earned content by analyzing user behavior and optimizing each post based on real-time data. SocialFlow developed technology that analyzes and quantifies audience, attention, topics and engagement. The algorithm ensures that each message is delivered at the right moment—when users are online and engaging with related content. As a result, marketers gain value for each piece of content and deeper engagement across social media channels. SocialFlow boasts a feature called Optimize that uses real-time data and editorial business rules, and brilliantly sequences the distribution of content. It makes sure that the message that reaches the…
67
DrumUp is a sophisticated and intelligent social media solution, content discovery and sharing app that mines the web for relative, timely content and makes it simple to publish across Facebook, Twitter and LinkedIn which cuts down social media management effort by up to 90%. DrumUp has features such as content library, queue calendar, slack integration, analytics, drumup employee advocacy platform, common edit/delete and url shortener. DrumUp discovers relevant and engaging stories of interest to users and users' social media audience from around the web and ranks the stories and queues them for sharing through the users' Twitter, Facebook or LinkedIn…
68
CoSchedule is a content marketing calendar that enables users to easily drag and drop, plan, create and promote their content all in one place. CoSchedule simply saves you time by helping users grow their audience through efficient team collaboration and smart marketing plans. The marketing calendar presented by CoSchedule facilitates rescheduling of social messages, contents and even projects from anywhere on the calendar. The marketing calendar feature simply enables users to drag and drop their content to a new day and anything associated with that day will automatically adjust to its new time as well. CoSchedule presents the social media…
69
Commun.it is a powerful tool that provides easy ways of managing, growing, and tracking of user's social media profiles across social media platforms such as Twitter, Facebook, and Instagram. Commun.it provides tools needed by the user to grow on all networks without putting much effort. Commun.it provides an easy to use and free dashboard that facilitates scheduling of posts from all social media channels and platforms at one. The dashboard also provides a good platform for users to discover new leads and have a chance to create an audience. Commun.it provides intelligent suggestions for the user on who to interact…
70
Driftrock's Technology helps users acquire more leads, reduce cost per lead and increase downstream conversion. Driftrock offers features such as deploy, sync, security, personalized, connections, retarget, support, advice and consultancy. Driftrock connects with all the social ads platforms, and syncs leads to users' Marketing Automation or CRM platform in real time such that it deploys Facebook lead ads effortlessly for personalized, local or national campaigns, it syncs leads from Facebook, and LinkedIn securely with a real-time sync and it offers enterprise-grade uptime, security and backup syncs. Driftrock automatically nurture leads with users' dynamic rules engine. Driftrock offers transformation & mapping…
71
Tailwind is a platform that helps you manage and optimize visual campaigns from end to end. This tool empowers creative marketers to deliver beautiful data-driven visual campaigns that normally get results. Tailwind is quite a powerful tool since it has managed to help over 100000 brands across the globe achieve their visual marketing goals. This tool provides you with content curation tools for Pinterest and Instagram. It allows you to discover the Best of the Visual Web and therefore equips you with the capabilities to create custom visual feeds from your favorite content sources and get curated recommendations proven to…
72
Manage fliter is a tool which provides you with a set of easy to use tools in order to empower the user to work faster and more diligently with twitter. This program enables you to find out when the most of your loyal followers are online and most importantly schedule tweets appropriately with a feature called powerpost. The powerpost feature helps you send out important tweets that get seen by your followers, it has a unique interface that usually allows you to incredibly see the best and most appropriate time to post tweets based on your account. There is also…
73
SocialMotus is a social media management and monitoring tool for business purposes. This tool helps you manage all Facebook and twitter accounts with multiple team members efficiently and effectively. It also helps you discover targeted prospects and to also build meaningful relationships with lots of ease. SocialMotus offers you the best social management software & social media management tools to effectively manage multiple accounts from one central platform. SocialMotus allows you to manage all your Twitter and Facebook accounts from one simple, user-friendly platform. Now you can coordinate the various aspects of your social media campaigns through one interface to…
74
webZunder is an application that organizes user's everyday social media interactions. The dashboard used by webZunder makes it manageable and efficient for professionally organizing user's social media presence. webZunder lean social media management tools is ideal as it minimizes the user's effort by giving them more time for their operational business. webZunder simply offers a manageable dashboard, customizable templates and simple processes used for social media interactions. The dashboard offered by webZunder includes the most social networks. They include; Instagram, Facebook, WordPress, Twitter, LinkedIn (personal), and Xing (personal). webZunder dashboard facilitates easy social media publishing with templates. The publish feature…
75
Digital Roots uses cutting edge artificial intelligence (Social AI) technology to identify the conversations users care about and excludes the ones users don't so users are left with a concentrated volume of relevant conversations that they can interact with faster and more efficiently. Digital Roots software removes all the time consuming manual processes from social management where its Social AI qualifies, prioritizes and delivers conversations to the right users which increases efficiency and decreases the time it takes to get to users' customers. Social AI automatically applies topic tags to each post that comes into the streams such as product…
76
Qualifio is an online platform that engages your digital audience and collects data by creating and publishing viral interactions on websites, mobile apps and social media. Qualifio enables you to choose your interactive campaign from more than 40 viral and innovative formats. It allows your company to easily publish on your websites, mobile apps and also social networks. Qualifio allows you to be able to visualize and extract your data and campaign results in real time. Qualifio has a feature that allows your organization to manage multiple users & brands all thanks to a comprehensive rights management system. The multiple…
77
Komfo is a social media relationship software that uses chatbots to automate social media marketing. Komfo simply streamlines conversations at every touchpoint from unified world class software for every client and empowering brands to own their social experience. Komfo platform provides full integration in four key areas that is measure, advertise, publish, and monitor. The publish feature facilitates planning of social media campaigns across multiple platforms and channels by targeting the right clients at the right time. The publish feature also enables easy collaboration on advertising and content creation. With the publish feature, users are able to plan, organize and…
78
Send Social Media is considered to be an online marketing service for business and marketers to grow, promote and track their brands through the use of social media, SMS messaging and email. This tool is considered to have the easiest way to grow and build your brand online and is a one-stop shop for all your marketing needs. This platform has various wonderful and useful features, some of the features include; Send Social Media can help draw traffic to your site and enhance your online presence. Here are some of the things you can do with Send Social Media such…
79
Social Elephants is a platform that provides monetizing and social media management tools. Social Elephants platform provides decision-making techniques on investments in social media. Social Elephants also features a dashboard that comes with metrics oriented to business and marketing. Social Elephants, provides tool for governing user's KPIs and activate their campaigns targeting influencers. The custom management feature provides functions for top brands. The functions are ideal for the top brands to manage their social channels, multi-tasking, multi-role, delegation of tasks and assignments, management of processes, follow-ups and monitoring, and reports. Social Elephants also provides the actionable insights feature that provides…
80
Likeable Local is a powerful and comprehensive platform that comes with an easy to use mobile app that will help you succeed with social media. Likeable Local features the content creation and scheduling feature that facilitates sharing of content on social media accounts and comes with thousands of engaging content ideas. The content creation and scheduling enables posting and scheduling of content from one place across social media accounts such as LinkedIn, Twitter and Facebook. With content creation and scheduling feature, users can auto-schedule an industry specific content using the expert and pro plans. Accessing of social media post ideas…
81
PostPlanner is a system that is configured to enhance the social media marketing activities and campaigns of any organization or business. PostPlanner is ideal for social media marketers as it provides them with an easy way for managing and sharing content consistently. With PostPlanner, the social media marketers are also able to achieve measurable, predictable and commendable results with their social media posts majorly on Twitter and Facebook. PostPlanner provides the find feature that provides a good platform for finding high quality content that your followers are guaranteed to engage with. The content provided by PostPlanner is ideal as it…
82
Edgar is a tool that reuses your best content in order to bring in more views. Edgar usually spikes when new content is released and quickly tapers off since web traffic usually follows a predictable pattern. It is important to note that, everything that you normally publish with Edgar, the data is usually stored in an organized library and arranged into different categories such as quotes, blog posts or even Cat Puns. Then Edgar Schedule content by category. By this, it creates a schedule that tells Edgar when to publish from each category. That way, the tool always knows what…
83
Knackmap is a social media marketing software used by small businesses for easy social media marketing. Knackmap provides social media marketing services all in single software. Knackmap facilitates collection of ideas to be used for making future content that is ideal when it comes to media marketing. With Knackmap, users are able to set up approval processes and create draft and live calendars. The content and posts collected and created can be published and scheduled to Twitter, Facebook, Instagram and LinkedIn. Knackmap also facilitates creation of queues that automatically populate the user's social media channels. Users using Knackmap are also…
84
Beatrix provides you with a friendly social media platform for your business. With a lot of features to showcase, Beatrix provides you with one of the easiest ways to create amazing social media content that will help you generate and uncrease traffic to your websites, also allowing you to plan a week or two of social content in seconds. You only need tell Beatrix about some information about your company or clients and she helps you find, create, approve and even schedule posts for your social media accounts. When you get stuck or miss on things to say on social…
85
Allin1social is a platform that fuels your digital strategy with real social media intelligence. It enables you to plan strategically with the right tool that uses real insights to back up you made up decisions. This tool is also a Facebook marketer partner with common specialties in community management and AD technology. Some of the features of this tool include: benchmarking thus getting a competitive advantage from monitoring your competitors. By doing so, you usually Know what your competition is doing. Monitor the brands and pages of your choice and discover your competitors' strategies and performance. Gain competitive advantage from…
86
DigitaleBox is a SaaS (Software as a Service) solution and a Community Organizing Software which enables an NGO, Political Organization, Enterprise and Gov to conduct data-driven campaigns and organize supporters/volunteers/fans on social networks. DigitaleBox offers unlimited posts on social media, easy, user friendly interface, publish & schedule social media content, unlimited admin licenses, manage all social media activity, interactions, identify new contacts, grow your community., organize your data & contacts (social media, email & sms) in a unique data base, manage communication campaigns (emailing, social media & sms), advanced community organizing platform, manage volunteer, fans, supporters, mapping tool, personal donation…
87
Swizly is a digital social media aggregator for user's dispersed content into a single hub. Swizly functions by first aggregating content. This simply means displaying of all your content across all twelve social networks on any device. The next step is populating content. In populate content, Swizly pulls and moderates the User Generated Content (UGC) in form of hashtags from Instagram and Twitter. At populate content step, addition of multiple RSS feeds is also done. The third and final step is propagation of content. In this step, Swizly facilitates sharing of your content by your fans across their social channels…
88
Bundlepost is a platform that helps you stop managing your posts and spend more time engaging. Bundlepost has several important benefits to the user and at which you are able to access some features which help your normal routines run smoothly and efficiently. This platform allows you to efficiently discover schedule and hashtag curated content in minutes by the use of the scheduling engine which saves you 80% of your time by enabling you to find, hashtag, schedule and post distinctive curated content for your audience. This allows you to select up to 100 unique social media posts from various…
89
Meshfire provides you with the only social media management platform powered by artificial intelligence. This allows you to spend less time managing social media and more time building valuable relationships and communities. Ember is an intelligent agent that allows you to have your social media A.I., and works behind the scenes to analyze your activities. She suggests people to follow and engage with in order to maximize your reach and engagement, filtering out people who contribute to the noise. She can even find relevant content for you to share with your audience. With smart lists you can automatically add people…
Is Free Social Media Management Software Worthwhile?
Social Media Management Software has many features and can do a lot to help your business to succeed by managing your social media, and it is not very expensive. There are also plenty of limited free Software available. There are two categories of Social Media Management Software based on licensed model: Open Source and Proprietary. Based on Installation type, there are On Premise and Cloud and the selection of the installation type depends on your business and organization requirements.
You can find limited free versions and full-fledged free trials in both the licensing models.
If you are unsure of the business benefits, you could try a limited version of Proprietary Social Media Management Software to check how it fits to your business before making a big investment. These software comes with limitations and you need to buy additional features using the up-selling vendors offers to make it useful for your business. A free limited version from a proprietary product company will make it easier to upgrade in the long run and also help you determine if that company's solution is what you want.
There are also many drawbacks to Free Limited version of Proprietary Social Media Management Software. These limited version do not have nearly as many features available in a fully functional paid version, and there are limits such as number of features and functionality, modules, storage limits, number of reports, limited data integration options, and also on the number of users and accounts you can have. The free versions also have limited support options.
As these are priced fairly and competitively, and requires less set up time, based on your functionality requirements and business fit, you can always choose a free trial and experience the system with your data before buying and migrating to a full-fledged solution.
Is there a one size fits all Social Media Management Software: Unfortunately there are no one size fits all solution as each of the products has its own core strengths in functionality, social platform focus, integration capability and core features.
We recommend determining how the software fits to your business in terms of features, functionality, and business process with a free trial.