Top 15 Social Media Marketing Software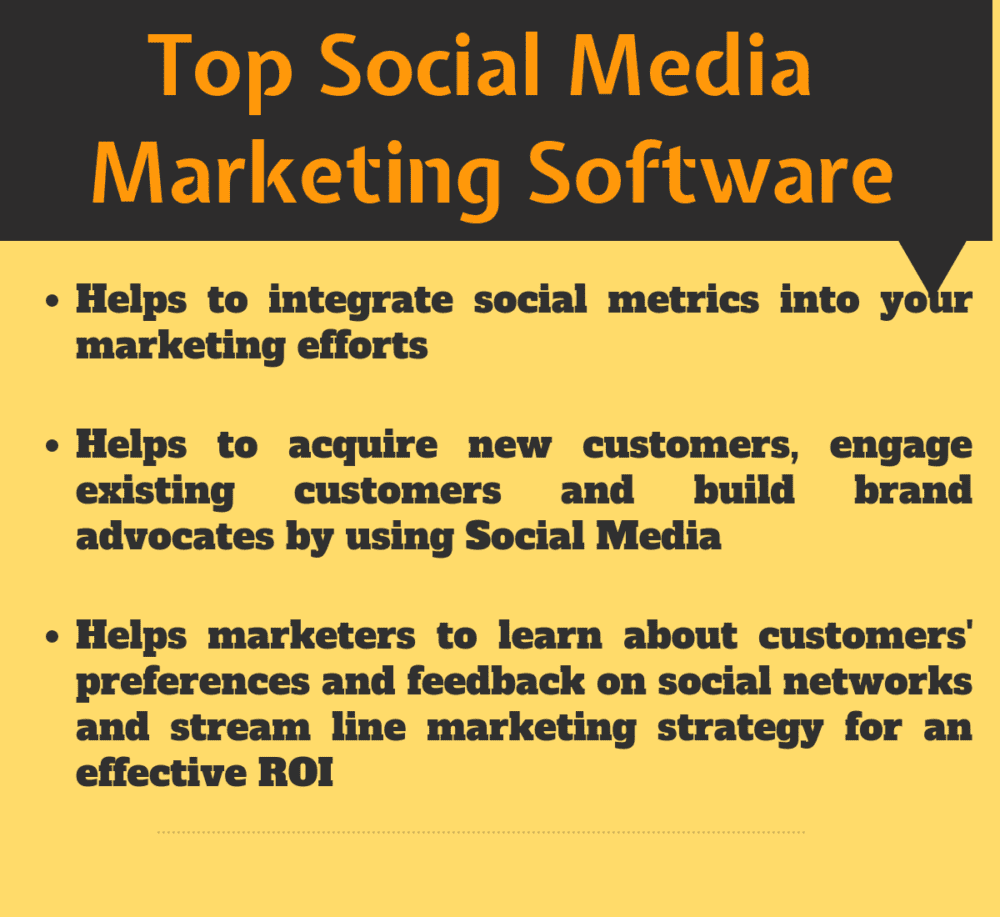 Cutthroat competition in the current business world has led to the innovation of different ways of attracting and retaining customers. Easy access to the internet has made it easy for people to connect globally and socialize. Social media platforms such as Facebook, Twitter, LinkedIn, YouTube and Instagram have taken the world by storm. Interestingly, these platforms are not only used for socialization but they are also seen as a means of marketing. To remain afloat in the business, organizations are increasingly using social media marketing as tools of communication.
The different platforms in existence target different groups. Thus, an organization is compelled to use different platforms to engage with the diverse audience. Managing these platforms is not a walk in the park. That's why you need social media marketing software
Top Social Media Marketing Software : Crowdfire, Affinio, SumAll, Raven, Stackla, Rignite, Swift Social, Brandify, Curalate, Wayin, Audiense, ShortStack, Halonet, Votigo, Cool Tabs are some of the Top Social Media Marketing Software.
What are Social Media Marketing Software?
Social Media Marketing Software helps to integrate social metrics into your marketing efforts. Social Media Marketing Software helps to acquire new customers, engage existing customers and build brand advocates by using Social Media for Marketing purpose and engaging with them by making it easy for customers to share your content with their professional networks, friends, and family using built-in social media sharing buttons.
Social Marketing Software helps marketers to learn about customers' preferences and feedback on social networks and stream line marketing strategy for an effective ROI. Social Media Platforms have built-in data analytics tools, which enable companies to track the progress, success, and engagement of ad campaigns. Companies address a range of stakeholders through social media marketing, including current and potential customers, current and potential employees, journalists, bloggers, and the general public.
The social media marketing includes the management of a marketing campaign, governance, and setting the scope. This is a tool that organizations use to manage social media interaction. These interactions are normally carried out on platforms such as LinkedIn, Facebook, and Twitter among other online communities. The software is developed with listening technologies which help an organization understand how it's being viewed.
The tool enables an organization to send automatic messages from different platforms at a go. Through use of the software, organizations are able to integrate their social media activities with marketing programs. Companies also use the tool to assist in improvement of their brand awareness.
Platform integration: This helps one to manage the entire social media platforms from a single dashboard. Platforms such as Facebook, Twitter, LinkedIn, and YouTube reach out to a different audience. Thus, it is important to have a variety so as to reach as many people as possible. Having software that integrates these platform makes it easy to manage operation in your business for greater results.
Social media monitoring and listening: This is a feature that allows one to keep track of what is happening on your social media platform. Monitoring helps one to keep track of what is happening around your brand whereas listening allows one to identify relevant conversations that you can participate in. Having such a feature will assist in gauging how your product is performing in the globe and any improvements that need to be done.
Scheduling: Planning on how to release posts on different platforms can be hectic especially if you do not have the right tool. This feature is meant to take care of that. It helps one to create and post content consistently at the most appropriate time when your audience is likely to see them. This can be done automatically thus freeing most of your time to concentrate on other activities.
Engagement: The purpose of using a social media platform is to engage your customers. You need to respond to their queries in order to maintain them in your business. The feature allows your team to respond to messages, queries, and comments within the shortest time possible. The team is also able to keep track of the interaction history, keep records of interaction with a particular user of your brands for easy reference. You can also create a list of people who really value your brand from your engagements.
Top Social Media Marketing Software
Crowdfire, Affinio, SumAll, Raven, Stackla, Rignite, Swift Social, Brandify, Curalate, Wayin, Audiense, ShortStack, Halonet, Votigo, Cool Tabs are some of the Top Social Media Marketing Software.
Top Social Media Marketing Software
PAT Index™
1
Crowdfire is a content marketing software that uses clean-engage-grow philosophy to guarantee rapid growth on the social media. Crowdfire smart features are accessible through Android, Web and iOS apps. Crowdfire simply provides powerful solutions that are targeted to attract followers on Instagram and Twitter. Crowdfire powerful solutions provide powerful connections to users that enable them achieve their social media goals that include brand popularity, brand recognition, and increased fans and sales. The 'clean' features provided by Crowdfire facilitates keeping away of irrelevant, unwanted and spam accounts. The 'clean' features are ideal to individual and organizational feeds as they are provided…
Overview
• Scheduling & Publishing
• Content Curation: Article and Image Curation
• Easy scheduling and publishing
• Unfollow inactive accounts, follow the right people, engage with fans
• Track your social growth, post performance and follower details.
• Track every mention, comment and reply in your team inbox.
•Free
•Plus:$7.48 /mo
•Premium:$37.48 /mo
•VIP:$74.98 /mo
2
Affinio
Affinio is a SaaS platform designed for the enterprise. Affinio instantly turns incomprehensible amounts of consumer data into actionable insights. Advanced machine learning algorithms and custom graph engine power Affinio to analyze billions of interest variables and network connections. Affinio's award-winning unsupervised segmentation technology groups users into clusters based on the commonalities they share, revealing patterns and relationships within any big dataset. Affinio ingests and analyzes users' first party data sets (CRM, transactional, survey) and third party data sets including Twitter, Pinterest, Reddit, and LinkedIn to reveal hidden audience insights in a comprehensive, highly visual report. Affinio's highly visual and…
Overview
• Uncover hidden audience segments
• Create data-driven buyer personas
• Empower your content strategy
• Identify relevant influencers and partnerships
• Monitor audience dynamics and trends
• Gain competitive intelligence
• Uncover insights faster
3
SumAll
SumALL is a social media engagement and analytics tracking tool which enables users to know their audience, reach, post activity and engagement data in Facebook page, Instagram profile, and Twitter account. The features of SumAll are metric service, data reports, SumAll Insights, analytics dashboard, campaign export, visuals and pivot tables, audience segmentation and daily digest email. Users can integrate multiple social sources (Facebook, Twitter) and get information around the engagement that they have with their end-users. SumALL measures, grows and optimizes all important ROIs from social media. SumAll Insights will show users when to post, how to post, what to…
Overview
• Real-time business monitoring
• Actionable insights
• Customer trend data
• Multiple platform connection
• Compare sales from different time periods
• Note adding
4
Raven
Raven is an online marketing platform that saves the users' agency more time and ends the tedium of monthly reports. Raven reclaims the time that reporting wastes! With raven, users can create custom and comprehensive SEO, Social and PPC marketing reports in minutes then schedule them to be sent weekly, monthly or quarterly. Users can access more than twenty data connectors, including Google Analytics, Google AdWords, Search Analytics from Google Search Console (GWT), Bing Ads, Facebook Ads, Twitter, and more! Raven's Site Auditor automatically crawls any site to gather data about key technical on page SEO areas and supports Google's…
Overview
• Automated Marketing Reports
• Get the data you need
• Find and fix SEO problems
• Campaigns without limits
• Pro $99/mo
• Agency $249/mo
5
Stackla
Stackla is a tool that makes it much easier for marketers to utilize user-generated content to lift engagement, trust, strengthen consumer and also drive sales. Since most of the people in today's world share more than ever and also look to their family and friends for recognition and validation, Stackla has turned out to be the most appropriate tool for their requirements. Stackla is built for scale and also designed for simplicity because it gives marketers the power and might to harness trusted, validated content and also to infuse it throughout the entire customer journey. Stackla has the Geolocation feature…
Overview
• Leverage UGC at every touch point
• Bring content to life with customizable Widgets
• Create true, multi-network competitions on your owned properties
• Leverage authentic customer recommendations to increase confidence at the point of sale
• Reduce moderation time by automating with smart rules
6
Rignite
Rignite is a powerful social media management software that provides social activity tracking, customer interactions history, collaboration and posting features. It provides your business with powerful social marketing that will grow your business with powerful social media marketing and management modules. This will end up helping you to save on time while you get results. Rignite works to provide your company with a set of social media marketing, monitoring, management and analytics tools. It allows you to create social marketing campaigns and manage social media activities daily from a single solution. Rignite has the advantage of making it easy for…
Overview
• Social media management tools
• Social media marketing campaigns
• Social media scheduling tools
• Social media monitoring tools
• Social media analytics tools
• Social collaboration software
• Social media management software
• Silver - $28/month
• Gold - $49/month
• Enterprise – Custom quote
7
Swift Social
Swift Social is not only a twitter management solution provider but also facilitates users with the ability of driving social traffic to their products or services while growing and maintaining a trustworthy and great social presence. In providing Twitter management solutions, Swift Social provides users with an excellent platform for gaining full control of their Twitter accounts, scheduling of posts, curating Twitter content, automating likes, follows, and unfollows. The main features of Swift Social are; discover and share, extras, apps and integrations, optimize, schedule and post, schedule, find and engage, campaigns, and data analytics. The discover and share feature functions…
Overview
• Suggested follow and unfollow
• Automated content curation
• Schedule retweets and likes
• Content scheduler
• Camapign tracking
• Swift score
• Solo - $9/mo
• Agency (Small) - $40/mo
• Agency (Medium) - $75/mo
• Agency (Large) - $140/mo
8
Brandify
Brandify is an industry-leading provider of location-based digital marketing solutions which offer product suites such as Locations, Presence, Advertising, Social and Insights. Brandify also offers solutions such as 360° Network, Brandify Mobile and Snapchat Geofilters. Brandify's Locations content management system serves as a single source of truth for all users' location-based data and assets and controls users' data and maintain the authority it has across the local ecosystem. Brandify also lets users claim and manage directory listings, and customize store locator and landing pages to ensure that users' presence is optimized across web, mobile, and social channels to capitalize on…
Overview
• Powerful Geo-Code Technology
• Real-Time Updates
• Centralized Database
• Update location information in real­time: Add, edit, delete or schedule location content for your locator,
• The hub of all location based information, used to power all digital assets
• Including brand locator, local pages, listings and social
9
Curalate
Curalate is a tool that provides you with a smarter way to make social sell. It enables you to use social content, social audiences, and social channels to sell more efficiently and effectively across your marketing and commerce channels. With curate, you find out that social is no longer a silo but a strategy woven throughout your marketing and commerce initiatives that improve customer experience and revenue. This tool has various benefits provided by the useful features found in it. It has a drive revenue that turns inspiration into action. By this, your brand engages audiences with content that stops…
Overview
• Workflow that lets your day flow.
• Engineered for brands that care about customers
• Curalate is the leader in connecting curiosity to commerce.
• Designed to be rock-solid, incredibly fast, scalable, and super easy to use
10
Wayin
Wayin is considered to be a content management system specifically designed for marketers and also agencies in order to create interactive marketing experiences across all digital channels. This tool has various useful features intended to help the general needs of many people to their full satisfaction. Configure and personalize digital, mobile, OOH, in-venue and social campaigns with the campaign builder. you are able to, Rapidly configure campaigns using a wizard to define options, Get creative with the design of your activations with a drag-and-drop page editor, Select from multiple design layouts for each module within the page editor also you…
Overview
• Use a drag-and-drop system to configure form fields
• Amend the font, colors, spacing, and styling of a campaign simply
• Configure and personalize digital, mobile, OOH, in-venue and social campaigns
• create, save and reuse campaign experiences, easily sharing them across their brands, markets, and divisions
• Discover great social content that you can add to your marketing experiences to augment your own content
11
Audiense
Audiense is an advanced audience intelligence solution which optimizes users' engagement and marketing efforts through unparalleled insights about their audience and segment with a suite of community management tools and advanced solutions to help build unique, high-quality, campaign-specific audiences, profiled not only by demographics but also by personality, interests, values and behaviors. Audiense has features such as homepage, dashboard, community wall, top menu bar, breadcrumb bar, search/filter sidebar, community bottom bar, accounts and sources, audiences, source dashboard, social contacts, synchronization, calendar filter, search – advanced syntax, export, collaboration teams and annotations. Audiense provides a dashboard to see an overview of…
Overview
• Twitter dashboard
• Integration with Buffer app
• Identify fans based on interactions
• Accounts comparison tool
• Tag and attach notes to follwers
• Integrate Twitter to your email database
• Monitor Hashtags, Keywords and URLs
• Automate DM Campaigns
• Followback Unfollowback Tools
• Tweet Analytics reports
• Real-time Twitter stats
• Integrated with Hootsuite
• Twitter lists management
Audiense Insights
• Marketing Intelligence Reports - $3,575 per report
• Audience Intelligence Report - $6,500 per report
• Audiense Insights Platform - $15,600 per report
Audiense Connect
• Professional - $31.15 per month billed annually
• Business - $119 per month billed annually
• Business + - $471.2 per month billed annually
• Enterprise - $758 per month billed annually
12
ShortStack
ShortStack is a powerful contest platform that turns user's followers in Facebook and Instagram with giveaways, social contest, and landing pages. ShortStack facilitates simple building of Instagram hashtag contest, therefore enabling collection and managing of user generated content efficiently. ShortStack also facilitates collection of entries with branded hashtags, moderation of entries before they are displayed, requesting of rights for the user generated content, and displaying of approved entries in a gallery in the user's Facebook page or website. ShortStack features the action widget feature that customizes the user's workflow. The action widget enables users control the triggers and the following…
Overview
• Action Widget
• Embedding
• ShortStack for teams
• Analytics
• Email autoresponders
• Free
• Starter -$29/mo
• Business - $99/mo
• Agency - $199/mo
• Brand - $499/mo
13
Halonet
Halonet is an all-in-one, visual, word-of-mouth marketing system for acquiring, converting, publishing and engaging with influencers through user-generated content. Halonet offers features such as Visual Marketing Experiences, UGC Management & Compliance, Social Inbox, Media Monitoring, Discover Social Influencers, Social CRM, Reporting, Dedicated Strategist, HALOCAM Software / Hardware, Capture opt-in emails, Identify influencers at scale, Social Media Publishing, Three Creation Experiences, Customizable Branding, Content Management, Dedicated iOS Application, Capture Rights-Cleared Content, Manage Contributors, activate Content Creators, development SDK, HALOCAM Operator, Social Wall Displays, Campaign Promotion, Social Ambassadors, Content Moderation, Sponsorship Activation, Post Event Analytics and Event Strategist. Halonet increases users' reach…
Overview
• Halocam
• Halo Ad Server
• Storii By Halo
• Social-TV By Halo
14
Votigo
Votigo provides you with social media marketing and online promotions that allow you to generate more leads and engagement online with clients, locally and even globally. Votigo has an easy to use and customizable platform that allows brands of all sizes from small businesses to enterprises, to create contests, sweepstakes, landing pages and engagement campaigns within no time and in an affordable bracket, with all promotions possibly enabled for publishing to your websites, facebook, microsite, and integrated with pinterest, instagram or twitter, and with no coding skills required. Votigo also provides solutions for larger brands and agencies looking for custom…
Overview
• Landing pages
• Embed
• Geo-targeting
• CRM integration
• ESP integration
• Advanced settings
• Onboarding and training
• Easy campaign builder
• Campaign calender
• 29$/mo: Small business
• 99$/mo: Medium business
• 249$/mo: Large brands
• Call for pricing: Enterprise
15
Cool Tabs
Cool Tabs is a platform that helps the user manage his or her marketing campaigns in social networks and also in his or her personal website, this platform helps you monitor your social networks and also perform social listening and real-time content curation. This platform has some useful features that enable you to tackle your tasks efficiently and with ease. It helps you generate new leads through quizzes on your website, competition, and promotions. With the applications available, your questionnaire or contest is made ready in minutes and visible on a microsite, on a Facebook tab (optional) or exclusively on…
Overview
• Monitor your social networks and download a report with your statistics
• A customized campaign allows you to have more fans turn into customers
• Applications for direct sweepstakes among your audience
• Applications for opinion surveys, quizzes or tests on your web
• Stone one- $25/mo or $21/mo one payment for 12 months
• Gold one- $90/mo annual payment or $75/mo one payment for 12 months
Is Free Social Media Marketing Software Worthwhile?
Social Media Marketing Software has many features and can do a lot to help your business to succeed in social media by monitoring your and competitors social media mentions and interactions, and it is not very expensive. There are also plenty of limited free Software available. There are two categories of Social Media Marketing Software based on licensed model: Open Source and Proprietary. Based on Installation type, there are On Premise and Cloud and the selection of the installation type depends on your business and organization requirements.
You can find limited free versions and full-fledged free trials in both the licensing models.
If you are unsure of the business benefits, you could try a limited version of Proprietary Social Media Marketing Software Software to check how it fits to your business before making a big investment. These software comes with limitations and you need to buy additional features using the up-selling vendors offers to make it useful. A free limited version from a proprietary product company will make it easier to upgrade in the long run and also help you determine if that company's solution is what you want.
There are also many drawbacks to Free Limited version of Proprietary Social Media Marketing Software. These limited version do not have nearly as many features available in a fully functional paid version, and there are limits such as number of features and functionality, modules, storage limits, number of reports, limited data integration options, and also on the number of users you can have. The free versions also have limited support options.
As these are priced fairly and competitively, and requires less set up time, based on your functionality requirements and business fit, you can always choose a free trial and experience the system with your data before buying and migrating to a full-fledged solution.
Is there a one size fits all Social Media Marketing Software: Unfortunately there are no one size fits all solution as each of the products has its own core strengths in functionality, social platform focus, integration capability and core features.
We recommend determining how the software fits to your business in terms of features, functionality, and business process with a free trial.