Review
Buffer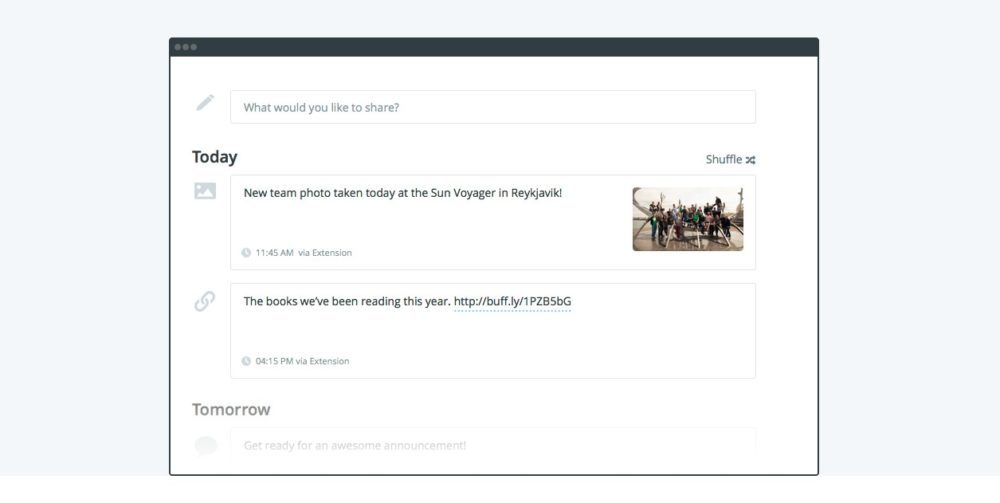 Overview
Buffer shares your content at the best possible times throughout the day so that your followers and fans see your updates more often. Get the most out of each post.
Social Media Analytics Software Free
• Share All Media Formats
• Business and agency plans
• Analytics & Insights
• Team collaboration with admin rights
• High security with 2-Step Login
• Custom Scheduling
• Standard Buffering
• Individual – Free
• Awesome - $10 per month
• Small - $99 per month
• Medium - $199 per month
• Large - $399 per month
Small (<50 employees), Medium (50 to 1000 Enterprise (>1001 employees)
What is best?
• Connect RSS feeds to your Buffer
• Detailed Social Analytics
• Add up to 100 posts and tweets
• Multiple Social Networks
• Sharing across 10 Social Profiles
• Over 50 Apps and Extras
• Buffer profiles colleague management
What are the benefits?
•Manage all accounts in one place
•Schedule posts
•Build your following and influence
•Sharing in multiple social profiles
•analysing performance of posts
•Streamlined analytics
Buffer is a software to manage social media sites, share everything users find worth sharing, browse on Twitter, Facebook or wherever users like to hang out, reply to people and make new friends and connections. Buffer has features such as link shortening, Google Analytics campaign tracking, team members, content suggestions, reconnect, schedule, content and happiness team.
Buffer also has extensions, apps and extras like Zapier, If This Then That, Pablo (new), Feedly, Pocket, Reeder, ReviewPush, Crowdriff, Echofon, Trap.it, Tweetcaster, Followerwonk, Mr. Reader, Feeddler, Instapaper, Scoop.it, Bottlenose, Flare, Commun.it, Digg Digg for WordPress, Buffer via Email, Social Bro, Tweetings, Tracky, Tweriod, Twitter, Drafts, Twylah, ViennaRSS, Tweet4me, The Buffer Button, Bulk Buffer, News Mix, Caffeinated, WordPress, edocr, RSSOwl, Wren, Bufferti.me, paper.li, Kippster, Sidebar, Shareaholics, NewsBlur, CoSchedule, Fliplingo, Mention, iPositioning, Save As Image, Nextgen Reader, Start A FIRE, Neatly, Quuu, Curata, Crate, Hypesocial, Flowxo, Upflow, Hiplay, PromoRepublic, Social Warfare, Integromat, Filtr8, Backly and Vid.One to share and make videos, photos and content and drive traffic to user's social media. Pre-set date and times for each post are available and can be adjusted or added to user's queue at anytime and anywhere users are reading.
Buffer's email support enables every user to add their own secret email address to their Buffer just by sending an email to the secret address where the subject is the text users want to tweet/post and the link users want is in the body, or users can also check out the advance commands for ease of use. Buffer has built in support for the email formats created by all the popular mobile apps so no need to copy and paste, just email straight from a tablet or mobile phone to Buffer.