Review
SOCi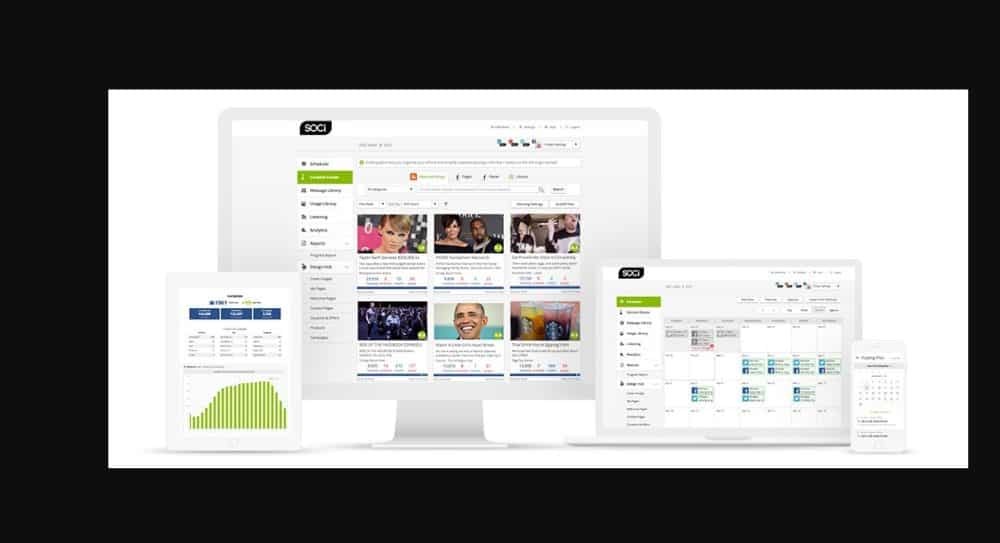 Overview
SOCi is the leading enterprise solution for social media marketing at scale. SOCi's multi-layered permissions system is architected to efficiently manage and generate measurable results at scale. This all-in-one SaaS platform delivers a dozen or more functionalities, including content discovery, reputation management, business intelligence, lead-generation, approval, task management, mass-scheduling and more.
Social Media Management Software
• Content center
• Asset management
• Smart scheduler
• Lead generation
• Customer care
• Reviews and reputation
• Workflow solutions
• Reporting suite
Small (<50 employees), Medium (50 to 1000 Enterprise (>1001 employees)
What is best?
• Content center
• Asset management
• Smart scheduler
• Lead generation
• Customer care
What are the benefits?
• Manage dozens of accounts from a central platform
• Discover proven content from around the social web with SOCi's proprietary content scoring
• Track and score content performance against your own audience
• Design and customize highly engaging sweepstakes, contests and other campaigns
• Respond in real time for the ultimate in customer care
SOCi is a platform that facilitates managing of social media marketing campaigns at a given scale using platform tools got from content management to analytics and reporting from SOCi features. SOCi is built for multi-location and capable of managing brands and agencies reputation and social content at local levels. Some of the main features of SOCi include content center, asset management, smart scheduler, lead generation, customer care, reviews and reputation, workflow solutions, and reporting suite.
The content center feature facilitates scoring of the social web using unique algorithms that tell the user about engaging content and the one that is not. With the content center, users are also provided with numerical scores and recommendations on what they should post. In the next step, the asset management feature takes charge. This is by SOCi providing users with an excellent platform for choosing engaging and highly curated content from a library. The library is ideal as it saves the time used for searching of relevant brand content. The smart scheduler then facilitates creation of quality coupons or contest or posts to multiple pages on all the major social media platforms.
The lead generation feature facilitates creation and publishing of engaging images, covers, pages, campaigns and many more to a single or multiple pages. The lead generation feature also provides users with a good platform for collection and exportation of leads. SOCi also presents the customer care feature that enables managing of social reviews, notification and comments across the major social networks under one platform. This feature provides users with full control of the conversations.