35 Free and Top Influencer Management Platform & Influencer Marketing Software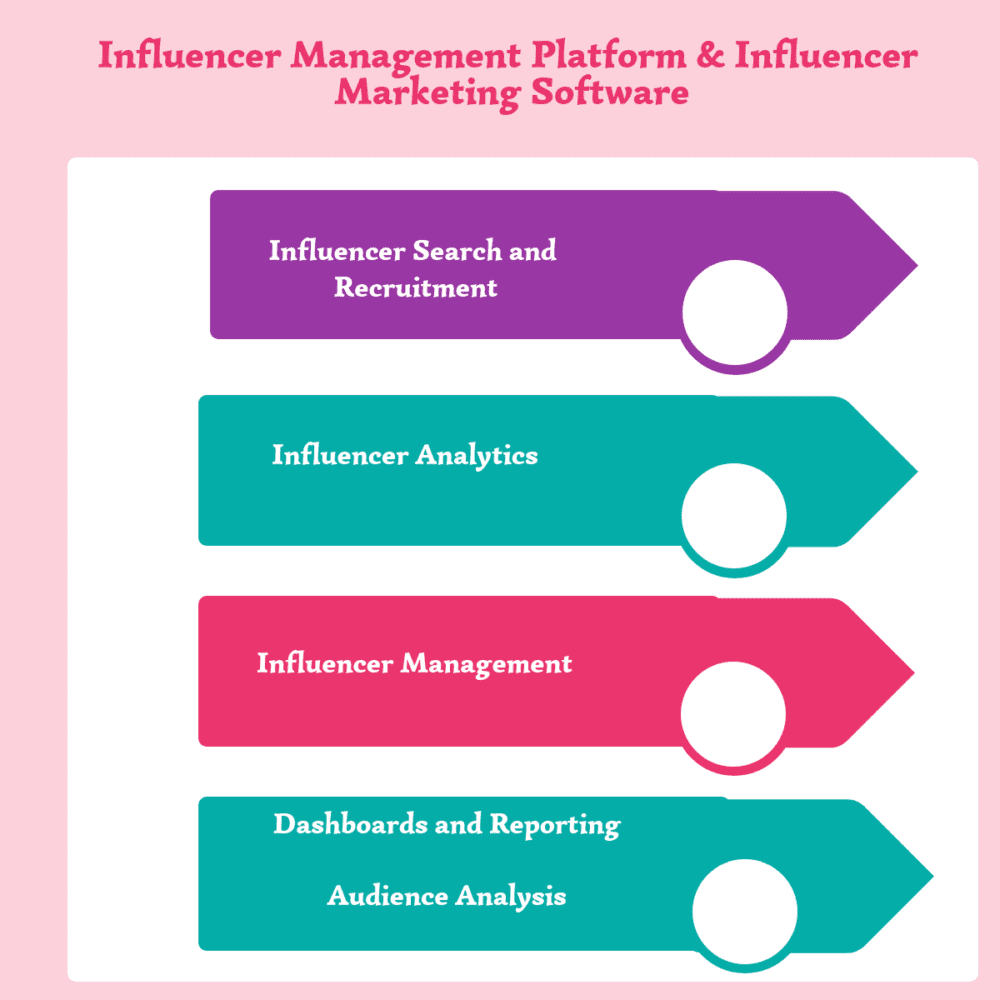 Influencer marketing is one of the rapidly growing approaches to content marketing efforts in the contemporary business environment. It's a timely solution to the marketing challenges faced by all people in the marketing word, including the most experienced entrepreneurs.
Most marketing departments and personnel experience everyday problems in the attempt to brand, speak to the audiences or identify the best marketing strategies. If your business, experiences these problems and other marketing challenges, perhaps it's the right time to try work with brand influencers.
Influencer marketing involves working with renowned brand advocates or influencers to communicate to the larger market. These individuals have a large number of followers on various platforms and thus have the power to influence your existing and potential customers. You'll need influencer marketing software to identify and collaborate with such people to engage your target audience in high-impact conversations about your services and products.
Top Influencer Management Platform / Influencer Marketing Software : Publicfast, AspireIQ, Grin, Traackr, HYPR, CreatorIQ, Reachbird, Onalytica, Speakr, Find Your Influence, NeoReach, Julius, ActionSprout, Influential, Kred, Tapinfluence, Commun.it, Scrunch, Achoo, Weinfluence, Influry, Insightpool, Webfluentia, Chute, Ahalogy, GroupHigh, IZEAx, Sideqik, Assembly, Engage.Social, Fanatical, InNetwork, Brandnew, Join are some of the Top Influencer Management Platform / Influencer Marketing Software.
What are Influencer Management Platform / Influencer Marketing Software?
Influencer Management Platform & Influencer Marketing Software delivers capabilities to find the appropriate influencer and provide all the software tools to find, engage the influencer marketing and related analytics. The Influencer management platform helps to manage, validate, measure the influencer marketing programs. Social Media Marketing Software delivers marketing capabilities in social media to makes it easy for marketing and support teams to deliver the best customer experiences on social media.
Influencer management software is a type of software that helps companies and people in the business world to find the right product and service influencers. The software provides the tool needs to search for influencers and engage them in the company's influencer marketing activities. It delivers the marketing capabilities needed to manage and measure the marketing programs of a company.
Influence marketing platforms help companies to stay in contact with social influencers, recruit new influencers, and manage existing and new influencers. The influencer identification process involves looking for brand advocates in searchable marketplaces, filtering through a wide list of prospective influencers, and selecting the appropriate influencer depending on the company's preferences. Companies can use influencer marketing systems to curate the marketing content generated by influencers, create branded marketing material, analyze social influencer campaigns, and manage marketing campaigns. Most companies use influencer marketing solutions to support their social media marketing activities.
Influencer Search and Recruitment: One of the key features of influencer marketing software is the ability to locate and recruit brand influencers. Users of the software can pull lists of influential individuals and create a digital profile based on relevant details such as the area of expertise, location, number of followers, and social presence.
Influencer Analytics: This feature allows influencer marketing software users to assess the performance of brand influencers and their respective marketing campaigns. It also helps companies to rank their product or service advocates based on certain KPIs such as brand mentions and revenue.
Influencer Management: Influencer marketing platforms help companies to manage influencers by segmenting them according to their skills, building influence campaigns, moderating influencer content, and managing influencer relationships.
Dashboards and Reporting: Dashboards help the users of influencer marketing software to monitor and visualize the performance of influencer marketing campaigns. They display real-time key performance metrics. Influencer marketing software also generates reports that are shared with the company's key stakeholders.
Audience Analysis: Companies can use influencer marketing platforms to analyze the demographic characteristics of their brand advocates and followers to find out what their target audiences want.
Some of the benefits include:
Identifying the right product and service influencers.
Facilitating conversations with existing and new audiences.
Increased sales and high ROI due to more purchases.
Effective audience targeting based on demographic information
Access to a wide range of customers on most online platforms.
Top Influencer Management Platform / Influencer Marketing Software
Publicfast, AspireIQ, Grin, Traackr, HYPR, CreatorIQ, Reachbird, Onalytica, Speakr, Find Your Influence, NeoReach, Julius, ActionSprout, Influential, Kred, Tapinfluence, Commun.it, Scrunch, Achoo, Weinfluence, Influry, Insightpool, Webfluentia, Chute, Ahalogy, GroupHigh, IZEAx, Sideqik, Assembly, Engage.Social, Fanatical, InNetwork, Brandnew, Join are some of the top Influencer Management Platform / Influencer Marketing Software.
1
Publicfast is a marketing tool for influencers that helps create branded social media campaigns with influencers. It helps every brand find and locate the right influencers across the globe and on all social networks. It is found on 5 major social networks which are facebook, Instagram, youtube, and vkontakte and is soon launching snapcat, musica.y and periscope. It has over 35 topics for your best expertise. It helps brands and agencies find the right influencers across social networks and the globe and also help influencers earn for creating content about brands in their niche. Public fast has over 35,000 influencers…
2
Revfluence is an influencer platform for brands and creators mainly for agencies.it has an end-to-end software solution that is custom built for agencies to run highly-customized influencer campaigns. It helps agencies with self-service and transparent and direct access to influencers without middlemen. Revfluence has proprietary matching algorithm that helps find perfect influencers for any campaign, builds personalized influencer groups for industry based campaigns. It helps create, manage and track complete and customizable campaigns completely using the full suite tools. It has a single dashboard for every client and campaign you are working on. The dashboard is customized to share results…
3
Grin empowers marketers and agencies to harness influential marketing and drive differential advantage for their clients. Grin helps in identifying, recruiting and activating the world's most engaging social influencers. It helps marketers' execute influencer marketing campaigns. Its software simplifies the process of contacting influencers, creating content with them, shipping products to them, paying them and reporting on the results. CreatorIQ has databases with very strong Instagram following, you tube and twitter as well it is soon launching snapchat and websites/ blogs. It has a proprietary database with the best micro and power –middle influencers. The marketing software has deep reporting…
4
Traackr is the technology platform behind the world's leading influencer marketing programs. Its technology and team of agents support customers through their transformation by building real relationships. It has an Influencer Relationship Management (IRM) platform to help your system of record to manage, expand, validate and scale global influencer marketing. Traackr helps manage global influencer network by uploading influencers to manage your data in one place, assigning ownership to foster team collaboration, tracking conversations and validating real influence. It gives intelligent insights to grow global network across borders. Traackr helps to activate lasting relationships to engage with confidence, earn trust…
5
Hypr is a real-time social analytic platform that provides social audience analytics for every influencer in the world. It can access influencer audience, psychographic and geographic data of its influencer marketing platform. It is trusted by over 30M of the world's largest brands, agencies and influencer marketing platforms. Some brands that trust Hypr include LG, AOL, pepsi, Taylor, Bloomberg and many more. Hypr has in-depth profiles and demographic audience information of over 10 million influencers and direct contact information for outreach to key influencers. Marketers are able to target influencers based on their audience demographics such as age, location and…
6
Creator IQ is a software platform that powers leading agencies, publishers and brands, with leading Saas solution for influencer marketing. Clients can optimize and own influencer marketing at every stage. It has a database of influencers, celebrities and public profiles on social media platforms. CreatorIQ has an enterprise grade CRM that helps in managing creator relationships. You can monitor metrics and compliance for every post in your campaigns. It provides a structural and flexibility needed to run successful influencer marketing campaign and is specially designed for brand marketers and advertisers who need robust software a solution. It has an end-to-end…
7
Reachbird is the intelligent influencer marketing all in one solution for marketing professionals. This tool works in three easy steps; influencer identification, campaign management and reporting analytics. With quite some awesome features that this platform possesses, you are able to save time and improve your results. One of the features of this tool is that it is regarded to be the most powerful influencer search engine. What makes it outstanding is because it has keyword based search engine that enables you to Identify the best influencers based on historical data and past content. Just enter your keywords you would like…
8
Onalytica Influencer Relationship Management (IRM) solution allows our customers to reach the right people at the right time with the right message at scale , by identifying the most influential people on specific topics and surfacing a stream of engagement opportunities to run always on influencer outreach programs. Onalytica keep an eye on everything that is said by your key market influencers in this comprehensive and detailed timeline. Provide full profiles of your influencers are essential to better understand them in order to tailor your engagement. Easily surface content opportunities with this feature.These maps help you understand key relationships between…
9
Speakr is a platform that lets you have access to a near infinite growing number of creators and can leverage a legacy of close relationships within the highly curated network of over 37,000 of today's most influential online creators. Publishers, agencies and brands can use Speakr's proprietary technology to create their own influencer business, monetize their own network and Speakr's network to scale influencer media buying capabilities. This platform helps you with Discovery technology that aggregates over 6,000 data points per influencer including demographic, contextual, and psychographic data allowing you to identify and recruit influencers based on a combination of…
10
Find Your Influence is an influencer marketing platform that helps brands to increase their awareness,affinity and increase intent-to-purchase by their intended customers. It employees influencer marketing as a high-in-the-funnel digital tactic to boost brand awareness. It has leading influencer marketing technology which makes the marketing scalable and profitable for brands, agencies and influencer partners. FYI connects more than 100,000 high value influencers to brands and advertisers, and has completed over 10,000 campaigns for over 500 brands with up to 3billion impressions driven across social media platforms such as Facebook, youtube and even blogs. It is expert in offering Saas influencer…
11
Neoreach is an influencer marketing platform that merges the world of creative entertainment and technology. It helps advertisers' launch, track and sale influencer campaigns. Neoreach team helps clients find the right influencers and craft brand integrations in collaboration with influencers. The Neoreach team of engineers has a platform that does the following: crafts campaigns and helps in fleshing out creative guidelines for campaigns, create branded content based on client demographics to find the most relevant influencers, post, track and optimize by managing and tracking campaign performance and provide full and real-time performance analytics for minimal operational fees and scale large…
12
Julius is a data driven influencer marketing platform. It gives access to data of more than 75,000 influencers who are researched by a team of real people. Julius gives insights for influencers' content style, interests, past brand work, audiences' demographics among others. It has more than 30 searchable data points that help you do a specific search or do a broad search depending on your search preference. Julius delves on human researched data that other providers do not find. It views their pricing guide to understand influencers and their campaign fit. Julius also has access to consumer perceptions on over…
13
ActionSprout allows you to be active on all your social media platforms, post and publish on them efficiently and in an easy way, especially on Facebook. ActionSprout makes it easier for non-profit organizations to maximize their advantage on Facebook by using their current fans and followers and to spread your content to their fans and followers, this is free reach. With ActionSprout you are able to reach supporters on Facebook and even more engage them, thus you are able to know what to post that's involving. ActionSprout's Inspiration tool surfaces the most engaging content related to your cause , ensuring…
14
Influential is premier AI influencer with deep data enriched by IBM Watson. It matches brands with social media influencers on facebook, Instagram,twitter,snapchat and youtube. Influential leverages AI machine learning to suggest influencers through actionable insight and predictive intelligence and delivers unparralled results for influencer marketing initiatives. With IBM Watson you can use the proprietary brand match score to determine the right audience and right influencers. It has a beautiful and intuitive workflow to manage all aspects of your campaign, you can receive comprehensive, presentation-ready campaign recaps and real-time performance analytics. Influential is home to thousands of social media stars with…
15
Kred is a platform that enables you to increase your online influence and become more marketable. Kred helps you strengthen your personal brand with influencer profile on your kred domain. It also helps you access and engage other useful influencers and contacts. It has some several useful features which benefit the user in certain different ways. Kred has social matching and scoring feature. In this feature, each and every contact you add to the engagement center is matched against a datamine which has over 600 million profiles. Kred adds in social handles, email addresses or influence scores regardless of the…
16
Tapinfluence is an influencer marketing platform with a technology powered by an opt-in market of content creators. It has over 50,000 opt-in influencers with a 360-degree view of influencers to get the best matches for your brand. Tapinfluence has audience intelligence that provides information about influencers' audiences, brand affinities, DMAs and detailed demographic data. It provides for up to 35 criteria to search for relevant influencers including age, gender, location, language and information which can be saved for future reference. It provides for real-time cost per engagement metric giving a clear picture for influencer value. Tapinfluecne has easy automation for…
17
Commun.it is a powerful tool that provides easy ways of managing, growing, and tracking of user's social media profiles across social media platforms such as Twitter, Facebook, and Instagram. Commun.it provides tools needed by the user to grow on all networks without putting much effort. Commun.it provides an easy to use and free dashboard that facilitates scheduling of posts from all social media channels and platforms at one. The dashboard also provides a good platform for users to discover new leads and have a chance to create an audience. Commun.it provides intelligent suggestions for the user on who to interact…
18
Scrunch is regarded to be a platform mostly used by marketers to maximize their output since it is an easy to use, data driven influencer marketing platform. This platform allows you to find influencers who match your exact requirements, manage outreach and run campaigns. Scrunch gives you everything you need to manage your influencer marketing campaigns from end-to-end, so you can focus on what you do best. Some of the features of this platform include: Pinpoint accurate search, target your campaigns Search over 20 million of the top bloggers, Twitter, Facebook, Instagram and YouTube profiles by topic, hashtag, location, reach,…
19
Achoo is a powerful software that tracks, analyses and monitors brand activities across different influencer data sources. This platform provides you with quite some useful and enticing features that enables the user to have a 360-degree reporting. Beautiful and presentation-ready reports that provide a 360-degree insight into your brand activity, which can support you in internal debriefing and forming of your influencer marketing strategy. Reports can easily be customized to your needs and provide you a quick overview of your brand's key KPIs in relation to relevant categories/segments and side-by-side benchmarking with competitors or general industry. This tool also enables…
20
Weinfluence is a platform for influencer marketing that helps companies increase sales by providing brand ambassadors with money making tips when they tell their followers about your products. Wienfluence helps you manage your key influencers by tracking all their information and interactions in one place, anywhere by planning customized affiliate campaigns hence arming your advocates with easy to promote content. Using Weinfluence customized tools you can tailor your logo and colors specifically for your brand and host them on your own domain. You are able to measure ROI to see what is working and what is not and optimize your…
21
Influry is fully automated influencer marketing software that acts as an influencer marketing platform. It helps companies and influencers create magnificent campaigns and provide helpful tools to simplify workflow, through automation and without eliminating need for personal interaction. Influry accesses thousands of influencers on all social media networks. It offers flexible and fair partnerships to individual influencers, networks and agencies. It has a discrete approach offer flexible and fair partnerships to individual influencers. Influry allows for management of automated processes it make it easy to create and manage professional influencer campaigns. It has matching algorithm that automatically finds appropriate influencers…
22
Insightpool is a robust influencer database that helps identify influencers in seconds and turn them into advocates. It has the most powerful search engine that acts like google. With this, one is able to type multiple topics to filter through influencers from more than 100 networks and over 600 million influencers. It takes an omnichannel marketing platform approach and can access hundreds of social networks other than just Facebook but also sights like LinkedIn, Pinterest among others. The universal search filters based on characteristics, conversations and individual influencers and by reach, relevance and resonance. It enables you to get influencer…
23
Webfluentia gives you the technology which you usually need to turn your influence into a business. This software is regarded to be the perfect software you need to make being an influencer easy and professional. By using this software, you spend less time on admin and also more time doing what you mostly love. Some of the features of this software include: Facebook insights which lets you See the total number of impressions, engagements and engagement rate of the overall campaign. Blog engagement. This has the Total number of blog readers for all blog posts as well as the total…
24
Chute is an influencer marketing platform with softwares and services, to simplify the process of brand identity, engage and work with influencers to drive brand awareness, affinity and ROI. Chute helps to find and work with right influencers by: i. identifying niche interests that are important to brands audience from social data, ii. identifying and recommending influencer from specific niche topics by vetting their current relevance, engagement and growth trends, iii. engaging easily on influencer post, iv. simply monitoring influencers for timely and correct posts, micro-monitoring and identifying emerging influencers and those with dwindling popularity, v. evaluating and periodic reports…
25
Ahalogy provides a well able platform to purchase. Ahalogy combines proprietary data, network of premium influencers and software, proven to improve discoverability of content on social, allowing you to deliver significant ROI. With Ahalogy Muse you are able to discover emerging trends by category. You only need browse the home page to see the topics in the categories that you are most interested in. The topics are updated daily and unfiltered thus you can peruse through easily and keep a pulse on the category entirety. You are also able to explore by searching any topics to plan future campaigns. You…
26
Grouphigh is an influencer marketing platform with a software used by hundreds of bloggers and agencies for influencer marketing. It helps to identify who influencer consumers are listening to and builds authentic relationships that lift their brands. Grouphigh has the largest and most sophisticated blog search engine designed to easily and quickly find best and authentic blogger relationships. It has the largest and richest blog database which you can search up to 15million blogs for your campaign content, social following, location and mozrank. with an authentic affinity for brand messages. Grouphigh allows you to import raw URL, upload spreadsheets to…
27
Izeax is an influencer platform used for marketing and is usually used by agencies and brands that automates influencer and content marketing programs. Some of the features of this tool include; Content, Production of original blog posts, videos, photos, and illustrations by experienced digital creators. Influence, Sponsored Social posts from influential creators on social media channels such as Twitter, Facebook, Instagram, YouTube, and blogs +Scale Use the industry's largest creator network or bring your own influencers to the platform. This platform enables you to Work with a team of experienced account executives, campaign managers and strategists to design and execute…
28
Sideqik usually empowers to harness the full potential of your brand with ease. By doing so, you steadily manage, confidently recruit and activate influencers who return results. Sideqik's data provides you with insights on your influencers, so you can spend time where it counts building relationships with influencers, not sifting through millions of data points. This tool provides you with the flexibility you need to manage and measure the success of your influencers. Stay up-to-date on who is driving the most engagement and spot the trends as they happen. By doing so, you gain from certain experiences like: Organize Thousands…
29
Assembly is an influence marketing platform that allows brands to access and manage all their influencer marketing campaigns under one roof. The platform enables you to create, manage, execute and analyze and ultimately influence results of your brand products. Some key capabilities of Assembly include importing and managing influencers, creating campaigns, reviewing and approving content, tracking and analyzing performance and managing payments. It has a cloud-based software business that launches influencer marketing campaigns and manages the entire campaign lifecycle. You are able to keep track of your best influencers and reach them easily, you can follow stats of every influencer…
30
Engage.Social has a Smart Share solution that has 3 components – Publisher Application, Smart Share widget and Score widget and just by signing up for Engage.Social, users will have access to all 3 components. Engage.Social offers features such as Customized Branding, Branded Share Button, Share to Multiple Networks, Trending Content, Visitor Analytics and Score, Widget code for any website, Integration with WordPress Plugins, # of Widgets, Visitor Influencer Score, Analytics Overview – Visitor Shares, Content Analytics, Social Network Analytics, Shared Content & Comments Stream, Smart Admin, # of Admin users, Content Management, Campaign Workflow and User Interface: approve, browse and…
31
Fanatical gets the right content to the right people, at the right time and works for brands, agencies, sports teams, personalities, and political campaigns. Fanatical offers features such as Twitter AND Instagram, up to 8 Audiences, Unlimited Audience keywords or audience, Unlimited Audience keyword results, Unlimited Initiatives and Email + phone + personal 24/7 support. Fanatical breaks each audience down into useful, micro-targeted segments to maximize authenticity and to focus your initiatives, messages, campaigns, and event engagement efforts. Fanatical lets users define an audience, brand, candidate or product with audience keywords. Fanatical analyzes and stores the conversations they appear in,…
32
Innetwork is a tool which helps you in running marketing campaigns efficiently thus making it fun and easy. Some of this features include; Stop thumbing through thousands of search results and find the influencers and audiences that matter. By this, you are able to Search by influencer profile or audience demographic. The vetted network is assisted by the "human algorithm". Search "off-network" to discover new influencers, upload their handle and let InNetwork populate their social profile. This way, InNetwork always grows with the help of its users. Notifications provide a soft touchpoint to start engaging; influencers are automatically notified when…
33
Brandnew is a platform that gives marketers the tools to discover, work, and track with social media influencers. Brandnew's self-service platform simplifies the process of working with Content Creators. Brandnew gives marketers the tools to efficiently discover Creators, manage relationships, have outstanding content created and measure campaign results. This tool helps you Search an extensive roster of influential Content Creators and select based on past content, geography, genre or followers. Profiles are vetted and verified. You also gain insights since you Use hard data to find the most relevant Creator for your brand. Gain insights on Creators' follower stats, past…
34
Join is a platform which is regarded as a marketplace for influencers and advertisers to collaborate. influencers have become powerful allies in the marketing world. Not ads but trust is what drives consumers. But tapping into the marketing power of influencers efficiently has proven to be difficult to brands Until now. Join provides a simple, easy to use and safe marketplace to collaborate with influencers and launch powerful campaigns to really engage audiences. This platform allows you to directly match with the right influencers and run your own influencer campaigns. Join enables you to unify and streamline every part of…
Is Free Influencer Management Platform Worthwhile?
Influencer Management Platform has many features and can do a lot to help your business to succeed in social media by finding influencers to promote your content and products, and it is not very expensive. There are also plenty of limited free Software available.
You can find limited free versions and full-fledged free trials.
If you are unsure of the business benefits, you could try a limited version of Proprietary Influencer Management Platform to check how it fits to your business before making a big investment. These software comes with limitations and you need to buy additional features using the up-selling vendors offers to make it useful. A free limited version from a proprietary product company will make it easier to upgrade in the long run and also help you determine if that company's solution is what you want.
There are also many drawbacks to Free Limited version of Proprietary Influencer Management Platform. These limited version do not have nearly as many features available in a fully functional paid version, and there are limits such as number of features and functionality, number of reports, limited data integration options, and also on the number of users you can have. The free versions also have limited support options.
As these are priced fairly and competitively, and requires less set up time, based on your functionality requirements and business fit, you can always choose a free trial and experience the system with your data before buying and migrating to a full-fledged solution.
Is there a one size fits all Influencer Management Platform: Unfortunately there are no one size fits all solution as each of the products has its own core strengths in functionality, social platform focus, integration capability and core features.
We recommend determining how the software fits to your business in terms of features, functionality, and business process with a free trial.