Review
ContentCal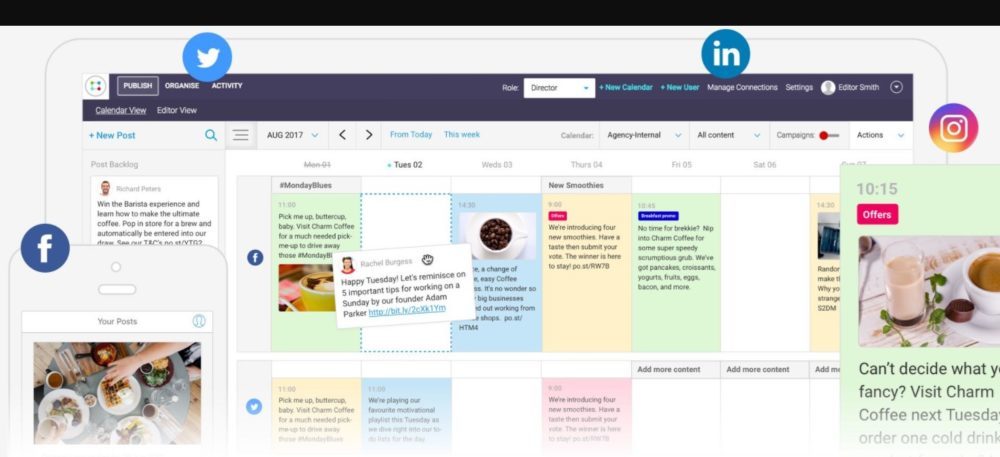 Overview
ContentCal integrates with Facebook (Pages), Twitter (Profiles), LinkedIn (Profiles + Pages) and Instagram (Via iOS app) for auto-publishing.
Social Media Management Software
• Full audit trails for every post
• Commenting and collaboration
• Campaign manager
• Re-post content
• Post Backlog
• Post Placeholders
• Custom planning channels
• Category tags
• Individual: 1 user, 1 calender; Free account
• Business: Custom pricing; £49/mo
• Simple social: Posting done for you; Custom pricing
Small (<50 employees), Medium (50 to 1000 employees), Enterprise (>1001 employees)
What is best?
• Full audit trails for every post
• Commenting and collaboration
• Campaign manager
• Re-post content
• Post Backlog
• Post Placeholders
What are the benefits?
• Manage approvals and minimize risk
• Integration to social networks
• Quick and easy planning of activities
• Simpler content approval processes
• Organise, collaborate, publish and repeat
• Centralized campaigns
• Plan for anything
• Create multiple client calendars
ContentCal provides you with amazing social media planning and publishing tools which you can use to create quality content and plan easily. You can create your content in advance and schedule on auto publishing tools for your social channels.
ContentCal is integrated with various popular social networks such as facebook, twitter, linkedIn and instagram for auto publishing. You can manage your approvals and minimize risks, ensuring every post has been vetted prior to going live. With Placeholders you can create draft posts in your Calender, which is great for planning any upcoming content.
ContentCal helps you centralise your campaigns with the Campaign Manager feature, allowing you to map out your strategies and ensure your secure daily posting schedule is always aligned to your objectives. You can also keep tabs on every post that gets added or edited in your calendar by using the Activity feed to filter by keywords and tags and fins posts with ease. ContentCal also allows you to plan for anything with Custom Planning Channels, whether it is e-marketing, live events or anything else you have set out. Category tags allows you to have the best content plans by creating custom tags which make it easy for you to see what topics you cover in your plans.
ContentCal allows you to create multiple client calendars which help you separate for each client information, access rights and even approval workflows. Planning is what makes ContentCal different, allowing you to have ideas that you can store in your backlog, with upcoming events and drafts addition being possible as placeholders in the Calender and mapping alongside campaigns.