Top 48 Social Media Monitoring Software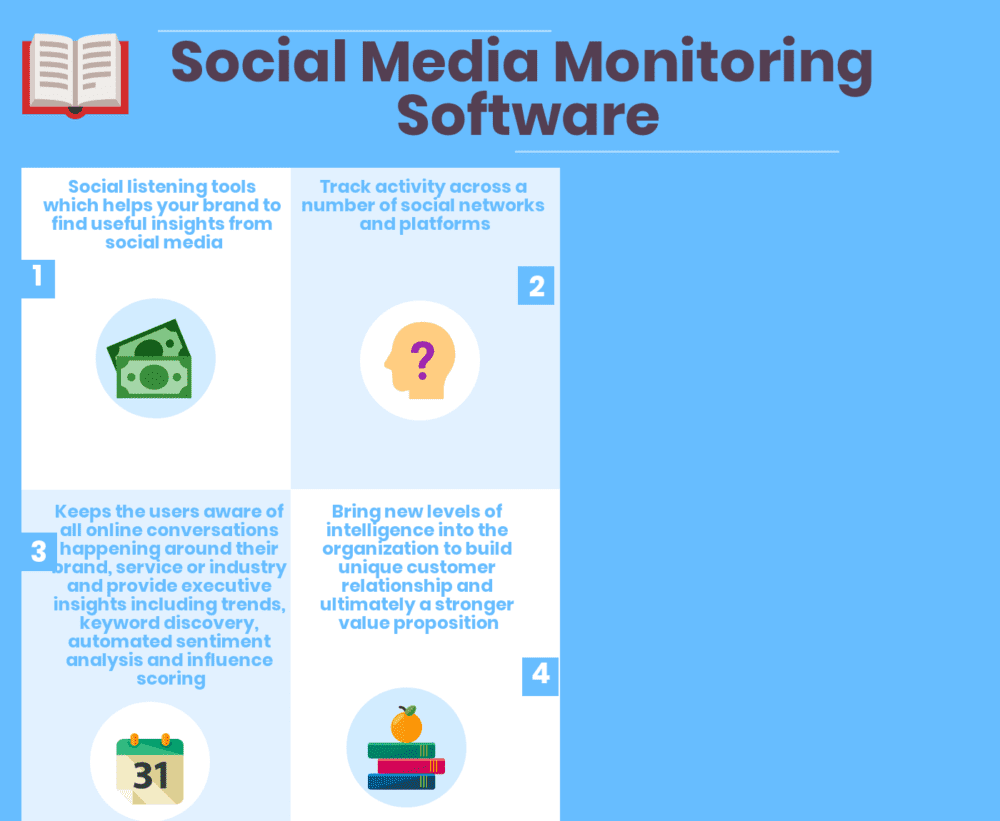 Social Media Monitoring Software are social listening tools which helps your brand to find useful insights from social media. Social Media Monitoring Software can track activity across a number of social networks and platforms such as LinkedIn, Twitter, Facebook, Google+, Foursquare, WordPress, Instagram etc.
Social Media Monitoring tools keeps the users aware of all online conversations happening around their brand, service or industry and provide executive insights including trends, keyword discovery, automated sentiment analysis and influence scoring.
Social media is enabling companies to bring new levels of intelligence into the organization to build unique customer relationship and ultimately a stronger value proposition. Monitoring Social Media is the key to staying constantly engaged with clients in this brave new world of digital communications. There are quite a few solid reasons why every business should at least get a very basic social media monitoring computer software. For example, this tool can help you win back customers that you could probably have lost due to non-engagement as it will notify you when you are tagged in a complaint or an inquiry.
Social Media Monitoring software also helps you to monitor the performance of your online presence. It gives you the breakdown and sometimes suggestions on how to tweak things for better numbers. Allows you to better listen to what your customers are talking about online. You get to understand the gist of their concerns and how you can serve them better. This can also help you to become more approachable for your customers as they will notice that you are very responsive especially to people who have serious concerns/ inquiries.
Top Social Media Monitoring Software : Crowdfire, Brand24, Iconosquare, Metigy, Snaplytics, Socialbakers, NUVI, quintly, Sysomos, Sprinklr, Adobe Social, Spredfast, Fanpage Karma, Oracle Social Cloud, Beevolve, Talkwalker, HootSuite, Crimson Hexagon, Linkfluence Radarly, Simply Measured, Brandwatch, Cision, Lexer Listen, Sentiment, Trackur, Synthesio, Buzzmonitor, Sotrender, Dimelo, Tracx, Buzzcapture, Crimson Heagon, Actiance, MaritzCX SocialCX, Rignite, Simplify360, SocialFlow, Commun.it, SocialMotus, Unmetric, Gnip, Mention, Social Elephants, Networked Insights Kairos, Juicer, Hearsay 360, Socialware, Alerti, DatKnoSys are some of the Top Social Media Monitoring Software.
What are Social Media Monitoring Software?
Social networks are important means for communication, engaging millions of users around the glob. For enterprises in particular, being present and aware of what is discussed on these communication channels about their products and services has become a must.
Social Media Monitoring Software is designed for intelligence gathering in the online world. It  hears almost everything that is being said about you and your brand. So if someone mentions your brand on Facebook, leaves a comment on Twitter, tags your product on Pinterest or does a video review on YouTube, you will get a notification about it.
Apart from listening to what is being said about your brand social media and on other publicly accessible online platforms, Social Media Monitoring tools also help with online marketing campaigns. So if you run an online AD and you want to see how your AD is performing in, the tool will show you the important numbers. Social Media Monitoring tools can also help you to find the right influencers to optimize your social media presence for increased customer engagement.
Social Media Monitoring software products are not just about social media engagement and monitoring. They offer so much more than that.
Social media marketing optimization: If you want to accelerate your online sales, you've got to put your best foot forward in terms of social media marketing. You can deploy your social media marketing strategy, analyse your numbers, and maximize conversions using an Social Media Monitoring tool.
Customer engagement: The most basic Social Media Monitoring computer software products are built with at least the purpose of allowing you to engage with your customers. They offer notifications whenever they pick up on your brand being mentioned on social media or on blogs. This allows you to swiftly respond to the compliments or criticisms and endear yourself to more customers in the process.
Collaboration: You can use an Social Media Monitoring tool to effectively collaborate with your marketing team members so that you have a consistent and focused message across all platforms. You can also use it to find and engage influencers for an even more positive social media presence for your brand.
Organization and scheduling: You can use Social Media Monitoring software to plan ahead, strategize and to streamline your online marketing activities.
Top Social Media Monitoring Software
Crowdfire, Brand24, Iconosquare, Metigy, Snaplytics, Socialbakers, NUVI, quintly, Sysomos, Sprinklr, Adobe Social, Spredfast, Fanpage Karma, Oracle Social Cloud, Beevolve, Talkwalker, HootSuite, Crimson Hexagon, Linkfluence Radarly, Simply Measured, Brandwatch, Cision, Lexer Listen, Sentiment, Trackur, Synthesio, Buzzmonitor, Sotrender, Dimelo, Tracx, Buzzcapture, Crimson Heagon, Actiance, MaritzCX SocialCX, Rignite, Simplify360, SocialFlow, Commun.it, SocialMotus, Unmetric, Gnip, Mention, Social Elephants, Networked Insights Kairos, Juicer, Hearsay 360, Socialware, Alerti, DatKnoSys are some of the Top Social Monitoring Software.
1
Crowdfire is a content marketing software that uses clean-engage-grow philosophy to guarantee rapid growth on the social media. Crowdfire smart features are accessible through Android, Web and iOS apps. Crowdfire simply provides powerful solutions that are targeted to attract followers on Instagram and Twitter. Crowdfire powerful solutions provide powerful connections to users that enable them achieve their social media goals that include brand popularity, brand recognition, and increased fans and sales. The 'clean' features provided by Crowdfire facilitates keeping away of irrelevant, unwanted and spam accounts. The 'clean' features are ideal to individual and organizational feeds as they are provided…
2
Brand24 is an effective method of monitoring your brand or product on the Internet. It is also a tool that measures the buzz around your brand, product or keyword.Brand24 provides real-time customer insights and actionable intelligence relevant to their products and brands. The web-based dashboard provides actionable customer insights, email alerts, influencer analysis, automated & customized PDF reports, infographics and many more. Brand24 allows you to measure key metrics around buzz and sentiment. Discover what people say about your brand & take action in real time. Engage discussions relevant to your business with one click of the mouse.Identify sudden changes…
3
Iconosquare is the perfect Instagram companion. Iconosquare lets users manage all of users' Instagram accounts, track comments on users' posts and monitor content. Iconosquare lets users search, repost, upload and keep users media organized. Iconosquare lets users draft, caption and schedule users Instagram posts in advance. Iconosquare lets users find the best influencers for users' business in no time. Users can visualize how their posts are performing in real–time and compare with previous ones. Users can see how the filters and hashtags they use influence engagement. Users can check out and sort their most engaging media by likes, comments or…
4
Metigy is a software that enables saving of time and automation of mundane tasks, therefore enabling users focus on actions that make a real difference to their business. Metigy software main features include analysis and insights, actionable ideas, trending conversation, timing insights, competitor and influence tracking, and automated reporting. All these features simply make marketing on social media easy and fun. The analysis and insights feature provides the AI-driven dynamic insights that provide a good platform for users not to look for ideas in hard to understand data reports. The actionable ideas provided by Metigy facilitates deep targeting of user's…
5
The goal of Snaplytics is to shed light on what marketing efforts are working on Snapchat. Snaplytics is a powerful tool and a must when considering a presence on Snapchat. Being able to automatically document users' work has saved the users countless hours and resources. Metrics that provide meaningful insights are increasingly important to the users' efforts. This, along with great customer service, makes Snaplytics a valuable partner. Users can let Snaplytics focus on the management so that users can engage with their customers and brand advocates. Sign-up for Snaplytics and watch users' social data transpire within an hour. The…
6
Socialbakers is a marketing & analytics suites, with over 2,700 clients in 100 countries.In addition to offering one of the largest databases of free social media statistics and insights in the world, they provide user-friendly social media solutions that allow brands to measure, compare, and optimize their social campaigns with competitive intelligence that is second to none. The analytics platform provides global industry benchmarking and local categorization in social media. Socialbakers tracks, analyzes and benchmarks over 8 million social profiles across all the major social platforms including Twitter, Facebook, YouTube, LinkedIn, Instagram, Google+ and VK in Russia. Socialbakers provide comprehensive…
7
NUVI Social Media Marketing Suite, is a real-time research, monitoring, publishing and analytics platform. NUVI make social conversations on the web actionable and insightful using elegant dashboards and unique visualizations. The platform allows brands to instantly see what people are saying about them across the internet, respond to the most important conversations, and influence behavior in real time. NUVI let to monitor the conversation surrounding your brand across the entire social world. Track and monitor customers, markets, industries, products, and competition. Control crises from one centralized platform, built with you in mind.
8
quintly is an online social media analytics tool to help you track, benchmark and optimize your social media performance. By using quintly, you can benchmark your own numbers against your competitors' and derive an optimal social media marketing strategy. Combine the social media data of all your social networks in one tool. Whether you are using Facebook, Twitter, YouTube, Google+, LinkedIn, Instagram, Blogs or all, quintly visualizes and checks your social marketing success, presented in a clean and neat design to always keep the overview. Automate the reporting of your social media analysis. Set up whitelabeled templates, easily create custom…
9
Sysomos brings business intelligence to social media, providing instant and unlimited access to all social media conversations to quickly see what's happening, why it's happening, and who's driving the conversations. Through the use of contextual text analytics and data mining technology, Sysomos collects data from blogs, Twitter, social networks, messages, boards, wikis and major new sources. Sysomos' products include: Media Analysis Platform (MAP), our flagship service that offers customers the ability to analyze and understand social media conversations; and Heartbeat, a cost-effective, real-time monitoring and measurement tool that provides constantly updated snapshots of social media conversations. Sysomos MAP is a…
10
Sprinklr is an enterprise social technology purpose-built for global brands to drive business outcomes and manage customer experiences across all touch-points. Sprinklr's fully integrated social media management software powers social connections across 77 countries. Sprinklr, brands can truly know their customers not as data points, but as people. With deeper, richer context across touchpoints, organizations can seamlessly craft meaningful experiences customers will want to share with others. Sprinklr's premium modules help brands expand upon their core social infrastructure, creating a custom environment that's finely tuned to drive even more powerful experiences for their customers.
11
Adobe Social is a social management platform that ties every piece of data to your bottom line. Beyond just the likes and follows, manage the deep relationship between your customers' sentiments and your business goals.Monitor and moderate conversations, publish and promote content and analyze engagement and conversion data in one, mobile-friendly interface.Automatically attach tracking codes to your social content to identify what activity drives engagement and conversion.Use social insights, through Adobe Marketing Cloud integrations, to improve targeting and optimize the customer experience. Adobe Marketing Cloud aims to help organizations better understand and serve their customers by creating a platform that…
12
Spredfast is a powerful, open social software platform that connects every business in the world to the people they care about. Spredfast social marketing platform changes how you connect with the people your business cares about most, leveraging the power of social to help you build your brand—and brand loyalty. Streamline content planning, respond efficiently with context, and share social insights with your entire marketing team—from one secure platform. Spredfast's smart social software enables companies to build lasting relationships with today's digitally connected consumer. Brand and media companies use the Spredfast Social Software Platform to manage, integrate and amplify social…
13
Fanpage Karma is a platform that let's analyze and improve social media profiles, the user is able to analyze your profiles and monitor your success and also increase your social reach every day. This platform normally has the perfect features for the perfect users, it helps you keep track of your social media channels day by day and thus measure your success. It has the excel reports which enable you to save time. Excel reports keep a record of your developments and impress your boss and clients with presentable reports and clearly arranged infographics; Excel reports, monthly report, raw data,…
14
Oracle Social Cloud is a scalable, enterprise-ready social relationship management solution that empowers brands to leverage the power of social media across their organizations. Oracle Social has deep listening, global reach, a unified social media management platform, and integrations with Customer Experience (CX) applications. Oracle Social Cloud provides Deeper Listening uses Latent Semantic Analysis (LSA) listening technology, filters more spam and gives you more accurate and relevant listening data and indicators feature shows consumer intent, product likes/dislikes, and customer service issues. Social cloud tools allow brands to listen, create, and engage at the speed of social with the consistency and…
15
Beevolve User generated content (UGC) created by users on blogs, forums, review websites, messageboards and other social media platforms is staggering and increasing at a rapid pace. Beevolve's Social Media Monitoring and Analytics platform helps marketers, brand managers and PR agencies effectively measure, analyze and act on social media conversations. Beevolve's platform is able to go a step further and extract and deliver insights that can be used to formulate marketing strategies, drive product development, measure advertising performance and avoid potential PR disasters before they spiral out of control.The monitoring dashboard gives you insights related to sentiment,buzz, top sources and…
16
Talkwalker is an easy to use and incredibly powerful social media monitoring and analytics tool. It delivers high value insights in a user-friendly dashboard recommended by agencies and brands worldwide. With a focus on big data crawling the Talkwalker search index is one of the largest, covering over 150 million sources in 187 languages. The dashboard is extremely user friendly and features intuitive filters and reporting functionalities. Discover 100% of Social Media Results with our Leading Global Coverage enjoy the most complete global source coverage in 187 languages, track over 30,000 brand images using Image Recognition, tap into the full…
17
Hootsuite gives customers a wide scope of controlling and managing their social media activity, by enabling them to manage all their social networks and schedule messages for future publishing. Hootsuite's best-in-class social media monitoring tools allow users to see comments about their on-display brands. Hootsuite's social media analytics give an in-depth view of how well the user's social media efforts are being received, so they can choose the better of what is working or change directions. Adding multiple Team Members feature makes sharing the workload easier because it manages social media well. Vitals like reputations, assets, and financials etc being…
18
Crimson Hexagon is a leading provider of social media analysis software. Powered by technology and an in-house data library of more than 500 billion posts, Crimson Hexagon's ForSight platform helps hundreds of brands and agencies answer critical business questions through the insights derived from social data. Crimson Hexagon allows businesses to answer strategic business questions using flexible, customizable categories. Whether you want to look at consumer trends, purchase intent, product attributes, drivers of sentiment, competitors, or category-level conversations, our social media analytics platform can help. Best of all, with Crimson's social media analytics tool you pay only for insights –…
19
Founded in 2006, LINKFLUENCE is a leading social media intelligence company in Europe. It aids with the process of transforming data from the social web into insights to spur decisions and actions. More than 300 clients worldwide have put their trust in Linkfluence including Coca Cola, McDonald's, Orange, Sanofi, Danone, Accor and Groupama. In 2012, Linkfluence became a software company on the social media intelligence market following the launch of its flagship product: Radarly. Radarly is the only social media intelligence solution offering powerful social media listening, performance measurement, community engagement and real-time management of countless daily conversations. This provides…
20
Simply Measured offers the measurement and reporting solution for social media marketers. They provide reporting should be simple, beautiful, and accessible for everyone not just data scientists and streamlines the process of moving social media data into dashboards and other deliverables. Simply Measured makes it easy to analyze your paid, owned, and earned activity from all of your social networks. Insights are delivered exactly how you need them, whether that's on the web, in dynamic Excel reports, or in PowerPoint. Simply Measured's full suite of analytics arms you with the ability to research conversations, competitors, and audience, across all social…
21
Brandwatch technology is built to listen to the millions of conversations happening all over the web every day, which can then be analyzed to unlock a whole host of advantages. Brandwatch is an enterprise social intelligence company, allowing users to analyze and utilize conversations from across the social web. It is the perfect platform to make sense of the chatter about your brand online. We crawl the internet, archiving social media data from over 90 million sources in 27 languages. Users are then offered the chance to search this data in Brandwatch's web-based interface, both proactively and retroactively for mentions…
22
Cision is a leading global media intelligence company, serving the complete workflow of today's communication professionals.Cision offers comprehensive PR, IR and social media software, rich analytics, content distribution, and influencer outreach, Cision enables clients to engage audiences, enhance campaigns and strengthen data-driven decision making. Cision solutions include PR Newswire, Gorkana, PRWeb, Help a Reporter Out (HARO) and iContact brands. Cision social software searches millions of posts and mines the data that will help you monitor performance of key brand attributes, target emerging brand value drivers and make informed business decisions.
23
Lexer Listen is a social listening and media monitoring tool helping companies to learn what matters most to their customers. Listen offers real-time analytics, alerts & reports for social, news and forum content – plus your team's responses on inbound service channels. The tool also features 14+ filters to get to the insights quickly and configurable dashboards and PDF reports for sharing what you find. Instant, hourly, daily or trending alerts help teams keep track of the conversation and the unique addition of inbound chat and email tickets enables you to analyse team responses and customer feedback alongside social and…
24
Sentiment enables you to manage the opportunities and threats presented by social media with confidence.The Cloud platform empowers better customer service, identifies potential new customers and delivers new insights into their behavior with powerful analytics. This brings comments about your company, services, products and your competitors into one easily managed channel- not only from Facebook and Twitter but also 50 million blogs, forums and news sites. Features include Schedule and post content including images and videos to social media platforms using the Sentiment shared calendar. Bring in all your social mentions in one inbox so you can easily respond across…
25
Trackur is a social media monitoring tool designed to assist you in tracking what is said about you on the internet. Trackur scans hundreds of millions of web pages including news, blogs, video, images, and forums and lets you know if it discovers anything that matches the keywords that interest you. Using sophisticated online reputation monitoring and filtering techology, Trackur is your reputation guardian. It does the heavy-lifting for you scanning the web for any mention of your name, brands, and products so you don't have to. Trackur quickly see the number of new results, velocity change, share of voice…
26
Synthesio is the framework for building social intelligence that provides real business results. Whether an organization's social team is built within Marketing or crosses multiple departments, business units or geographies, Synthesio helps teams listen to, and analyze, consumer conversations across social and mainstream media within one platform. Synthesio provides coverage in 196 countries and 80 languages, monitor 100,000+ websites, and counting, in real time including Sina Weibo, VKontakte and WeChat, custom sourcing and research for each project, machine learning built to reproduce human behaviors, automated Sentiment in 21 languages, advanced automated noise removal and intelligent trend spotting, filtering and alerting.…
27
Buzzmonitor is an innovating solution which involves consultancy, diagnosis, and technology to help users manage their business on Social Media. Buzzmonitor offers features such as real-time dashboards, access to up to 9 Brands, access up to 9 Users, access up to 15.000 items per month and an Account Manager (which is not available in the freemium package). Buzzmonitor monitors users' brand on social media, creates custom reports and turns them into real-time dashboards with one click. Users also gets to compare their Facebook, Twitter and Youtube channels' metrics with the ones from their competition. BuzzMonitor also lets users respond and…
28
Sotrender provides precise analytics for your Facebook, Twitter, YouTube and Instagram profiles. Sotrender interprets data, giving you simple tips and a call to action, as well as pointing out where you can find even more information. Sotrender enables you to track any brand. You can learn who else in your industry is using social media effectively, as well as observe their strategies and the effectiveness of their communication.Convert feedback from users into relevant tasks, assign them to a team member, and monitor their realization.
29
Dimelo SocialCRM Suite is comprehensive multichannel software for companies willing to engage in a direct conversation with their customers, allowing them to coordinate, manage and secure conversations in their Internet properties as well as in the web.Dimelo Social is a customer engagement application designed specifically for interactions on social media. The application helps community managers efficiently engage on community websites, Twitter accounts, Facebook pages, FAQs, blogs and forums, as well as feed internal CRM and business intelligence applications. Companies can monitor performance on social media using key indicators designed specifically for the needs of customer service, creating custom reports and…
30
Tracx is the leading social business cloud empowering enterprises to build their brand, attract new customers, service existing ones and connect with other key audiences in the social-enabled world. The solution analyzes and refines mass amounts of geographic, demographic and psychographic data from across the social web to deliver deep insights into customers, competitors and influencers. It then makes those insights actionable through its contextually driven Social Recommendation Engine, enabling smarter interactions that deliver meaningful business results. With Tracx, clients are able to discover new opportunities and better understand all aspects of their business - from customers, to competitors and…
31
Buzzcapture, help to gain structural insights into this data, and teach how to incorporate this work in your daily activities. For example, the results of a baseline measurement, stakeholder or target group analysis can offer applicable insights that are useful to reach these groups more effectively. Buzzcare is a user-friendly web-based application, that constantly collects all relevant communications from social media channels so that the online customer care team can take appropriate action.Buzzcapture, will deal with these types of questions in order to develop a useful social media strategy and corresponding content strategy.
32
Crimson Hexagon is provider of social media analysis software. It allows businesses to answer strategic questions using flexible, customizable categories. Crimson absorb and index a torrent of data points from Twitter, Facebook, Instagram, Weibo, blogs, forums, and more. Crimson allows access and analyze any data at any time. Intuitive visualizations like topic wheels and word clouds give the power to easily discover and measure key topics of conversation, bringing important trends into focus. Flexible, customizable text analysis allows review conversations, select examples, group posts into categories worth measuring. Crimson adapts, learning to focus on what matters and ignore what doesn't.…
33
Actiance is a global leader in communication, collaboration, and social media governance for the enterprise. Its governance platform is used by millions of professionals across dozens of industries. With the power of communication, collaboration, and social media at their fingertips. Actiance makes use of insights that provides data for most types of businesses with the aim to take advantage of it for transforming a particular company. With Actiance platform, provide your business with proper monitoring to oversee across all communication channels that would be beneficial to the organization. Make use of the right tools to provide employees the confidence to…
34
MaritzCX believes organizations should be able to see, sense and act on the experiences and desires of every customer, at every touch point, live. The company helps organizations increase customer retention, conversion and lifetime value by ingraining customer experience intelligence and action systems into the DNA of business operations. MaritzCX is the combination of the Allegiance award-winning CX platform and Maritz Research strategic consulting services. Allegiance works on putting all together the most advances customer software platform that does all the work on research services in order to provide best customer experience. With the help of Allegiance's customer experts, decode…
35
Rignite is a powerful social media management software that provides social activity tracking, customer interactions history, collaboration and posting features. It provides your business with powerful social marketing that will grow your business with powerful social media marketing and management modules. This will end up helping you to save on time while you get results. Rignite works to provide your company with a set of social media marketing, monitoring, management and analytics tools. It allows you to create social marketing campaigns and manage social media activities daily from a single solution. Rignite has the advantage of making it easy for…
36
HEARING - Search across interpersonal media platforms using boolean keyword query builder. Review tonality of conversations from diverse demography using Simplify360's multi-lingual sentiment classifier. Gain access to real-time monitoring and research dashboard to visualize sociable data collected from various social media channels. Determine Influencers (promoters and detractors) and track their interactions. WORKFLOW AUTOMATION - Mechanize prioritization of messages using custom-defined rules and concern scores. Create and course cases automatically to worried agents based on custom-defined rules and SLA. Allocate cases to a group of agents by creating workbaskets. Generate email informs based on SLA or event defined by the users.…
37
SocialFlow increases distribution of owned and earned content by analyzing user behavior and optimizing each post based on real-time data. SocialFlow developed technology that analyzes and quantifies audience, attention, topics and engagement. The algorithm ensures that each message is delivered at the right moment—when users are online and engaging with related content. As a result, marketers gain value for each piece of content and deeper engagement across social media channels. SocialFlow boasts a feature called Optimize that uses real-time data and editorial business rules, and brilliantly sequences the distribution of content. It makes sure that the message that reaches the…
38
Commun.it is a powerful tool that provides easy ways of managing, growing, and tracking of user's social media profiles across social media platforms such as Twitter, Facebook, and Instagram. Commun.it provides tools needed by the user to grow on all networks without putting much effort. Commun.it provides an easy to use and free dashboard that facilitates scheduling of posts from all social media channels and platforms at one. The dashboard also provides a good platform for users to discover new leads and have a chance to create an audience. Commun.it provides intelligent suggestions for the user on who to interact…
39
SocialMotus is a social media management and monitoring tool for business purposes. This tool helps you manage all Facebook and twitter accounts with multiple team members efficiently and effectively. It also helps you discover targeted prospects and to also build meaningful relationships with lots of ease. SocialMotus offers you the best social management software & social media management tools to effectively manage multiple accounts from one central platform. SocialMotus allows you to manage all your Twitter and Facebook accounts from one simple, user-friendly platform. Now you can coordinate the various aspects of your social media campaigns through one interface to…
40
Unmetric is a powerful and reliable platform designed to help companies gather and analyze social media data. This is done so as to provide better products, intelligent answers to customer queries and more. With Unmetric, you will be able to see all of your existing organized social campaigns while at the same time be able to monitor their successes/failures. Unmetric was developed mainly with data and brand analysts, campaign strategists, brand managers and content creators in mind. It has excellent features that will help your business to analyze the content and campaigns of your competitors. It's also very useful in…
41
Gnip is Twitter's enterprise API platform that enables businesses to unleash the power of social data. Gnip boasts a powerful real-time feature that provides data quickly at the time of need. The suite of Real-time APIs provides a all signal and no noise policy that swifts the distractions out and makes the provision of data more convenient. It also features a PowerTrack tool that offers powerful filtering. It also provides complete coverage of the data and ensures its delivery within the deadline. Decahose is a feature involved in Real-time Trend Detection and Discovery. It delivers a 10% sample of Tweets…
42
Mention is an easy-to-use media monitoring tool that lets users track social mentions, analyze competitors, find influencers, and generate leads. Mention's powerful social media monitoring tools make this simpler, and more effective, than any other. Mention lets users easily monitor over 1 billion sources daily including social media, forums, blogs, and the rest of the web. Boolean alerts help users zero in on their brand, competitors, and customers for precise market research. Mention attracts customers, builds brand awareness, and improves users' reputation online. Users can connect their social accounts to react directly within Mention or add their Buffer account to…
43
Social Elephants is a platform that provides monetizing and social media management tools. Social Elephants platform provides decision-making techniques on investments in social media. Social Elephants also features a dashboard that comes with metrics oriented to business and marketing. Social Elephants, provides tool for governing user's KPIs and activate their campaigns targeting influencers. The custom management feature provides functions for top brands. The functions are ideal for the top brands to manage their social channels, multi-tasking, multi-role, delegation of tasks and assignments, management of processes, follow-ups and monitoring, and reports. Social Elephants also provides the actionable insights feature that provides…
44
Kairos gives you the ability to deftly strike at the opportune moment by providing real-time insights into your target audiences, marketing campaigns and brand health. By classifying the entire social web and organizing consumer conversations around marketing KPIs, our social analytics platform helps you immediately see spikes and trends, pinpoint exactly why they're happening, and take action at exactly the right moment to maximize customer engagement. Kairos classify and analyze the social web so brand marketing professionals like you can better understand how consumers and your audiences specifically are talking about products, competitors and the topics that influence purchase behavior.…
45
Juicer is a simple way to aggregate all of the user's brands' hashtag and social media posts into a single beautiful social media feed on the user's website. Juicer offers features such as posts from all user's accounts, website embed, provided styling, automatic updates and straightforward moderation. Juicer automatically pulls in new posts from the user's social media accounts and displays them in a beautiful, easy to install social feed on the user's website. Juicer lets the users set up filters, moderate posts and analyze the user's social media engagement. Juicer is easily installed and set up in 3 simple…
46
Hearsay 360 enables efficient and compliant communication across digital channels including text messaging, social networks, emails and websites etc. This platform basically merges client engagement from across the organization, breaking down data silos and providing business growth and accountability for sales; brand governance and amplification for marketing; efficient administration and review for submission as well as an an open enterprise-ready platform for IT. Hearsay 360 enables its users to share dynamic and relevant content to boost SEO and attract new business; to seamlessly integrate with the corporate website, including locator tool to quickly find an advisor; simple time-saving publishing and…
47
The Socialware platform provides a spectrum of solutions for regulated firms and their employees to manage risk, comply with regulations and generate business on social media. Socialware features a customizable modular platform which is involved in mitigating risks and complying rules. It is also employed in the business generating processes. Automate Profile Management is a Socialware's SMC feature that offers a complete automated profile management capability. It also provides an enhanced review for multiple reviewers of a user's profile. It also features feedback tools to cater workflow management. The highlighting feature allows the changes in a profile to be highlighted…
48
Alerti is a social media monitoring and management service platform. This tool is based on a search engine which continuously scans all types of sources online, press, microblogs and then enables you to follow what is being said about you, your competitors, your brand or you and thus measure the engagement of your communities and to interact with them. Some of the features of this tool include Engagement. You are able to get advanced analytics for your social accounts (Facebook pages, Twitter accounts), identify your influencers, ambassadors, detractors. Interact on social networks from your Alerti account, you can also Measure…
49
DatKnoSys (Data Knowledge Systems) is focused in providing analytical solutions to business users in different industries. DatKnoSys has its own analytical solutions by embedding innovative, analytical databases, dashboards, reporting, GIS and Data Mining algorithms. DatKnoSys has developed analytical solutions for companies in many different industries including: Marketing, , Insurance and Retailing companies, Sales and Financial solutions for Banking, enabling customers to improve marketing campaign return and reduce cost, monitor behavioral purchasing, analyse and detect consumer trends, segment and profile customers. Algorithms based on spatial variables that integrate internal information of the external market data company allows to analyze the situation…
Is Free Social Media Monitoring Software Worthwhile?
Social Media Monitoring Software has many features and can do a lot to help your business to succeed in social media by monitoring your and competitors social media mentions and interactions, and it is not very expensive. There are also plenty of limited free Software available. There are two categories of Social Media Monitoring Software based on licensed model: Open Source and Proprietary. Based on Installation type, there are On Premise and Cloud and the selection of the installation type depends on your business and organization requirements.
You can find limited free versions and full-fledged free trials in both the licensing models.
If you are unsure of the business benefits, you could try a limited version of Proprietary Social Media Monitoring Software Software to check how it fits to your business before making a big investment. These software comes with limitations and you need to buy additional features using the up-selling vendors offers to make it useful. A free limited version from a proprietary product company will make it easier to upgrade in the long run and also help you determine if that company's solution is what you want.
There are also many drawbacks to Free Limited version of Proprietary Social Media Monitoring Software. These limited version do not have nearly as many features available in a fully functional paid version, and there are limits such as number of features and functionality, modules, storage limits, number of reports, limited data integration options, and also on the number of users you can have. The free versions also have limited support options.
As these are priced fairly and competitively, and requires less set up time, based on your functionality requirements and business fit, you can always choose a free trial and experience the system with your data before buying and migrating to a full-fledged solution.
Is there a one size fits all Social Media Monitoring Software: Unfortunately there are no one size fits all solution as each of the products has its own core strengths in functionality, social platform focus, integration capability and core features.
We recommend determining how the software fits to your business in terms of features, functionality, and business process with a free trial.