Review
DatKnoSys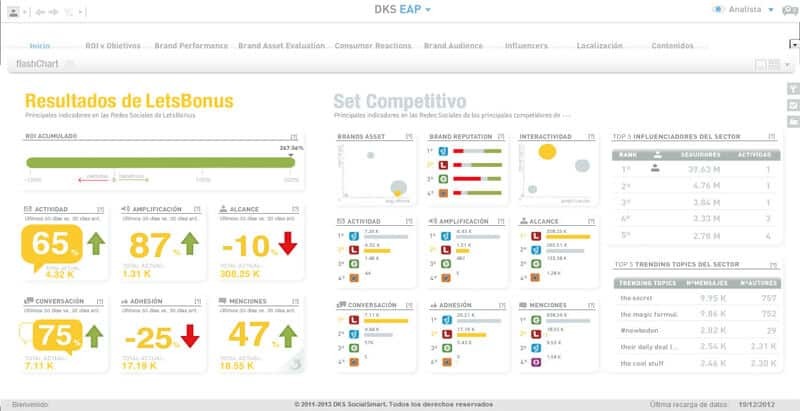 Overview
DKS SocialSmart is DatKnoSys' solution for social analysis that puts together data from different social networks (twitter, Facebook, google+,…) and blogs.
Social Monitoring Software
•Advanced Customers Intelligence
•Marketing Analytics
•Social Media Analytics
•Web Analytics
Small (<50 employees), Medium (50 to 1000 Enterprise (>1000 employees)
What is best?
•Advanced Customers Intelligence
•Marketing Analytics
•Social Media Analytics
•Web Analytics
DatKnoSys (Data Knowledge Systems) is focused in providing analytical solutions to business users in different industries. DatKnoSys has its own analytical solutions by embedding innovative, analytical databases, dashboards, reporting, GIS and Data Mining algorithms. DatKnoSys has developed analytical solutions for companies in many different industries including: Marketing, , Insurance and Retailing companies, Sales and Financial solutions for Banking, enabling customers to improve marketing campaign return and reduce cost, monitor behavioral purchasing, analyse and detect consumer trends, segment and profile customers. Algorithms based on spatial variables that integrate internal information of the external market data company allows to analyze the situation of business using the exact location of customers, selling points, competitors. It provides information in detail incorporating geographic variable to optimize the marketing actions. Get an automatic separation of clients in different groups or segments based on their similarities. Depending on the aim of the company, they are grouping looking at demographical, behavioral or value variables.
DatKnoSys also made key product associations that improve consumer understanding, forecasting, budgeting, social media metrics and analysis etc. Geomarketing is a tool that supports business decisions with spatial variables. It show detail information in order to optimize marketing and sales actions. The DKS Predictive module allows make complexes analysis thanks to interactive views and models. DKS Reports module allows the generation and distribution of reports. Exporting information through multiple formats and programming alerts by email. DKS DashView is a dashboard platform that allows to get the key indicators of business. Those indicators can get in different formats, tabs and graphic displays. DatKnoSys also offers on-demand projects using all these analytical technologies and products including professional services such as consulting, training and maintenance of implemented projects.