Review
Digimind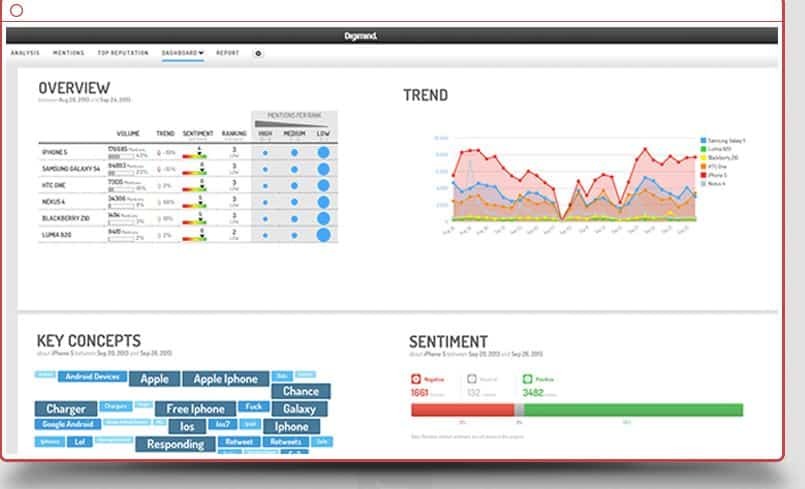 Overview
Digimind is a social media analytics company that provides businesses with unrivaled insights into their true standing in the market
Social Media Analytics Software
• Twitter Firehose, Pinterest, Instagram monitoring
• Automatic categorization and event detection.
• Advanced suite of extraction tools, intelligence crawlers,
• Interactive Charts
• Monitoring Module
Small (<50 employees), Medium (50 to 1000 Enterprise (>1000 employees)
What is best?
• Twitter Firehose, Pinterest, Instagram monitoring
• Automatic categorization and event detection.
• Advanced suite of extraction tools, intelligence crawlers,
• Interactive Charts
• Monitoring Module
What are the benefits?
• Measure marketing ROI
• Analyze your reputation
• Monitor your competitors
• Anticipate market moves
• Identify future business models
Digimind is a social media analytics company that provides businesses with unrivaled insights into their true standing in the market. Digimind enables to see the conversations that matter most, in real-time, across millions of online sources, in order to gain valuable insights to drive and improve your marketing strategy.
Digimind analyze and benchmark an unlimited number of social accounts simultaneously with Digimind Social Analytics.Top Reputation module, follow in real-time what your customers want to know about your brands, products, people, and those of your competitors, or any subjects that interest you.Digimind's Social Media Command Center, makes it easy to capture your brand's social content at any event and display it as a beautiful and engaging social display.