50 Free & Top Task Management Software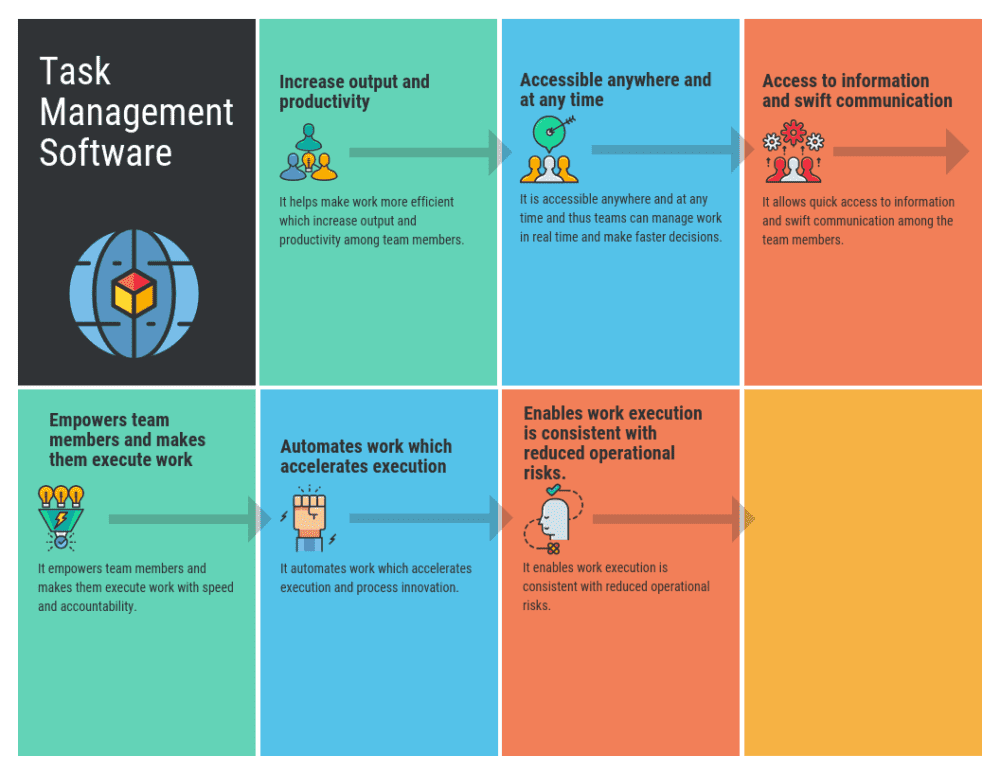 Projects have set specific goals and objectives to be achieved within a given period of time to measure its level of growth and success.  There numerous tasks those need to be accomplished to reach those goals. To prioritize these tasks, it may require more than just a simple list of what to do.  It's important to customize different tasks according to various attributes such as priority, recurrence, dependency, resources, category, and status.
It is also imperative to ensure that these tasks are well organized which help to streamline the businesses workflows and to achieve a higher level of client satisfaction and professionalism. It's also crucial to track time for each person involved in a team and analyze their level of productivity when doing clients project.
Team collaboration is also crucial to keep team members up to date with the progress of the project. A well-organized project should reflect all the details of every project to enable you to discover what is working and what is not and should also have a good reporting system that is detailed to help the team members make informed decisions. Task Management Software helps to achieve efficiency while doing various tasks within an organization.
Example of Free Task Management Software: Paymo Free, MeisterTask, Twproject, Pintask, Hitask, SmartTask, TaskFreak, Easynote, Centrallo, Todoist, TaskQue, Zillable, Outplanr, Done, Subtask, TrackingTime, AceProject, Taskade are some of the top Task Management Software Free.
Example of Task Management Software: Microsoft Planner, TaskCracker, Clarizen, Task Pigeon, Paymo, Orangescrum, Teamweek, Binfire, Leanzy, Scoro, Zoho Projects, Droptask, WorkApps, Avaza, Redbooth, Orgzit, WIDIZ, Grapple, Barvas, Taskworld, Teamwork, Duet, Tomatoid, Producteev, smartQ, Huddle, Mavenlink, Breeze, Week Plan, Things, GamePlan, Projects, Actionspace, TaskMerlin are some of the top Task Management Software.
What are Task Management Software?
Task Management  involves planning, testing, tracking, reporting and managing of a task through its lifecycle. Task Management requires managing all aspects of a task, including its status, priority, time, resources assignments, recurrency, notifications. These can be lumped together broadly into the basic activities of task management.
Task management also may form part of project management and process management and can serve as the foundation for efficient workflow in an organization. Task management Software products provide features and functionality to include task creation, task visualization, notifications, assign resources, compatibility, configurability, scalability, and reporting.
Task Management Software is a platform that enables you to organize and manage projects, workloads and tasks throughout a project lifecycle from planning, estimation, scheduling, and reporting.
It helps to track dependencies and milestones, assign and reassign work, make decisions when priority changes are required and monitor deadlines from one central location. It automates workflows and helps manage tasks from simple to do lists to helping team members' work and collaborate better. A modern Task Management Software should have the following features:
You may like to read: How to Select the Best Task Management Software for Your Business
Organize work visually: Task Management Software has task creation, organization, and visualization capabilities. Task creation entails turning ideas into actions, defining the actions and planning the execution by categorizing tasks based on their status and on whom they are assigned to. Task visualization entails presentation of tasks status in the form of time and to do lists across all your plans.
Collaboration and Communication: Communication and collaboration involve team notifications which are in configurable settings for informing team members of the past, present and pending deadlines. Team members are able to raise concerns, inquiries, and instant responses from the right people in the project through a built-in messenger. The team can also attach files, work together on the files and communicate everything about them without switching between apps.
Prioritizations and Scheduling: Prioritization involves categorization in terms of budget, time, stakeholders, and other mechanisms like color code or text. Scheduling involves calendaring which entails scheduling the availability, meetings, and appointments, creating notifications and alerts and reminders.
Reporting and documentation: Reporting encompasses presentation of information by displaying it in form of key metrics like percentage, variance, tables, graphs and more. The dashboard also helps team members to monitor the progress of the project, identify and solve any problems immediately. The central data storage feature helps to store all data in one place which makes it easy for members to view and retrieve
Easy to use: A perfect Task Management Software should have a simple user interface which enables the members to navigate easily, launch a plan easily, create a new plan, build a team, assign tasks and update status.
Task Management Software is beneficial to a business in that:
It helps make work more efficient which increase output and productivity among team members.
It is accessible anywhere and at any time and thus teams can manage work in real time and make faster decisions.
It allows quick access to information and swift communication among the team members.
It empowers team members and makes them execute work with speed and accountability.
It automates work which accelerates execution and process innovation.
It enables work execution is consistent with reduced operational risks.
Businesses should embrace Task Management Software to be able to organize and manage different tasks within an organization. Different Task Management Software's have different features and it is, therefore, important to understand your needs to be able to choose the software that is best for your business.
You may like to read: How to Select the Best Task Management Software for Your Business
Top Task Management Software Free
Paymo Free, MeisterTask, Twproject, Pintask, Hitask, SmartTask, TaskFreak, Easynote, Centrallo, Todoist, TaskQue, Zillable, Outplanr, Done, Subtask, TrackingTime, AceProject, Taskade are some of the top Task Management Software Free .
Top Task Management Software Free
PAT Index™
1
Paymo Free
Paymo is a cloud-based project management solution designed for small and midsize businesses. It offers team collaboration, timesheet management and project accounting functionalities within a suite. Paymo offers project management, which enables users to create projects, divide projects into task lists and assign tasks to the right people. Team members can then engage in project discussions and stay updated on the progress of projects. A key feature of the solution is its Visual Kanban Board, which enables users to visualize the progress of each task and track projects' idle time. It offers customizable time and work reports that can be…
Overview
• Kanban boards: Define and create a workflow and move project tasks through sequential and logical steps
• Task Management: Create, move and reorder tasks, task lists, set start and due dates in order to organize activities and work
• Multi-User Assigning
• Time tracking: Record time spent on projects or tasks in your browser
• Customizable workspace: Customize the display and layout of work areas
• File storage: Attach files to projects and keep all information in one place
2
MeisterTask
Meistertask is a flexible and smart project planning and visualizing application that provides features for a more intuitive task management. At the project planning stage it can be integrated with the web-based mind-mapping application MindMeister. Users can then easily transition mapped tasks to Meistertask by simply dragging and dropping them into the project. Tasks are easily assigned then to owners with corresponding timelines and reminders for each for easy follow-through. To ensure a seamless project workflow between dependent tasks, task relationships can be tagged as "related to", "duplicate of" or "is blocked by". Applicable notifications are sent to owners of…
Overview
• Integrates with MindMeister, the online mind mapping app
• Instant Communication
• Integration & Automation
• Basic – Free
• Pro - $8.33/user/month
3
Twproject
Twproject is a simple, easy to use, and full featured management software for projects and is useful for small, medium businesses, and large enterprises. Twproject also acts as business management software that combines with the functionality of time tracking, project planning, task management, bug tracking and document management software. The project management feature facilitates structuring of each project as a Gantt or task tree process. The project management feature enables users associate with each task through assignments that are made by Twproject. The team collaboration feature simply refers to the set of people working on a project. Twproject provides users…
Overview
• Dashboard customization
• Mobile module
• Project management
• Gantt chart
• Document management
• Events notification
• Timesheets
• Custom reports and forms
• Basic dashboards
• Task and subtask management
• Repository
• Free – 0 € up to 5 users
• Basic – 4.89 €/user/month
• Advanced – 7.89 €/user/Month
• Enterprise – 12.89 €/User/month
4
Pintask
Pintask is advanced software which facilitates easy task and project management. Pintask features email reminder, import data, nest lists inside card, mirror a single card or a whole list, make any list a checklist, hands-free time tracking, saves time with actions, and customizable extensions. With Pintask, users can write their own extensions using Javascript plus Meteor API. MongoDB access in browser is also included. With Pintask users can save time with quick actions for cards and lists. Pintask enables users to mirror a single card or whole list and drag it to another board or nest inside another card. Pintask…
Overview
• Email reminder
• Import data
• Nest lists inside card
• Mirror a single card or a whole list
• Make any list a checklist
• Hands-free time tracking
• Saves time with actions
• Customizable extensions
5
Hitask
Hitask is a task management software that removes project management complexity and puts you in control. New projects can be easily and quickly set up, tasks assigning and sharing, sharing centralized file library and calendar, sending and receiving notifications, synchronizing everything across all devices can be done with Hitask. It stands out from other task management software since it is much easier to use. It is achieved through the intuitive user interface and single dashboard, hence no documentation or training needed to use it. All you need to do is to create an account and within no time, your project…
Overview
• Shared calendar
• Document storage
• Projects, tasks, events
• Selective sharing permissions
• Time tracking
• Mobile apps
• Email tasks
• Notifications
• Assignments
• Team chat
• Outlook integration
• Multi-lingual
• Team; free for up to 5 users.
• Team business $4.98 per user/ month
• Enterprise $12.98 per user/ month
6
SmartTask
SmartTask is a cloud based solution software designed for remote workforce management and employee scheduling. SmartTask simply acts as an employee scheduling software. SmartTask is ideal for businesses and can be used to manage their employees efficiently making sure that each employee is at the right time and right place. SmartTask combines live tracking, smart track of roster and integrated proof of attendance. SmartTask is an ideal tool for businesses as it improves customer satisfaction, enhance operational control and support duty of care to staff. SmartTask enables you to keep all your team related information together meaning you will not…
Overview
• Instant messaging
• Groups and projects
• Tasks
• Attachments
• Search
• Project templates
• Powerful Recurring tasks
• Location tracking
• Free – Up to 20 users
• Premium - $5/user/month
7
TaskFreak
TaskFreak is a simple but efficient web based task manager written in PHP. It's an open source application and it's free to download. Its main goal is to make project management efficient while kept easy. TaskFreak was originally created in September 2005, and is now available in 24 languages – made possible by numerous talented developers who have contributed to translate and extend the original version over time. TaskFreak comes in 3 versions: TaskFreak Original, TaskFreak Time Tracking, and TaskFreak WordPress plugin. Some features of the TaskFreak Original are GTD compliant, easy setup with MySQL or SQLite (PHP4 and PHP5…
Overview
• Easy setup with MySQL or SQLite (PHP4 and PHP5 compatible)
• Simple and easy to use (outrageously user friendly)
• Order tasks by priority and deadline, organize by project and context
• Absolutely free & open source
• Create, edit, archive tasks
• Start and stop timer
• Report time already spent
• Multi user or Single user mode
8
Easynote
Easynote is a user-friendly task manager and team collaboration tool with good user interface design. Easynote offer users a world of unlimited opportunities and makes assigning tasks to other people very easy. Features of Easynote include team collaboration, file sharing, deadlines and task dependencies, alarms and reminders, and user comments and updates. Easynote is being used on a daily basis by thousands of private and corporate users to manage tasks and projects. Easynote offers simplicity, strong features, and dedicated support. Easynote is designed with great features aand capabilities to match user's ambition whether it is weekly shopping list or multi-platform…
Overview
• Team collaboration
• File sharing
• Deadlines and task dependencies
• Alarms and reminders
• User comments and updates
9
Centrallo
Centrallo is a personal and professional organization tool that's user-friendly, requires no prior knowledge, is highly secure (uses Amazon cloud), is reliable, dependable, always there when you need it, and never lets you down. Features of Centrallo include Evernote import wizard, share or publish lists, search option, checklists, notebooks, calendar sync, password protect notes, and location based reminders. With centrallo No thought will go uncategorized as it allows users to create unlimited lists within lists to reach the ultimate level of organization. Centrallo enhances collaboration as it allows users to share lists with anyone, anywhere through email, or a public…
Overview
• Evernote Import Wizard
• Share or Publish Lists
• Search option
• Checklists
• Notebooks
• Calendar Sync
• Password protect notes
• Share at any list level
• Location based reminders
10
Todoist
With Todoist, users can collaborate and share projects and goals with colleagues, family, and friends in real-time. Todoist helps users to achieve more by breaking big tasks into smaller sub-tasks (multi-level) and manage complexity by breaking big projects into smaller sub-projects. Todoist notifies users when important changes happen via emails or push notifications. Todoist users can add due dates and create repeating due dates easily with normal language. Todoist offer users real-time data synchronization across all devices and platforms. With Todoist, users can prioritize tasks by using color-coded priority levels. With Todoist Karma, users can track their productivity and visualize…
Overview
• Access tasks everywhere
• Collaborate on shared tasks
• Distraction-free design
• Sub-tasks
• Sub-projects
• Project templates
• Real-time data synchronization
• Basic - Free
• Premium - $28.99 / year
11
TaskQue
TaskQue is a robust task management app that optimizes team productivity by effectively utilizing resources through an intelligent task management mechanism built into the system. With its unique features, TaskQue is one of the few task management tools that support and increase transparency within any organization. It allows for a convenient and easy team collaboration that boosts productivity.The unique Que feature is an effective task assignment process that automatically assigns tasks to resources that are available. It ensures resources are never overloaded with too many tasks nor are without tasks. Tasque is an online tool which enables you to get…
Overview
• Discussion minutes
• Calendar
• Work space
• Notification
• To-do
• Projects
• Workflows
• Insights
• Filters
• user types
• Keyboard shortcuts
• Basic; free up to 10 users
• Business; $5 per user/ per month
12
Zillable
Zillable is the first secured innovation and collaboration platform, scalable to meet the needs of any business. Zillable is fast intuitive and free. Zillable enables someone or a certain organization to have Team communications like chatting with the team members, it also gets stuff done by automation. It further enables you to remember everything from the use of the notebook, it also enables someone to accelerate the rate of innovation because it is the first tool to pull some unique productivity and creativity tools together into one person focused ecosystem that generally drives innovation. It equips someone with idea generation,…
Overview
•Real-time chat and file sharing for one-to-one and team conversations.
•Stay organized, remember, and get stuff done with notes, books, and tasks.
•Mindmap, Skillmap and connect with other colleagues.
•Powerful search, gamification, security and compliance.
•Create and grow a dynamic portfolio-based profile.
• Basic which is free
• Collaboration; $10 per user/ per month
• Innovation; $15 per user/ per month
• Enterprise; $25 per user/ per month
13
Outplanr
Outplanr enable users to clearly see each employee's workload and assign them new tasks across all projects. With Outplanr, users can follow task progress in real-time and get an overview of their team accomplishments over time. It makes it easy for users to monitor each task time and make comparison with their stipulated time estimates. Outplanr helps users to balance their team work and ensures that all team members are busy but not overworked. Outplanr offer users early morning email notification of their tasks for the day. Outplanr enable users to organize and categories all tasks and projects. Outplanr enable…
Overview
•1 GB data storage
•Unlimited projects
•Resource and task management together
•Follow task progress in real-time a
•Mobile-friendly
•Available on Chrome, Safari, Opera, and Internet Explorer
14
Done
Done is a project management software used for managing your daily projects collaboratively. It brings performance for your project and optimises teamwork thus enabling an organization to work smarter and more efficiently. As Benjamin Franklin quotes "for every minute spent organizing, an hour is earned," At times you encounter projects which do not satisfy at all or maybe the person in charge of organizing your project found it somehow complicated and abruptly organized the project without any sort of caution which leads to lack of satisfaction from the project owner. With Done it enables you to tackle this kind of…
Overview
•Automatically track time
•Get a better collaboration among team members.
•Have a clear visibility on projects.
•Keep a complete history of projects.
•Detect malfunctions.
•Breakdown the work into tickets and tasks.
•Plan projects.
•Get a real-time overview of all projects and team members.
• Free; at $0 per month, 3 users only.
• Corporate; $8 per month, 50 users max
15
Subtask
Subtask is a project planning app with mindmapping features that provides a unique overview and organized details of projects. Its main feature is its visual task management that provides a 30K foot view of the project with the ability to drill-down to project specifics as needed including a quick view of task owners and responsibilities. It allows simultaneous work and updates on different workstations. Any changes are updated real-time and visible to the project team. Tasks and deliverables are also noted with timelines for which reminders are sent to the workgroup through the app or via e-mail.All information, files, notes…
Overview
• Get an instant overview of your entire project.
• Brainstorm in realtime with your team.
• Never miss a deadline
• Quickly see who's responsible for what and when.
• All information in one place.
• See what has happened in your projects.
• Improve and refine your plan as you go.
• Enterprise - 34.95 €/month
• Plus - 14.95 €/month
• Basic - 6.95 €/month
• Free Option
16
TrackingTime
Tracking Time provide users the necessary analytics tools to make best decisions. Insights, a new analytical feature in TrackingTime allows users to identify which clients consumed more hours in a month, to see how employees allocate their hours between projects, and to recognize which member of staffs worked more hours in a week. TrackingTime's beautifully designed calendar view helps users to get a weekly overview of their team's tasks and activities and manage all their time entries per drag and drop. With TrackingTime, users will never miss a deadline as it automatically syncs all their due dates for projects and…
Overview
• Calendar to organize your time entries
• Custom reports
• Calendar to organize your time entries
• Custom reports
• Sync your deadlines with your calendar
• Set advanced users permissions
• Add notes to time entries
• Time audits
• Create multiple tasks at once
• Duplicate existing projects
• Run company reports
• Basic – free
• Pro - $4.99 per user / month
• Pro by the hour with unlimited users - $24.99 (500 hours) / month
17
AceProject
Aceproject is an online app that helps project teams with task management, collaborative work and shared visibility on team projects. It has a well-designed interface that provides the project team with a quick and complete view of the project aspects in a centralized view including a dashboard, Gantt Chart and Timesheet. Its Project module provides a complete overview of the project along with a view of its progress. It includes an interactive Gantt Chart the provides a view of mapped tasks with inter-dependencies, deadlines and current progress. Templates are also available for more standardized reporting and maintenance of project information.Its…
Overview
• Project Tracking
• Gant Charts
• Project Templates
• Basic- Free
• Standard - $19/month
• Advanced - $39/month
• Silver - $59/month
• Gold - $99/month
18
Taskade
Taskade is a simple online task manager and to-do list application that offers users with a quick way to list down ideas and to-dos and share it with others from a single web browser screen. Taskade offers a website for users to create tasks lists instantly and in a quick and fun way. With Taskade, users have an excellent platform to work together by chatting and discussing projects live together. Users also have an ideal platform to edit task lists together in real-time. Taskade allows users to customize their tasks, notes, outlines, checklists, and bulleted list journals the way they…
Overview
• Desktop app available for Windows and Mac as well browser extensions for Firefox and Chrome
• A share button that activates a popup screen containing the shareable link
• Copy and paste the shareable link and then share or send it to other members of the team
• Keyboard shortcuts that facilitate easy formatting of text and structure
• A progress bar that shows the percentage of completed items
• Create new lists, access the help button, access the task list options, and select an image background
Top Task Management Software
Microsoft Planner, TaskCracker, Clarizen, Task Pigeon, Paymo, Orangescrum, Teamweek, Binfire, Leanzy, Scoro, Zoho Projects, Droptask, WorkApps, Avaza, Redbooth, Orgzit, WIDIZ, Grapple, Barvas, Taskworld, Teamwork, Duet, Tomatoid, Producteev, smartQ, Huddle, Mavenlink, Breeze, Week Plan, Things, GamePlan, Projects, Actionspace, TaskMerlin are some of the Top Task Management Software.
Top Task Management Software
PAT Index™
1
Microsoft Planner
Microsoft Planner helps to simplify teamwork and makes it easy for users to create new plans, organize and assign tasks, share files, chat about on-going work, and get updates on progress. Microsoft planner is user-friendly and easy to setup, and it works across all devices. Microsoft Planner's My Tasks view provides users a comprehensive list of all tasks and their status across all plans. When working together on a plan, team members always know who is working on what. With Microsoft Planner, users can categorize tasks based on their status or on whom they're assigned to. Microsoft Planner allows users…
Overview
• Collaborate with your team
• Attach files, photos, or links
• Add a checklist to a task
• Set a preview picture for a task
• Add comments to tasks
• Flag your tasks with labels
• Set and update task progress
• Mark plans as favourites
• View your plan's progress
• View all of your tasks and plans
• Get email about your tasks and plans
• Delete a task or plan
• Use Planner for iPhone
• Use Planner for Android
• Business – $8.25 per user / month (annual commitment)
• Business Premium - $12.50 per user / month (annual commitment)
• Business Essentials - $5 per user / month
2
TaskCracker
TaskCracker allow users to balance urgent and important tasks with a visual matrix; create agenda for daily activities in seconds, and plan the whole week to address both urgent and important activities. TaskCracker can be used to filter tasks in outlook so that users can focus on one project at a time. TaskCracker provides visual reminders and usable layouts. With TaskCracker, it is easy to reschedule tasks, and to get a clear idea of how the day is progressing. A single life-time license of TaskCracker is priced at $3995. TaskCracker offers 100% money-back guarantee if the application doesn't work properly…
Overview
• Balance urgent and important tasks with a visual matrix
• Create agenda for Today in seconds: just drag and drop tasks
• Plan the whole week to address both urgent and important activities
• Appears in native Outlook interface
• Works with native Outlook tasks and emails
• Supports colored categories
• Allows multiple email accounts
• Outlook 2003 – 2016 supported
• Launched in one click from Outlook
• Fast start-up and performance
• Installed in a blink
• Fine tuned for large number of tasks
• 100% secure and reliable
• Trial - Free
• Single license - $3995
• For a team – Not specified
3
Clarizen
Clarizen is an industry-leading collaborative work management solution designed to manage projects, automate workflows, and collaborate on projects. The software is engineered to connect and engage workforces, transform project management, create configurable workflow, manage automation and encourage collaboration. Clarizen's planning feature allows users to create possibilities, think about the size of a project, estimate budgets, and schedule, whilst keeping participants engaged. The software solution enables teams to automate and repeat creation of projects, plan initiatives and capture ideas, with automated demand management. Clarizen aligns projects and portfolio optimization through setting goals, allowing users to focus on timescale and budgets. Track…
Overview
•Scheduling
•Collaborative Planning
•Task Management
•Issue Tracking
•Bug Tracking
•Portfolio Optimization
•Gantt Chart
•Time Tracking
•Sharing Tools
4
Task Pigeon
Task Pigeon is a straight forward task management tool for teams who want to get things done. It allow user to track, manage and collaborate on their team's everyday tasks with ease. Thousands of customers trust Task Pigeon to manage their team's tasks every day. Task Pigeon allows users to get everyone in their team on the same page. With Task Pigeon users can quickly and easily assign tasks, manage who is working on what, when, and collaborate with built in chat. Task Pigeon can be used in various fields such as marketing, sales, human resources, customer service, operations, and…
Overview
• Flexible Contracts Available
• Unlimited Tasks & Categories
• No Limit Team Members
• Guest Users/View Only Mode)
• Up to 250mb Attachments
• Forever Free – free for up to 5 users
• Premium / Business - $9 per user / month
• Enterprise - $15 per user / month (Coming Soon)
5
Paymo
Paymo is a modern and intuitive online project management app that bundles planning, scheduling, time tracking and invoicing. Paymo offers features such as milestones, project templates, Gantt charts, portfolio Gantt chart, critical path, comment on tasks, dependencies, multi-user assigning, task duration, task templates, task hours budget, Kanban boards, events / holidays, resource calendar views. It also includes resource exceptions, resource load chart, user permissions, budgeting, expense tracking, financial indicators, fixed price rates, time based rates, billing priorities, activity stream, real-time discussions, notifications, sharable notes, attach files, file organization, unlimited storage space, time clock, time tracking, automatic time tracking, add bulk…
Overview
• Gantt Charts
• Resource Scheduling
• Visual Kanban Boards
• Online Collaboration
• Task Management
• File Sharing
• Invoicing, Estimates & Expenses
• Automatic Time Tracking
• Timesheet Reporting
• Free - for freelancers and solopreneurs (up until 1 user)
•Small Office - $11.95/use/month
•Business - $18.95/user/month
6
Orangescrum
OrangeScrum is an opensource project management tool engineered to manage and delegate tasks, communicate and collaborate on projects and track costs. Orangescrum deliver professional advice for project management requirements, determining the best possible solutions to streamline projects. Consultancy also includes improving user experience, integrating projects, business automation, collaborative management, enterprise solutions for business and deep-dive business analysis. Gantt Charts are provided with the software to define a logical sequence of tasks and dependencies, with a view of milestones to map assignments. Templates are available to plan recurring projects, creating a logical flow. The time and resource management tool allows users…
Overview
•Interactive summary of Projects
•Visual Representation
•All in one screen
•Project Demonstrate
•Task Management
•Project Planning
•Gantt Charts
•Collaboration
•$9/MO
•Less than $30/MO - Unlimited Projects
7
Teamweek
Teamweek is a web-based project management tool designed to plan projects with a team calendar using a color-coded timeline. Features include project management, team availability view and a drag-and-drop interface. The web-based solution can be customized to organize groups, enabling individual timelines with tasks filtered by projects. Collaborate with team members to set tasks and manage timescales using the team calendar. Users can assign tasks by dragging and dropping them onto the timeline, offering a visual overview of your planned tasks as well as profile pictures of team members to identify job roles. The software includes a gantt chart providing…
Overview
•Project Management Tool
•Timeline Solution
•We-based Software
•Project Planning
•Collaboration Tool
•Drag & Drop
•Gantt Chart
•Chrome Extension
•App Integration
•iOS and Android Apps
•PDF Conversion
•10 people - $34/mo billed annually
•20 People - $69/mo billed annually
•40 People - $129/mo billed annually
•100 people - $269/mo billed annually
8
Binfire
Binfire is an online project management and collaboration tool for decentralized and large teams operating in multiple locations. It helps virtual teams to plan, monitor, and coordinate several projects simultaneously, using a common workspace. Binfire offers all features needed by teams in a single location, so that all files and tasks related to the project can be accessed easily through this one application. Thus, Binfire creates a virtual office space that improves collaboration and communication in the team. In addition, Binfire is a well-integrated and moderately priced platform, with enterprise pricing adjusted to the needs of different businesses and industries.…
Overview
•Attaching of files to tasks
•Collaborative project planning and scheduling
•Commenting on tasks
•Configurable user permissions
•Dependencies and predecessors
•File version and history
•Instant page update when anything changes
•Interactive Gantt Chart
•Packages starting from $5/month. Contact for further details.
9
Leanzy
Leanzy is simply a productivity solution tool. Leanzy uses a scrum, quick, practicable and sustainable approach to help teams in a company improve their own productivity. Leanzy increases productivity by creating more accountability by using a transparent means. The productivity in the company can be also increased by consistent planning and tracking. Leanzy uses a consistent practice in planning and tracking therefore bringing about productivity. The transparency created by Leanzy in a company brings forth effective collaboration with more information on the table; therefore it furthers the feeling of working together thus an increase in production in the company. Leanzy…
Overview
• Work management
• Collaborative planning
• Long term planning management
• Invoicing based on timesheet and user story
• Issue management
• Communication management
• Documentation management
• Free - Basic version
• 3 month free trial
$20/ 5 users/ month
$50/ 20 users/ month
$100/ 50 users/ month
• Custom plan
10
Scoro
Scoro is a task management software designed to manage to-do lists, assign tasks, and get real-time updates on projects. The software features calendaring, task and project management, quoting and billing, enterprise-level reporting and a real-time dashboard.Users can plan and utilize time more efficiently with Scoro by creating, managing, and tracking a number of projects with the ability to set priorities and deadlines, schedule meetings and plan tasks. With Scoro's planner subscribers can schedule work and assign tasks using the instant visual overview of workload, realistic deadlines, potential overbookings & available slots. Track actual and billable time spent on a project…
Overview
•Project Management
•Work Scheduling & Tracking
•Billing Automation
•CRM & Quoting
•Reporting & Dashboard
•Customization
•Integrations
•Mobile App
•PLUS - 19€/MO - Min 5 users
•PREMIUM - 29€/MO - Min 5 users
•ULTIMATE - 49€/MO - Min 5 users
11
Zoho Projects
Zoho Projects is a task management software, designed to complete tasks in less time, tracking key milestones, setting dependencies whilst carrying out tasks. With the milestones feature, users can create projects and assign end dates for milestones and due dates for tasks within them. Users have centralized access to projects with deadlines and schedules integrated into timelines helping to shape workflows. The tasks module has a dependency view where users can identify constraints, organize tasks, assign subtasks write comments, and log hours. The Kanban allows users to visualize workflow with various parameters such as "Percentage completed," "Priority," or "Task List."…
Overview
•Google Apps
•Issue Tracking Software
•Mobile Apps
•Project Chat
•Project Forums
•Dropbox Integration
•Project Pages
•Resource Utilization Chart
•EXPRESS - €25/MO - 20 Projects/10 GB Storage
•PREMIUM - €50/MO - 50 Projects/100 GB Storage
•ENTERPRISE - €80/MO - ∞Projects/100 GB Storage
12
Droptask
Droptask is a project planning application that provides a simplified and complete view of complex projects. One of its main features being a Kanban-style board that allows you to easily visualize the stages involved in your project. It also has a built-in calendar for you to schedule tasks and deliverables related to the project. And as an alternative to e-mail, you can use the same space exchange and share files, messages and reminders with your workgroup.Droptask can be integrated with other 3rd party applications like Gmail, Google Calendar, Evernote, Google Drive, Dropbox, Google Contacts, Outlook and iMindMap. It has versions…
Overview
• Completed Tasks View
• Start & Due Dates
• Kanban-style Workflow Boards
• Unlimited File Attachments
• Comments & Messaging
• Checklists
• Task Assignment
• Task Dependencies
• Task Reminders
• Cover Images
• Emailing in Tasks
• Project Templates
• Project Permission Settings
• Evernote Integration
• Google Calendar Integration
• Copy & Move Tasks
• iMindMap Integration
• Exclusive Tester Program
• Priority Support
• 1yr - $8.25/user/month paid yearly
• 2yr - $4.39/user/month (when paid upfront)
• 3yr - $5.75/user/month (when paid upfront)
13
WorkApps
Workapps covers a large landscape of collaboration through complete enterprise elaboration, secure official employee chat, and mobile workforce management. Having workapps you can tackle all your work at one place which includes; tasks list,team discussions, maintaining time sheets, locking and starting due dates,self-assigning a task, attaching files, adding comments to specific tasks,adding followers, forwarding a task,seeing which tasks are pending overdue or due today, creating your own task list custom workflow, project management,performance report,file manager,enterprise chat and activity notification. Task management present in work apps is the one that assists you in doing everything including; finding your tasks easily in…
Overview
• View Tasks in specific Folders
• Add Description, Dates & Doer
• Lock Start and Due Dates
• Attach Files
• Add Followers
• Review a Task before closing
• Create a Task from Email
• Sort Tasks with Doer, Dates and Projects
• Add Comments to specific Tasks
• Forward a Task
• Star a Task
• Maintain Timesheets
• Create your own Task Lists
• Mark a Task Private
• Notify on Email while assigning a Task
• Mark a Task as incomplete
• Mark a Task as Urgent or Important
• Self Assign a Task
• Workapps full suite; INR 499 per user/ per month
• Workapps organizer; INR 399 per user/ per month with additional features; google maps services INR 49 per user/ per month
• Workapps chat; INR 99 per user/ per month
14
Avaza
Avaza is all-in-one project management software loaded with all necessary features needed to run a successful business. Avaza features: powerful task management, role based security, simplified time-based billing, smart email integration, responsive mobile design, regular free updates, automatic backups, effective team management, project templates, track list report, project summary, and more. Avaza also offer users list-view, kanban boards and Gantt charts to choose the appropriate task layout. With Avaza, users can easily create new tasks and assign to the team and customers, as well as set deadlines. With Avaza, users can organize tasks, as well as assign colorful tags to…
Overview
• Powerful Task Management
• Create and manage tasks
• Organize and tag tasks
• Plan your day using My tasks
• Track percentage complete
• Productive Team Collaboration
• Discuss, collaborate, share
• Smart email integration
• All your files in one place
• Effective team management
• Role based security
• Simplified time-based billing
• Customer collaboration
• Save Time with Automated Processes
• Project templates
• Save tasks to your calendar
• Use resources
• Create Integrated Workflows
• Convert estimates to projects
• Track time and expenses
• Build invoices quickly
• Insightful Reporting
• Flexible billing and budgeting
• Task list report
• Project summary
• Free - $0 / month
• Start up - $9.95 / month
• Basic - $19.95 / month
• Business - $39.95 / month
15
Redbooth
Redbooth is a Task Management Software created to increase accountability. The software implicates clear flexible delegation and deadline-setting, promoting a culture of transparency and engagement. Redbooth's task management dashboard is the central command to view daily and weekly priorities, identify urgent or overdue tasks, and stay up to speed with real time notifications. Redbooth can sync with third-party calendars, including Google calendar, Microsoft Outlook and iCal. The programme features subtask checklists with the ability to track progress on each with checkboxes. Total team visibility is possible with streamlined reporting on tasks, filter by project workspace, users, and task status. Redbooth…
Overview
•Deadline setting
•Task management
•Central Command
•Email Integration
•File sharing
•Role-based permission
•Gantt charts and calendars
•Search Mechanism
•App Integration
•Time-tracking
•Project Templates
•Drag and Drop
•PRO - $5/user/month
•BUSINESS - $15/user/month
16
Orgzit
Orgzit is a tool that achieves ultra-data organization, easy collaboration with external & internal partners, and powerful analytics in a single platform. Orgzit offers solutions such as CRM, Projects, HRMS, Recruitment, Field Force and Asset Management. Orgzit brings user's team, data and projects together through a powerful custom database in cloud where every team member can participate and benefit while handling the information and completing key tasks. Orgzit builds apps to work the way the user's organization already works from fields and forms to dashboards, tables and reports with easy configuration of an app just the way the user's want.…
Overview
• Effective Task Management
• Create Cloud-Based Applications
• Real-time Collaboration
• Seamless Document Sharing
• Email Integration
• Reports & Analytics
• Personalized widgets
• Combination of filters
• Simple Beginnings - $0 up to 5 users
• Super Teams - $8 per user/month (billed annually)
• Premium - $15 per user/month (billed annually) Minimum 20 users
17
WIDIZ
WIDIZ is a unique and powerful task management tool which makes it easy for teams to keep track of their work and get things done quickly. It is a smart, advanced and professional task management system that does not change the workflow but improves communication and provides transparency to achieve better results. WIZDIZ features include Control Panel, Share files, Flowchart, Permissions, Teamwork, Public and Private, Smart work, and more. WIZDIZ helps increase work clarity, helps track tasks, and enhances collaboration and teamwork. WIZDIZ enables users to connect all tasks in one interface. WIZDIZ enable users to manage tasks by creating…
Overview
• Control Panel
• Share files
• Flowchart
• Permissions
• Teamwork
• Public and Private
• Smart work
18
Grapple
Grapple is a centralized space to communicate, stay organized with tasks, track progress and meet project deadlines. All Information can be stored in one place with Grapple, users are able to discuss, delegate, and track tasks in one place with Grapple's Activity Feed. Grapple users can plan and gather background information for any project, from recording the project name to identifying a category within a business. With Grapple Meetings, individuals can schedule meetings without emailing, select available times, get quick responses and view availability in one place. Users can designate the start and expected finish dates for a project, set…
Overview
•Centralized Platform
•Collaboration Tools
•Schedule Planning
•Documentation Storage
•Milestone Tracking
•Task Assigning
•Project Planning
•Requirements Management
•Resource Management
•PDF Deliverable
•Team Chat
•PROFESSIONAL - $7.99 P/MO
•PREMIUM - $12.99 P/MO
19
Barvas
Barvas, provides a complete solution to managing successful projects and the challenges involved in them. Barvas offers products such as mind mapping, timelines, task boards and services. Barvas provides guidance on the key practical steps to take in order to deliver projects successfully. Barvas also provides a unique built-in mapping component which helps overcome the common planning issues, encouraging users to engage with stakeholders, gather their requirements and agree what is needed before focusing on the delivery phase. Barvas becomes a complete project workspace for requirements, tasks, timelines, dashboards and social communications in keeping all project information in one place…
Overview
• Mind mapping
• Task Management
• Team Collaboration
• Work space
• Freemium – free; 1 project capacity
• Single user - $12; unlimited projects
• Teams - $6 price per person; unlimited projects
20
Taskworld
Taskworld is powerful visual task board that brings clarity to teamwork and align everyone towards a common goal. With Taskworld, abstract ideas become active tasks - and it feels good to check them off. Taskworld is useful for: single users looking to organize personal to dos, teams looking for an all in one collaboration experience, and large enterprises that require private cloud for complete control. Taskworld keeps everything so organized and visible for all team members to stay on the same page. With Taskworld's interactive dashboard, users can filter information and drill down into the details to get exactly what…
Overview
• Unlimited tasks, projects, checklists and one workspace
• Task comments and attachments
• Interactive dashboard
• Project timeline
• Custom backgrounds
• One workspace
• Multiple assignees
• Tasks in multiple locations
• Task followers
• Advanced privacy settings
• Direct messaging (Chat)
• Public/private channels
• Dedicated server in your own Virtual Private Cloud (VPC)
• SAML 2.0 Single Sign-On (SSO)
• Two-factor authentication
• Solo - $4.99 / month
• Teams - $7.99 / month
• Dedicated Server – Not specified
21
Teamwork
Teamwork is a project management app designed to increase productivity for professionals, managing employees and clients on one platform. The project category element allows users to categorize active projects with start and end dates. Important projects can be kept at the top of lists by using a starring system, as well as a snapshot view of team activities. The Teamwork project activity overview has the ability to inform and update on project announcements. Project templates can be moved, copied and archived highlighting milestones in a "Gantt" style chart. The document editor allows users to edit files in Teamwork Projects without…
Overview
• Project Categories
•Complete Control
•Privacy
•Project Activity Overview
•Announcements
•Move or Copy Projects
•Integrations
•Reports
•Notification Preferences
•Document Editor
•Task Lists
•Assign to Multiple People
•Attachments on Tasks
•Task Estimates and Progress
•Gantt Charts
•Tags on Task
•$69/ MO - 50 projects/20GB space
•$169/MO - 150 projects/100GB space
•$269/MO - 300 projects/400GB space
22
Duet
Duet is an online software used for invoicing and project management which has an integrated client portal, Duet enables one to be in complete control since it is hosted on your own server and on your own domain, which means that no one is able to have access to any of your data not unless you hand it to them. Duet enables you to decide which processes and modules you particularly need and gets the unnecessary ones out of your way. It also helps you customize the look of your brand by; changing the theme, use the built-in CSS editor,…
Overview
• Invoicing
• Tasks
• Discussions
• Overview
• Duet; $59 per user/ per month
23
Tomatoid
Tomatoid combines time tracking, to-do lists, projects, clients, promodoro technique and many other features all in one simple application. Timetracking can be achieved by a super simple interface, highly customizable promodoro timer, notes for each time entry even when retrospective, assigning projects, clients and tags to each time entry, optional alarms or having a ticking sound, pausing the timer when you need a break and resuming later when you are ready to go, accessibility on any device since everything is conducted online. Having to-do list, one can create new to-do lists with only just one click,recycle the finished to do…
Overview
• Classic timer
• To-Dos
• Pomodoro timer
• Custom task name
• Customizable intervals
• Task pause, interruption, delete
• Task notes
• History
• Sound alerts
• Desktop notifications
• Browser alerts
• Ticking
• Time zone customization
• Project management
• Clients & hourly rate
• Tags
• Dashboard
• 1 month purchase for $5
• 3 months purchase for $14
• 1 year purchase for $54
24
Producteev
With Producteev, users can manage their to-do list, assign tasks and get real-time updates on projects — anywhere, anytime. It is available on your iPhone, iPad, and android devices. With Producteev, users will never lose track of tasks again. Producteev offer users everything needed to create team projects, assign and schedule tasks, and track progress so nothing falls through the cracks. Producteev is easy to use and easy to setup. With Producteev, users can turn discussions into action the minute a decision's made.Users can instantly create tasks, assign them, set due dates, and drive to completion. No need to schedule…
Overview
• Unlimited users
• Unlimited projects
• Unlimited tasks & subtasks
• Apps for iPhone, Android, iPad, Mac & Web
• Real time updates & push notifications
• Assign, mention & add followers to tasks
• Organize with labels & priorities
• Set task due dates & reminders
• Filter by people, project, status & more
• Track activity of projects & tasks
• Attach files from your device & DropBox
• Email in tasks from your inbox
• Export tasks with one click
• Support community
25
smartQ
smartQ is a task managing up that visualizes the project taskboard and is customizable for any workflow. Its interface provides 3 tabs for you to manage the project: Board View, List View, Reports and Settings. It also provides a button to get a view of contacts, the project dashboard and a search box to query projects. The Board View provides a complete view of tasks, owners and progress of work organized according to status: assigned, submitted, work started, approved. Tasks are created through tickets and each ticket can be organized through customizable tags, color codes whith visible information on owner,…
Overview
• Visualize work
• Share notes and files
• Tickets by e-mail or online form
• Customizable workflow
• Custom Ticket Fields
• Flexible Team Roles
• Basic – $5/month
• Pro - $8/month
26
Huddle
Huddle is a cloud-based workspace created to secure document collaboration with teams and clients. Features include a customizable workspace, task management, calendar view, project tracking, activity stream, and notifications. The platform acts as a central location to request approvals, assign tasks to internal & external users, and track task completion. Huddle produces enhanced visibility with the ability to view all the tasks assigned, and filter group tasks with custom labels to personalize workflow. Automatic reminders can be set for deadlines with the intuitive task functionality. Create and assign tasks and filter by due date, late tasks or task holders. Huddle…
Overview
•File Storage
•Sync Tools
•Email Notifications
•Microsoft Office Integration
•Document Collaboration
•Mobile Apps
•Comments
•Advanced Customization
•Admin Controls
•Branded Login Pages
•Personal Dashboard
•Content Management Tool Integration
27
Mavenlink
Mavenlink is versatile task management software which eases the procedures of assigning and tracking tasks. Mavenlink is a powerful collaborative work tool that provides users with an efficient way of managing tasks – and the people associated with them. Mavenlink offers different types of assignable items: Tasks (items that need to be completed), Deliverables (something that needs to be produced), and Milestones (project deadlines). Users also assign files, dates, and conversations to a specific task, as well as assign priority to tasks from "critical" to "low". Mavenlink's global task tracker allows project managers or administrators to view all tasks currently…
Overview
• Your Dashboard
• Project Workspaces
• Activity Feed
• File Sharing
• Proofing
• Public & Private Messages
• Access Permissions
• Mobile App
• Services & Support
• 24/7 Live Support
• Knowledge Base
• Training Video Library
• Professional Services ***
• Integrations & API
• Google Apps Integration
• RESTful API
• Advanced Integrations ***
• Usage & Configuration
• Custom Branding
• Custom Subdomain
• Custom Fields
• Storage: 100 GB
•Teams - $19MO* (for 5 users**)
28
Breeze
Breeze is a task management tool that organizes work visually, allowing users to see and interact with an entire project, whilst keeping focus on important tasks. The software is used daily by developers, project managers, accountants and marketers to share information and collaborate. There is a simple and effective board to organize lists, tasks and projects making it easy to visualize every step of workflows and to see what tasks are due. The Breeze interface has a drag-and-drop mechanism to prioritize or filter items and tasks, whilst being used by an entire team. Users can create to-do lists with a…
Overview
•Visual Workflow
•Task Tracking
•Built-in Timer
•Dashboard
•Multiple Time Entry
•Discussion Pathway
•Email Notifications
•User access restrictions
•File Attachments
•Activity Stream
•Centralized Calendar
•Project budgeting
•Mobile App Integrations
•Export Data
•API access
•Freelancers - $29/month - Up to 5 users
•Small business - $59/month - Up to 12 users
•Large team - $129/month - Up to 30 users
•Enterprise - $249/month - Up to 60 users
29
Week Plan
Week Plan is a Task Management Software that makes teams more productive and effective. Inspired by 7 habits of highly effective people and OKR (Objective Key Results) framework, Week Plan is designed to make your team more effective. Week Plan allows you to prioritize your goals & objectives, key results you want to achieve and the high priority tasks that will get you there. This enables in prioritizing each day on tasks that will drive the best impact on your organization's goals. Week plan is an excellent online tool for organizing almost every key aspect of your functions. It can…
Overview
•Prioritization
•Time tracking
•First class calendar
•Google Calendar deep integration
•Outlook deep integration
•Assign people to tasks
30
Things
Things is the award-winning personal task manager that helps users achieve their goals. It is available on Mac, iPhone, Apple Watch, and iPad. It's crisp and lightweight, featuring a simple but effective interface. Things helps users to plan their week ahead with the Upcoming list feature. It shows everything on user's agenda for the coming days: scheduled to-dos, repeating to-dos, deadlines, and calendar events. Things makes it easy to complete large projects by breaking them into smaller parts just by adding a few headings. Users can get a clean structured list and clarify plans by utilizing headings to create categories,…
Overview
• Beautiful To-Dos
• Calendar events
• Headings
• Checklists
• Magic plus
• Quick find
• For Mac - $49.99
• For iPhone and Watch - $9.99
• For iPad - $19.99
31
GamePlan
Gameplan is a straightforward project planning and management app that provides the key features through the project stages of planning, scheduling and tracking. For the project planning stage, Gameplan provides a Whiteboard that allows the project team to simply draw the project workflow for a quick overview. This gives the team as well a view of the flow of tasks along with owners, interdependencies and scheduling affected by task relationships. It allows the team to plan for realistic timelines and ensure accountability with each deliverable. After planning, Gameplan automatically aligns calendar schedules and reminders for easy follow-throug. Gameplan is known…
Overview
• Whiteboard to draw workflow
• Automatically creates schedule
• Tracking visibility
• enables everyone to plan their projects
• shows the best achievable timeline given the team's availability on other projects
• visually communicates project plans and schedules
• shows how delays affect project timelines
• improves team morale as no one is asked to do more than is possible
• increases team accountability through project status visibility
• Viewer – Free
• Planner - $19/month
32
Projects
Projects is a tool comprising project management and team collaboration capabilities for companies using G Suite. Projects helps you stay organized, keep your projects on track and get the work done. Projects normally enable you to keep your projects on track, get your work done and also to stay organized. It also enables you to see what is planned and know who is in charge. It introduces all colleagues from your G suite domain and it also helps you stay productive and get everything done on time. G suite is a cloud based productivity toolset for your company which provides services such as Gmail, drive, calendar,…
Overview
• Easily create, assign, and comment on tasks.
• Use projects or areas to group your tasks.
• With Projects you always see what is planned and who's in charge.
• Share and collaborate
•Store organized tasks attachments in your Drive.
• Work report
• G suite edition for business of all sizes $2 per user, per month.
• Personal account edition for freelancers or small companies $1 per user per month
33
Actionspace
Actionspace is a flexible business management solution that fits into all business activities. Actionspace offers simplicity and flexibility of custom developed features. It is user-friendly and easy to setup. Actionspace aims to perfectly address business needs of companies and organizations seeking to improve visibility, organize teamwork, automate workflows, and get control over projects and initiatives across teams and departments. Some of its features are product customization, adaptation to business processes, branding, and role-based access to tasks, projects and associated content. Actionspace provides time tracking with multiple time inputs, project team's time inputs, and estimate vs. actual comparison. Actionspace offers full…
Overview
• Cloud (multi-tenant Azure environment or dedicated Azure virtual machine)
• Tailored services
• End-user training
• Product customization
• Adaptation to business processes
• Custom features and new features
• Branding
• Cloud (multi-tenant Azure environment or dedicated Azure virtual machine)
• Dedicated premium technical support
• Intelligent notifications, reminders and email alerts
• Easy-to-use
• Clear and intuitive user interface
• Time tracking
• Intelligent notifications, reminders and email alerts
• Convenient access from any mobile device
• Seamless integration with Microsoft Office 365, SharePoint and Microsoft Azure AD
• Actionspace Self-Service Cloud - Free
• Actionspace Basic Cloud - $250 / month
• Actionspace Premium Cloud $250 / month (plus Tailored Services Package Starting at $5000)
• Actionspace Premium On-Prem – Not specified
34
TaskMerlin
TaskMerlin is a project management solution with tools designed for collaboration, customization, learning, support, and reporting. Features include task scheduling, tracking and workflows. Track projects and progress of tasks and deadlines using Gantt Charts which demonstrates the timeline of events. Users are able to search for data, import and export between external files, whilst utilizing the TaskMerlin database. The Item Grid provides a summary of an article, the status and its priority with the ability to customize the interface. The edit item window is where users can capture information about each project and task, such as dates and times with…
Overview
•Task Tracking
•Dashboard
•File Attachments
•Centralized Calendar
•Project Outline
•Customized Task Fields
•App Integrations
•Email Tasks
•Gantt Chart scheduling
•Calendar and Reminders
•Search Filters
•Scheduling
You may like to read: How to Select the Best Task Management Software for Your Business