Review
Things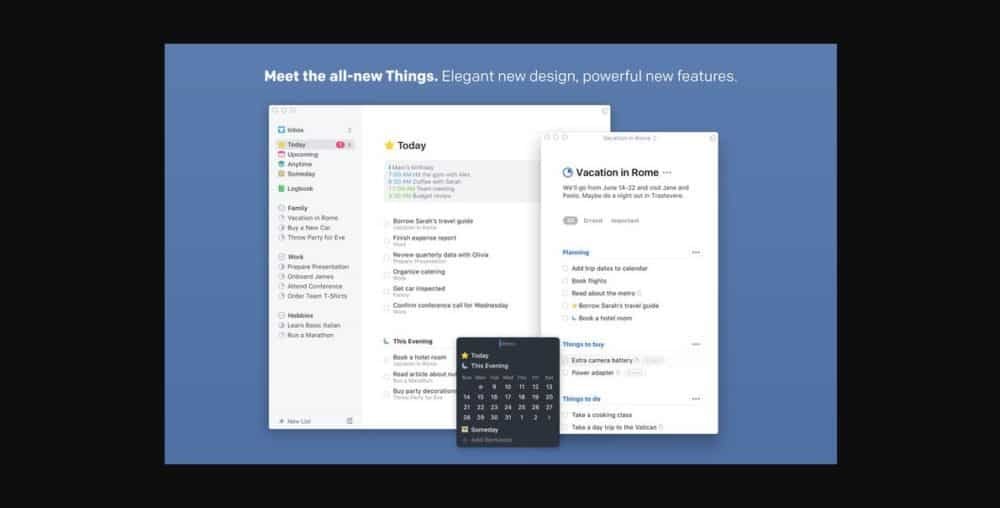 Overview
Things is a task manager – with a perfect balance between simplicity and power, incredible new features, delightful interactions, and a timeless new design.
• Beautiful To-Dos
• Calendar events
• Headings
• Checklists
• Magic plus
• Quick find
• For Mac - $49.99
• For iPhone and Watch - $9.99
• For iPad - $19.99
Small (<50 employees), Medium (50 to 1000 Enterprise (>1001 employees)
What is best?
• Beautiful To-Dos
• Calendar events
• Headings
• Checklists
• Magic plus
• Quick find
• Jump start
What are the benefits?
• Desktop-class list editing on iOS
• Timely reminders
• Slim mode
• Multiple windows
Things is the award-winning personal task manager that helps users achieve their goals. It is available on Mac, iPhone, Apple Watch, and iPad. It's crisp and lightweight, featuring a simple but effective interface.
Things helps users to plan their week ahead with the Upcoming list feature. It shows everything on user's agenda for the coming days: scheduled to-dos, repeating to-dos, deadlines, and calendar events. Things makes it easy to complete large projects by breaking them into smaller parts just by adding a few headings.
Users can get a clean structured list and clarify plans by utilizing headings to create categories, milestones, or whatever they need. Things allow users to archive their headings and all of corresponding to-dos for future reference. Things' checklist helps users break down the finer details of a to-do and outline precisely what's required to get it done.
Things' checklist is useful when shopping for a list of ingredients or when packing bags for a trip. Things offers an ultra-fast and app-wide tag search which automatically detects when users are typing a tag and allows them to pull up an app-wide filter in milliseconds. Things Jump Start popover helps users make scheduling decisions quickly by putting all the answers in one convenient place.
With Things' Jump Start, users can easily add to-dos, set a time to be reminded, schedule something for a later date, or put things on hold. Things offers beautiful animations; everything users do in Things is nicely animated for pop. Things is being used by numerous business owners and organizations.
You may like to read: Free & Top Task Management Software, Top Retail Task Management Software and How to Select the Best Task Management Software for Your Business