How to Select the Best Task Management Software for Your Business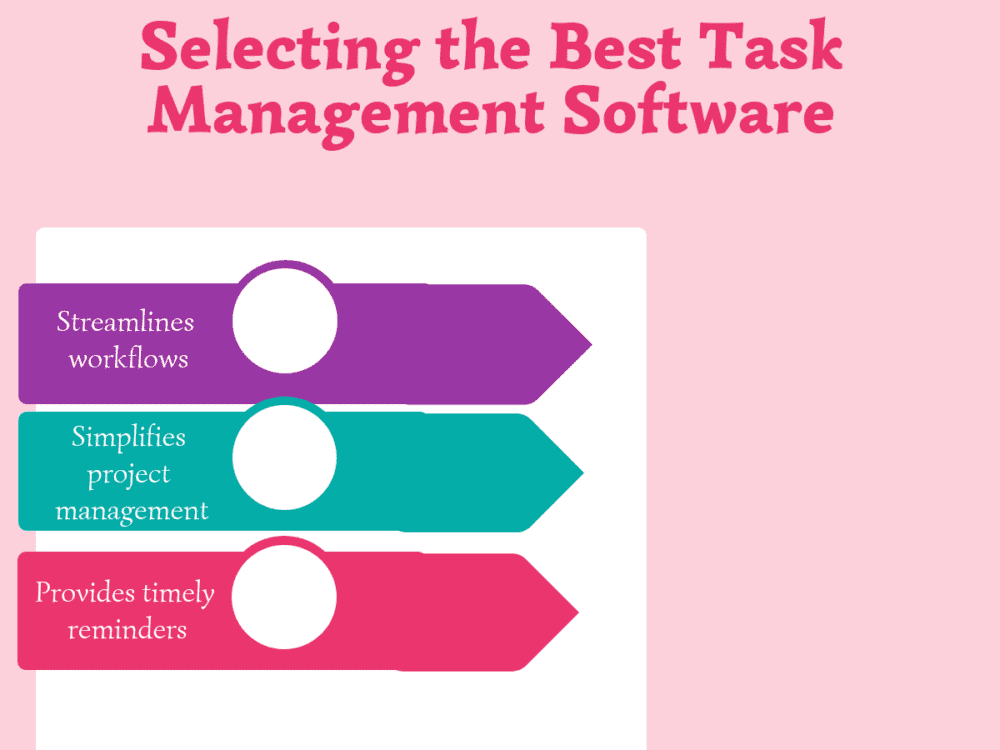 Task Management Software assists individuals and businesses to manage tasks, from the planning to reporting phases. The software automates specific tasks and combines them in one comprehensive platform that users can use in-house or access remotely. The many features of task management software make this solution a valuable asset as the features allow users to effectively plan and schedule multiple tasks. Through the automation and streamlining of various activities, users can eliminate traditionally tedious and mundane manual efforts.
Users are also exposed to a range of features that would ensure task completion is both time and cost-effective. Consequently, users can focus on other critical activities required for a project, resulting in increased productivity.
Businesses use task management software to facilitate collaboration with various team members to achieve shared goals. Standard applications include creating, assigning and prioritizing tasks, scheduling, allocating resources, setting deadlines, tracking progress, and generating reports. More comprehensive packages may offer file transfer and storage, to-do lists, communication tools such as messaging and live chat, and integrations with third-party applications.
Task management software can assist individuals and businesses in identifying potential opportunities and challenges, and therefore enable them to make quicker and more effective decisions. Another important point is customer satisfaction. With the implementation of the software, individuals and businesses can provide customers with accurate feedback in real time and prompt delivery of services, among other benefits.
You may like to read: Top Free & Premium Task Management Software
What are the Features of Task Management Software
Task Management Software helps in the process of managing a task through its life cycle. Task Management involves planning, testing, tracking and reporting. Task management help to achieve goals, or collaborate and share knowledge for the accomplishment of collective goal.Task Management Software assists individuals and businesses to manage tasks, from the planning to reporting phases. The software automates specific tasks and combines them in one comprehensive platform that users can use in-house or access remotely.
Task Management also form part of project management and the software helps enterprise wide task creation, visualization and notification capabilities from individual projects to ongoing corporate task management. The features include task creation, task visualization, notifications, assign resources, compatibility, configuration, scalability, and reporting.Effective task management requires managing all aspects of a task, including its status, priority, time, human and financial resources assignments, recurrency, notifications.
Task management software provides businesses with the following features: Task Creation, Scheduling, Resource Allocation, Communication Tools, Integration, Document Management, Time Tracking, Notifications, Audit Trails, Technical Support, and Reporting.
Task creation: Enables users to input project data and create specific tasks  
Scheduling: Enables businesses to assign group projects using to-do lists and set priorities and deadlines. The to-do lists can be viewed by all users which ensures transparency and accountability are maintained.
Resource allocation: Allows managers to accurately allocate employees, tools, and funds to specific projects
Communication tools: Facilitates communication among team members via instant messaging and discussion boards
Integration: Easily integrates with third-party applications such as email services or cloud storage tools e.g. Google Drive
Document Management: Allows users to store and share files related to specific projects and/or tasks
Time tracking: Enables users to monitor the time spent on individual tasks and ascertain billable hours for invoicing purposes. Tracking also helps managers to monitor and evaluate employee performance, manage workloads, and effectively plan for future projects.
Notifications. Provides automatic notifications to individuals or teams to provide status updates on tasks, feature changes or other relevant activities that can impact their operations
Audit trails: Provide users with a comprehensive overview of each task and any changes that have been made to a specific task
Technical support: Includes an app that synchronizes users' information and tasks on their mobile devices; and provides technical support anywhere and at any time
Reporting: Generates reports in real time that provides users with immediate feedback on tasks. Managers can utilize reports to assist with employee evaluation, planning, and decision making.
What are the Types of Task Management Software
Agile development methodology: This type of software uses short development cycles to enable individuals and businesses to focus on approaches to continuously improve the development of products and services. With agile development methodology, businesses can introduce small focus groups to meet regularly and discuss specific objectives. This approach results in many benefits including reduced wastage, increased adaptability to changes, and faster turnaround times.
Industry-specific: Businesses can utilize this type of task management software which is already customized to satisfy unique needs associated with the industry. This type reduces programming costs since the software is designed for a specific industry. Businesses can also enjoy shorter learning curves by working closely with vendors who truly understand the industry.
You may like to read: Top Free & Premium Task Management Software
What are the Key Performance Indicators (KPI's) of Task Management Software
Budgeted Cost of Work Scheduled (BCWS): An estimated cost of all project activities during a specific period of time
Planned Value: The product of the projected budget and the percentage of the planned tasks to be completed
Actual Cost: This represents the amount of money spent on a project during a specific period
Budgeted Cost of Work Performed (BCWP): The approved budget for activities up to a specific date
Return on Investment (ROI): This measures a project's profitability and evaluates the efficiency of an investment (benefit of an investment/cost of an investment)
Cost Variance (CV): This measures the difference between actual spending and budgeted costs; it determines whether an estimated cost is below, on par or above the planned baseline
Cost Performance Index (CPI): This measures the effectiveness of costs incurred for a project (Earned value / actual costs)
Cost of Managing Processes: Time and resources spent in managing the project
Resource utilization: This is the process of optimizing the use of resources to achieve a specific goal
Percentage of tasks completed: This measures the amount of time spent on completed tasks (actual time spent to complete tasks / planned time for each project activity)
What are the Benefits of Task Management Software
Streamlines workflows: Helps businesses to assign, prioritize and organize duties and responsibilities to employees from one location
Simplifies project management: Allows businesses to simplify big projects by creating smaller, easily attainable tasks with the use of checklists; enables managers to monitor tasks by the employee, status, deadline, etc.
Provides timely reminders: Provides managers and employees with regular reminders of task deadlines to help boost productivity levels
Boosts employee productivity: Enables employees to focus on specific tasks, keep track of deliverables, and manage deadlines
Reduces costs: Helps users to realize decreases in costs due to the automation of processes which would have been originally manually; allows managers to effectively monitor spending and ensure proper allocation of resources
Integrates multiple activities:  Provides businesses with a comprehensive platform that combines all tasks, which enables managers to make quicker decisions and reduce costs
Improves customer satisfaction: Encourages communication between businesses and customers to provide feedback and resolve issues; and provides customers with real-time status updates
What are the Latest trends in Task Management Software
Scalability: Task management software monthly rates vary depending on the number of users who will access the system. Also, as the needs of a business increase, the preferred software should have the capacity to function well with the growth.
Open-source solution: Many open-source or free task management applications are available. These are excellent solutions for smaller teams; however, they do not guarantee technical support or provide regular updates. Open sources are susceptible to security breaches so businesses must be mindful of the type of information they choose to share.
Mobile accessibility: Gone are the days where businesses operated solely within one country, city or other location. Globalization has encouraged widespread collaborations across multiple geographical locations. It has, therefore, triggered the need for persons to access data anytime and anywhere from various mobile devices.
You may like to read: Top Free & Premium Task Management Software
 How to choose the right Task Management Software
Like any other solution, task management software varies in complexity so it is important to match operational needs with the available options. Businesses could also test free trials offered by some of the best-ranked apps before making a final decision. Businesses will need to review the features (as outlined above) to determine their suitability. In light of this, choosing task management software will depend heavily on Industry Type and Business Size. Other factors include Collaboration Features and Delivery Options.
Industry Type: Depending on the type of industry, a business should choose software that makes the best use of agile development methodology or an industry-specific solution which caters to the unique needs of the business.
Business Size: Freelancers focus on boosting productivity and meeting deadlines. Important features, such as to-do-lists, notifications, and mobile support, would work well for them. On the other hand, businesses will require more sophisticated features. For instance, SMBs will seek a solution that will help them manage projects and ensure all team members are assigned specific tasks. These businesses will want collaboration tools that allow multiple employees to be able to communicate effectively in real time.
Collaboration feature: Seek out task management software that facilitates the sharing of files among groups.  The software should be able to share information about different software packages as well as to access information on mobile devices like smartphones and tablets.  The chat feature also enables users to give and receive immediate feedback. This is particularly useful when several persons are expected to work on a single or a few tasks.
Delivery Options: Businesses should determine which delivery method (i.e. on-site vs. cloud-based) will work best. The on-site software will require businesses to incur expenses to install specific hardware. However, businesses will be solely in control of the management of all activities. On the other hand, control with cloud-based solutions is significantly limited.
Top Task Management Software Free
You may like to read: Top Free & Premium Task Management Software
Top Task Management Software Free
PAT Index™
Top Task Management Software
You may like to read: Top Free & Premium Task Management Software
Top Task Management Software
PAT Index™