Review
SmartTask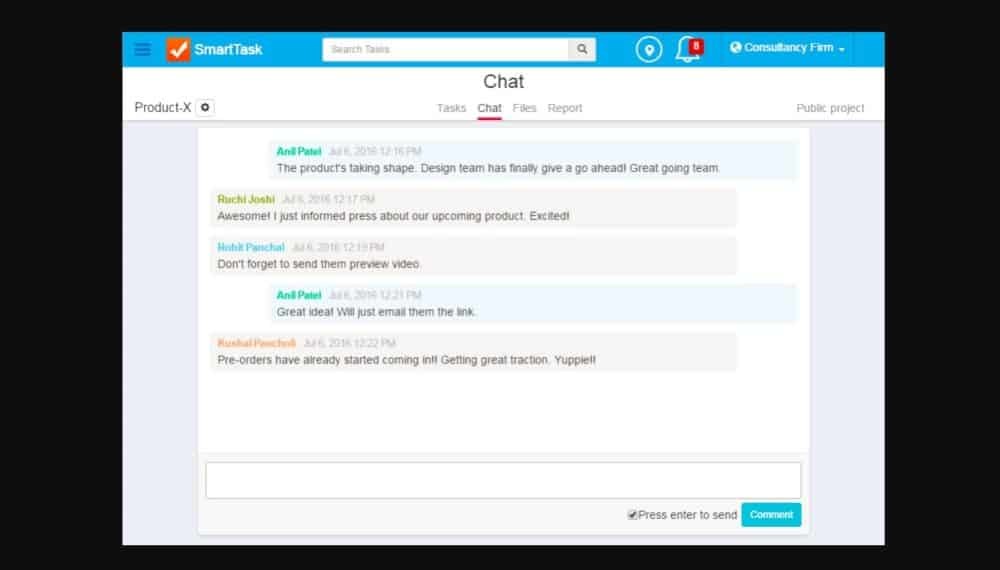 Overview
SmartTask keeps all your team related information together and is built for collaboration for a clear overview of team's progress and who's responsible for every task.
Task Management Software Free
• Instant messaging
• Groups and projects
• Tasks
• Attachments
• Search
• Project templates
• Powerful Recurring tasks
• Location tracking
• Free – Up to 20 users
• Premium - $5/user/month
Small (<50 employees), Medium (50 to 1000 Enterprise (>1001 employees)
What is best?
•Collaborate on shared projects
•Never miss out important information
•Access from anywhere
•Easily assign task to any user or project in the organization
What are the benefits?
• Project templates
• Powerful Recurring tasks
• Location tracking
• Email reminders
SmartTask is a cloud based solution software designed for remote workforce management and employee scheduling. SmartTask simply acts as an employee scheduling software. SmartTask is ideal for businesses and can be used to manage their employees efficiently making sure that each employee is at the right time and right place. SmartTask combines live tracking, smart track of roster and integrated proof of attendance.
SmartTask is an ideal tool for businesses as it improves customer satisfaction, enhance operational control and support duty of care to staff. SmartTask enables you to keep all your team related information together meaning you will not need to use the isolated silos. With SmartTask every employee has a clear overview of the whole employee base progress.
The employee scheduling software, SmartTask gives business owners a real time overview of how their business is performing. The real time visibility also allows you to promptly spot any critical issues as they occur. This is essential as customer compliance and satisfaction are maintained. When new information is relayed in the company, in most cases employees do not read the new information or policies or in other cases read and forget. SmartTask provides perfect solution for this by issuing of SmartDocs.
The SmartDocs ensure that new policies given from the company are distributed to all the employees and also acknowledged by the entire staff. Creation of payroll and invoices is made easy by SmartTask by generating a payroll export that includes an employee's overtime, standard and holiday hours. SmartTask is easily accessible and is also available as a mobile app making sure that you are on the go with the company's notifications, tasks and updates.
You may like to read: Free & Top Task Management Software, Top Retail Task Management Software and How to Select the Best Task Management Software for Your Business