Review
Hitask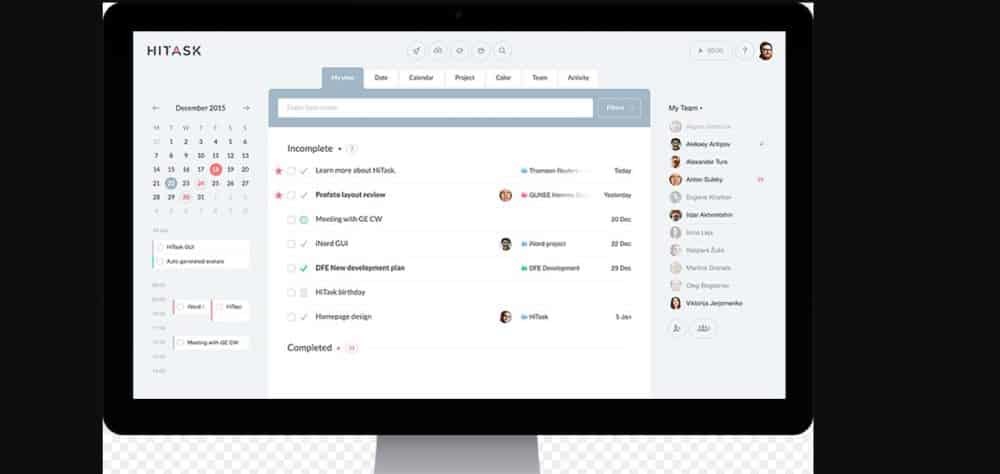 Overview
The Hitask Single Screen Dashboard allows you to see all of your tasks and collaboration tools in a single window, including your projects, tasks, calendar, and project team members. Click on individual tasks to expand and modify them. Use drag­-and-­drop to assign or modify tasks.
Task Management Software Free
• Shared calendar
• Document storage
• Projects, tasks, events
• Selective sharing permissions
• Time tracking
• Mobile apps
• Email tasks
• Notifications
• Assignments
• Team chat
• Outlook integration
• Multi-lingual
• Team; free for up to 5 users.
• Team business $4.98 per user/ month
• Enterprise $12.98 per user/ month
Small (<50 employees), Medium (50 to 1000 Enterprise (>1001 employees)
What is best?
• Shared calendar
• Document storage
• Projects, tasks, events
• Selective sharing permissions
• Time tracking
• Mobile apps
• Email tasks
• Notifications
What are the benefits?
• Issue tracking numbers
• Sub tasks and hierarchy
• Color tagging
• Data export
• Tags
• Deadline and due dates
• Google calendar integration
Hitask is a task management software that removes project management complexity and puts you in control. New projects can be easily and quickly set up, tasks assigning and sharing, sharing centralized file library and calendar, sending and receiving notifications, synchronizing everything across all devices can be done with Hitask.
It stands out from other task management software since it is much easier to use. It is achieved through the intuitive user interface and single dashboard, hence no documentation or training needed to use it. All you need to do is to create an account and within no time, your project team will be underway with creating and managing projects.
Hitask main features include; projects,task and events where you can categorize your work, document storage where you upload and attach files to tasks and projects, shared calendar where you have the overview of your teams events in one calendar,time tracking where you track time spent on tasks,selective sharing permissions where you can choose who can modify your complete task among your team members, mobile apps.
It also provides email tasks where you can create tasks by sending email to Hitask account,notifications which you can receive via email or mobile push notifications, repeating tasks either daily/weekly/monthly/yearly,reports where you can track your progress and time spent in reporting, team chat in where information can be shared without leaving your workspace, colour tagging where you can tag your tasks and projects using color, sub-task and hierarchy where there is a hierarchical nested task list, issue track numbers where items are given unique number and hence easy tracking, tags where items are categorized by contexts, data export here where you export data formats for external processing, outlook integration, google calendar integration, multi-lingual where it support language translation and deadline due dates where notifications of missed deadlines are received.
You may like to read: Free & Top Task Management Software, Top Retail Task Management Software and How to Select the Best Task Management Software for Your Business