Top 17 Quality Management Software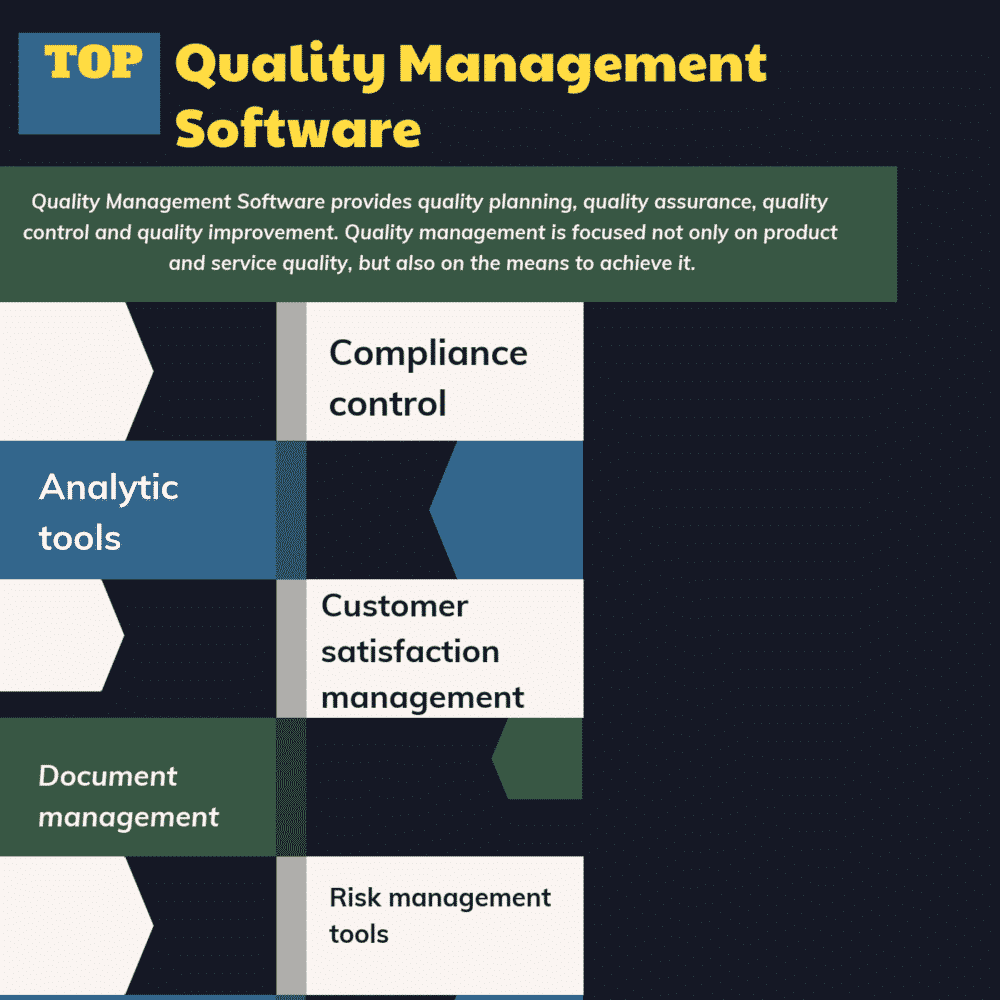 Quality Management Software provides quality planning, quality assurance, quality control and quality improvement. Quality management is focused not only on product and service quality, but also on the means to achieve it. With the use of automation capabilities Quality Management typically have components for managing internal and external risk, compliance, and the quality of processes and products.
Enterprise Quality Management Software (EQMS) is a platform for cross-functional communication and collaboration that centralizes, standardizes, and streamlines quality management data from across the value chain.
In the recent years, quality has become the buzzword for many organizations. With the competition being stiff in the market, maintaining high quality has become paramount for every business success.
The market competition has seen boundaries dissolved and the supply-demand chain has become more complex. Different organizations have increased the production of the products and overall, the normal operation of an organization has extensively expanded. This has led to the need for quality management software. In every organization, plenty of time and efforts are spent trying to implement the best operational practices.
Quality management is not a new thing in most of the organization, however, most organization tend to utilize a resource that helps them accelerate growth, reduce cost and increase revenue generation. By investing in effective quality management software, the organization will be able to address quality-based issues that may affect staffs, suppliers, stakeholders, partners, and customers.
Examples of Quality Management Software: Greenlight Guru, InspectionXpert, MasterControl, Qualio, Inspect2GO, QT9 QMS, QualityXpert, uniPoint, QCBD, IQMS QMS, 1Factory, IQS, Arena QMS, Global Shop Solutions, DevonWay QMS, Global Vision, Safety Culture, Mipsis are some of the examples of Top Quality Management Software.
You may like to read: How to Select the Best Quality Management Software and Top Best Practices in Enterprise Resource Planning
What are Quality Management Software?
Quality management software (QMS) is an enterprise platform with an aim of improving management processes through development and management of software quality, hence making sure the user is satisfied with the product. The main goal of quality management software is ensuring the products manufactured follow regulations and meet the quality standards expected by the end user.
Quality Management Software provides quality planning, quality assurance, quality control and quality improvement. Quality management is focused not only on product and service quality, but also on the means to achieve it.
Quality Management Software (QMS) is a formalized integrated system that documents processes, procedures, and responsibilities focused on achieving quality policies and objective of an organization.
Quality Management Software focuses on consistently meeting the customer requirements while also meeting the necessary regulatory and development requirements. QMS system in a company can also be defined as a centralized system that helps in managing and regulating consistent high-quality production. Quality management software is an automated system that seamlessly aids in the process of quality management which may include corrective actions, audit management, document control, and change management.
In addition, Quality Management Software provides an integrated approach that allows data flow between various department in an organization. The system offers functionalities that analyses quality related to risk and act as a central source for storage and management of quality documents with an organization. Furthermore, it allows better collaboration within an organization resulting in a quick resolution of issues.
Compliance control: QMS system support monitoring and management of compliance requirements. Compliance features connected with QMS include documenting, processing, scheduling, correction and auditing reports related to quality control activities.
Analytic tools: Quality management software has a strong analytic tool such as quality scorecards that allow effectual planning, scheduling, and execution of quality reviews processes.
Customer satisfaction management: Majority of QMS has a customer complaint feature that assists to report issues in the quality of the product. The feature may be a fully functioning tool that helps customers connect with personnel quickly and have the issue resolved.
Document management: Within an organization, several standards are input in place to support in quality management. Quality management software prevents a large amount of data from becoming a challenge and enhances engagement between cross-functional department. It also provides a centralized system where it is easy to access important documents related to quality management.
Real-time data: QMS provides an organization with real-time analytics and up-to-date information that is displayed through graphical dashboards.
Risk management tools: QMS software provides effective risk assessment tools that are capable of reporting risk associated with quality. The flexible reporting tools can predict service failures and sometimes financial implications that may arise.
Top Quality Management Software
Greenlight Guru, InspectionXpert, MasterControl, Qualio, Inspect2GO, QT9 QMS, QualityXpert, uniPoint, QCBD, IQMS QMS, 1Factory, IQS, Arena QMS, Global Shop Solutions, DevonWay QMS, Global Vision, Safety Culture, Mipsis are some of the Top Quality Management Software
Top Quality Management Software
PAT Index™
1
Greenlight Guru
Greenlight Guru is the only quality management software platform built exclusively for the unique needs of the medical device industry. The platform is currently being used by innovative medical device companies in over 600 cities and 50 countries on 6 continents to bring new products to market faster while simplifying regulatory compliance and reducing risk. Device makers across the globe are replacing their outdated paper-based and general purpose legacy quality systems with Greenlight Guru. Being a modern, industry specific, cloud-based eQMS, Greenlight Guru is easier to implement, easier to use and simply fits medical device processes better allowing companies to…
Overview
•Design Control
•Risk Management
•Document Management
•CAPA Management
•Complaint Management
•Audit Management
•Nonconformance Management
•Change Management
•Training Management
2
InspectionXpert
Inspection Xpert is an online inspection software that enables innovative and high quality solutions to customers across the globe. It has productivity enhancement tools for manufacturing and quality inspections. It eliminates the time consuming process of manual ballooning of inspection drawings and data entry into Inspection Xpert. With Inspection Xpert, changes made to inspection plans can be completed quickly and easily. Number for larger inspections can also effortlessly be managed. Inspection Xpert eliminates manual ballooning of inspection drawings and time consuming data entry into inspection reports. It automates ballooning inspection print process. Inspection Xpert also automates importing measurement results. Inspection…
Overview
• Desktop functionality
• Web- serviced flexibility
• Security
• Hybrid
• Adobe DRM
• Customizable offline access settings
• Instant software updates
3
MasterControl
MasterControl is software that provides complete choices of fully functional compliance and quality solutions in a single software suite. MasterControl provides users with enterprise quality management software that enables enterprises to eliminate paper-based quality processes while following the ISO quality standards and FDA regulations. The enterprise quality management software replaces the paper based quality management software systems which provides an excellent platform for improving an enterprise's ability for complying with quality standards and regulations. MasterControl enterprise quality management software also facilitates improving of product quality, increasing operational efficiency, and accelerating time to market-all these at lower costs. MasterControl also provides…
Overview
• Document control
• Corrective and preventive action system
• Change control
• Training management
• Nonconformance automation software
• Quality audit management
• Customer complaints software
• Forms-based process automation
• Electronic submissions
• All Access - $199/user per month
• Advanced - $169/user per month
• Basic - $109/user per month
4
Inspect2GO
Inspect2Go is an online cloud based quality control software for small manufacturers. Inspect 2Go lower cost for manufacturers and improves product quality management. Inspect 2Go combines mobile cloud and database technology. Inspections are conducted on a native mobile app that's easy to use and functions anywhere offline without the need of data connectivity. The system is designed with many potential applications including construction, structural assessment, multi-unit housing, environment compliance monitoring, site inspection and other data collection processes conducted in the field. Inspect 2Go features include field data collection, Ad Hoc reporting, data management, database hosting, data analytics, inspection, documentation, notification,…
Overview
• Field data collection
• Ad Hoc reporting
• Data management
• Database hosting
• Data analytics
• Inspection
• Documentation
• Notification
• Scheduling
• Document management
• Geo-location
• Evidence gathering
• Security
• Custom integration
5
QT9 QMS
QT9 QMS is a user friendly quality management software that makes quality management to be electronic with full traceability and eliminating all the paper work associated in quality management software. QT9 QMS features several modules such as audit management, inspections, management review, document control, deviations, evaluation of suppliers, preventive maintenance, and non-conforming products. The audit management module enables tracking and managing the scheduled details and results of your audits. It also provides you with an excellent platform for creating custom quality standard check lists used in custom audits and linking processes to document control for ease of use in audit.…
Overview
• Detailed visual help file
• Email alerting
• Import/export tools
• Detailed reporting/charting
• User to-do list
• Multiple location ready
• Interconnected modules
• Electronic signatures
• 21 CFR Part 11 Complaint
• Tickle Times on Due dates
• Application/User level security
6
Qualio
Qualio is a complete suite platform used for quality management that enables enterprises reach 100% ISO, GxP, and FDA compliance. Qualio also enables companies to manage control of documents, training, suppliers, complaints and audits from one place. Qualio is ideal for the growing businesses in healthcare and life sciences. Qualio simplifies quality management, creates controlled records and documents, captures approvals, provides feedback, manages training, creates training assessments with ease, and tracks compliance. In simplifying quality management, Qualio provides users with a dashboard view that clearly shows them what they need to do; view actions and draft content, and helps them…
Overview
• Track compliance
• Manage training
• Capture approvals
• Get feedback
• Create controlled documents and records
7
DevonWay QMS
DevonWay QMS is a platform that provides scalable solutions in quality management. DevonWay QMS provides the following features audit and assessments, corrective and preventive actions, management of documents, customer complaints, calibration of equipment, inspection, non-conformance reports, risk management, product recalls, management of supplies, and training management. In audit and assessments feature, enables moving of assessments and audits out of Word and Excel into a central database, therefore achieving cross-organizational visibility into all your compliance activities. The audit and assessments feature also provides pre-built reports that give individual auditors real-time status updates. It also provides users with an excellent platform for…
Overview
• Audit and assessments
• Corrective and preventive actions
• Customer complaints
• Document management
• Equipment calibration
• Inspections
• Non-conformance reports
• Product recalls
• Risk management
• Supplier management
• Training management
8
QualityXpert
Quality Xpert is an online quality control/ assurance software designed to eliminate the stress and complexity of quality control for you and your employees. Quality Xpert features include; inspection plan, results, gage management and reports which are based on a controlled, fully traceable cloud environment with time analytics and alerts that the entire team can access anytime, anywhere and on any device, ensuring that your entire team is working to the same. Quality Xpert's inspection enables your operator to be able to perform in line and/ or in process inspections quickly and accurately with visual. It has head's up interface…
Overview
• Inspection plan
• Results
• Gage management
• Reports
9
uniPoint
uniPoint is a platform that provides built-in quality methodologies and advanced user workflow and eliminates all the user's manual log file, manual forms, redundant data entry, and spreadsheets. uniPoint review reduces the user's audit and management of preparation time. uniPoint provides an executive dashboard that offers built-in quality metrics that allow clients to understand the status of their quality system. uniPoint main features include trend analysis, document control, tooling and equipment, corrective and preventive action, service of customer, non-conformance, and to-do list. The non-conformance module functions by automating manual recordkeeping and provides detailed statistical analysis. The non-conformance module provides users…
Overview
• Tooling and equipment
• Document control
• Corrective and preventive action
• Key indicators
• Customer service
• Trend analysis
• To-do list
• Requests
10
QCBD
QCBD is an all in one software suite that is cheap and fully designed for quality management software used in management of the quality system data. QCBD cuts down the cost of achieving and maintaining of compliance to meet the standards of quality management. QCBD provides the following main modules used in quality management. They include; corrective actions, deviations in processes, control of document, non-conformance, management of products, management of training, and supplier management. The corrective action module enables recording and tracking of measures taken to correct and prevent quality failures. The corrective action reports provides an excellent platform for…
Overview
• Training management
• Supplier management
• Non-conformance tracking
• Equipment management
• Document control
• Process deviations
• Corrective action
• Customer complaints
• Reports
11
IQMS QMS
IQMS Quality Management Software offers an extensive suite of tools and capabilities necessary to cost-effectively manage quality issues while streamlining manufacturing and ERP operations and facilitating collaboration. It is a robust solution that enables compliance with the most stringent quality standards, including automotive (TS), medical (FDA, 21 CFR Part 11) and ISO standards, and a reduced cost of quality. It tracks quality in manufacturing parts with the same integrated database as your manufacturing, accounting, customer management and supply chain management systems. IQMS Quality Management Software modules link directly to all companies ERP and manufacturing-related information such as RMAs, non-conforming inventory,…
Overview
• Advanced Product Quality Planning
• Corrective Action Request
• Cost of Quality
• Device History Record
• Material Review Board
• Production Part Approval Process
• Statistical Process Control
12
1Factory
1factory is a cloud-based platform that enables OEMs to employ a single quality inspection testing system for all parts and assemblies throughout the extended supply chain. The 1factory platform simplifies inspection and tests planning, digitizes production floor measurement data, enables traceability (by batch, a lot, serial number, operator, inspection equipment, etc.), and delivers real-time analysis to help prevent defects and improve processes. 1factory speed up data capture and eliminate data-entry errors. Automate data collection from digital gages, barcode readers, and CMMs. Upload CMM data output data in .csv and .xls formats or upload other Excel data files. 1factory makes it…
Overview
• Audit readiness
• Paperless quality control
• Process capability
• Variation control
• Factor monitoring
• Quality control plans
• Manufacturing quality - $40/month
• NCRs/CAPAs/SCARs - $15/month
• Enterprise quality – Not available
13
Global Shop Solutions
Global shop solutions is a quality control software that enables your manufacturing management team to isolate and measure the quality of components of manufactured and purchased parts in your manufacturing business. Global shop solutions' features include; simplified data entry, root cause analysis, capture rejects to the quality database, process cause and corrective actions, warranty, serial number tracking, engineering sign off, preventive action, validation process on vendor master, cost of quality, quality reporting, satisfy custom requirements, vendor approval workflows and isolate major areas of quality. Global shop solutions helps improve your quality efforts with simplified data entry and accurate capturing. Quality…
Overview
• Simplified data entry
• Root cause analysis
• Capture rejects to the quality database
• Process cause and corrective actions
• Warranty
• Serial number tracking
• Engineering sign off
• Preventive action
• Validation process on vendor master
• Cost of quality
• Quality reporting
• Vendor approval work flow
14
Global Vision
Global vision is an online inspection software that eliminates errors on artwork, bottles, booklets, documents, packaging, labels, cartons, inserts and web paging before going to market. Global vision provides automatic inspection that increases the speed and reliability of your quality control. It also lowers costs. Global vision ensures all the inspection applications are in one platform hence your entire packaging quality control process in one place. Global vision streamlines your quality control and catches every error by automatically comparing your working file to a previously approved file. In case of any difference between the two files are flagged and the…
Overview
• Spelling inspection
• Braille inspection
• Graphics inspection
• Print inspection
• Barcode inspection
• Text inspection
15
IQS
IQS is a compliance and enterprise quality management software that provides tools used for acceleration of a company's progress towards quality excellence. IQS provides organizations with implementations that give a faster return on their investments. IQS provides the inspection or statistical process control software that is ideal for delivering the information on quality management and compliance. The inspection software provides an excellent platform for storing an unlimited amount of user-defined inspection features at each stage of the product lifecycle. The inspection software also enables manufacturers to change histories and track revision levels after previous inspections are completed to provide personnel…
Overview
• Create charts from inspection and revision data automatically
• Utilize skip-lot function which loads appropriate plans for an operator
• Alert operators with an NCM warning for out-of-spec results and post a nonconformance
• Validate that you are collecting data on the correct inspection plan and revision of a print
• Data visualizations and analytics
16
Arena QMS
Arena QMS is a quality management software that is cloud-based and is designed to provide solutions that bring interdisciplinary visibility, long-term tracking of quality resolutions, and supplier collaboration to the enterprise core. Arena QMS specifically enables enterprises to create and enabling meeting of FDA regulations and ISO standards. Arena QMS is ideal for enterprises ranging from large high tech multinational enterprises. Arena QMS also facilitates cost reduction across the entire value chain, continual process improvements, and higher quality products. Arena QMS integrates quality processes with product records in ensuring capturing and maintaining of quality records to demonstrate adherence to regulatory.…
Overview
• Corrective action and preventive action process
• Suppliers' participation
• Assign default owner and proxy approvals on behalf of unavailable team members
• Add one or more sign-off steps to your quality processes
• Average price - $89/Month/Seat
17
Safety Culture
SafetyCulture iAuditor is the world's most-used software platform for construction site inspections and safety audits. SafetyCulture provides solutions to transform its user's inspections with smart, mobile forms. Users can convert their checklists into digital forms and access them on site and in the field. Plus, it allows the flexibility and performance to conduct any inspection. Standardize inspections across operations. SafetyCulture captures information via smartphone or tablet with safety culture iAuditor. It attaches photos and marks them up, add in GPS coordinates, electronic record signatures, score performance and more.With automatic syncing between mobile devices and the desktop platform, Companies will know…
Overview
• Create smart inspection forms
• Inspect from anywhere
• Monitor, analyze and improve information
• Security and reliability
• Get detailed reports instantly
•Track improvements
• For individual users - $0
• Standard - $12/month
• Premium - $15/month
• Enterprise – Contact the company
18
Mipsis
Mipsis is an online quality control inspection software that is designed to plan the quality control processes for incoming and outgoing goods. Mipsis shortens the inspection time and optimizes the cost. Mipsis' features include quality control inspection entry, inspection plan, sample table, inspection form and inspection result. Mipsis' inspection entry provides a screen displaying the records of the products that enter the quality control storage. Materials entering the storage are obtained either directly from suppliers or production unit. Each party of products is subject to a control level is determined by the system based on the past quality performance of…
Overview
• Quality inspection entry
• Inspection plan
• Sampling table
• Inspection form
• Inspection result
You may like to read: How to Select the Best Quality Management Software and Top Best Practices in Enterprise Resource Planning