Top 10 Workforce Optimization Software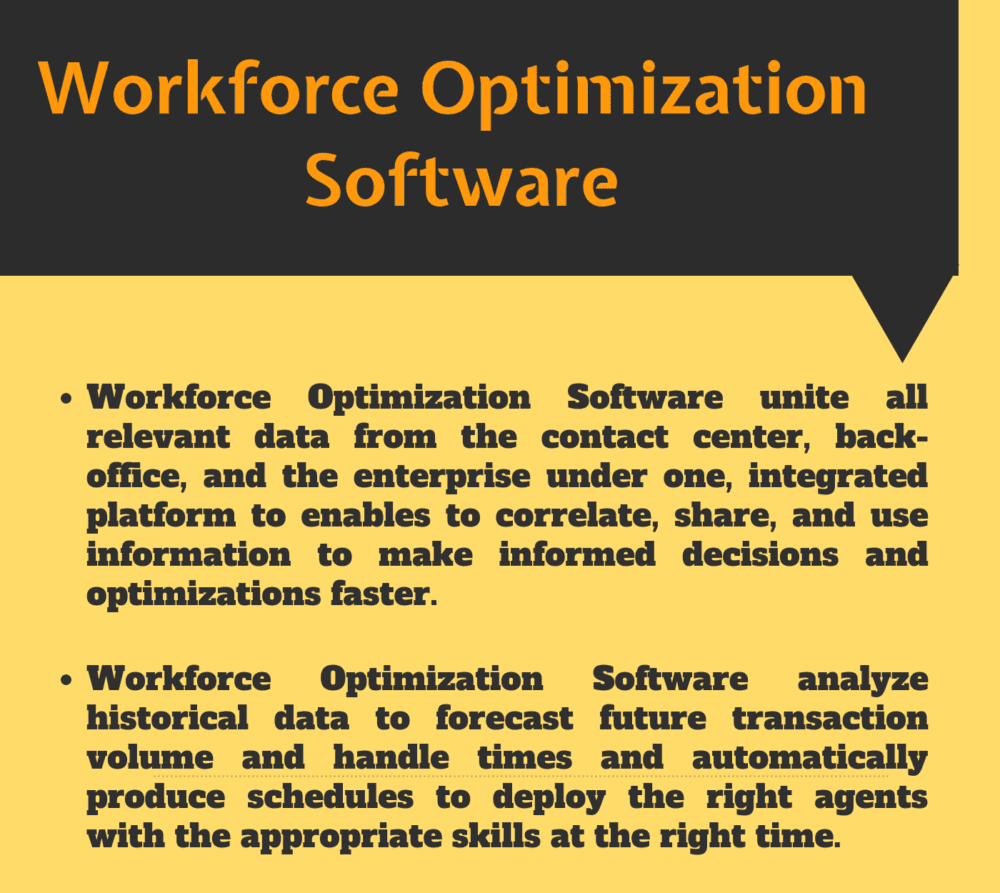 Businesses need Workforce Optimization (WFO) solutions to ensure maximum customer satisfaction, maximize labor efficiency and reduce operational costs. Usually, workforce optimization involves integrating work center technologies to improve operational efficiency, customer experience, and employee efficiency. Organizations implement workforce optimization strategies by monitoring the activities of certain positions and deploying the right number of employees to handle the right job.
Although Workforce Optimization began in call centers, companies in different industries such as manufacturing, financial services, and retail industries utilize Workforce Optimization practices to improve employee efficiency.
The best way to capitalize on Workforce Optimization strategies is to use Workforce Optimization software. Software vendors have developed different Workforce Optimization software packages to meet the needs of your organization. These packages come with technologies that help companies streamline operations and increase efficiency. With the right Workforce Optimization software, companies can improve the performance of customer centers and other departments by deploying well-trained agents.
Workforce Optimization Software unite all relevant data from the contact center, back-office, and the enterprise under one, integrated platform to enables to correlate, share, and use information to make informed decisions and optimizations faster.
Workforce Optimization Software analyze historical data to forecast future transaction volume and handle times and automatically produce schedules to deploy the right agents with the appropriate skills at the right time. It enables organizations to improve agent productivity, identify performance gaps, deliver targeted coaching, and effectively forecast workloads and schedule staff. Workforce Optimization Software uses analytics based modeling to dynamically personalize contact center processes, such as scheduling, coaching, training, evaluations, and motivational incentives, at an individual agent level.
What are the Best Workforce Optimization Software: NICE IEX, Avaya, Verint Systems, Genesys Employee Engagement, Teleopti, Calabrio, Noble Systems, Aspect, ZOOM, VPI are some of the Top Workforce Optimization Software.
What are Workforce Optimization Software?
Workforce optimization software is a type of software that integrates various call center technologies such as quality management, audio recording, screen recording, audio analytics, text analytics, workforce management, recruitment, training, performance management, and workforce scheduling to optimize the performance of employees and maximize customer satisfaction.
Workforce optimization suites also come with tools for eLearning, coaching, quality monitoring, speech analytics, and surveying. They use technologies that unite various organizational functions such as call center and back-office functions.
As an integrated platform, a Workforce Optimization application allows companies to bring together all pertinent data from different departments. Users of the software can correlate, share or utilize the data when making informed decisions.
Workforce Optimization software also enables organizations to analyze data, predict the volume of future transactions, calculate the time needed to complete future tasks, generate schedules, and deploy skilled agents. Many software companies have developed Workforce Optimization programs with different features, so your choice will depend on your company's needs and preferences.
Workforce and Performance Management: Workforce Optimization software comes with features that allow companies to forecast future workloads, assign tasks, and monitor employees to ensure adherence to schedules. It also helps companies identify contact center and employee challenges to inform corrective action. Companies can also keep a record of the number of hours worked and employee attendance.
Audio and Screen Recording: This feature helps organizations keep a record of all screen and audio interactions between company agents and customers. The software can capture information during phone calls and help companies understand how employees use software and websites.
Analytics: The best Workforce Optimization software products include different analytics features such as speech, text, interaction, desktop, and quality analytics. These features allow organizations to boost quality assurance processes, monitor the activities of agents, identify and get rid of productivity bottlenecks, and turn agent conversations into actionable insights.
Real-time Coaching and eLearning: Workforce Optimization software includes tools that allow companies to automatically identify performance issues, verify problems, facilitate eLearning, and recommend coaching actions.
Phone Support: Many Workforce Optimization software products allow people to use phones to perform certain tasks such as real-time eLearning and schedule management.
Some of the benefits include:
Improved agent productivity
Effective scheduling of staff
Availability of key data on the performance of employees
Identification of performance gaps
Effective prediction of future workloads
Effective delivery of targeted training or coaching
Reduced labor, non-compliance and financial risks
Improved customer satisfaction and retention
Top Workforce Optimization Software
NICE IEX, Avaya, Verint Systems, Genesys Employee Engagement, Teleopti, Calabrio, Noble Systems, Aspect, ZOOM, VPI are some of the Top Workforce Optimization Software.
Top Workforce Optimization Software
PAT Index™
1
NICE IEX
NICE IEX is a Workforce Management solution which delivers highly tuned forecasts and schedules, and automates processes to free users to focus on higher value activities with its simple end user interfaces making it easy for every employee to 'own' their schedule and their performance. NICE IEX offer features such as factor multiple methodologies, contact channels, departments and skills types into forecasts and schedules, real-time visibility into service queues and employee, simple end user interfaces, requesting time-off, trading shifts and sharing ideas and availability on-premise or via the cloud. NICE IEX offers a Performance Manager Module which lets users report…
Overview
• Performance Manager Module
• Time Off Manager
• Webstation
• Availability Points
• Interaction Analytics
• Back Office WFM
2
Avaya
Avaya is a global provider of business collaboration and communication solutions, providing unified communications, contact centers, networking and related services to companies of all sizes around the world. Avaya explores communications, conferencing, and infrastructure solutions that support real-time engagement by integrating voice, video, data, messaging, conferencing, mobility, and more. As Avaya puts businesses ahead in a world of mobility, apps, social, and cloud, business workforce becomes more seamlessly connected and productivity increases. Customer satisfaction rises and innovation thrives. And as business grow, one can count on unrivaled scalability and flexibility to support every location, from small branches to corporate headquarters.…
Overview
•Omnichannel Assisted Experience
•Omnichannel Automated Experience
•Actionable Insights
•Communication and Messaging
•Platform and Infrastructure
•Video and Conferencing
•Software-Defined Networking
•Ethernet Switches
•Access Control
•Wireless Networks
•Network Management
•Partner and Service Provider Cloud Solutions
3
Verint Systems
Verint is a global leader in Actionable Intelligence solutions.With Verint solutions and value-added services, organizations of all sizes and across many industries can make more timely and effective decisions. Many organizations use Verint solutions to improve enterprise performance and make the world a safer place. Verint's vision is to create A Smarter World with Actionable Intelligence. Actionable Intelligence solutions of Verint help organizations address three important challenges: Customer Engagement Optimization; Security Intelligence; and Fraud, Risk and Compliance. Verint helps the customers to capture large amounts of information from numerous data types and sources, use analytics to glean insights from the…
Overview
•Effective decisions
•Improve enterprise performance
•Strategic consulting
•Fraud solutions
•Implementation services
•Customer Engagement Optimization
•Cyber Intelligence
•Risk and Compliance solutions
4
Genesys Employee Engagement
Genesys Employee Engagement has a single omnichannel desktop and workforce management capabilities which lets users invest in the users' employees to deliver a better customer experience. Genesys Employee Engagement includes a Workforce Optimization, an Omnichannel Desktop, Collaboration and Genesys Performance DNA. Genesys Employee Engagement offers a single omnichannel desktop where agents can manage channel interactions and work item queues with supporting context and knowledge through integration with CRM and other applications or knowledge bases. Genesys Employee Engagement enables schedules, forecasts and reports to be created for all channels so that users can better manage service levels, generate more insightful agent…
Overview
• Correlate business performance with the employee skills, knowledge and attributes that deliver optimal business outcomes.
• Video conferencing, group chat rooms and conference calling gets everyone communicating and on the same page
• Guide employees during customer interactions to improve service quality, ensure compliance and meet targeted business goals.
• Accurately forecast and schedule your agents across all communication channels and departments
• Schedules, forecasts and reports can be created for all channels, to better manage service levels, generate more insightful agent scorecards and improve training and coaching sessions
5
Teleopti
Teleopti WFM is a world class Workforce Management solution that encompasses all that a user need to optimize the staffing and customer service across their enterprise. Its solution supports optimization of the contact center, back-office and even user branches and stores. Teleopti provides everything necessary to effectively manage user staff, forecast demand, create schedules automatically, develop accurate and insightful reports and improve user overall customer service operation. Teleopti is a top, global provider of workforce management software that offers a world-class WFM solution that is sophisticated, localized and easy to use. As the largest "best-of-breed" vendor, Teleopti focuses on helping…
Overview
• Budgeting & Forecasting
• Contractor Management
• Employee Lifecycle Management
• Labor Projection
• Performance Appraisal
• Recruiting Management
• Scheduling
• Skills Tracking
• Time & Attendance
6
Calabrio
Calabrio is revolutionizing the way enterprises engage their customers with Calabrio ONE, a unified workforce optimization (WFO) suite that records, captures and analyzes customer interactions to provide a single view of the customer, and improve the overall agent and customer experience. Calabrio's Calabrio ONE includes features such as call recording, quality management, workforce management, voice-of-the-customer analytics, and advanced reporting. Calabrio One lets users create a unified and complete picture of every customer and every interaction. Users can also utilize pre-built tools or create users own highly customized reports, dashboards, and scorecards with Calabrio One's Data Explorer. Calabrio One also lets…
Overview
• Access, create, publish, schedule, share and manage reports, dashboards and scorecards.
• Connect advanced speech analytics and text analytics tools across every channel.
• Create and fill overtime opportunities in real time.
• Create non-siloed, holistic reporting that aligns with unique business goals
• Play back relevant recordings and find what you need.
7
Noble Systems
The Noble Solution suite is a unified Customer Interaction Management (CIM) solution for today's multimedia business environments. Noble Systems helps users to control costs and improve operational efficiencies with information management and functional tools to manage blended voice and non-voice communications. It solution combines an open platform with an integrated relational database, workflow and resource management tools, and real-time reporting to offer a complete, integrated platform for managing the customer contact programs. The Noble Solution is a comprehensive solution for managing inbound, outbound, and blended omnichannel customer contacts. Noble ShiftTrack WFM removes the guesswork from users contact center planning, by…
Overview
• Client/Server Architecture
• Graphical Interfaces
• Drill-Down Decision Support Tools
• Customized Data Views
• Service Level Alerts
• Information Archives
• Reporting from Anywhere
8
Aspect
Aspect Workforce optimization solutions increase productivity for millions of agents worldwide while enhancing their work lives every day from real-time coaching to managing their schedules via smartphones with ease. Aspect Workforce optimization solutions offers features such as Workforce Planning, Back Office Optimization, Call Center Analytics and Workforce Management in the Cloud, including Aspect Mila, Quality Monitoring, Recording, Quality Analytics, Surveys, Performance Management, Coaching, eLearning and speech analytics in the suite. Aspect Workforce Optimization suite incorporates a common modern, graphical, icon and widget-based user interface that makes historically complex workforce planning actions a snap. Aspect Workforce offers a Management software which…
Overview
• Forecast, schedule and track adherence of employee schedules
• Bring together multiple sources of data for analysis
• Automatically or manually assign packaged training sessions to agents and teams
• Transform agent conversations into a rich repository of actionable insights
• Unlock the vast storehouse of information that exists right on the agent desktop
9
ZOOM
Zoom is designed exclusively for hosting webinars, teaching online courses, and conducting online training, video demonstrations, virtual meetings and video conference; and represents an easy to use online video conferencing and meeting software that integrates video conferencing, simple online meetings, and group messaging into a single cloud-based platform. ZOOM's software helps contact centers improve the customer and agent experience—by capturing, analyzing, and improving the quality of all interactions—while addressing back office compliance and risk. ZOOM Workforce Management ensure that users have the right number of agents, with the right skills, in the right place, at the right time. The contact…
Overview
• Video Webinar
• Group Collaboration
• Cloud and Local Recording
• Zoom Meetings and Rooms
• Integrated Scheduling
• Premium Audio
Zoom offers 4 enterprise pricing packages:
Zoom Basic Plan
• Free
Zoom Pro Plan
• For small teams
• $14.99 Per Month Per Host
Optional Add-on Plans
• Extra Cloud Recording Storage (starting at $40/mo)
• 323/SIP Room Connector (starting at $49/mo)
• Join by Zoom Rooms (starting at $49/mo)
• Join by toll-free dialing or Call Me (starting at $100/mo)
• Add Video Webinars (starting at $40/mo)
Zoom Business Plan
• Small and Medium Businesses
• $19.99 Per Month Per Host
Zoom Enterprise Plan
• Large Enterprises
• $19.99 Per Month Per Host
10
VPI
VPI offers quality service and the highest quality of call recording and workforce optimization solutions available. VPI Services help maximize the ROI of users' technology investment. VPI's Professional Services focus on people, processes, and the best-in-class technology requirements. VPI's Professional Services team works side-by-side with the technical and business staff to customize, implement, integrate, augment, and optimize high-performance interactions recording and workforce optimization solutions and strategies. Service offerings from VPI make it easy for the organization to gain accurate, timely, actionable insights regarding the performance of their contact center teams and the value they generate towards the fulfillment of their…
Overview
• Best Practices Workforce Optimization
• Quality Management
• Custom Report Development
• Custom Dashboard Development
• High Impact Speech Analytics
• Integration and Customization
• Performance Management and Calibration
You may like to read How to Select the Best Human Resource Software for Your Business