What is a Business Intelligence Analyst?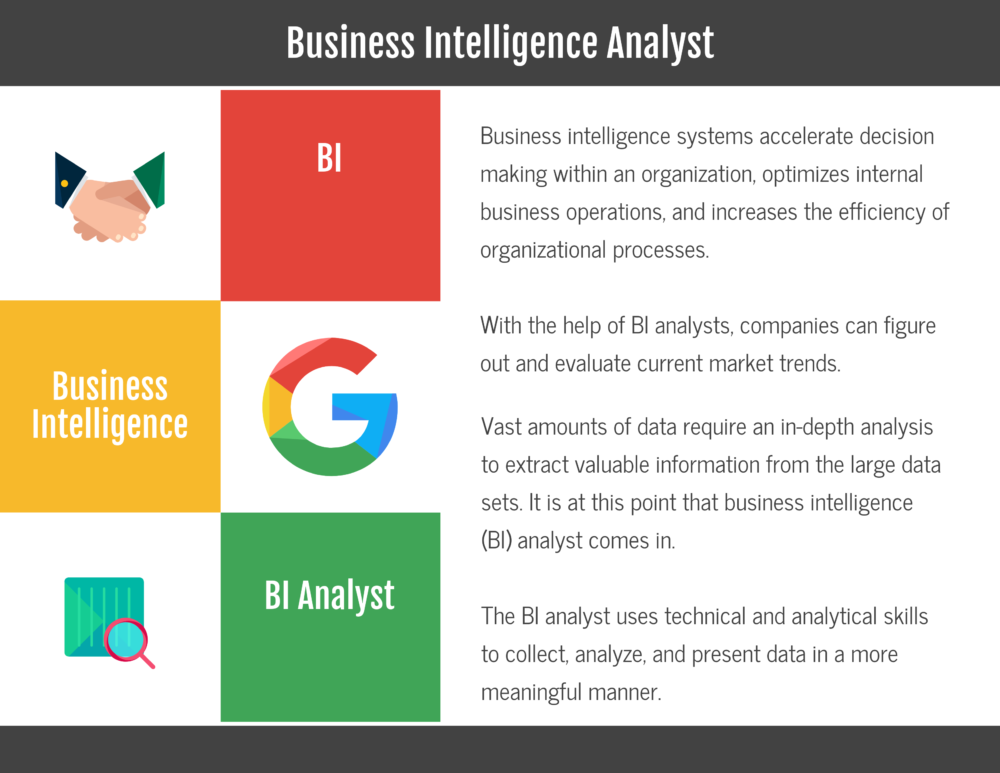 Businesses are continuously becoming more reliant on the capabilities of business intelligence to collect, integrate, analyze, and present valuable data. Business intelligence systems accelerate decision making within an organization, optimizes internal business operations, and increases the efficiency of organizational processes. With the help of BI analysts, companies can figure out and evaluate current market trends.
As technology is advancing, enterprises continue to handle large amounts of data daily. Vast amounts of data require an in-depth analysis to extract valuable information from the large data sets. It is at this point that business intelligence (BI) analyst comes in. The BI analyst uses technical and analytical skills to collect, analyze, and present data in a more meaningful manner.
With the input of a competent BI analyst, an organization is capable of utilizing its most valuable information to achieve its financial obligations. The business intelligence analyst can pinpoint the strengths and weaknesses of the organization and come up with strategies to improve its performance.
What is a Business Intelligence Analyst?
Business intelligence analysts play a vital role in ensuring that organizations make informed decisions based on the tested and approved facts generated through an in-depth analysis of the business data. Depending on an organization's requirements, a business intelligence analyst is always set to implement the useful information generated from the databases. The analyst can identify the most effective strategy to make the pre-set business intelligence actionable.
The business intelligence analyst can come up with recommendations for technological improvements within an organization. In most cases, the analysts are often required to chair seminars for training managers and colleagues on how to implement and control the newly developed technologies. The business intelligence analyst may work as a consultant or work directly for the company.
Business intelligence analysts always keep up with the changing market trends. With that, it's easy for them to explore and analyze their competitor's marketing strategies. Based on the results, organizations can identify where to reduce or improve their products' costs. A business intelligence analyst is responsible for providing intelligence solutions that suit the needs of an organization.
What are the Roles and Responsibilities of a Business Intelligence Analyst?
Provides Technical Support: A business intelligence analyst offers technical support to companies by utilizing sophisticated tools and computer programs to extract useful information from large sets of data.
Collects Relevant Data: Business intelligence has useful tools for collecting vital business data from various sources with the help of a business intelligence team.
Analyzes Business Data: Business intelligence analysts have powerful analytical skills for collecting and solving complex problems within an organization. With the capabilities, they can investigate a series of complex data, by viewing them from a logical perspective.
Communicates Business Findings: With appropriate communication skills, business intelligence analysts often presents their business findings to the management once they have analyzed the company's data.
Generates Business Reports: Companies require business intelligence analysts to design and deliver business reports on a weekly, monthly or yearly basis depending on the company's requirements. Alongside that, the analyst should create a summary report documentation.
Solves Business Problems: Business intelligence analysts performs an in-depth analysis of data trends to come up with effective strategies for solving the problems facing an organization.
Oversees Technological Implementations: Whenever an organization adopts a newly developed technology, the business intelligence analyst has the mandate to supervise and train all the stakeholders.
Develops New Analytical Tools: Business intelligence analysts should be able to create new analytical techniques and models to keep an organization at par with the advancing technology. As a result, companies can standardize their data collection systems to fulfill their objectives.
Interacts With Clients: The BI analysts meet with business clients regularly to address their needs and concerns. By communicating with the clients, the analysts can profile and interpret various clients' data.
Evaluates Business Performance: While interacting with clients, a business intelligence analyst may get to know the clients' feedback regarding a company's products. The analyst may then use this information to evaluate the business performance.
Collaborates With Other Teams: A business intelligence analyst works with other teams regularly, including market analytics to develop compelling marketing strategies.
Consults the Management: A BI analyst works closely with various department managers to gain administrative support on matters revolving around collection and analysis of business data.
Organizations are beginning to understand the significance of business intelligence analysts in their business. Companies should always aim at hiring competent BI analysts to gain useful business insights. Skilled business intelligence analysts are one of the core contributors to success in any business.