Lexalytics Text Analytics Software Helps Airlines Improve Customer Satisfaction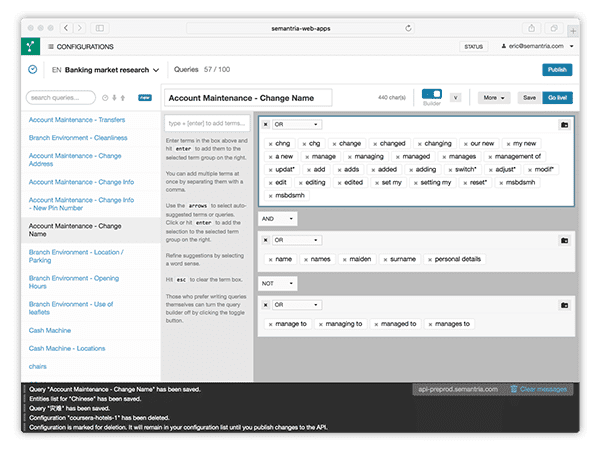 Lexalytics Airlines Industry Pack, is a version of its text analytics software honed to meet the specific needs of customer experience management and social media marketing professionals working in the airlines industry. Airlines and marketing agencies can use this industry pack to analyze customer surveys and pinpoint issues in particular destinations that they operate to or from, understand what customers are saying about their experiences on various carriers and to identify potentially high-value evangelists or critics. While customer satisfaction is improving in the airline industry, reaching a 20-year high this year, it is still fourth-to-last when compared to more than 40 other industries, just beating out health insurance, subscription television services and Internet service providers, according to the American Customer Satisfaction Index (ACSI). With the Airlines Industry Pack from Lexalytics, airlines and their marketing teams can immediately gain insights about what people are saying about their brands on social and traditional media, in customer service calls, surveys and more, quickly identify what is working and what is not, and take action on those findings.
The Airlines Industry Pack includes over 130 different categories, such as Booking, Staff, Check-in, Seating, Safety, Customer Service and the In-flight experience, related to air travel for easy categorization of customer feedback, and 675 airline-specific entities, including the names of all the airlines and the various ways to which they're referred, to understand competitive performance. The Airlines Industry Pack also delivers more than a 10 percent increase in sentiment analysis agreement with humans, approaching the same ability a human has to accurately assess the true meaning behind a piece of written text.
"The Lexalytics Airlines Industry Pack comes on the heels of the industry-specific versions of our analytics software we released for hospitality and restaurant brands, completing the travel trifecta," said Jeff Catlin, CEO, Lexalytics. "Airlines can now gain actionable insights from their data quicker and more easily than ever before." In addition, Lexalytics is the only analytics provider that will be offering complex intention analysis for airlines based on consumer feedback, identifying whether someone intends to buy,sell, quit or recommend a brand's product or service. Unlike other providers, Lexalytics will tell you not just that there is an intention, but who is the intender, what is the intention, and what is the object of the intention.
The Lexalytics Airlines Industry Pack is now available for Lexalytics on-premise Salience and SaaS Semantria platforms.Processing billions of unstructured documents every day globally, Lexalytics is the industry leader in translating text into profitable decisions. Lexalytics deploys state-of –the-art cloud and on-prem text and sentiment analysis technologies that transform customers' thoughts and conversations into actionable insights. The on-premise Salience and SaaS Semantria platforms are implemented in a variety of industries for social media monitoring, reputation management and voice of the customer programs.