How to Select the Best Influencer Management Platform & Influencer Marketing Software for Your Business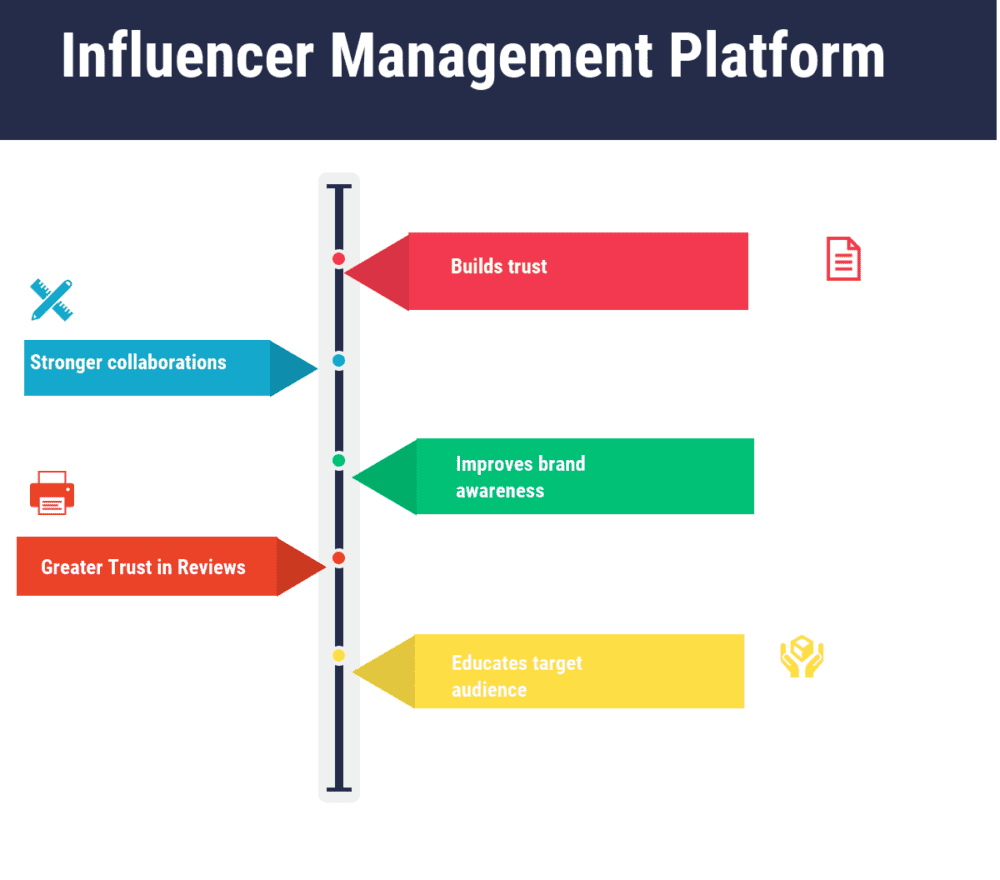 Every business wants to establish credibility, enjoy greater visibility, and encourage social discourse about their brand. When businesses expand their target audiences and more persons become familiar with their brand, their chances of converting visitors into buyers are increased. This, in turn, would positively impact sales. Choosing the right platform for brand awareness and wide-reaching results is essential for overall success. Influencer marketing software can help many businesses achieve these objectives. Influencer marketing software is an effective marketing solution for e-commerce businesses and is designed to recruit and manage influencers. Influencers are individuals or groups who are highly regarded and can affect change in behaviors or opinions of potential buyers. Businesses can connect their brand to influencers' websites or publications for greater exposure. Influencers' comments/feedback will help promote the brand and encourage significant buy-in from their followers.
Businesses use influencer marketing software to improve brand advocacy. The software enables businesses to quickly identify new advocates via built-in search features and to select influencers from a pool based on specific criteria. Businesses can also use the software to manage brand advocates and marketing content. The software also enables businesses to develop a comprehensive marketing campaign. This contributes to automated and streamlined processes and helps businesses expand brand awareness. Through the campaign, businesses are able to reach new target groups that may have been difficult to access in the past. The software is predominantly used by marketing departments to effectively manage brand advocates across several social networks. The success of influencer marketing software lies within three major factors: target audience trust in influencers; social reach to expand target audience; and producing original marketing content for the brand.
What are the Features of Influencer Marketing Software
Businesses that use influencer marketing software are enjoying remarkable features such as Influencer Recruitment, Influencer Scoring, Influencer Communication, Audience Analysis, Influencer Segmentation, User-Generated Content (UGC) Management, Workflow Creation, Influencer Transaction Controls, and Analytics Reporting and Dashboards.
Influencer Recruitment: Helps business find and recruit influencers in their niche, and creates profiles of each influencer along with information about their followers
Influencer Scoring: Rates influencers based on their authority within a specific target market and their level of followers, and matches businesses with the right influencer
Influencer Communication: Facilitates direct communication with influencers (discuss proposals, negotiate terms, etc.) and maintains records of partnerships and discussions
Audience Analysis: Provides an analysis of the demographics and other characteristics of influencers and their followers to understand their interests
Influencer Segmentation: Groups influencers in categories that are specific to their authority and interests
User-Generated Content (UGC) Management: Schedules and publishes user-generated content; and creates Terms and Conditions to guide influencers
Workflow Creation: Generates automated workflows to organize the development, evaluation, and approval of influencer's contributions
Influencer Transaction Controls: Allows businesses to assess influencers' performance before releasing compensation
Analytics Reporting and Dashboards: Allow businesses to monitor and track the performance of influencers and campaign content; view metrics in real time on dashboards; and access reports
What are the Types of Influencer Marketing Software

Database: A database stores influencers' contact information, making it easy for businesses to access pertinent information whenever needed. This type also facilitates the import and export of influencer information. Some databases can also be used as communication channels where businesses can contact influencers directly.
Influencer Marketplace: This functions like a database but provides additional features such as setting up escrows and managing content creation. Influencer marketplaces create linkages between businesses that wish to develop and market new content and influencers who can help promote the content to their followers.
Content Amplification: More social channels are being used by businesses to increase their reach. Pay-per-click advertising is one such strategy that businesses are employing to distribute their content to wider audiences. Content amplification also exists as a standalone application for businesses that cannot afford the full offerings of influencer marketing software.
What are the Key Performance Indicators (KPI's) of Influencer Marketing Software

Brand Awareness: Measures the number of times a business' brand or campaign gets exposed to its target audience
Engagement Rate: Measures the overall reaction to a brand/campaign and is calculated by number of likes, comments, shares, clicks, etc. divided by the number of viewers
Cost per engagement (CPE): Average cost for each action that viewers take in response to a business' ads
Referral Traffic: Measures how many people an influencer's comments draw to a business' website, usually in the form of clicks
Trackable Links: Provides businesses with insights on the number of clicks that specific content has generated from an influencer's unique link
Conversion Tracking: Measures the impact of influencer referrals on customer interaction (e.g. product purchase, phone call, downloads, form completion)
Target Audience Growth: Calculates the increase in a business' target group and helps assess the suitability of the influencer to the group
What are the Benefits of Influencer Marketing Software

Builds trust: Followers trust influencers and often share their content and recommendations on their social media accounts. In effect, this tends to lead to more traffic and an increase in potential customers.
Creates greater traffic: If a potential customer is satisfied with an influencer and finds exactly what they are looking for in a particular industry, traffic will be directed to the business' website. Targeted traffic can be reached on social media platforms including Twitter, Instagram, and Facebook.
Improves brand awareness: When followers trust a brand that is endorsed by an influencer, the brand becomes recognized by a larger audience. Social users become aware of the brand and traffic to the site is enhanced.
Educates target audience: Influencers understand business' needs and realize that target audiences will benefit from informative and enlightening content. Value is added as people discover new information and observe emerging trends.
Suitable for any business: Influencer marketing can be used to promote any type of business since influencers are available in every industry. Businesses can cut advertising costs since influencers can give the most value for money, ideal for businesses that have been struggling to attract a target audience.
What are the Latest trends in Influencer Marketing Software

Stronger collaborations: In an effort to avoid distracters and retain brands, marketing influencers and brands will continue to develop strong bonds. When the influencer really believes in a particular brand, the content created would be reliable and give rise to long-term associations.
Greater linkages between brands and micro-influencers: Micro-influencers tend to narrow down their focus. For example, a cosmetic business may recruit a group of influencers with each one focusing on a specific product such as lipsticks, powders, and so on. This trend helps businesses to effectively coordinate their various product lines and departments.
Greater Trust in Reviews: Persons are increasingly searching online for recommendations and reviews in order to make decisions. However, these recommendations must be from a trusted source in order to help choose software. As a result, information must be reliable and appropriate for the target audience.
One-to-many relationship: One brand may work with many influencers. This trend helps increase traffic on the online platform, with the hope of increasing businesses' conversion rate. Popular platforms like Instagram, Twitter and YouTube have proven to attract many followers and retain existing ones.
 How to choose the right Influencer Marketing Software

The decision to purchase influencer marketing software is impacted by a business' need for a solution that best suits its brand and campaign initiative. Businesses should determine which metrics are most important to their operations and objectives. An in-depth look at the available features is important; however, the following factors can guide. business' buying decision: Influencer Recruitment Management, Scoring Capability, Campaign Management, Campaign Performance Analysis, Social Media Presence, and Built-in Payment Gateway.
Influencer recruitment management: The ideal software should facilitate the sourcing and recruitment of the best matches for a business' brand and campaign strategies. Through this automated approach, businesses can enjoy time and cost reductions.
Scoring Capability: The chosen software should have a scoring system that rates potential influencers based on specified selection criteria. Some solutions also provide customizable scoring systems that businesses can manipulate for their different campaigns.
Campaign Management: A robust solution should have built-in features to maintain campaign records, document and segment influencers and assign teams to different departments.
Campaign Performance Analysis: The preferred software should enable businesses to assess the effectiveness of influencer involvement in their campaigns and to determine if the collaboration is increasing brand value and visibility.
Social Media Presence: The chosen software should be able to help businesses share campaigns on various social media platforms. Major platforms like Twitter and YouTube allow businesses to search for profiles that suit their marketing campaign and broadcast it on the global market.
Built-in Payment Gateway: The software takes away the pressure of having to manually calculate payments as it can securely manage the accounts for campaign expenses. The performance of these campaigns can be appraised in real time, or customers can opt for computerized reports. Buyers also have the option of purchasing software that can give a detailed analysis of performance.
Dashboard: Effective software will enable users to get a visual display of every stage of campaigns and evaluate influencer performance
Top Influencer Management Platform / Influencer Marketing Software
Onalytica, Social Crawlytics, Traackr, Revfluence, Influential, HYPR, Publicfast, NeoReach, CreatorIQ, Julius, Grin, Engage.Social, Speakr, Influry, Kred, Commun.it, Scrunch, Webfluentia, Chute, InNetwork, Reachbird, Sideqik, Brandnew, Find Your Influence, Assembly, Ahalogy, Fanatical, IZEAx, ActionSprout, Insightpool, Tapinfluence, GroupHigh, Achoo, Join, Weinfluence are some of the top Influencer Management Platform / Influencer Marketing Software.
Top Influencer Management Platform / Influencer Marketing Software
PAT Index™
Top Social Media Marketing Software
Affinio, SumAll, Curalate, Brandify, Swift Social, Crowdfire, ShortStack, Votigo, Rignite, Raven, Audiense, Stackla, Cool Tabs, Wayin, Halonet are some of the Top Social Media Marketing Software.
Top Social Media Marketing Software
PAT Index™