Top 16 Qualitative Data Analysis Software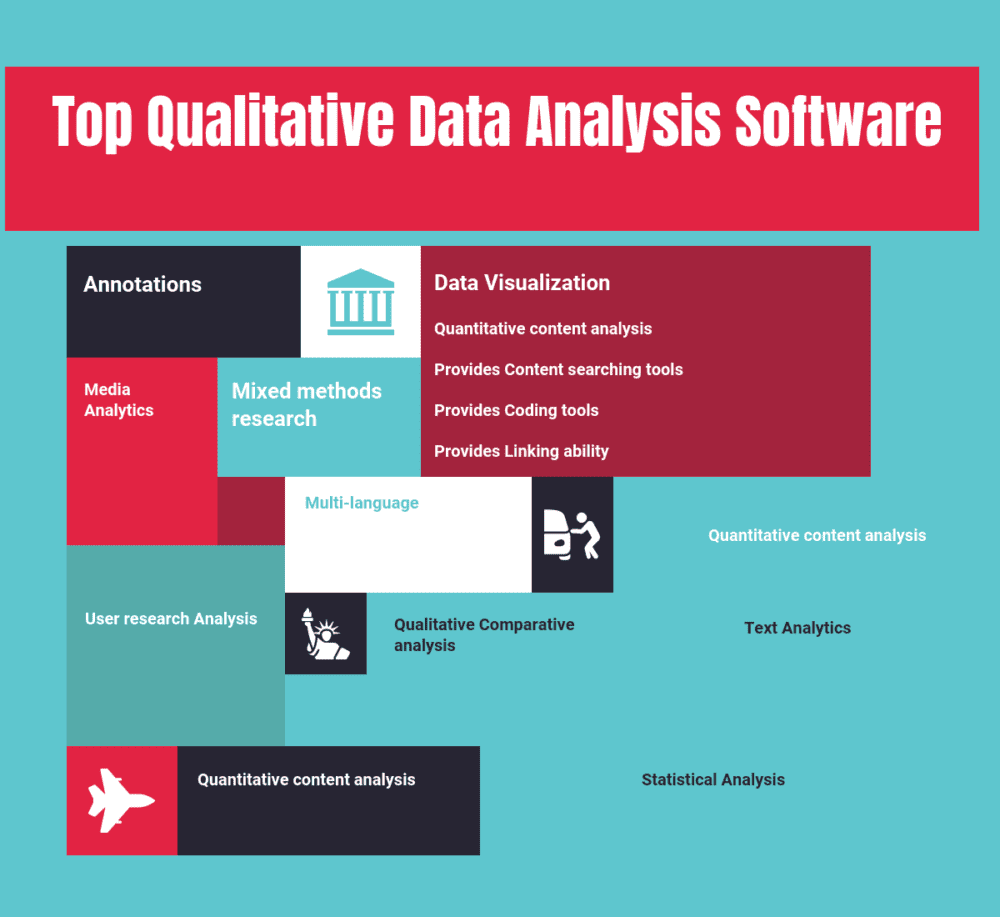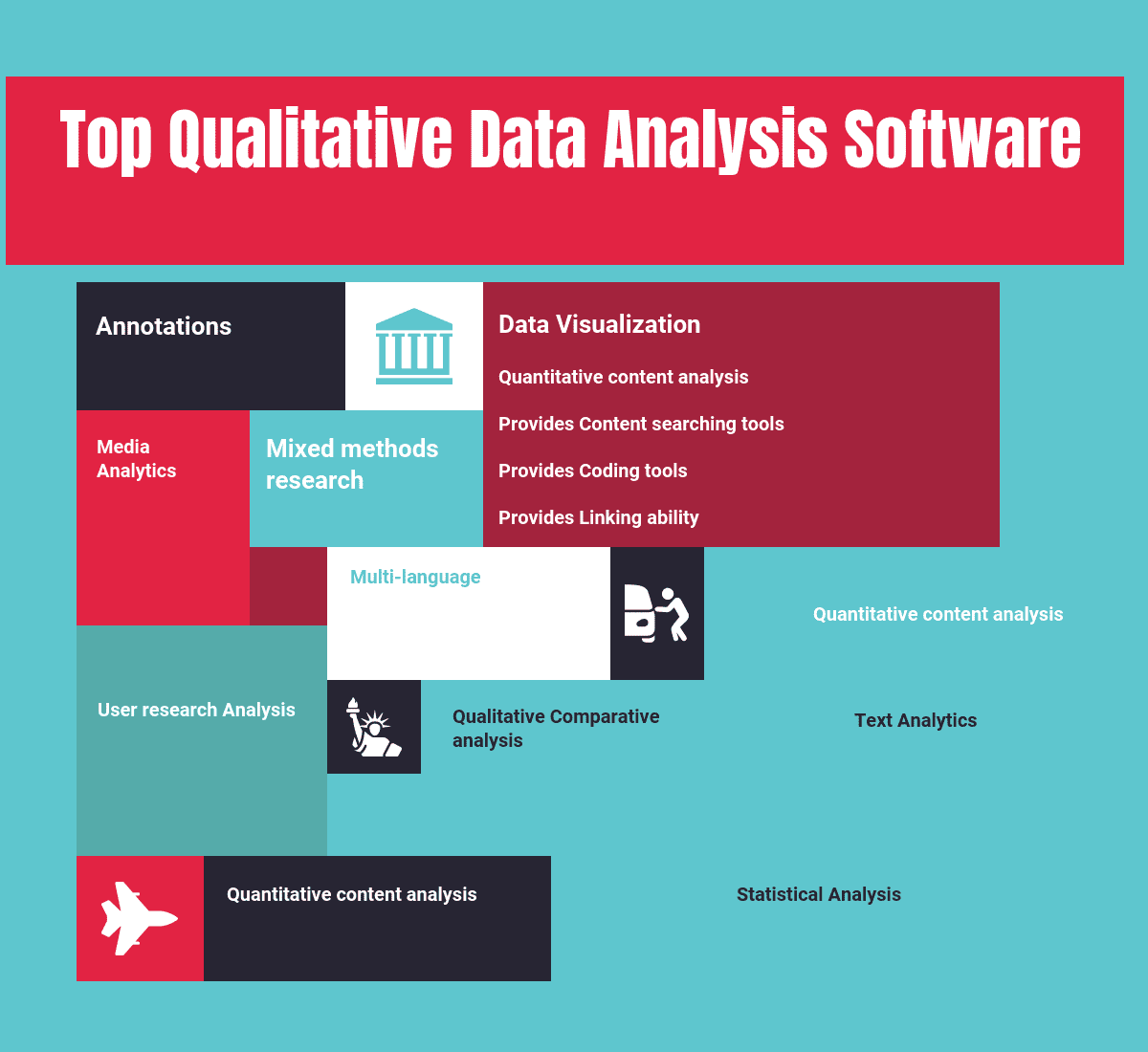 With the increase in competition in the business world, the need for business research has also increased. Business leaders need to constantly undertake thorough research of all the areas of a business including the market and customers and use information obtained to maximize sales and profits of the business. They need to carry out research so as to effectively target their customers, understand the market trends, project sales, locate opportunities, prevent future problems, gather better knowledge about production departments and financial practices.
Business research is vital to help better understand the needs and requirements of the existing and potential clients. This helps in the development of products and services based on the customers' requirements and expectations. Business research also helps the businesses to know their competitors move and helps the business to remain abreast about the latest trends in their industry. To carry out research, businesses require software that can help them gather as much information as possible within the shortest time possible.
Qualitative Data Analysis Software helps in the form of explanation, understanding or interpretation of the people and situations to help in the meaningful and symbolic content of qualitative data.
Top Qualitative Data Analysis Software: NVivo, ATLAS.ti, MAXQDA, Quirkos, Dedoose, Provalis Research, webQDA, Raven's Eye, HyperRESEARCH, Focuss On, F4analyse, Annotations, Qiqqa, Datagrav, Interpris are some of the Top Qualitative Data Analysis Software.
Qualitative Data Analysis Software is a system that helps with a wide range of processes that help in content analysis, transcription analysis, discourse analysis, coding, text interpretation, recursive abstraction, grounded theory methodology and to interpret information so as to make informed decisions. The types of qualitative data include, telephone interviews, internet interviews, focus groups, email interviews, face to face interviews, nominal groups, Delphi groups, observation notes, and document collation among others.
Qualitative data analysis software offers content searching tools, coding tools, query, writing and annotation tools, linking ability and mapping or networking tools.
What are Qualitative Data Analysis Software?
Qualitative Data Analysis Software provides tools that helps with qualitative research such as transcription analysis, coding and text interpretation, recursive abstraction, content analysis, and discourse analysis. Qualitative Data Analysis Software helps the users to save time, manage huge amounts of qualitative data, increase flexibility, and improve validity and auditability of qualitative research, away from manual and clerical tasks.
Qualitative Data Analysis Software provides tools to assist with qualitative research such as transcription analysis, coding and text interpretation, recursive abstraction, content analysis, discourse analysis, and grounded theory methodology.
CAQDAS is Computer assisted qualitative data analysis. Qualitative Data Analysis Software are used in health care, legal, sociology, anthropology, music, geography, geology, forensics, tourism, criminology marketing, education, theology, philosophy, history, market research, focus group analysis and most other fields using qualitative research approaches. The data types in qualitative research includes face to face interview, telephone interview, email interview, internet interview, focus groups, nominal groups, delphi groups, observation notes and document collation.
What are the features of Qualitative Data Analysis Software?
Annotations: Annotations are a great feature that enables inserting of texts and images for greater flexibility and ease of use. This also helps to connect various pieces of data to offer evidence by creating links to other coded segments, documents, case studies, or websites.
Data Visualization: The software also enables visualization of data in form of heat maps, clustering, multidimensional scaling, which allow one to quickly identify trends and patterns.
Media Analytics: The software can help gather and analyze data from various media outlets to make business decisions.
Mixed methods research: The software helps in conducting research by gathering, analyzing and inter grading quantitative research for example surveys, experiments and qualitative research such as focus groups and interviews.
Multi-language: The software supports several languages
Qualitative Comparative analysis: The software helps describe, compare and test a hypothesis on qualitative data
Quantitative content analysis: The software utilizes several tools and methods to study media content.
Sentiment Analysis: The software helps in the process of identifying and classifying opinions computationally and express in form of text to determine the attitude of the writer towards a particular subject.
Statistical Analysis: The software involves business intelligence that helps collect and scrutinize every data sample in collection items from which the samples are gotten from.
Text Analytics: The software helps in text data mining or obtaining high-quality information from text
User research Analysis: The software helps in studying user behavior, needs, and motivations through task analysis and observation techniques.
Provides Content searching tools
Provides Coding tools
Provides Linking ability
Provides tools for Mapping or networking
Tools for Query, Writing and annotation
You may also like to review the Top Free Qualitative Data Analysis Software software list:
Top Free Qualitative Data Analysis Software
Qualitative Data Analysis software helps save time, analyze huge amounts of qualitative data, improve research, validity and credibility, research collaboration, simplify intricate data analysis, enhance final report writing and organize huge amounts of data.
Sisense empower the most non-technical user with the ability to access data and build interactive dashboards and business intelligence reports. Sisense provides a variety of dashboard widgets to pinpoint the best visualization for your data, such as: geographical maps, gauges to measure KPIs, line charts to determine trends, scatter plots to see correlations, and pie charts for clear comparisons.Sisense enables to customize dashboard layout with drag-and-drop features to place each widget exactly where you want for optimal representation.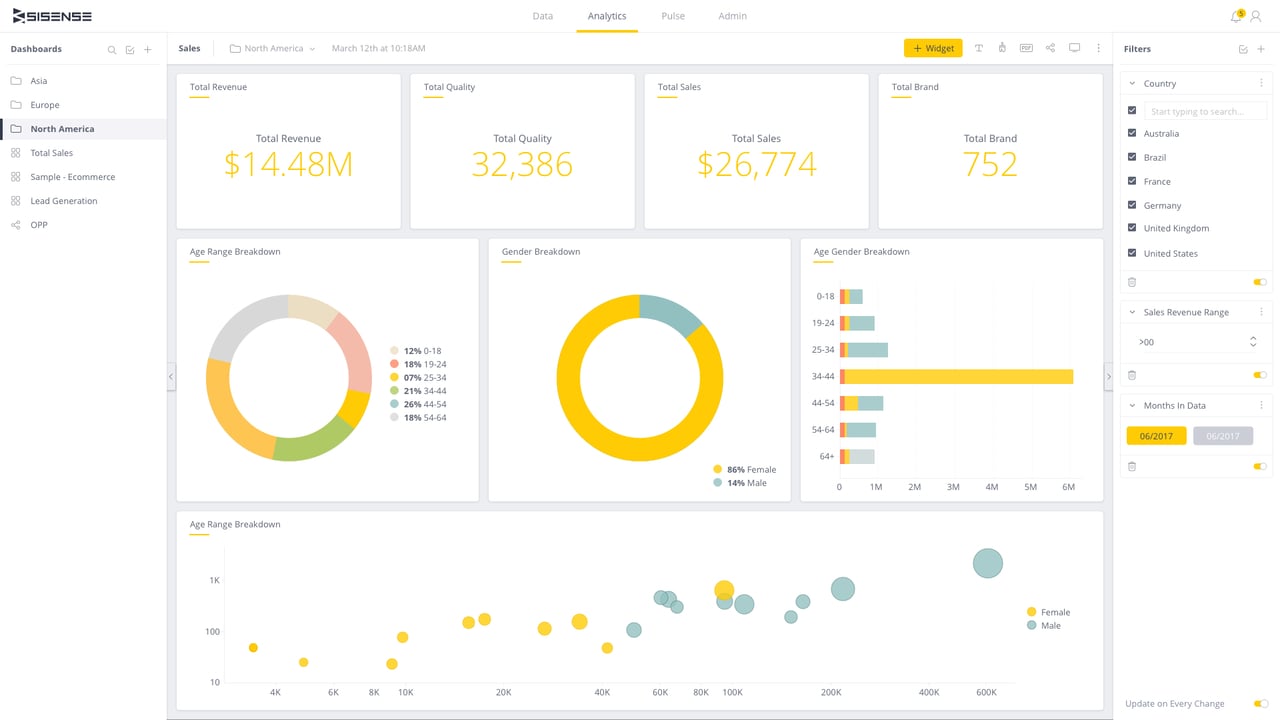 Top Qualitative Data Analysis Software
NVivo, ATLAS.ti, MAXQDA, Provalis Research Text Analytics Software, Quirkos, Dedoose, webQDA, HyperRESEARCH, Raven's Eye, Qiqqa, Focuss On, Annotations, F4analyse, Datagrav, Interpris are some of the top Qualitative Data Analysis Software.
Qualitative Data Analysis Software
PAT Index™
Periscope Data is an end-to-end BI and analytics solution that lets you quickly connect your data, then analyze, visualize and share insights. Periscope Data can securely connect and join data from any source, creating a single source of truth for your organization. Perform BI reporting and advanced analytics operations all from one integrated platform. Communicate insights more effectively by selecting from Periscope Data's wide range of visualization options (including standard charts, statistical plots, maps and more) and instantly share real-time insights via direct linking, email or Slack.With Periscope Data you can also incorporate Natural Language Processing into your data analysis.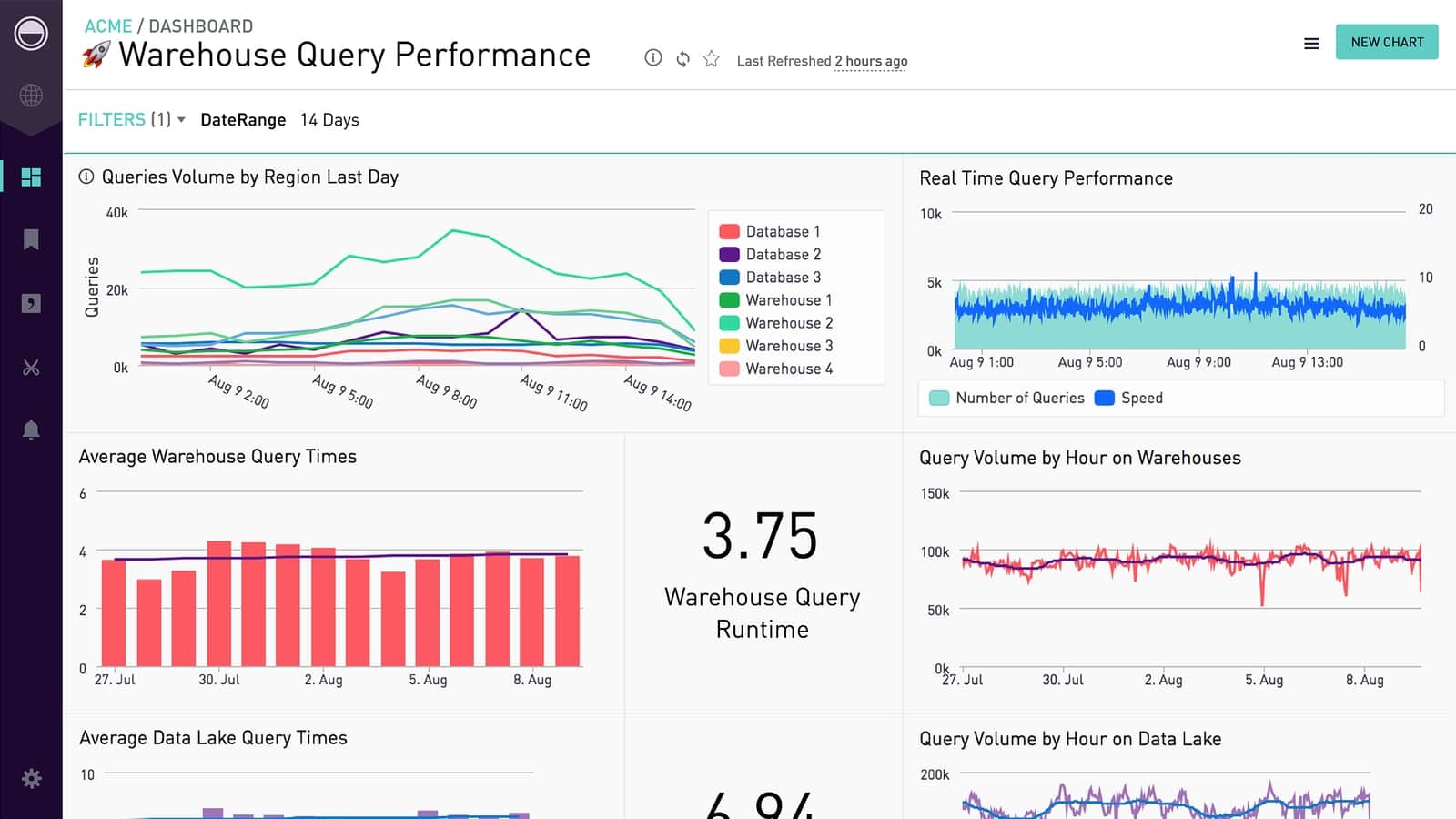 1
NVivo
NVivo is a program that supports qualitative and mixed methods research. It's designed to help users to organize, analyze, and find insights in unstructured or qualitative data such as: interviews, open-ended survey responses, articles, social media, and web content. When working with qualitative data without NVivo, users' work will be more time consuming, challenging to manage, and hard to navigate. Importantly, completing this kind of research without software can make it very hard to discover connections in a user's data and find new insights that will give them an edge. NVivo gives users a place to organize and manage their…
Overview
•Import and analyze images, video, emails, spreadsheets, online surveys, web data
•Relationship coding
•Charts, word clouds, word trees, explore and comparison diagrams
•Import articles from reference management software
•Import and create transcripts
•Review coding with coding stripes and highlights
•Matrix coding, coding, word frequency, text search and coding comparison queries
2
ATLAS.ti
ATLAS.ti is a leading software for Qualitative Data Analysis for those who want to see the big picture and appreciate details. It reveals meanings and relationships allowing users to ground their findings in the data. ATLAS.ti allows users to gain rich insights with the most intuitive and powerful QDA software. It is completely re-designed in nearly every aspect, ATLAS.ti 8 Windows is poised to set new standards for computer-assisted qualitative data analysis. ATLAS.ti 8 is easier to learn and use than any other QDA program–including older versions of ATLAS.ti. It is completely revamped interface has been designed to follow rigorous…
Overview
•Unicode throughout
•Undo/Redo (100 steps)
•Direct import of Twitter, Endnote, Evernote data
•Powerful Visual Query Editor for creating and modifying SmartCodes and SmartGroups
•Full project search (former "Word cruncher") significantly improved with dynamic fade-in/fade-out hit categories
•Elegant and trememdously useful new network layout options
•Network groups
•Memo comments
•State-of-the-art, highly intuitive user interface with ribbons, tabbed views, flexible navigation areas.
•All tool windows can be freely positioned
•Multiple documents
•More powerful "margin" than ever, many new interactive functions.
•Price range between $1, 840.00 and $93, 500 commercial, $1,290 and $70,000 for noncommercial and government users, $51 and $99 for students, and $670 and $27,000 for educational users
3
MAXQDA
MAXQDA is a professional software for qualitative, quantitative, and mixed methods data analysis for Windows and Mac, which is used by thousands of people worldwide. It was released in 1989 and it has a long history of providing researchers with powerful, innovative and easy to use analytical tools that help make a research project successful. Professionals use it to analyze interviews, reports, tables, online surveys, focus groups, videos, audio files, literature, images, and more. Users can easily organize and categorize any kind of unstructured data, search and retrieve information, test theories and create impressive illustrations and reports. MAXQDA has transcription…
Overview
•Work with bibliographic data from reference management programs
•Organize and analyze literature and excerpts with MAXQDA
•Create literature reviews with MAXQDA
•MAXQDA Base Single-User License Commercial 946,05 USD (net price*: 795,00 USD)
•MAXQDA Standard Single-User License Commercial 1356,60 USD (net price*: 1140,00 USD)
•MAXQDA Plus Single-User License Commercial 1642,20 USD (net price*: 1380,00 USD)
•MAXQDA Analytics Pro Single-User License Commercial 2142,00 USD (net price*: 1800,00 USD)
4
Quirkos
Quirkos is qualitative software that helps users to sort, manage, and understand text data. Consumers can use it to tag or code relevant sections of data, and compare themes across hundreds of different sources. Moreover, the program assists qualitative researchers to understand and analyze data such as interview transcripts, surveys, and articles. It's designed to be easy to learn, visual, and affordable across the economic divide. The program allows users to see connections in their qualitative research. Quirkos shows them their topics becoming connected as they code their data. The software can overlap and cluster views, visualize correlations between topics,…
Overview
•Visual interface makes coding quick and easy eye for visualizations
•Live visualizations keep users close to their data compass
•See connections and findings come to lifepiggy bank
•Low license and training costs
•Commercial enterprises £450 ~€510 / $570*
•Government and Public Sector £410 ~€460 / $515*
•Academic and Charity Sector £240 ~€270 / $300*
•Students £49 ~€55 / $61*
5
Dedoose
Dedoose is one of the few solutions that allow users to stay at the forefront of the best encryption technologies available .Their optimization of this solution makes sure they are implemented in Dedoose because doing so is paramount in keeping their data safe and available. Efficiency in teamwork is one of the key drivers behind the development of Dedoose and why users find it so easy to provide others with controlled access to their projects. It is easy to learn and use Dedoose because it has a clean UX-focused interface to maximize comfort and their ability to capitalize on all…
Overview
•Collaborative
•Intuitive
•Advanced Technology
•Inexpensive
•Web Based/Accessible
•Individual user $12.95 per month
•Small group of 2 - 5 users $10.95 per month
•Large group of 6+ users $8.95 per month
6
Provalis Research Text Analytics Software
Provalis Research is a leader in Text Analysis software with qualitative, quantitative and mixed methods programs in their solution portfolio. The company is headquarted in Montreal, Canada, and was founded in 1989 and has been developing text analysis programs for more than 20 years. Provalis Research software products are used by more than 2,000 institutions including universities, governments, NGO's and businesses.Provalis Research text analytics software is a collection of tools that allow users to explore, analyze and relate both structured and unstructured data. The main tools are QDA Miner, WordStat and SimStat. Provalis Research Text Analytics Software Provalis Research text…
Overview
• PROSUITE: Analysis of Numerical Data, Analysis of Textual Data
• QDA MINER 5: Text Management, Coding Analysis, Multilingual Interface
• WORDSTAT 7: Text Processing, Univariate Keyword Frequency Analysis
• Feature Extraction, Norm Creation and Comparison
• Keyword Retrieval Function
Provalis Research Text Analytics Software
7
webQDA
webQDA is a software to support the analysis of qualitative data in a collaborative and distributed environment. Although there are some software packages that address non-numeric and unstructured data(text, image, video, audio) in qualitative analysis, there are few that can be used by several researchers in a collaborative work environment and distributed as the Internet can offer. webQDA is a software directed to researchers in different contexts, that need to analyze qualitative data, individually or collaboratively, synchronously or asynchronously.webQDA is a software to support the analysis of qualitative data in a collaborative and distributed environment. Although there are some software…
Overview
Simple and intuitive use
Web based software
Total data security
Permanent technical support
Compatible with all operating systems
Suitable for different types of research
8
Raven's Eye
Raven's Eye is an online natural language analysis tool based on Quantitative Phenomenology, an innovative interdisciplinary scientific method. Raven's Eye provides its users with dynamic, powerful, and instantaneous automated analyses of written language. In doing so, it facilitates an incomparably intimate and multifaceted understanding of people, as well as the ability to speak to them in highly resonant ways. Raven's Eye lets individuals and organizations involved in academics, business, government, public service, research, and other industries understand the thoughts, values, perspectives, and opinions of their constituents with unparalleled ease and accuracy. Raven's Eye automatically analyzes and organizes data according to…
Overview
• Data and analysis in the cloud
• Objective coding
• Reveal trends in natural language patterns
•There are 28 different packages the cheapest being the student pack going for $9.95 per month.
•Highest being $314.78 per month for commercial enterprises.
9
HyperRESEARCH
HyperRESEARCH is a Simply Powerful Tool for Qualitative Analysis. The tool is easy to use, cross-platform, flexible, powerful, and cost-effective. The intuitive interface and well-written documentation get users up and running with their data quickly and easily. Research assistants can be easily taught how to code and retrieve data without having to use any of the more powerful features. Its cross-platform capabilities allow users to use it anywhere, on any computer. They also make it easy for computer-diverse groups to work together on the same study. The program's license lets professionals to use the program on all their computers (work,…
Overview
• Importer tool takes your survey data from a spreadsheet
• Automatically builds a complete study
• Easy to use
• Qualitative data in a mixed methods study
• Runs on multiple technological platforms
• HyperRESEARCH $999.00
• HyperTRANSCRIBE $199.00
• HyperBUNDLE $1,139.00
• HyperRESEARCH $699.00
• HyperRESEARCH $499.00
• HyperRESEARCH Upgrade
• HyperTRANSCRIBE $99.00
• HyperBUNDLE $569.00
• HyperRESEARCH $199.00
10
Focuss On
Focuss on is one of the few modern solutions that enable users to reshape and optimize their schedules. Users no longer need to waste their time on things the computer can do for them. This way, users can focus on analyzing and interpreting the research results - tasks in which no computer or software can replace a human being. The software allows users to conduct on-line interviews and text analysis without the involvement of an external agency. The system is loaded with many benefits and some of them are On-line interviews: Interviews take the form of a chat, there is…
Overview
•On-line interviews
•Text analyses
•Suitable for HR
•Suitable for the market research sector
•Suitable for advertising
•$100 for 1 week of access
•$175 for 2 weeks of access
•$325 for 1 month of access
11
F4analyse
F4analyse supports the interpretation of qualitative data on Windows, Mac & Linux since 2012. It is very easy for one to learn and supports data analysis in the context of grounded theory, qualitative text analysis, documentary method and many other interpretive methods. Users can import all their texts into the program and start reading and analyzing. F4analyse helps users to structure their material, to clearly organize findings, to find exciting passages and to export a clear overview of their findings. Record notes in memos for text passages or write comments for texts and codes. Memos are visible similarly to a…
Overview
•Write summaries
•Merge projects (teamwork)
•One-click quotation & audio context
•Recode & differentiate quickly
•Import & export coding systems
•Import comments from f4/f5 transcript
•Standard : 1 PC 300 € , 2 PC 400 € , USB licence 400 € ,10 concurrent users 1800 € ,10 PC 1800 €
•Students :1 PC (6 month) 40 € , 1 PC + f4transkript (6 month) 50 €
•Education: 1 PC 100 € , 2 PC 150 € , USB license 150 € , 10 concurrent users 600 € ,10 PC 800 €
12
Annotations
Annotations is a new solution for Mac that makes adding and managing notes to texts simpler. Annotating documents with highlights and notes can quickly clutter the page. Annotations simplifies the process, adding and managing notes to texts while keeping the documents clear and readable – making it the perfect helper for researchers, students, and other data analysts. The software allows users to highlight text with colors, assign custom keywords, or add notes of any size quickly and effortlessly. Additionally, it allows users to make a text selection and have all annotation options available right at their fingertips. A built-in auto-completion…
Overview
• Highlights, Keywords and Notes
• Annotate Quickly
• Annotate exactly what you want
• Collections and Filters
• Related Annotations
• Supported File Formats
13
Qiqqa
Qiqqa is another innovative solution on the market used by academics, researchers, and businesses. It is an essential free research and reference manager that can be used to search for, read, and annotate PDFs. Users can review their work, write up, and create bibliographies instantly. There are four main ways Qiqqa helps users. Qiqqa keeps all of a user's PDFs secure and makes them instantly accessible and searchable across all their devices. There is no more need for PDFs to litter across a PC. It also allows for automatic identification, tagging, and categorization of PDFs meaning that a user can…
Overview
•PDF management
•Automatic duplication detection
•Optical Character Recognition
•Super Tags
•Google-like power
•Premium $ 6.67* /month
•Premium+ $ 41.67* /month
14
Datagrav
Datagrav presents server and cloud platforms, integration modules for interacting with the IT infrastructure of the customer. This software is included in the register of domestic software in the following classes: Office applications, project management systems, research, development, design and implementation, organization process management systems and systems for collecting, storing, processing, analyzing, modeling and visualizing data arrays. This software offers three types of services to their clients. First one is Datagrav-cloud which is convenient for working with an unlimited number of external counterparts, so users do not need to give them access to the network. Dedicated Cloud Server - provides…
Overview
interacting with the IT infrastructure of the customer.
Datagrav-cloud works with an unlimited number of external counterparts
Dedicated Cloud Server - provides additional security for data
Datagram server guarantees full control over the data
short records, sound management, digital transformation
15
Interpris
Interpris is the most intuitive data analysis software designed to work with both open and closed-ended survey responses. Interpris offers features such as SurveyMonkey account and Excel workbook integration and text analysis capabilities. Interpris is an easy-to-use and powerful survey analytics software which is purposely designed for public consultations and engagement. Interpris will automatically read many different types of survey responses to uncover key themes, opinions and concerns, which saves the user's time and manual effort. Interpris automatically detects and categorizes themes in the user's survey data which helps the users to quickly discover the rich insights found in free-text…
Overview
• Allows you to create your own themes at the beginning of the analysis
• Get an instant overview of your survey data through the various interactive dashboard visualizations
• Offers quantification of both closed-ended and free-text responses from public opinion data
• Build a repository of insights within your project
16. Saturate
SaturateApp is a tool to analyze text and audio files, in which own codes can be created. As a web app, it is particularly useful for team projects allowing multiple team members to contribute to coding interview transcripts. All the coding can be exported as a collection of CSV files, which can be imported into a spreadsheet.
You may also like to review the Text Analysis, Text Mining, Text Analytics proprietary software list:
Top software for Text Analysis, Text Mining, Text Analytics
You may also like to review the Text Analysis, Text Mining, Text Analytics freeware/open source list:
Top Free Software for Text Analysis, Text Mining, Text Analytics
You may also like to review the Top Free Qualitative Data Analysis Software software list:
Top Free Qualitative Data Analysis Software