Top 21 Free Qualitative Data Analysis Software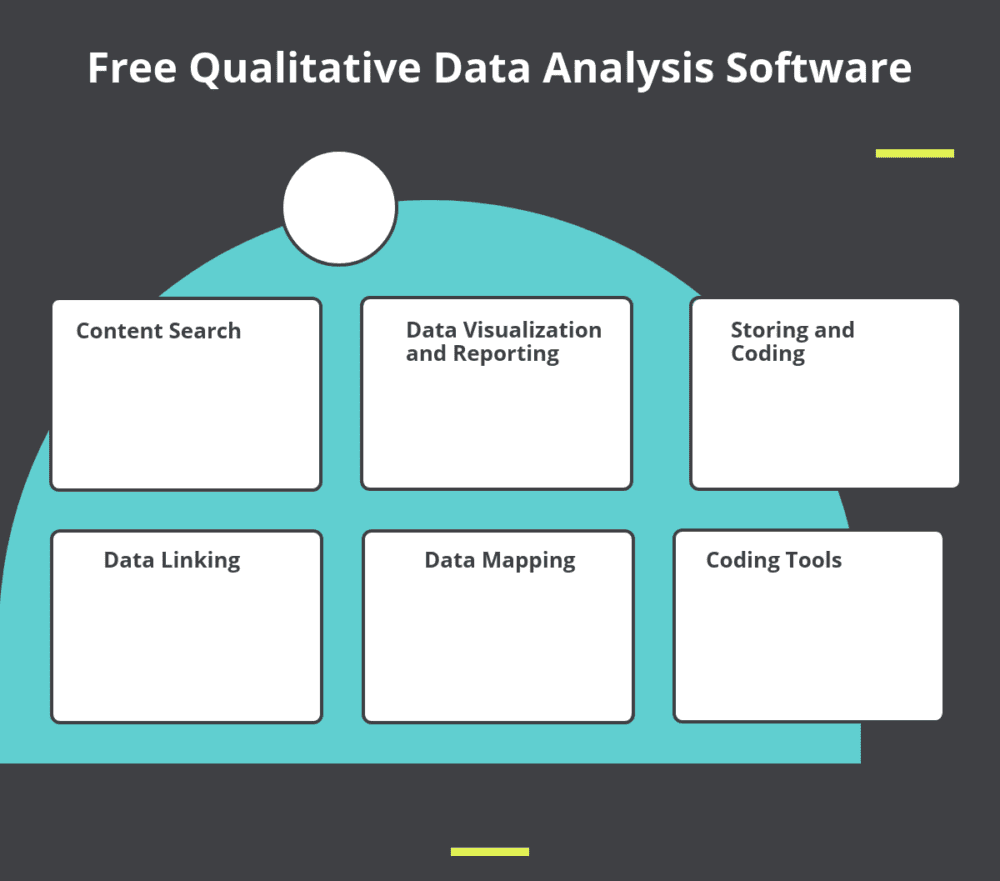 Many companies deal with huge volumes of qualitative data on a daily basis. This kind of data may not be useful unless data analysts use the right data tools to analyze it. For this reason, most modern organizations use software to analyze qualitative data.
In fact, the use of qualitative data analysis software is a must because it's hard to handle qualitative data in different formats without the help of a computer program.
Qualitative data analysts use software to do collaborated research, ensure research credibility and validity, perform complex data analysis tasks, organize large volumes of qualitative data, and create reports based on the analyzed data.
With the right software, companies can also store their qualitative data in different formats depending on their needs. The best qualitative data analysis software can handle data in different formats including text, videos, audio files, and images.
What are Qualitative Data Analysis Software?
Qualitative Data Analysis Software provides tools to assist with qualitative research such as transcription analysis, coding and text interpretation, recursive abstraction, content analysis, discourse analysis, and grounded theory methodology. The data types in qualitative research includes face to face interview, telephone interview, email interview, internet interview, focus groups, nominal groups, Delphi groups, observation notes and document collation.
CAQDAS is Computer assisted qualitative data analysis. Computer assisted qualitative data analysis (CAQDAS ) software has features for coding tools, linking tools, mapping or networking tools, query tools and writing and annotation tools.
Qualitative data analysis software is a type of software that allows data analysts to perform all kinds of qualitative data analysis tasks. For instance, it allows users to analyze transcripts, interpret text, code text, and create reports. The software consists of tools for organizing and analyzing large volumes of text and other forms of qualitative data to ensure effective data management. Business users, researchers, and other users can utilize these tools to conduct research and draw conclusions after analyzing qualitative data. The software uses different research methods such as qualitative content analysis, Grounded Theory, discourse analysis, and mixed methods analysis.
Qualitative data analysis applications are used in most fields including marketing, tourism, music, sociology, theology, market research, geography, psychology, political science, and healthcare. People in this industries use these applications to analyze data from focus groups and interviews. The software can also analyze data from written documents and observational notes.
What are the features of Qualitative Data Analysis Software?
Content Search: This feature allows users to conduct qualitative research using the research methods mentioned in the above section. The most effective software tools use a wide range of search methods to gather qualitative data. They can extract content from video sources, audio files, text documents, graphics, and other sources of qualitative data.
Data Visualization and Reporting: The best qualitative data analysis software programs allow users to visualize all forms of electronic data including interviews, surveys, pictures videos, and bibliographical data. Most qualitative data analysis applications allow data analysists to create reports depending on the needs of the organization. Even non-technical users can create line charts, scatter plots, KPI gauges, and geographical maps.
Storing and Coding: QDA software also includes coding tools that allow data analysts and other software users to perform different forms of coding such as keyword and text coding. They allow you to systematically code data in different formats and categories.
Data Linking: This feature allows users to form clusters, networks or categories of data.
Data Mapping: QDA software makes it possible to map data to support theories and depict findings.
You may also like to review the Top Qualitative Data Analysis Software proprietary software list:
Top Qualitative Data Analysis Software
Some of the benefits of Qualitative Data Analysis Software includes:
QDA software saves time
The software can analyze large volumes of qualitative data
Complex data analysis
Credible and valid research
Collaboration in research
Sisense empower the most non-technical user with the ability to access data and build interactive dashboards and business intelligence reports. Sisense provides a variety of dashboard widgets to pinpoint the best visualization for your data, such as: geographical maps, gauges to measure KPIs, line charts to determine trends, scatter plots to see correlations, and pie charts for clear comparisons.Sisense enables to customize dashboard layout with drag-and-drop features to place each widget exactly where you want for optimal representation.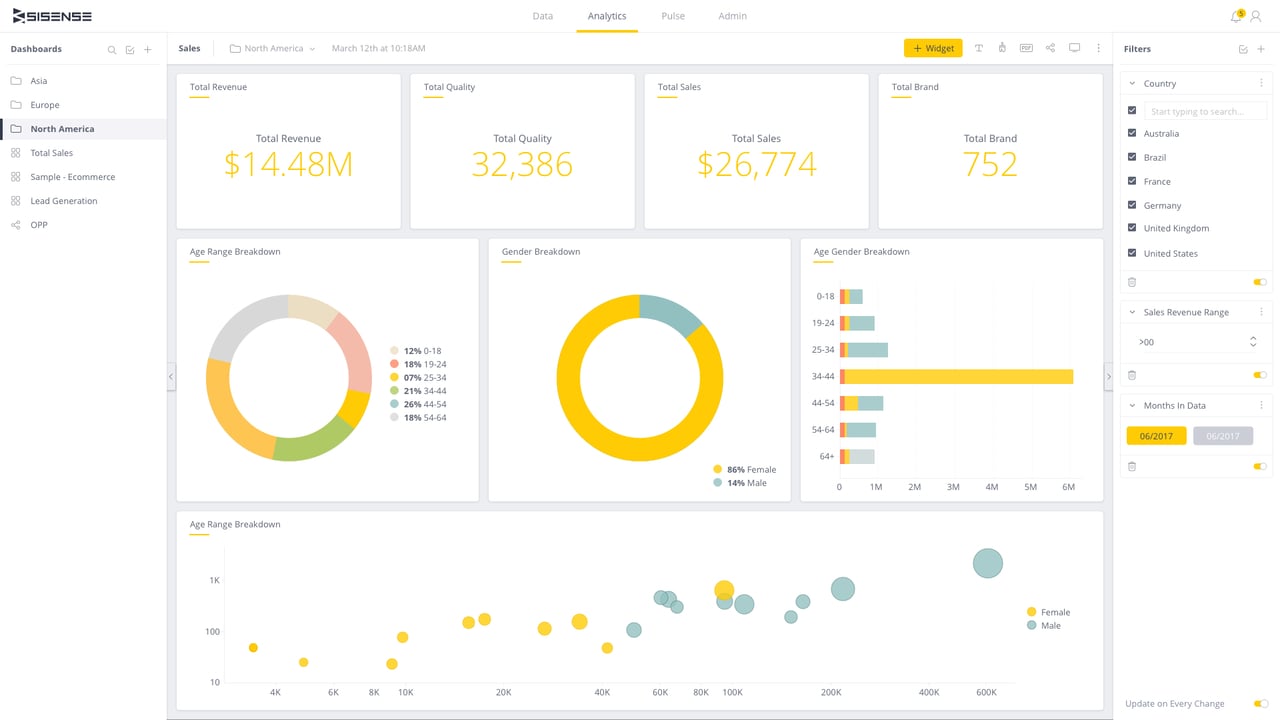 Top Free Qualitative Data Analysis Software
General Architecture for Text Engineering – GATE, Coding Analysis Toolkit, FreeQDA, QDA Miner Lite, TAMS, Transana, Qiqqa, ConnectedText, LibreQDA, RQDA, Visão, QCAmap, Aquad, Weft QDA, Cassandre, CATMA, Compendium, ELAN, Tosmana, fs/QCA are some of the Top Free Qualitative Data Analysis Software.
1
General Architecture for Text Engineering - GATE : GATE (General Architecture for Text Engineering) is a Java suite of tools used for all sorts of natural language processing tasks, including information extraction in many languages. The Text Analytics software was developed at the University of Sheffield beginning in 1995. GATE has grown over the years to include a desktop client for developers, a workflow-based web application, a Java library, an architecture and a process.GATE includes components for diverse language processing tasks, such as parsers, morphology, tagging, Information Retrieval tools, Information Extraction components for various languages, and many others. GATE Developer…
General Architecture for Text Engineering – GATE
2
CAT is a free service originally developed by the Qualitative Data Analysis Program (QDAP).Coding Analysis Toolkit (CAT) efficiently code raw text data sets, annotate coding with shared memos, manage team coding permissions via the Web, create unlimited collaborator sub-accounts, assign multiple coders to specific tasks, easily measure inter-rater reliability, adjudicate valid & invalid coder decisions, report validity by dataset, code or coder, export coding in RTF, CSV or XML format and archive or share completed projects .
3
FreeQDA is a software for professional qualitative research data analysis, such as interviews, manuscripts, journal articles, memos and field notes.
4
QDA Miner Lite is a free computer assisted qualitative analysis software, which can be used for the analysis of textual data such as interview and news transcripts, open-ended responses, etc. as well as for the analysis of still images. It offers basic CAQDAS features such as importation of documents from plain text, RTF, HTML, PDF as well as data stored in Excel, MS Access, CSV, tab delimited text files,importation from other qualitative coding software such as Altas.ti, HyperResearch, Etnograph, from transcription tools like Transana and Transcriber as well as from Reference Information System (.RIS) files. It also provides intuitive coding…
5
TAMS stands for Text Analysis Markup System. It is a convention for identifying themes in texts (web pages, interviews, field notes). It was designed for use in ethnographic and discourse research. TAMS Analyzer is a program that works with TAMS to let you assign ethnographic codes to passages of a text just by selecting the relevant text and double clicking the name of the code on a list. It then allows you to extract, analyze, and save coded information. TAMS Analyzer is open source; it is released under GPL v2. The Macintosh version of the program also includes full support…
6
Transana offers the most sophisticated tools available for the qualitative analysis of text, still image, audio, and video data. Work with the data users want the way users want, using their qualitative methodology of choice. Transana provides two ways of indicating the analytic significance of users' data segments, categorization and coding. Users can leverage these complimentary analytic systems in powerful ways as users work to make sense of their qualitative data. Transana's graphical and text-based reports are highly flexible and customizable, allowing users to explore analytic relationships in their data and preserve their insights in a variety of different ways…
7
Qiqqa is another innovative solution on the market used by academics, researchers, and businesses. It is an essential free research and reference manager that can be used to search for, read, and annotate PDFs. Users can review their work, write up, and create bibliographies instantly. There are four main ways Qiqqa helps users. Qiqqa keeps all of a user's PDFs secure and makes them instantly accessible and searchable across all their devices. There is no more need for PDFs to litter across a PC. It also allows for automatic identification, tagging, and categorization of PDFs meaning that a user can…
8
ConnectedText is one of the most complete solutions for a desktop wiki. ConnectedText is the perfect tool for a user to consolidate all their "stuff" in one easily accessible place. It has powerful tools to collect, connect, understand and retrieve this information. It is easy to import one's information into ConnectedText. And should a user ever decide to discontinue use of ConnectedText, their information can be easily and reliably exported to text or HTML so that a user is not locked into a proprietary data scheme. ConnectedText is much more than a personal information system. It is designed for storing,…
9
LibreQDA is a Qualitative Data Analysis tool that has been developed alongside with the Universitat Autónoma de Barcelona and the Universidad de la República Oriental del Uruguay. LibreQDA is what is commonly known in the psychology area as Computer Assisted Qualitative Data Analysis Software (CAQDAS). This tool allows the users to log in, import documents from different formats and assign valuable metadata to them. Once documents are opened, the user can select portions of them, tag them and codify them using a hierarchic coding system. Using its own query engine LibreQDA can perform advanced queries in order to get relevant…
10
RDQA is a R package for Qualitative Data Analysis, a free qualitative analysis software application (BSD license). It works on Windows, Linux/FreeBSD and Mac OSX platforms. RQDA is an easy to use tool to assist in the analysis of textual data. At the moment it only supports plain text formatted data. All the information is stored in a SQLite database via the R package of RSQLite. The GUI is based on RGtk2, via the aid of gWidgetsRGtk2. It includes a number of standard Computer-Aided Qualitative Data Analysis features. In addition it seamlessly integrates with R, which means that a) statistical…
11
Visão is one of the most effective computer-aided text analysis software on the market today. Visão is a powerful desktop software that allows users to process and analyze large text data. With regard to a user's aims and plans, this application makes possible to design fully-customizable flows to manipulate and transform their data into a desired shape or to perform a statistical analysis. The tool is mainly focused on computer-aided text analysis, and that is why it supports various encodings, dictionary-building, regex patterns, and many other important features. The platform also provides users with an easy way to quantify the…
12
QCAmap is an open access web application for systematic text analysis in scientific projects based on the techniques of qualitative content analysis. QCAmap can be used within research projects in areas of study of Psychology, Sociology, Education, Economics, Linguistic Sciences, to analyze small and large amounts of any text material and images coming from interviews, group discussions, observation protocols, documents, open-ended questionnaire items and others. Qualitative Content Analysis is a strict procedure that is guided by rules containing qualitative steps (assignment of categories to text passages and images) and quantitative steps (analysis of category frequencies).
13
AQUAD 7 is open-source freeware software that was originally developed in the tradition of qualitative coding and qualitative content analysis. AQUAD 7 allows to trace back and explain each code based on the original data material. Hypotheses can be tested directly on the source material. This avoids extra and sometimes unnecessary work like transcriptions (audio, video) or paraphrasing. The quality does not suffer by using this method – quite the opposite: Paraphrases must be seen as an act of interpretation and therefore they cause a certain level of uncertainty in an analysis. If users code a paraphrase, users are actually…
14
Weft QDA is an easy-to-use, free and open-source tool for the analysis of textual data such as interview transcripts, fieldnotes and other documents. The currrent version is 1.0.1, which was released in April 2006. This software is offered without any warranty or support. Weft QDA 1.0.1 was developed for Windows XP, but may work on newer versions. Windows users should download this installer which contains everything you need to use Weft. It's available to download via Softpedia's Weft QDA page. Unfortunately, Weft QDA 1.0.1 depends on such old versions of system libraries (e.g. GTK) so it is very difficult or…
15
Cassandre is a free collaborative text analysis platform based on semi-automatic labeling, concordance visualization and registry creation. It's designed to assist researchers in human and social sciences, and it is an interactive tool for qualitative analysis. It's interactive in a sense that it allows to articulate a corpus of texts and research hypotheses and it's also translated among users, since it allows different analysts to compare and compare their alternative interpretation of texts. In order to create a corpus or to deposit texts, to read these texts or to associate a corpus with a framework of analysis users interact with…
16
CATMA (Computer Assisted Textual Markup and Analysis) is a practical and intuitive tool for text researchers. In CATMA, users can combine the hermeneutic, 'undogmatic' and the digital, taxonomy based approach to text and corpora – as a single researcher, or in real-time collaboration with other team members. CATMA's Analyzer module supports the generation of Wordlists amongst its key automated functions. A wordlist displays all the words contained in users' text, arranged in alphabetical order or according to their frequency in the text. Users can select an individual word and inspect the different contexts in which it was used in the…
17
Compendium is a software tool providing a flexible visual interface for managing the connections between information and ideas. It places few constraints on how users organize material, though many have found that it provides support for structured working for instance, following a methodology or modelling technique. Compendium's particular interest is in visualizing the connections between people, ideas and information at multiple levels, in mapping discussions and debates, and what skills are needed to do so in a participatory manner that engages all stakeholders. As an open, flexible tool, Compendium has myriad applications for information-intensive, intellectual work. Most of its global…
18
ELAN is a professional tool for the creation of complex annotations on video and audio resources. With ELAN, a user can add an unlimited number of annotations to audio and/or video streams. An annotation can be a sentence, word or gloss, a comment, translation or a description of any feature observed in the media. Annotations can be created on multiple layers, called tiers. Tiers can be hierarchically interconnected. An annotation can either be time-aligned to the media or it can refer to other existing annotations. The textual content of annotations is always in Unicode and the transcription is stored in…
19
Tosmana is a tool for Qualitative Comparative Analysis (QCA). The software can be used for csQCA (Crisp-Set Qualitative Comparative Analysis) and mvQCA (Multi-Value QCA) calculations. The simple way to include data with TOSMANA is to copy data directly from a spreadsheet program. To do so, open the data set in a spreadsheet program. Select all cells with data in the data set and copy. Remember to include variable names in the first row. In TOSMANA, select File>Import from Clipboard in the menu. The data will be loaded to the software and will replace existing data. After the successful import, users…
20
Qualitative Comparative Analysis (QCA) is a new analytic technique that uses Boolean algebra to implement principles of comparison used by scholars engaged in the qualitative study of macro social phenomena. By formalizing the logic of qualitative analysis, QCA makes it possible to bring the logic and empirical intensity of qualitative approaches to studies that embrace more than a handful of cases -- research situations that normally call for the use of variable-oriented, quantitative methods. fsQCA makes the following assumptions about the structure of *.csv, *.dat and *.txt data files. First, and most important, fsQCA assumes that the cells in the…
21.Kirq
Kirq is a cross platform application for conducting qualitative comparative analysis (QCA). There are three components to a QCA analysis: data set calibration, necessity analysis, and sufficiency analysis. Kirq facilitates the second and third of these but does not provide calibration procedures.
You may also like to review the Text Analysis, Text Mining, Text Analytics proprietary software list:
Top software for Text Analysis, Text Mining, Text Analytics
You may also like to review the Text Analysis, Text Mining, Text Analytics freeware/open source list:
Top Free Software for Text Analysis, Text Mining, Text Analytics
You may also like to review the Top Qualitative Data Analysis Software proprietary software list:
Top Qualitative Data Analysis Software
You may also like to review the Top Free Qualitative Data Analysis Software software list:
Top Free Qualitative Data Analysis Software