Review
JasperReports Server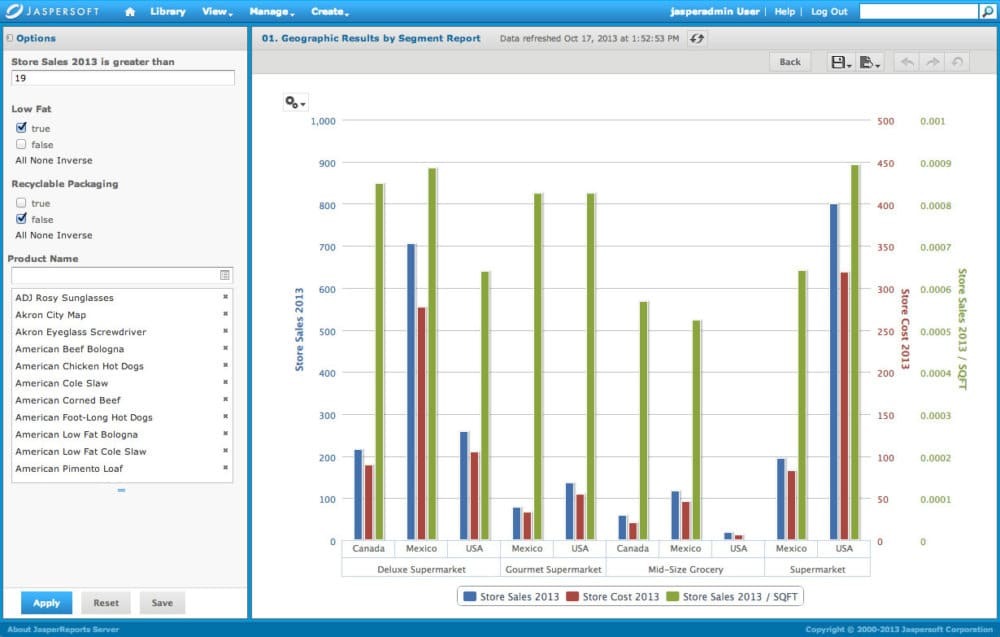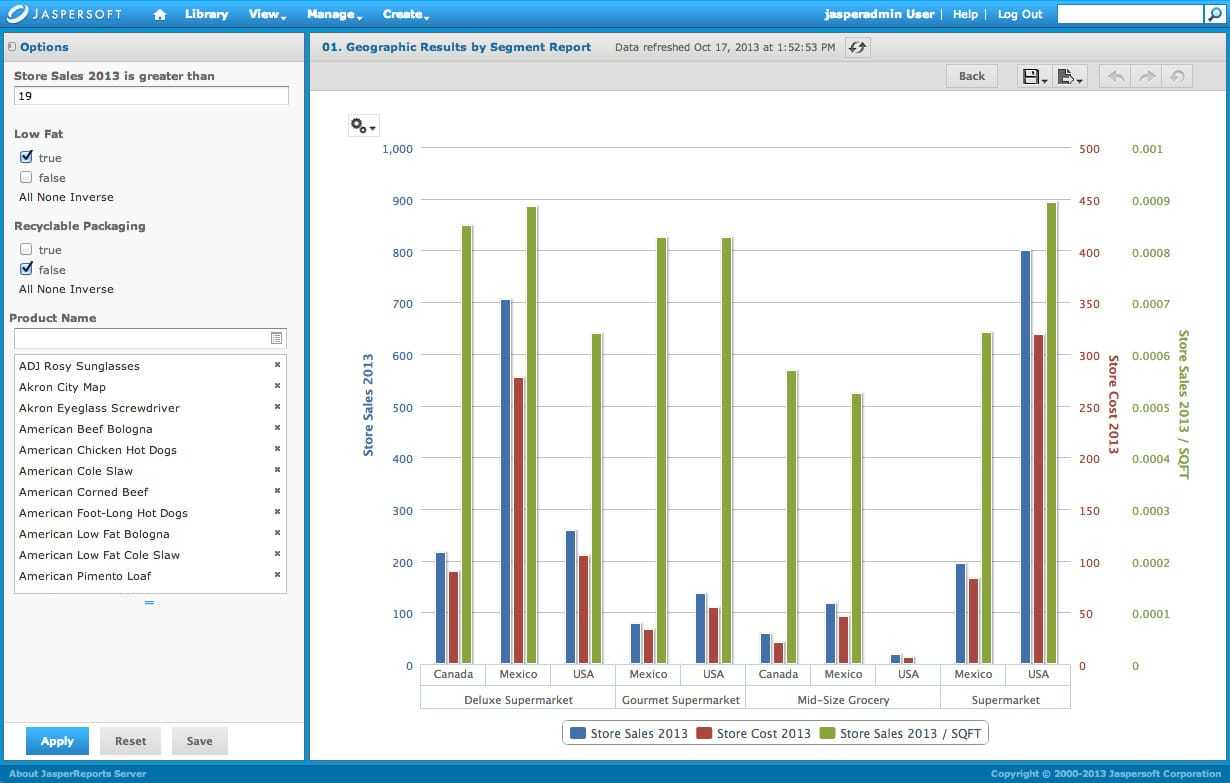 Overview
JasperReports Server provides a fully functional report server with application features such as security, a repository, and scheduling.
Report Designer, Reporting Engine, Interactive Report Viewing, Server Repository, Report Scheduling, Mobile BI
Flexible Server Architecture,Centralized Repository ,Ad hoc Reporting,Dashboards
What is best ?
Embeddable architecture, Centrally managed reporting and analysis server,Schedule and automatically deliver interactive reports ,Role based access control, Cloud ready BI platform.
What is not so best ?
Web-based self-service features only available in commercial product upgrade.
JasperReports Server : Jaspersoft is a commercial open source software provider of business intelligence solutions with services in software, support, services, and licensing. The solutions cover data visualization, reporting, and analytics . The portfolio includes JasperReports, JasperReports Server, Jaspersoft Studio, iReport, and Jaspersoft ETL. Jaspersoft's main related product is JasperReports Server, which is a Java web application that provides advanced report server capabilities such as report scheduling, permissions, ad hoc reporting, dashboards, and multi-tenancy. JasperReports Server is a stand-alone and embeddable reporting server. It provides reporting and analytics that can be embedded into a web or mobile application as well as operate as a central information hub. The flexiblie server architecture includes a semantic layer for relational and non-relational data sources, on-premises, virtualized, or Cloud (SaaS & PaaS) deployment options and open standards, REST and SOAP-based web service architecture simplifies mobile and web application integration. It provides a Web-based, drag-and-drop dashboard designer with free-form layout designer for customized dashboard design.
JasperReports Server
It is offered in a community open source edition as well as under several commercial editions with broad support for various databases and data sources, including NoSQL and other big data datasources. JasperReports Server, provides the ability to easily create new reports using an intuitive web-based drag and drop Ad Hoc reporting interface, efficiently and securely manage many reports and interact with reports, including entering parameters and drilling on data. There are also capabilities to arrange reports and web content to create appealing, data-rich dashboards that quickly convey business trends. For advanced BI users, Jaspersoft offers Jaspersoft OLAP, which runs as an add-on feature to JasperReports Server to provide OLAP based data analysis capabilities.
JasperReports is an open source reporting library that can be embedded into any Java application. The features include scriptlets may accompany the report definition. The scriptlet is built using Java, and has many hooks that can be invoked before or after stages of the report generation, such as Report, Page, Column or Group. There are many tools providing JasperReport capabilities such as iReport, an open source standalone graphical program that provides report designer capabilities, DynamicReports, an open source Java reporting library based on JasperReports. SWTJasperViewer, an open source reusable component that can be embedded in any SWT/JFace application such as Eclipse.Report Integration Framework, an open source report abstraction layer, WebReportBuilder, an open source Java EE web application that allows web based developers and non developers to create basic and advanced Reports based on JasperReports to be used as a Web Report Server.
JasperReports Server
JasperReports