How to Select the Best Embedded Business Intelligence Software for Your Business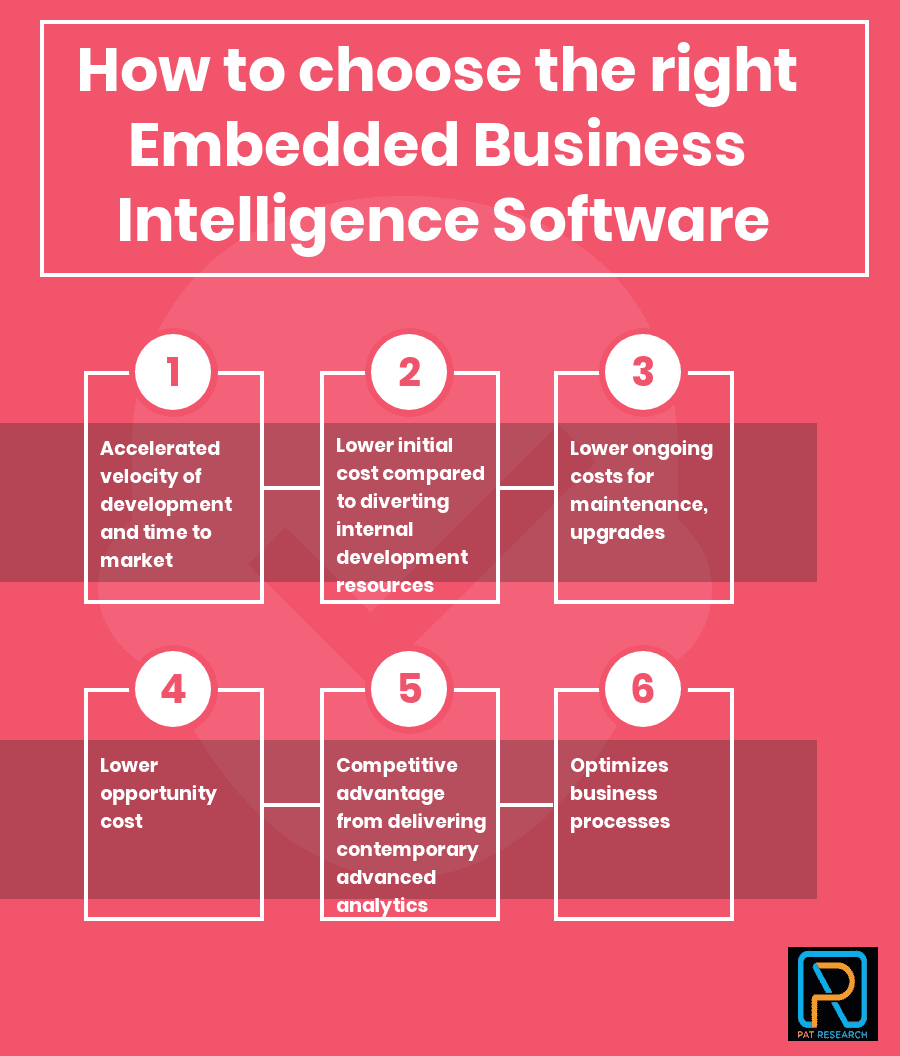 Embedded Business Intelligence Software integrates Business Intelligence Software such as Dashboards, Reporting, Visualisation and Analytics to existing applications. Embedded Business Intelligence Software are assigned to carry out one or several pre-defined tasks, usually with very specific demands.
Embedded BI allows combining data from multiple data sources and can also be part of a workflow automation. It uses analytic and reporting capabilities in transactional business applications, and also, resides outside the application while being easily accessible from inside that application.
Embedded Business Intelligence Software shortenes the time needed for data to be generated, which provides more effective analytics. It allows users to make data-driven decisions inside the workflow of the currently used application without navigating to other applications. Use of an embedded BI platform delivers advanced reporting and analytics without the time and expense of having to build it. In other words, Embedded BI products are capable of providing analytics potential within the context of the business application.
You may like to read: Top Embedded Analytics Business Intelligence Software
What are Embedded Business Intelligence Software?
Embedded Business Intelligence Software empowers business users to quickly deploy new analytics content and to accomplish change requests in moments. With embedded BI software, it is possible to allow all team members to easily translate data into value. Open architecture, highly flexible, and extensible platform permits launching the right analytics solution and adapting fast to future requirements and needs.
Embedded BI software is an excellent choice for businesses of all sizes. Companies with extensive data sets can utilize the data platform without a strain on the data resources. To achieve success with any product, it is important to create powerful on-demand reports with multiple drill-down reports and charts. That is where embedded business intelligence software manifests its full strength.
As for the small to midsize companies, embedded BI is crucial when it comes to merging different data streams into a single source of truth that provides unparalleled insight into the business. To conclude with, embedded business intelligence software is purpose-built to integrate with processes, portals and applications, and thus, to grow and scale business without unnecessary add-ons or costs.
What are the Features of Embedded Business Intelligence Software

Some of the features of embedded BI software are Portal and customizable dashboards, Business visualization, Web and desktop reporting, Mobile BI, Microsoft Office integration, Query and analysis, OLAP storage and exploration interface, Business metadata management, Flexible deployment options, Guided analysis and model development, Application development, In-memory enhancements, Self-service, and Instant infrastructure.
Portal and customizable dashboards: Provides a zero-footprint, customizable web-based interface; create, delete and reorder personal workspaces, add and remove content, and modify page layout.
Business visualization: See relationships that are not easily discovered in tabular formats.
Web and desktop reporting: Build, load, organize, view and save reports based on OLAP cubes and/or relational data; provide geospatial mapping information and include the results of geospatial analyses into reports.
Mobile business intelligence: Monitor key indicators and track trends from mobile devices;
Microsoft Office Integration: Use familiar Microsoft Office functionality to distribute results to others; seamless access to SAS Analytics and business intelligence from within Microsoft Office applications.
Query and analysis: Provides query capabilities for all levels of users across multiple BI interfaces.
OLAP storage and exploration interface: Native support for open industry standards; powerful interfaces for server maintenance and monitoring.
Business metadata management: Metadata can be integrated, centrally managed and shared across the enterprise; define consistent business views of data for relational tables and OLAP cubes.
Flexible deployment options: Quickly integrate business intelligence into your existing organizational environment.
Guided analysis and model development: Provides a self-service, analytic model development environment for analysts and statisticians.
Application development: Hides programming complexities with powerful wizards and quick-start templates; develop and test applications on desktops or laptops without involving production systems.
In-memory enhancements: Improve deployment efficiency; increase memory storage.
Self-service: Load data and analyze it from any angle to uncover problems and new opportunities.
Instant infrastructure: Provides the customization flexibility required by ISVs; full multi-tenancy.
Data modeling: Re-structure data and extract insight fast and accurate.
Shared authoring: Make in-place adjustments to visuals in dashboards.
Data blending: Create a consolidated, business-friendly view of data across multiple data sources and enterprise applications.
Governed data discovery: Publish new insights discovered by the analyst workgroup.
You may like to read: Top Embedded Analytics Business Intelligence Software
What are the Key Performance Indicators (KPI's) of Embedded Business Intelligence Software
Key performance indicators (KPIs) are high-level snapshots of a business or organization based on specific predefined measures. Several important KPIs when it comes to Embedded BI, are:
Customer Satisfaction Score: The best measurement of how service organization continues to perform.
Monthly MRR / Expansion Rate: Monitor the health of the business as it grows and retains customers, and at the same time, compare with the historical trend.
Net Prompter Score: Indicates long-term company growth.
Employee Satisfaction: Measuring employee satisfaction through surveys and other metrics is vital to departmental and organizational health.
Earned Value (EV) Metrics: Value generated by company's ongoing projects

What are the Benefits of Embedded Business Intelligence Software
Embedding BI into core applications and business processes has many benefits:
Accelerated velocity of development and time to market;
Lower initial cost compared to diverting internal development resources;
Lower ongoing costs for maintenance, upgrades and support of analytics capabilities;
Lower opportunity cost by keeping development and support stuff focused on core competence;
Competitive advantage from delivering contemporary advanced analytics;
Data blending and mashups: ability to combine data on the fly with other data sources;
Optimizes business processes: alert individuals when performance exceeds predefined thresholds, and trigger alerts, workflows, and tasks to streamline processes and optimize performance;
Makes BI more pervasive: Deliver the benefits of BI to many more employees without having to purchase BI tools for each user;
Makes BI more flexible: BI services can be incorporated into new and existing applications more easily, avoiding bottlenecks that plague report development;
Closes the loop: Embedded BI integrates operational and analytical functions so information drives action in a virtuous cycle that helps companies better understand what drives their business and adapt more quickly to new and changing conditions.
You may like to read: Top Embedded Analytics Business Intelligence Software
What are the Latest trends in Embedded Business Intelligence Software
Over the last few years, data has become the core element of organizations. The latest trends in Embedded BI continue to maximize the data impact:
Core Collaborative Analytics: Stay connected to data via data-driven alerts and subscriptions; move the business forward by leveraging the creativity and intellectual horsepower of the entire organization.
Self-service extends to data prep: As big data becomes decentralized and integrated into multiple facets of an organization, users of all abilities need to be able to wrangle data themselves.
The transition to the cloud accelerates: Represents a faster and more scalable solution.
The rise in value of predictive analytics projects: A rise in the spread of the types of sensors, algorithms, and technologies that will help companies capture and predict upcoming events, including the harnessing of the Internet of Things (IoT).
Artificial Intelligence (AI): Machines will execute what is usually done by complex human intelligence.
 How to choose the right Embedded Business Intelligence Software
In order to get  greater application usage, higher levels of user satisfaction, cost and time savings, and potentially revenue growth, it is important to look into a few key areas and ensure that the chosen solution is the right solution:
Security: Make sure that the right people see the right data with multi-tenant security and role level security.
Customization: Available different kind of API sets, custom visualization, plugins, CSS customizations.
Requirements: Collect and Evaluate your requirements for a build-versus-buy decision.
Functionality: Evaluates complexity of functional requirements.
Integration: Evaluates the need for bidirectional communication between the host application and BI functions.
Architecture: Identifies scalability and performance requirements.
Complexity: Identifies advanced analytics features.
Development: Identifies development culture and availability.
Budget: Examines funding and attitudes toward licensing.
Consistent look: Provides white label analytics, ensuring a seamless experience for end users.
Future needs: Make sure that the software you integrate will be able to handle the larger workload.
Time to integrate: An embedded solution should only take days or weeks, not months, to go live.
Training and support: What training and other resources are provided by the BI vendor to sell and support the new functionality in the application.
Third-party consultants: Management of consultants brought in to integrate, configure and deploy the solution increases the staffing footprint and the cost; the BI vendor's integration specialists should assist with the implementation to avoid these costs.
Top Embedded Analytics Business Intelligence Software
You may like to read: Top Embedded Analytics Business Intelligence Software
Embedded Analytics Business Intelligence Software
PAT Index™
You may like to read: Top Embedded Analytics Business Intelligence Software