Versium launches Datafinder for Predictive Marketing Scores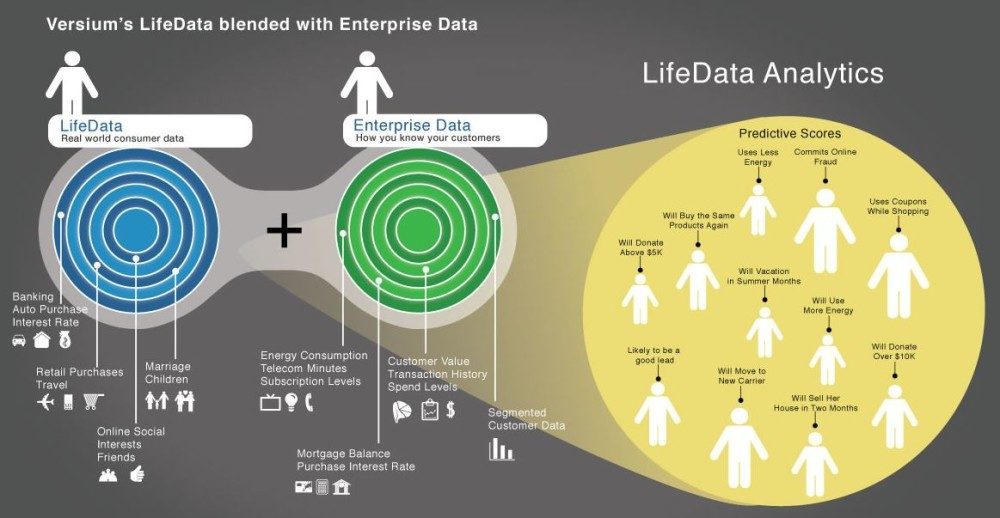 Versium launches Datafinder for Predictive Marketing Scores : Versium, a data technology company and leading provider of predictive analytics solutions announces the launch of Datafinder (https://datafinder.com). Datafinder is a self-serve website which provides data and data technology tools to businesses of all sizes. Datafinder's predictive marketing scores are built from Versium's LifeData predictive analytics engine. These scores help businesses understand specific consumer behavior characteristics that improve marketing efficiencies. Datafinder's LifeData append and data validation services help businesses ensure correct contact information, enhance communication channels and improve the quality of their CRM systems.
Versiumis a data technology company that operates the LifeData predictive analytics scoring service. Versium delivers predictive scores that are built from the company's proprietary LifeData platform which contains over half a trillion data attributes sourced from publicly observable and commercially available means. When matched to an enterprise's CRM, marketing, or other internal data elements, easy to understand scores are generated that deliver specific ROI value.
Versium's LifeData platform, the engine behind Datafinder, contains over 800 billion unique LifeData behavioral attributes which include contact, demographic, financial, lifestyle, purchase interests, social data and more. By appending LifeData to a consumer database, marketers receive deep insights about their customers. These insights enable marketers to communicate better with their customers and prospects. This allows marketers to determine the best marketing content and create custom offers that target messages to specific audiences. Versium's proprietary matching technology enables LifeData attributes to be added to customer lists, at rates as high as 80%, producing highly accurate and actionable consumer insights.
Versium's ground breaking predictive scores utilize machine learning, complex algorithms and LifeData to produce predictive models that score likelihood to take a specific action. Predictive Scores available on Datafinder include:
• Green Score – predicts environmentally consciousness, and likelihood to purchase green products or services
• Giving Score – predicts likelihood to donate to a cause – charitable or political
• Wealth Score – predicts discretionary buying power
• Auto Buyer Lead Score – predicts and ranks the value of auto buyer prospects
Predictive scores can be appended to customer lists, prospect lists or existing enterprise applications via APIs so that businesses can easily act on a single piece of information. New predictive scores will be added in the coming months.
Datafinder's self-serve tools allow businesses to easily append contact details such as emails, addresses or phone numbers. Datafinder verifies telephone numbers and the deliverability of email addresses, and when available, will append valid email addresses and working phone numbers. This allows marketers to connect with more customers or prospects and enables multi-channel marketing programs by allowing marketers to communicate with customers and prospects in more ways (email, phone and postal).