Review
NeuroSolutions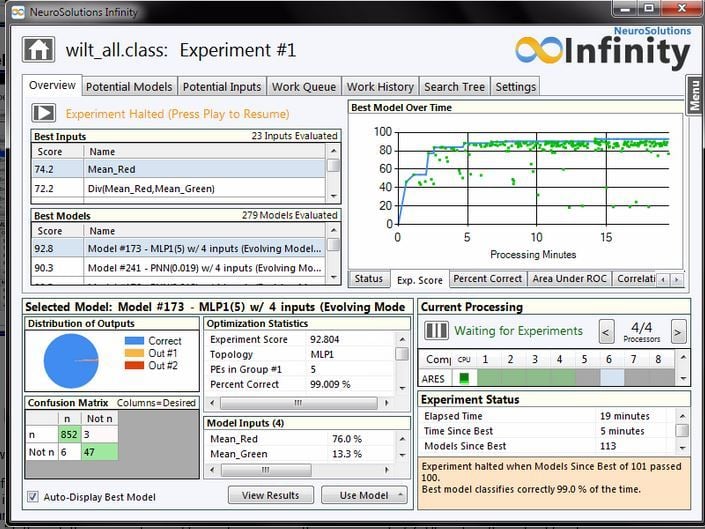 Overview
Neural networks are an exciting form of artificial intelligence which mimic the learning process of the brain in order to extract patterns from historical data technology to work for you.
Artificial Neural Network Software
•Cluster Analysis
•Sales Forecasting
•Sports Predictions
•Medical Classification
•NeuroSolutions Pro Single-user license: $1,495
•NeuroSolutions Single-user license: $495
•NeuroSolutions Student* Single-user license: $295
Small (<50 employees), Medium (50 to 1000 Enterprise (>1001 employees)
What is best?
•Cluster Analysis
•Sales Forecasting
•Sports Predictions
•Medical Classification
NeuroSolutions is an easy-to-use neural network software package for Windows. It combines a modular, icon-based network design interface with an implementation of advanced artificial intelligence and learning algorithms using intuitive wizards or an easy-to-use Excel interface. NeuroSolutions is designed to make neural networks easy and accessible to both novice and advanced developers.
There are three basic phases in neural network analysis: training the network on the data, testing the network for accuracy and making predictions/classifying from new data. The Express Builder in the NeuroSolutions Excel interface can accomplish all of this automatically in one simple step.
With NeuroSolutions Excel interface, it has never been easier to get started quickly in solving problems. The Excel interface in NeuroSolutions provides an easy-to-use and intuitive interface for users to easily setup a simulation that automatically builds, trains and tests multiple neural network topologies and generates an easy to read report of the results including the best performing model.
NeuroSolutions features several add-ons for neural network deployment and training speed improvements through parallel computing with NVDIA CUDA™ and OpenCL™ gpu processing. NeuroSolutions Accelerator enables NeuroSolutions and NeuroSolutions Infinity to harness the massive processing power of multi-core processors and graphics cards (GPU's) from AMD, Intel and NVIDIA through parallel computing.
It enables training time improvements from hours to minutes when compared to traditional processors on neural networks using Levenberg-Marquardt. NeuroSolutions also features robust deployment options that allow users to embed their custom neural network solution into their own applications.
For instance, the Custom Solution Wizard encapsulates the neural network into a Windows DLL (Dynamic Link Library) and embeds it into a sample Excel, Access, Visual Basic, Visual C++ application or even an ASP webpage.