Yellowfin DashXML to make building custom analytical apps quick and easy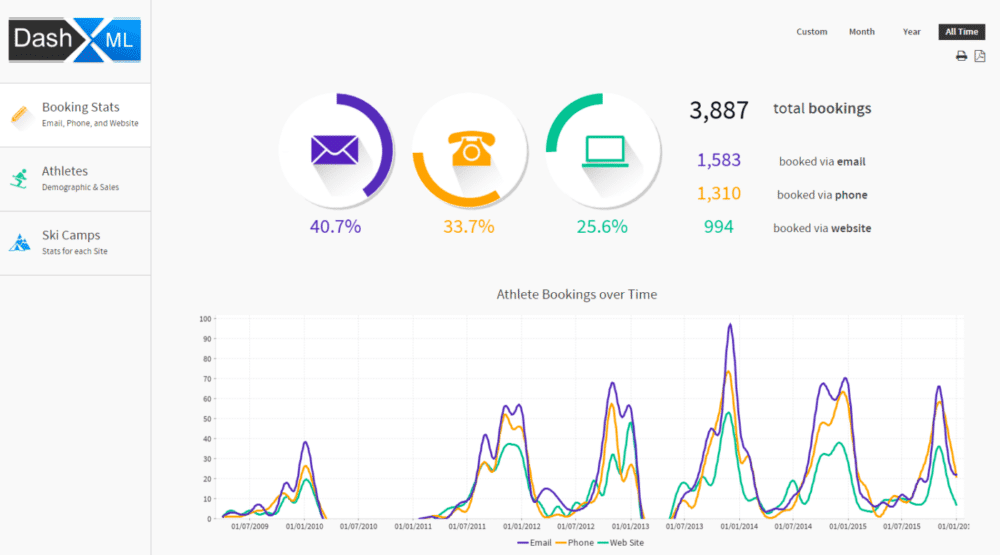 Yellowfin DashXML to make building custom analytical apps quick and easy : Yellowfin, has launched DashXML, a browser based Java application that makes it fast and easy to create customized analytical functionality and applications. DashXML is a flexible framework that communicates with Yellowfin via a Web Services API to expose the functionality of Yellowfin's BI platform such as reports, filters and security capabilities while simultaneously providing complete freedom regarding application design, layout and user interaction. The DashXML framework provides a method for creating uniquely tailored dashboards that combine Yellowfin content and custom items without the need for programming.
Yellowfin CEO, Glen Rabie, said that DashXML would enable Yellowfin customers and software partners to create a unique analytical user experience. "Creating highly customized analytical functionality and applications has always been difficult," said Rabie. "Application managers and developers had two choices. Firstly, they could simply use an out-of-the-box BI tool, which limited their control over product design and user interaction. Alternatively, they used Open Source charting libraries to create a tailored charting experience, but lost the analytical functionality and security of an analytics platform, such as Yellowfin."
The first option meant compromising on the uniqueness of the user experience, while the second required significant development work, resulting in lost time and money. Developers simply create the content and security permissions in Yellowfin, then configure and style the analytical functionality using DashXML.
Yellowfin developed DashXML in response to the unique dashboard requirements of US-based client, LocalEdge, a multi-media organization and a Hearst Media Services Company. LocalEdge wanted to develop a "state of the art" Customer Dashboard to deliver proof-of-performance reporting to each of its customers across its 15 core marketing products and services.
Custom dashboards created using DashXML are configured in a single XML file that describes each element on each dashboard tab as a widget. Each dashboard is a single page with an arrangement of widgets, which can include reports, text and filter widgets. All layout and styling can be achieved via customized CSS. Each dashboard is referenced directly by a unique URL and is accessible via Web-browser. DashXML can be deployed alongside Yellowfin, or on a separate server.