Review
Red Hat JBoss Data Grid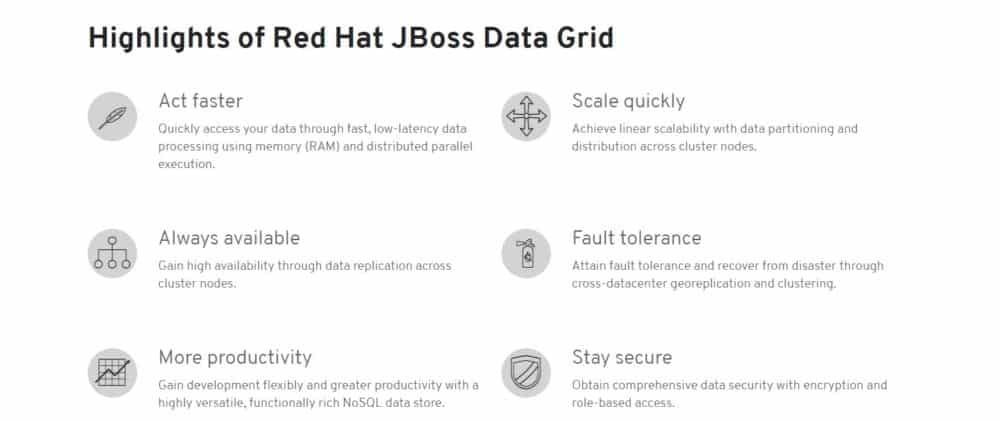 Overview
Data caching and transient data storage are the most common data grid use cases. Data grids, such as JBoss Data Grid, are deployed as a speedy in-memory datastore for the most frequently accessed data.
In Memory Data Grid Platform
• Act faster
• Scale quickly
• Always available
• Fault tolerance
• More productivity
• Stay secure
Small (<50 employees), Medium (50 to 1000 Enterprise (>1001 employees)
With Red Hat JBoss Data Grid—an in-memory, distributed, NoSQL datastore solution- user applications can access, process, and analyze data at in-memory speed to deliver a superior user experience. The technical advantages of in-memory data grid (IMDGs) provide business benefits in the form of faster decision-making, greater productivity, and improved customer engagement and experience. JBoss Data Grid gives users faster data storage and retrieval to implement enterprise integration patterns, service result-set caching, and offload costly back-end data systems. JBoss Data Grid stores and caches facts data and passes these to JBoss BRMS for rules execution. Applications achieve near real-time response due to in-memory cache lookups instead of disk I/O-based database lookups. A primary key-value NoSQL datastore and database, offering transaction caching and transient datastore for Java applications is hosted on JBoss Enterprise Application Platform (EAP). Users can use JBoss Data Grid as a read/write data source and materialization target. With JBoss Data Grid, users can deliver high-performance, unified data services, and virtual data lakes using JBoss Data Virtualization's right-time data integration of disparate sources. JBoss Data Grid supports business transactions, analytics, workloads, and patterns with coherent data services.With JBoss Data Grid, users can quickly access data through fast, low-latency data processing using memory (RAM) and distributed parallel execution. Users will also achieve linear scalability with data partitioning and distribution across cluster nodes. Users can also gain high availability through data replication across cluster nodes. Users will further attain fault tolerance and recover from disaster through cross-datacenter georeplication and clustering. Users gain development flexibly and greater productivity with a highly versatile, functionally rich NoSQL data store. Users will obtain comprehensive data security with encryption and role-based access.