Top 15 Benefits of Business Intelligence Software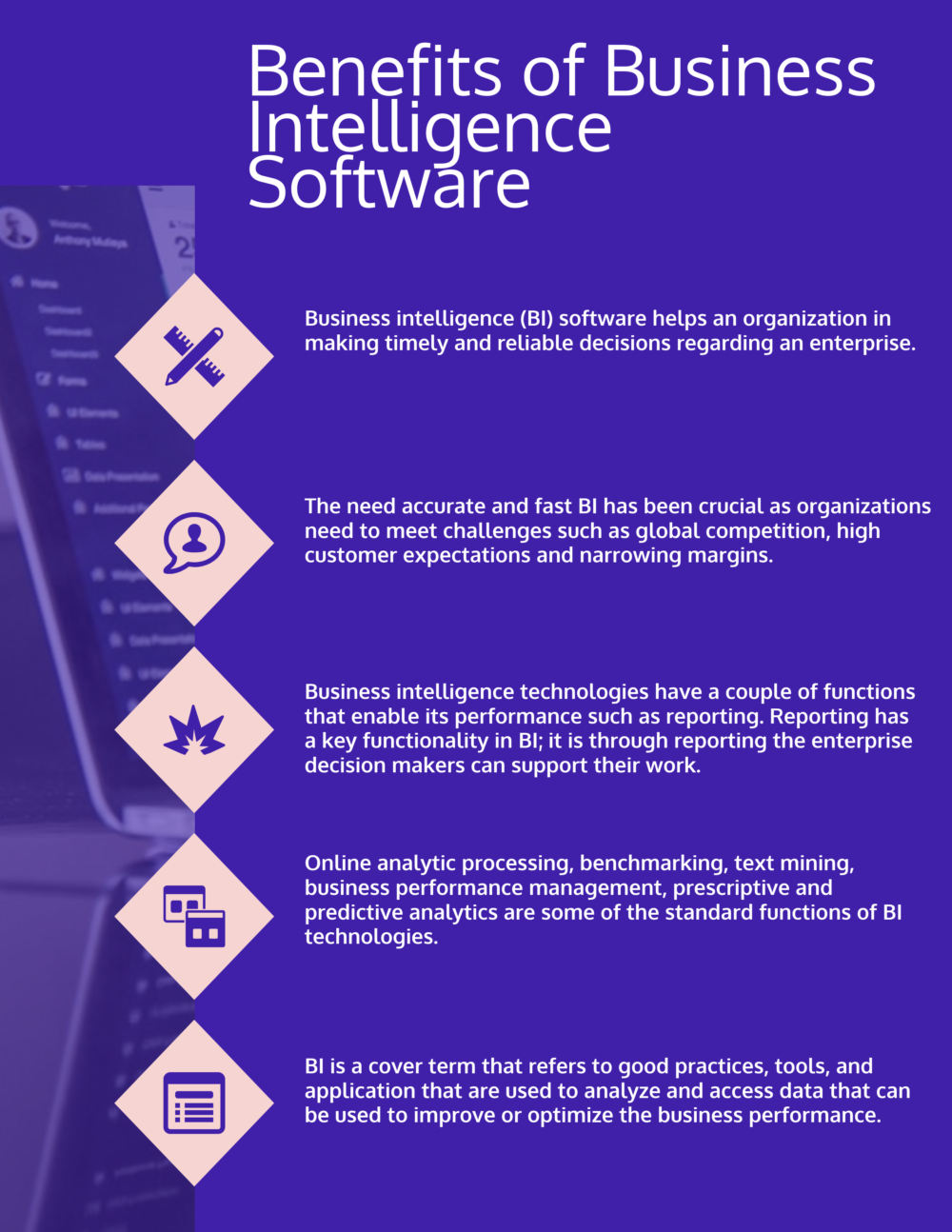 Business intelligence (BI) software helps an organization in making timely and reliable decisions regarding an enterprise. It ensures timely, yet the reliable information that the corporate can access to make insightful decisions by giving the ability act in real time and evaluate information. The need for an accurate and fast BI has been crucial as organizations need to meet challenges such as global competition, high customer expectations and narrowing margins.
Some of the cooperation's are still in traditional methods where it is hard to make decisions since information is stored in separate databases and applications. The way an organization respond in accurate and quickly in a technology-driven competitive market can be the difference between failure and success. There is no doubt that an organization has an advantage with a useful BI software.
Business intelligence technologies have many functions and applications that enable its performance such as reporting, dash boarding and analytics. Reporting has a key functionality in BI; it is through reporting the enterprise decision makers can support their work. It is through reporting that there is a discovery of essential data patterns (analytics) which is another function of BI.
You may like to read: Top Guidelines for a Successful Business Intelligence Strategy
Online analytic processing, benchmarking, mining, business performance management, prescriptive and predictive analytics are some of the standard functions of BI technologies. In essence, BI is a cover term that refers to good practices, tools, and application that are used to analyze and access data that can be used to improve or optimize the business performance. It converts the raw data into relevant information which in turn enable strategic and tactical insights on making effective decisions.
Now that you have an insight of what BI and software is Business intelligence software in simple terms is a technological process that collects and process data to get actionable information from it. With this one can get the right and needed information in a quite short duration and transfer it to the right personnel. The right information means the right decision.
You may like to read: Top Best Practices for Business Intelligence Software Implementation
Thus the management gives reliable information that it can support with analyses and figures. The BI tools have been available for quite some time, but it was only accessible to the large enterprises whom they had sufficient resources and infrastructure to implement the technology.
However, thanks to the advances in technology through cloud computing small enterprise can access BI at affordable rates. Some may think that small enterprises might not require Business intelligence software, but it is a good option when thinking of expanding. It provides enough tools to help boost data visualization thus the management can grow its operation in the business.
You may like to read: Open Source, Free and Top Dashboard Software
Top 15 Benefits of Business Intelligence Software
For any enterprise to remain relevant in this competitive market, fast and real-time integration of the Business Intelligence software must be utilized. Most of the large organizations have moved their modes of operation to adapt modern BI technologies, and others embed on the right software. Others still have the assumption that the BI software is complicated and not user-friendly and most of the products in the market are adapted and designed to make it user friendly for the business users.
Without knowing that BI systems are quickly adopted and user-friendly even to the non-techie. BI software is developed in a way to smoothen your decision making and ensure maximum profitability.
The businesses that have embedded this modern technology can thrive in all the challenges that may occur at any stage of their project to provide smooth delivery. BI software enables SMEs to reduce the cost of operation in their business by identify areas where there is a higher cost of expenses and find measures on cutting them down.
Not only cutting down cost but recognize other methods of getting new revenues through its marketing campaign algorithm. The BI software enables businesses to be agile in its operations which the difference between operating on losses or profits.
You may like to read: Top Extract, Transform, and Load, ETL Software
Enables faster and accurate reporting, analysis and planning: Business Intelligence software provides real-time information, thus providing accurate reporting solutions due to its ability to connect with a wide array of data. The software can analyze and plan informed business solutions that may enable fast business growth and reduced potential risks
Better business decisions: Once the business intelligence software of an enterprise is in place, the management can identify all the business aspects, current data, production data, customer data and financial data of the enterprise. With this information, the management can analyze and synthesize the reports of investment and products thus to come up with better business decisions that will benefit the enterprise.
Increased business user satisfaction: When the Business Intelligence software provides a better decision, accurate analysis and reporting this increases the user satisfaction towards the software. BI software enables enterprises to maximize limited resources using cost-effective solutions to enable business growth thus increase user satisfaction.
Increased decision-making speeds: The fact that business intelligence software enables enterprises to come up with a better business decision it also assists in increasing the speed of the decision making.
You may like to read: Business Intelligence Tools and the Types of Business Intelligence Software
Without the business intelligence software, an enterprise will spend quite an amount of time to implement decisions have to cover all the business aspects one by one to come with a viable decision. That process is time-consuming, but with the use of business intelligence software, the speed of making a decision is shorter.
More accurate decision making: The beauty of the software is not only offering real-time decisions but being able to offer accurate decisions that will benefit the business. In a case where you competitor decides to reduce the prices of a certain product, you would decide to create a counter price similar to that or lower. The decision may take time since there is need of critical conduction operations to determine the impact of the profits after the reduction, but when using the BI software, it provides rapid, informed decisions.
Insights into your customer's behavior: Business intelligence software is key in identifying your customer behavior pattern. The software can determine the customer responses and purchase thus optimizing campaigns in marketing. It enables profitable markets by assisting the businesses in retaining their customers and attracting new ones.
Self-service culture in the organization: The software promotes the self-service culture in a business. It enables the user to access the enterprise data and manage it even if the user is not familiar with the statistical analytics. The user can add data, manipulate and creates a report of the same. Self-service enable cooperation among departments in an organization.
Foster a data culture in the organization: Data clustering is common among many organization, which brings about data loss and manipulation. BI software comes in handy effectively to tackle data handling in a business; it enables communications and collaboration among members when data is updated. Notifications are sent which enable different users of the data to track consistent changes.
Better data quality: Some data tend to be more complicated to operate and understand which bring about challenges on data-driven insights moving in an organization. BI software has a data visualization tool that enables easy recognition of data that can go unnoticed with a text-based report. Through this feature, data is converted into a better quality or method that can be easily accessed.
You may like to read: Top Challenges every organization face in Business Intelligence
Better operational efficiency: Improving organization operation is crucial in every business thus measuring, and monitoring performance is important. The feedback helps the organization to come up with activities that drive the business into the success. Highly used metrics such as employee's satisfaction, performance and productivity are covered in the BI software enabling better organization operations.
Reduce cost: It is sad for an enterprise not to get its financial statements sorted out. With a BI software, it can find areas in which your organization can cut costs down. The software collects raw data on areas where the organization has high expenses and come up with a solution to cut them down or eliminate source yields with low returns.
Identify new revenue opportunities: Revenue growth is crucial to any organization, and that is the major purpose of BI software. This is through finding new revenue opportunities that thrive business transformation. The software creates significant insights and reports of sources of high ROI, by analyzing strategies and marketing campaigns.
Track KPIs by getting alerts and notifications: The BI Software keeps track of the KPI by evaluating the metric value and the current status versus a specific target using a specific measure and sends alert to the user on the same. The notification enables the user to follow up and come up with the right measure or solutions.
Provide personalized services more easily: BI software's are user-friendly and has a feature that can personalize data or information to enable easy understanding and use. This feature also enables smooth collaboration between two organization users and smooth transfer of data after use.
Increased collaborations between IT and Business units: Systems and software's such as BI have enabled growth collaborations between Business units and IT. The two units have to work hand in hand with one another to enable growth in an organization.
Business Intelligence (BI) software provides a range of benefits to organizations. It helps in data collection and analysis, making decision-making more data-driven and informed. BI tools also provide real-time insights and help in identifying trends and patterns in data, leading to improved forecasting and planning. Additionally, BI software can improve collaboration and communication among team members, streamline processes and increase operational efficiency, and provide a competitive advantage through data-driven strategies. Ultimately, BI software helps organizations make better business decisions and drive growth.
Here are the trending and the top rated Business Intelligence Software for you to consider in your selection process:
Top Business Intelligence Software
PAT Index™
What are the applications of Business Intelligence?
Business intelligence technologies have many functions and applications that enable its performance such as reporting, dash boarding and analytics. Online analytic processing, benchmarking, mining, business performance management, prescriptive and predictive analytics are some of the standard functions of BI technologies.
What are the top benefits of Business Intelligence Software?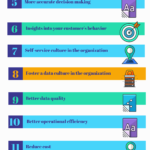 BI software enables businesses to be agile in its operations and provides benefits such as enables faster and accurate reporting, analysis and planning, better business decisions, creates an environment with Increased business user satisfaction, improve decision-making speeds, more accurate decision making and many more.