Top Ten Challenges every organization face in Business Intelligence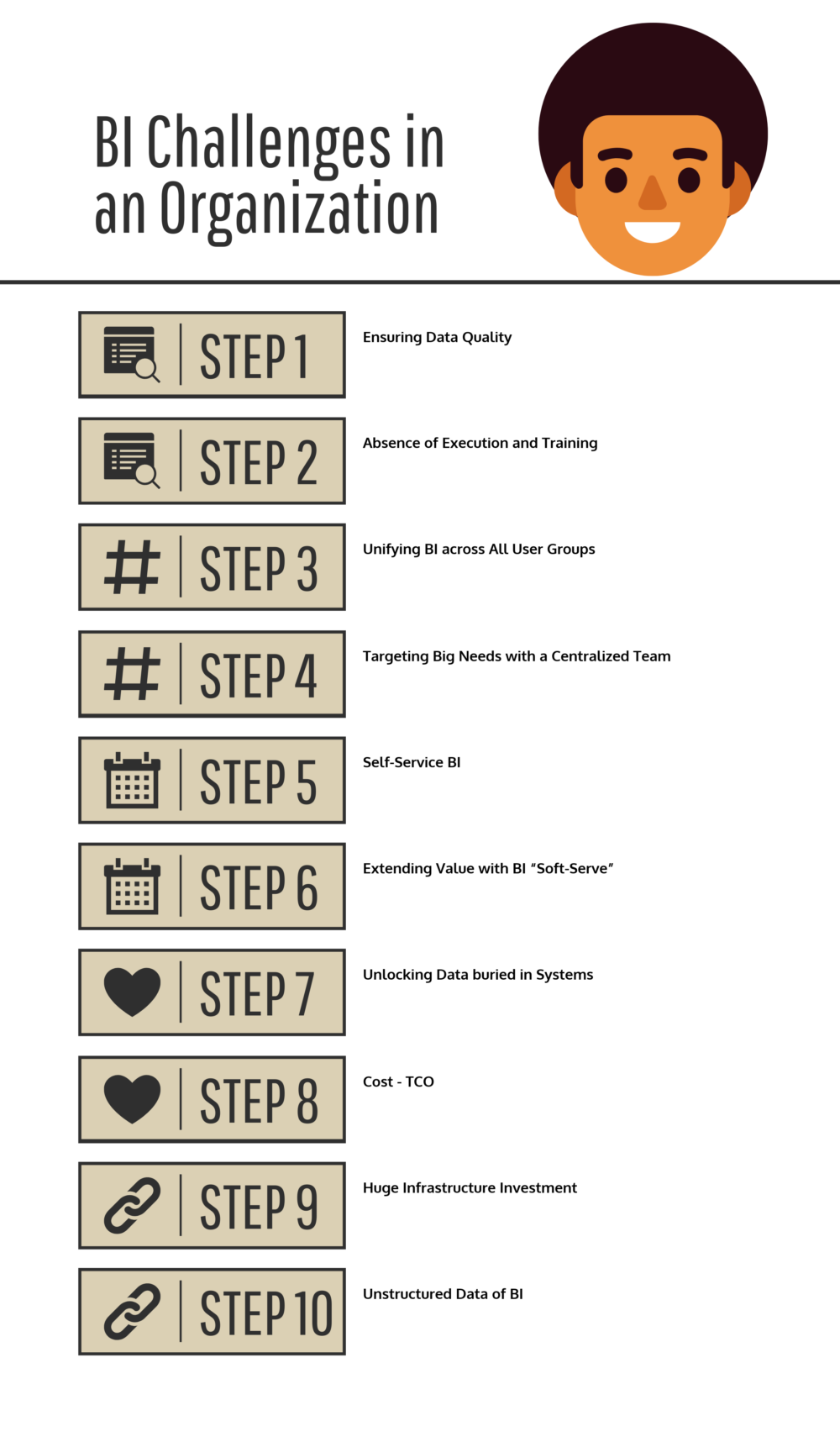 In the current innovative world, the data being produced on a daily basis from numerous sources is massive. Data analytics is not only for large-scale businesses anymore, businesses of all sizes are taking their investigations to the next level.  This can involve significant data that can assist business make successful decision.
The best organizations are reaching these new levels by benefiting from rising creative business intelligence (BI) services. Organizations use BI to take this into account and the proper usage of BI can allow them to improve profitability and incomes. But the need to overcome the challenges in BI is showing its face.
What is Business Intelligence Software?
Business Intelligence (BI) software helps all businesses in measuring and boosting Key Performance Indicators (KPI). BI software extracts, analyzes, creates reports, calculate and display KPI of data. In large organizations, the data created by BI software can be offered to those who are accountable for, or who have conferred interests in return margins such as business investors, business board members, CEOs, executive administrators, marketing managers, operational teams and sales managers.
You may like to read: Business Intelligence Tools and the Types of Business Intelligence Software
The main aim of BI software is to cut costs and speed up decision cycle within a business with actionable intelligence.
Another use of BI software is to leverage big data and cloud-computing to simplify intricate data analysis and assist companies adopt business intelligence practices across departments.
The BI solutions used today are easy to set up, use and incorporate with existing systems. They can be standalone apps or as a part of an enterprise suite like CRM, ERP and ecommerce systems.
Reasons for using BI software include:
Gain Insight for Growth: Business Intelligence can be optimized for sales opportunities, lead generation, customer segmentation, and market analysis. Merging interactive database and multidimensional data prototypes with cross-departmental and real-time data collaboration, businesses can manipulate massive amounts of data and surface insights in unlimited ways.  Businesses can identify growth areas, measure product viability, assess supply and demand and determine their market position among other things. Additionally, data is sourced in real time and analyzed through collaboration, further boosting marketing knowledge.
Get the Big Picture: Scoreboards and Dashboards are typical features in BI solutions. They offer a clear view of the company's overall performance. Metrics can be modified to line up with the key performance pointers and reports generated in real time. Dashboards can be used to align the health of your business across a threshold range. On the other hand, scorecards are set to deliver regular snapshots of the company's progress against its goals.
Address Urgent Issues: Problems can be addressed immediately if you have the right information. BI solutions feature impromptu reporting that lets you input data and create insights as fast as possible. More informed actions can be taken before an emergency can further escalate. Through a wizard interface, these solutions allow you to detect and excerpt crucial information off volumes of datasets and produce reports fast.
You may like to read: Key capabilities of Business Intelligence Software
Top Business Intelligence Challenges in an Organization
Ensuring Data Quality
Data Quality and completeness are important success factors for all BI efforts. It is critical for organizations to perform basic auditing to ensure the validity of the data. This is especially vital for data that will be used for measures and indicators.
Since data is utilized differently for Business Intelligence than it is in other user cases, auditing often reveals data quality issues that would mostly go undiscovered without these efforts. When an issue is recognized and the root cause determined, the project is launched to close the data quality gap.
Absence of Execution and Training
Many times, businesses have all-around enunciated necessities, a decent apparatus setup, a sound BI systems, but still require specialized abilities. There is a need to have personnel that is well trained to handle the BI systems but many organizations lack this.
The reason for absence of execution frequently are different and fluctuated, similar to it cures. This requires extra training in data administration applications. Organizations need to focus on understanding their assets, why BI service is required, and the benefits of a BI solution.  The most important training that they would require is getting comfortable with the visual interface after picking the right BI stage.
You may like to read: Top Agile Business Intelligence Best Practices
Unifying BI across All User Groups
One of the main challenges is having a unified BI tool that includes central governance, security, and management across all users inside or outside your organization.  There is not a single BI platform that can offer every capability that users require But an upgraded BI tools¸ helps businesses to overcome the challenge of reaching out to only a few users.
Targeting Big Needs with a Centralized Team
Another BI challenge faced by organizations is the lack of a centralized team. The lack of such a team means that the needs are not well looked into and some areas are neglected which may lead to the failure of BI.
The work of the centralized team is to drive organizational alignment on the big deals by initiating and managing BI deliverables and working to enable successful integration into the organization's operations. The team will gather requirements for each participating department and develop a prioritized roadmap for implementation.
Self-Service BI
The ability to deliver self-service reporting and analysis across an organization is a big Business Intelligence challenge. One of the biggest problem with traditional BI tools is that they are complicated to use to an extent that only a few key individuals within the company know how to use them. Problems can quickly form around these key individuals which can slow down the entire reporting process.
To address this issue, organizations need to work to deliver full self-service BI data stewards and other end users. This way, users can access data models within the organization data mart and create their own reports. They can also download the data models into their personal sandbox areas after which they can add or remove data, create their own relationships, restructure models, calculated columns, measures and KPIs.
You may like to read: Top Best Practices for Business Intelligence Software Implementation
Extending Value with BI "Soft-Serve"
Unlike the self-service BI, soft-serve Bi doesn't allow end users to access and manipulate data from the data warehouse, only reports.
But, the soft-serve Bi model has considerable value since an organization can standardize data, indicators, measures, visualizations, and reports while empowering end users to adjust reports as needed to take care of their unique requirements.
Unlocking Data buried in Systems
Regardless of whether you have the data already in place and know where to get it does not automatically mean that it is easily accessible.
Accessing the information you need, when you need it can be quite a process when the data is buried in complex systems and software. In order to gain any real value from your data, you must transform and manipulate it into the right shape. You can clean up your data using a data warehouse and an effective ETL process and get it into the right shape and apply any business calculations or rules.
Cost - TCO
Business Intelligence is costly—assets and expenses plans have always been tight especially for small businesses. However, this has changed with the introduction of SSBI stages. The cost of transmitting BI is a worry only among the SMEs. SMEs are weakened by the obstructive costs of obtaining the correct programming.
Currently, a few stages make SSBI open to small businesses without causing anyone to spend a substantial amount of cash. Similarly, constrained assets means looking for qualified professionals. In this case, small businesses should look for BI dealers offering adaptable arrangements with minimal TCO.
You may like to read: Open Source, Free and Top Dashboard Software
Huge Infrastructure Investment
In the past, expensive BI solutions required huge hardware resources. In addition to increasing the installation price, these data marts and processors also increased the time required for setting up.
However, with modern solutions, you can implement BI either with the existing hardware or by running on virtualized infrastructure in the cloud. The fact is that most SSBI channels can ably use the hardware resources of an office computer for all data processes.  There is no need to buy a SQL server or an additional hardware to start using BI to empower your decision-making
Unstructured Data of BI
Organizations may invest into massive data analysis but can't complete the tasks in time. Business owners are switching to creative BI devices to tackle this BI challenge. This may result in endless hours of cleaning and organizing data first and then using the BI service.
This can undoubtedly blend distinctive datasets without the need to rebuild databases or set up a data supply center. A BI service could be loaded with programmed ETL abilities to process datasets that need to be rebuilt. This allows small business to interface all their data sources, see past the numbers and find new connections and identify patterns to eliminate the mystery from crucial business choices.
You may like to read: Top Extract, Transform, and Load, ETL Software
Conclusion
BI is no longer an indulgence that can be afforded by only big establishments. The need for Business Intelligence driven insights might be more prominent in firms that deal with large amounts of data. Today, even Small and medium sized businesses and entrepreneurs need to make data-driven decisions.
What is Business Intelligence Software?

Business Intelligence (BI) software helps all businesses in measuring and boosting Key Performance Indicators (KPI). BI software extracts, analyzes, creates reports, calculate and display KPI of data.

What are the reasons for using BI Software?

BI Software helps to gain insight for growth, get the big picture using scoreboards and dashboards and helps to address urgent issues.

What are the Business Intelligence Challenges in an Organization?

The Top BI challenges in an organization ensure data quality, absence of execution and training, unifying BI across all user groups, targeting big needs with a centralized team, self-service BI, extending value with BI "Soft-Serve" and many more.