Top 15 Best Practices for Business Intelligence Software Implementation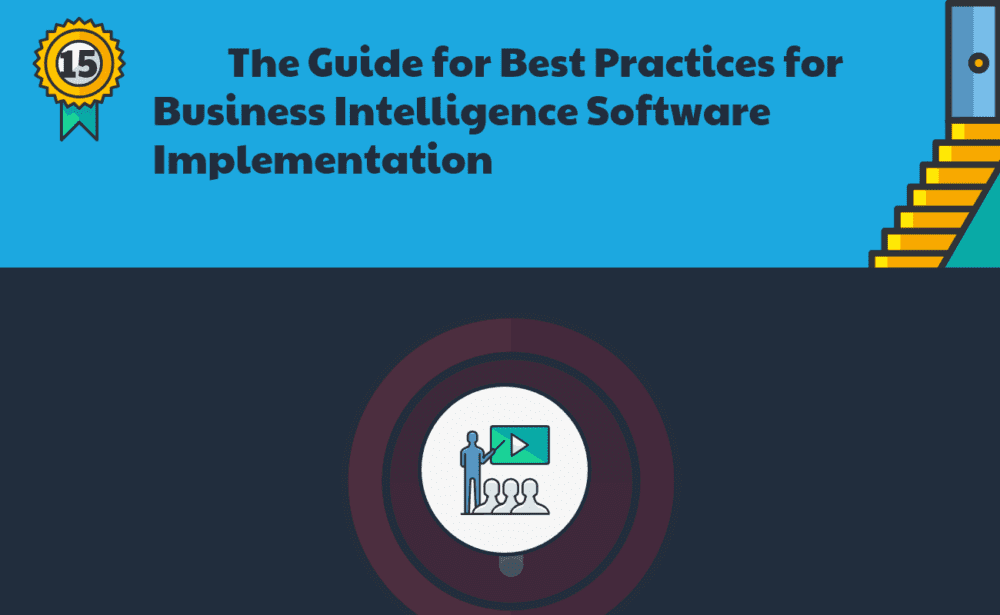 Every company needs to have business intelligence software that can enable them to run their business operations effectively, efficiently, and profitably. However, that has become increasingly difficult because companies are not leveraging new technologies in the business process.
Business Intelligence is making visible and gaining insights into the data of your organization.BI let you to see your profits, your sales revenue, your costs and operational efficiency. But most importantly, you can dig into the data to discover how those numbers came to be. Business intelligence (BI) has been referred to as the process of making better decisions through the use of people, processes, data and related tools and methodologies.
You may like to read: Top Agile Business Intelligence Best Practices
What are Business Intelligence Software?
Business intelligence (BI) is the amalgamation of software applications, methodologies and business systems that play a key role in the business process of any corporation.
Most companies collect large amounts of data from their business operations. Keeping track of such vast information requires a wide range of software programs and database applications, which can enable the various departments within the organization to access and use data efficiently.
Using numerous software programs makes it difficult to retrieve information in a timely manner and to perform analysis of the data. That is where business intelligence software comes into play. It replaces various tools used to collect and analyze the data.
Business intelligence software, often referred to as business intelligence tools (BI tools), refers to software applications that integrate the tasks monitoring, collecting and analyzing data, and provide much-needed business insights. These applications can also fetch or utilize data stored in a company's database.
The types of tools that commonly make up a business intelligence software application system include tools for spreadsheets, operational dashboards, data mining and reporting tools, analytic processing tools, content viewer and other components related enterprise resource planning. In some cases, the BI software can also integrate tools designed for specific industries such as retail, healthcare or education.
You may like to read: Top Best Practices for Business Intelligence Software Implementation
Top 15 Best Practices for Business Intelligence Software Implementation
A lack of understanding of the best practices in BI or the failure to adopt these practices is usually a quick path to making misinformed decisions or effecting misplaced priorities. In order to maximize the utilization of BI software, it is essential to understand the importance of data and analytics as well as the processes and tools required in handling data and analytics in the most efficient manner.
Majority of organizations also find it hard to get their desired ROI from the capital they put in acquiring and maintenance BI software. They can also find themselves dealing with many complaints from disgruntled users, who complain of the inability to access needed data or supply of erroneous data.
This can be blamed on many things but one of the overriding reasons is that though businesses may have the best BI software in the industry, they may lack in the best ways and techniques of utilizing such software. While it's important to ensure that is BI software is user-friendly and can be easily adopted, there are several other things that can impede its application and the expected high returns on investment.
Therefore, in order to ensure that companies can get the most from business intelligence software, there are several things they will have to consider.
You may like to read: Top Guidelines for a Successful Business Intelligence Strategy
BI Software Best Practices 1 - Enterprise-wide collaboration and buy-in
Companies should create a seamless network made up of different departments – from sales and marketing, logistics, to senior management – for Business Intelligence and also get feedback and buy in from all departments before launching the project.
BI Software Best Practices 2 - Having a roadmap and an implementation strategy
Approaching any analysis without a strategy can cost you time and money, and lead to a lot of mistakes. Before you choose any BI tools to use, it is important to identify the most critical business needs and develop some goals that will enable you to meet them.
At this stage, you should involve everyone in the organization to help in creating a strategy that would enable you to set clear objectives and a roadmap that can guide the successful adoption of a BI solution.
BI Software Best Practices 3 - Putting BI where it matters
Rolling out of any BI solution should not be made such a complex process because making it so can really affect its adoption. The best practice here would be to integrate the BI software with existing systems, which workers are familiar with.
You may like to read: Free, Cloud and Open Source Business Intelligence Software
BI Software Best Practices 4 - Collecting requirements of each department
Most businesses already have a reporting process in place. It may be that it doesn't provide the required information, or because it's an error-prone system where Excel workbooks are prepared manually or using ad hoc scripts. The best practice is to analyze existing reporting systems to have an idea on where they are faring well and where they are failing to determine areas that might need improvement.
BI Software Best Practices 5 - Setting up clear targets
When starting out on a BI project, it is important that you start with your goals or the key expected results in order to determine whether you have achieved anything or not. With some target goals in mind, it can be easier to analyze the activities that you feel have a bigger impact on achieving such goals. This makes it easier to filter data from the most important to the not most important.
BI Software Best Practices 6 - Listing a number of KPI's and metrics to help monitor progress
One of the best BI practices is defining several metrics that can help measure the progress or success of adoption of the BI software. However, many companies struggle with this because they focus on too many different metrics without focusing on the KPI's that matter. Narrowing the metrics will ensure that you get the best results.
BI Software Best Practices 7 - Scheduling interviews with relevant stakeholders
It is important to schedule interviews with relevant stakeholders and this could be done through video or phone calls or even face-to-face meetings. These meetings should bring together company executives, departmental managers as well as data analysts who are tasked with maintaining the BI system and working on acquired data.
BI Software Best Practices 8 - Starting small
Always start with small tasks as they can give invaluable insights on how you the BI software should be implemented. The odds are that any data acquired during the initial stages will lead to more questions that you can seek to create solutions for by modifying your roadmap.
BI Software Best Practices 9 - Using agile methodology for rollouts
Most agile methodologies are usually people focused and can be implemented during the software development especially when it comes to BI. This can revolve around adaptive planning, self-organization and enabling short delivery times. An agile methodology also aims at ensuring continuous improvement to enhance quality.
BI Software Best Practices 10 - Identifying data sources and integration measures
Every company regardless of its size is continuously collecting data concerning its business operations. It is important, therefore, to identify the necessary data sources before implementing the BI software. It is equally important to create a hypothesis and see if the data gathered matches your assumptions or expectations. You can also take advantage of cloud storages to improve data access, usability and performance.
BI Software Best Practices 11 - Instituting a data culture in the organization
You constantly have to make sure that your organization understands the importance of data and how crucial it is when trying to meet organizational objectives. It is highly recommended that you nurture a data culture that integrates all departments within the company and that focuses on a common goal.
You may like to read: Open Source, Free and Top Dashboard Software
BI Software Best Practices 12 - Putting in place a solid governance foundation
It is important to lay out a solid governance foundation from the get-go. The first thing is to understand the value of data within an organization, whether it is sourced internally or externally especially when it comes to the development of new products, decision making and also when one wants to improve processes.
Companies should lay out rules that determine how data is captured, stored and processed. These rules will apply to report creation, distribution, and usage of data. It can also aid in identifying what needs to be prioritized.
BI Software Best Practices 13 - Implementing a security governance plan
In order to secure their BI environment, companies will need to engage in a lot of planning. It is highly recommended that an organization sets up security measures before implementing BI. This measures and plans will help identify things that will need authentication or authorization and also to outline how certain will be effectively implemented.
BI Software Best Practices 14 - Having a proper training plan
It is very important that every user of a BI system is armed with the right information when it comes to handling the software. Information should be readily available. This information can come in the form of downloadable content such as videos, pdf's, and so on. And at the very least, it should feature a lesson or seminar presented by a BI expert.
BI Software Best Practices 15 - Selecting a BI ambassador
Companies can appoint a dedicated staff member who can provide advice on the best BI practices, both to company executives and individual employees. This person should possess technical competence and knowledge of the entire BI software and framework. He or she should be able to offer training and other supportive resources to every department. He or she should also have a solid understanding of the other BI user personnel within the company, they could aid in designing reports and analytics that could meet the needs of various users.
You may like to read: Top Benefits of Business Intelligence Software
Conclusion
With the advancements in technology being witnessed today, many companies will find it hard to operate without utilizing business intelligence software. If companies can follow and act upon the best practices in business intelligence as highlighted above, they could design systems that work for everyone in the company and which can lead to increased business performance and improved profit margins.
Here are the trending and the top rated Business Intelligence Software for you to consider in your selection process:
Top Business Intelligence Software
PAT Index™