Guide to Business Intelligence Competency Center (BICC) Objectives and Benefits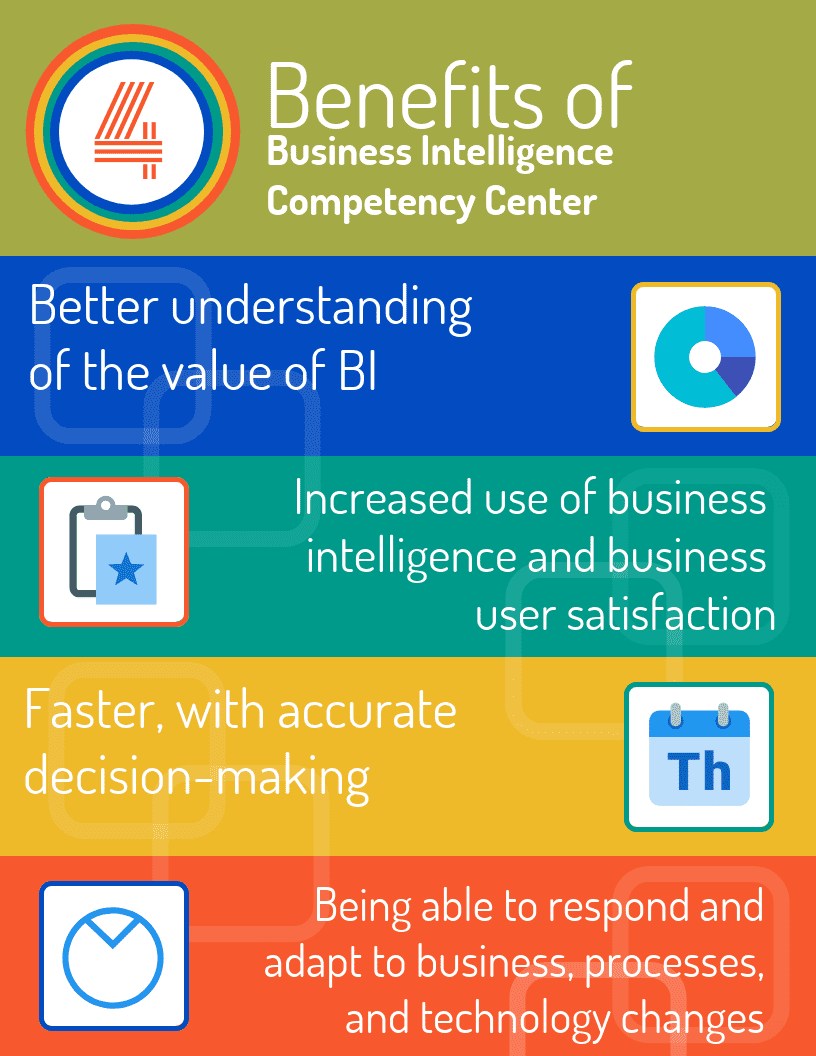 With the changing times being able to get the right information at the appropriate time to the required users so that they might make the most appropriate decision is crucial. There has been high demand for business intelligence (BI) tools for businesses, for ensuring proper decision-making processes.
Business intelligence competency center (BICC) ensures enterprises can deliver BI solutions through sustainable internal capabilities with efficient implementation process and tool selection- including needed policies, governance, methodology and support models – which leads to informed just-in-time decision making. Organizations have come to understand the value of proper management of data warehouses as a way of converting insights into assets to their competitive advantage and drive business growth.
Changing market dynamics, high expectations and user requirements are increasing demand for business intelligence on current IT systems. More and more businesses have come to realize that technology is an enabler and there is more to information management. Companies have to manage their strategic and tactical initiatives effectively through dealing with decision making, constraints in growing budgetary to deliver BI efficiently.
You may like to read: How to establish a Business Intelligence Competency Center and Steps for Value Creation
To get to that level of effectiveness, information management activities need to follow the centralization approach that integrates policies, technologies, programs and people to deliver BI. Establishing BICC, it ensures best procedures and practices for communication a sharing of information from standard tools by decision makers across the enterprise.
From Business Intelligence to Business Intelligence Competency Center (BICC)
Business intelligence emerged as a solution to a problem that businesses were getting due to data backlog in their systems. Most of the companies lacked technical experts who would handle databases queries in their system which would result to delay of user requests data which needed a quick response.
By providing easy-to-use tools and construction of data warehouses for extraction and report creation, IT was able to meet business user's needs for access of data timely, which was an issue due to backlogs that were previously experienced. Many BI projects continued to fail even with modern tools. The problem was that the projects were built and designed with lack of enough IT knowledge.
You may like to read: Business Intelligence Tools and the Types of Business Intelligence Software
Such systems didn't deliver what the users needed them to do and what's even worse is that the BI solutions were not aligned with the business strategies of the enterprise. With the advancement of the internet, business is demanding for self-service mode systems with in-memory processing and technological virtualization which make the process faster, interactive and more natural. Companies need to be sensitive to incorporation and internal demands of the new technologies because they ensure organization objectives are aligned with management processes. That's when a well-run and well-established BICC comes in place.
All these have changed nowadays because most of the businesses are separating BI from IT and creating BI centered businesses—Business intelligence competency centers (BICCs) with technical and business individuals.
For BI strategies to be integrated with business strategies full, there is need of experts who are equipped with technical, analytical and business skills to manage it. It is through elevation of BICC to C-level management responsibility that business can elevate their competitive advantage by providing the company with the right information at the right time with the right people.
With this BI project can give a higher return on investment. To have a well-performing BI portfolio, business should be able to know which questions their users want to be answered, choose the right data to answer the questions and understand the data.
BICC ensures that organizational information needs are up to date, the BI systems are answering the right questions and handing out appropriate information to the business users to ensure smooth operation and meeting the business goals. Even though BICCs is different among different enterprises, the main processes and guiding principles are the same: Management, technology, and delivery are the same to ensure adequate BI deployment in an organization.
You may like to read: Open Source, Free and Top Dashboard Software
Overview of Business Intelligence Competency Center (BICC) functions and responsibilities
Strategic Services: It is through BICC's Strategic service; teams can conduct assessments and identify opportunities for organization Business intelligence requirements to create go-forward strategies. When the evaluation is over, and the procedure is defined, the BI selection is generated from the current or new providers. Using criteria which include most pain, highest value and most need internal rollout plan is established. BICC concept is then promoted by the rollout plan that was indicated, and the plan consists of a resource analysis that is used as a marketing document. Once this is initiated then what follows is change management.
Software Implementation: Once the selected business intelligence software is delivered the next step that follows next is the installation process. The system administrator has to acquire installation guidebook, which will direct on how the installation process should flow. Measures need to be set in the installation process, such as authentication procedures which would block unauthorized users from accessing or changing the code. Even though migrations is necessary for the provision of better security, data colocations and upgrade functionality, for sustainable end-users performance configuration optimization ought to happen.
You may like to read: Top Extract, Transform, and Load, ETL Software
System Administration: To ensure end-user validation, data security and administrative authority there is a need for a centralized security model, Roll-Based Access Control (RBAC). Distribution of scheduling guidelines is also paramount. There should be a network analysis to ensure robust bandwidth perfect connectivity. Thus performance health checks will be crucial here. On this point external BI system administrators will be useful compared to on-site support because they can improve recovery and disaster prevention, maintenance is less on co-location and can often be provided affordably.
Training: During a BICC rollout, training of the users is always considered as a less critical item. Even if a software and computing environments are powerful, fast and complete, its success can only be measured on how information is being accessed by the end users. There is a need for the development of formal lesson plans and a comprehensive user-community curriculum. Well, defined course delivery expectations and training rollout plan need to be published. Training should be customized according to specific organization data for retention and acceptance because that would be the best practice recommendation.
Mentoring: Mentoring is used to increase time-to-value among users and as well reinforce training. Whenever there is a new update on an existing BI or instead introduction of new Bi system, it's recommended that developer ramp-up small support groups. Mentors can either be external resources or internal experience resources for businesses that are migrating to new platforms. Internal mentors are usually experienced in business and technology best practices for the users. Mentoring can be performed in two ways, either similar interests' small groups or one-on-one depending on the mentor preference.
Development: To ensure that the requirements are met accordingly, regular feedback is essential to developers. The development of scorecards and dashboards can be created to keep management in the know. Operation and strategic reports need to be developed, adapted and updated continuously because they are the backboard of organizational processes. Sharing development frameworks and standards over time between operating units of a business is one of the essential BICC benefits.
You may like to read: Why Small Businesses Need Business Intelligence Software
What are the benefits of Business Intelligence Competency Center (BICC)?
Better understanding of the value of BI: Enterprises can improve the valuation of BI programs in their businesses with the use of BICC. BICC can identify clearly strategic and tactical business need through the governance procedure. BICC can ensure that the right business needs are met at the required time by prioritizing.
At most times business processes are run independently in an enterprise, but with the use of BICC there is consistency in the execution process throughout the organization. With these only one version of truth is available on business view of information in an organization.
Increased use of business intelligence and business user satisfaction: Information shouldn't be reliable and accurate but meet the satisfaction of the users. BICC ensures the right resources and technologies are in place to create a BI structure that will meet the enterprise needs thus satisfaction among the users. Being able to deliver standard data and information immediately enables the business to build confidence on creating a comprehensive BICC program for the organization.
Faster, with accurate decision-making: Fast delivery of quality information is one of the biggest benefits of BICC to an organization. BICC ensures that the BI structures are able to analyze the data provided and provide reliable decision-making that will enable the business to grow and meet its goals.
BICC enables businesses to manage their strategic and tactical initiatives effectively when making decision which may negatively or positively impact the business operations. Without BICC, businesses would be unable to make fast and reliable decisions.
Being able to respond and adapt to business, processes, and technology changes: Changing technology dynamics, high expectations and user requirements are increasing demand for business intelligence on current IT systems. More and more businesses have come to realize that technology is an enabler and there is more to information management than what meets the eye.
BICC objective is to ensure accurate and consistent execution of business processes. To improve on coordination and communication the BICC analysts acts as an intermediary between business and IT. Most businesses have difficulties adapting to changes in processes but with BICC programs it ensures smooth transitioning on the business process from the existing system to the new systems.
Greater collaboration between IT and business: BICC ensures collaboration between business and IT entities providing analytical to structured approach and facts based on decision support. It can imply getting competitive advantage by performing a deep insight, by ensuring people spend less time on rationalizing and aligning perspectives rather spend more time in solving problems. It can be a vessel reducing the system used, standardizing business software and processes thus controlling cost and rationalizing the systems environment.
You may like to read: The Guide to Agile Business Intelligence