Review
RustNN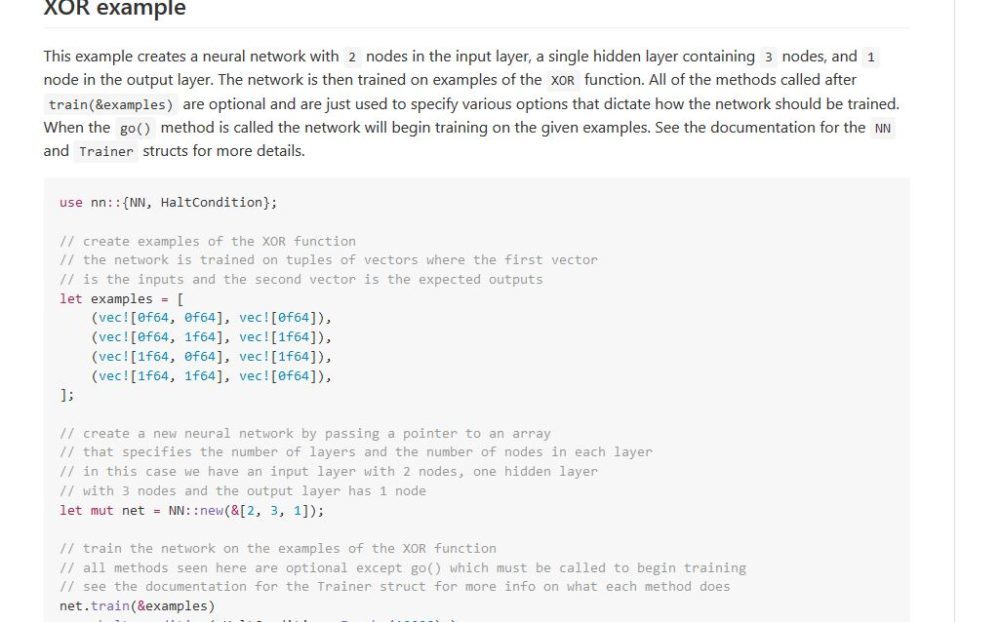 Overview
RustNN is a feedforward neural network library. The library generates fully connected multi-layer artificial neural networks that are trained via backpropagation. Networks are trained using an incremental training mode
Artificial Neural Network Software
•Backpropagation
•Incremental training mode
Small (<50 employees), Medium (50 to 1000 Enterprise (>1001 employees)
What is best?
•Backpropagation
•Incremental training mode
RustNN is a feedforward neural network library. The library generates fully connected multi-layer artificial neural networks that are trained via backpropagation. Networks are trained using an incremental training mode.
RustNN can create a neural network with a given number of nodes in the input layer, the hidden layer and the output layer. The network is trained on tuples of vectors where the first vector is the inputs and the second vector is the expected outputs.
Users can create a new neural network by passing a pointer to an array that specifies the number of layers and the number of nodes in each layer. When training the network incrementally it is trained in batches (updates weights only at the end of each epoch). Batch training can be parallelized and thus the Batch constructor takes a `u32`that specifies the number of threads to use when training the network. Users can specify options that dictate how a network will be trained.
When interacting with RustNN for the first time users may need to run some examples. They will find that `Incremental` means update the weights in the network after every example.
`Batch(t)` means run the network on all examples given and accumulate weight updates along the way but don't actually change the weights in the network until all of the examples have been run. Batch training can therefore be parallelized, so the `t` in the `Batch(t)` constructor specifies how many threads to use while training the network. Users can also log error rate if they so wish.