MicroStrategy accelerate Application Development and Analytics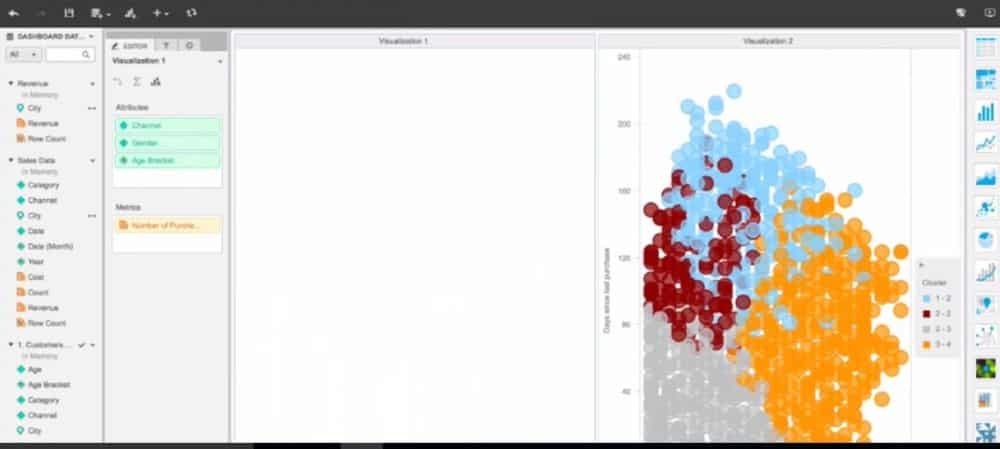 MicroStrategy accelerate Application Development and Analytics : MicroStrategy 10.2, delivers a collection of enhancements across the entire platform, with a focus on making application development faster.With the latest release, MicroStrategy 10 Secure Enterprise makes it easier for users to build apps and dashboards, find answers, and complete tasks faster. The new features in version 10.2 include simpler D3 visualization workflows and novel collaboration options that allow business analysts to easily add annotations or comments while sharing dashboards via MicroStrategy Desktop. The release also features customizable home screens with MicroStrategy Web, reusable themes for documents, replaceable datasets, auto partitioning of in-memory cubes, and more. Features new to MicroStrategy Mobile include enhanced drilling, offline prompt support, mobile subscriptions for iOS, and improvements with the native MicroStrategy Mobile app.
"MicroStrategy 10.2 is a truly innovative and cutting-edge analytics platform," said Paul Zolfaghari, President, MicroStrategy Incorporated. "Our enterprise analytics software solution has never been more relevant, powerful, and easy to use for global organizations eager to transform their complex Big Data and analytics projects into actionable business insight. We take great pride in bringing to market a highly stable, agile and feature-rich product, and we're thrilled to share version 10.2 with our customers."
Exciting new features make it easier and faster to build applications includes reusable document themes, which capture an entire document's formatting, style, and branding, and instantly apply all of the formatting choices across hundreds of other documents and applications. Themes capture formatting for an entire document, or for selected grids, charts, text fields, or selectors. Themes greatly reduce the time to create documents with common formatting.
New in 10.2, users can take existing report services documents and re-wire them to completely new unrelated datasets. Users can rapidly produce new pixel-perfect documents by using existing documents and replacing the underlying data with new data. Dataset replacement enables developers to rapidly build new applications using existing documents as preconfigured application templates. 10.2 makes it easy to build entire libraries of pre-configured industry applications, re-wire them to different datasets, and quickly re-brand them with matching custom formatting.
10.2 lets users quickly include new D3 visualizations, charts and graphs, without needing to restart the application. MicroStrategy automates the partitioning of in-memory cubes for faster parallel processing, selecting the most optimal attribute on which to partition the cube, with faster results from the in-memory data partitioning. Web users can personalize their homepages to spotlight what matters to them, including visual summaries of their recently viewed reports and dashboards. By building homepages with quick links and thumbnails to frequently or recently accessed reports, users get to their favorite content faster than before. Homepages can be customized with branded images, color themes, multimedia content, videos, social media feeds, and quick links to analytics content.