Sisense Provides End-to-End Big Data BI Solution on Microsoft Azure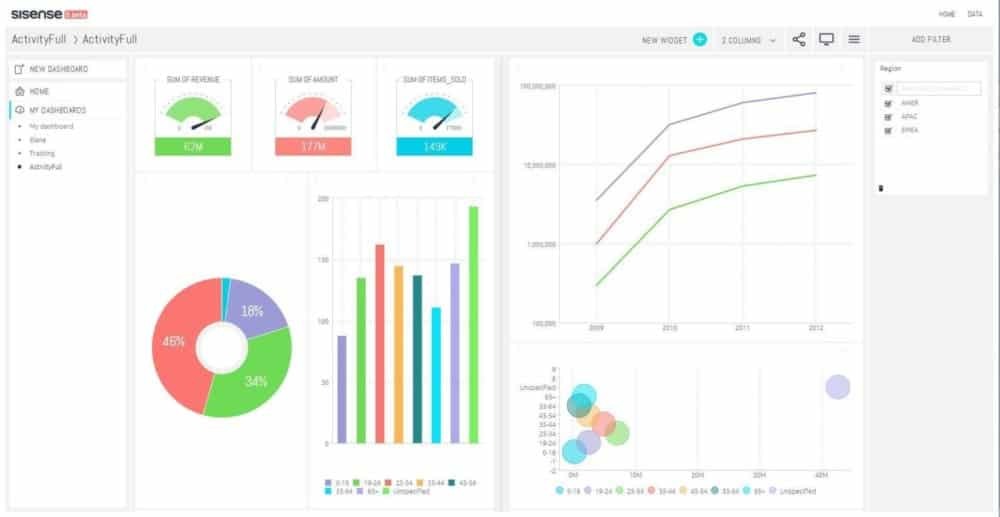 Sisense Provides End-to-End Big Data BI Solution on Microsoft Azure : Sisense, a leader in business analytics for complex data, bringing disruptive simplicity for big or multi source data preparation & analysis, announced a collaboration offering direct integration and a cloud version of Sisense's award-winning business intelligence software version 5.75 on the Azure Marketplace. The collaboration will provide organizations with a turnkey solution for Big Data aggregation, preparation, analytics and visualization in the cloud.
Sisense's single-stack BI software is built with the company's innovative proprietary technology that gives users an agile and easy way to crunch complex, big and disparate datasets without the need for lengthy implementations and additional data preparation tools. Under the new collaboration, Sisense is deployed natively on Azure server and users can easily upload their own data to Azure and connect it to Sisense, along with additional cloud or on-premises sources. Sisense can be used to join different sources, run analytics, analyze and create visualizations directly from the cloud, for data of any size and complexity.
Sisense's proprietary In-Chip analytics technology utilizes modern CPU Caching technology to enable a single commodity server to crunch terabytes of data on inexpensive hardware and serve a large number of concurrent users and more importantly eliminates the need to manually prepare data views, joins and indexes by automatically creating these ad-hoc as needed.
Microsoft has been investing in bringing innovative analytics and big data technologies to Azure and has been recently offering, for example, the Cassandra big data technology stack as a native Azure deployment option. Sisense is a comprehensive single stack BI solution offered by Microsoft in the Azure environment.
Amir Orad, Sisense CEO explained: "Our disruptive in-chip, single-stack technology allows our customers to deploy and implement a BI solution, and gain immediate business insights, an order of magnitude faster than legacy approaches by eliminating numerous steps required around data preparation, etc. Making this technology available on Azure is another step to making BI easier and faster to deploy at a click of a button."
"Many of our customers are dealing with large, complex data from multiple sources," says Nicole Herskowitz, Senior Director of Product Marketing, Microsoft Azure. "We're excited to work with Sisense to give our customers the ability to work with their big data in new and innovative ways."
Sisense simplifies business analytics for complex data. Powered by its unique In-Chip and Single Stack technologies – Sisense delivers unmatched performance, agility and value, eliminating much of the costly data preparation traditionally needed with business analytics tools and providing a single, complete tool to analyze and visualize large, disparate data sets without IT resources.