Metric Insights Push Intelligence for data driven organizations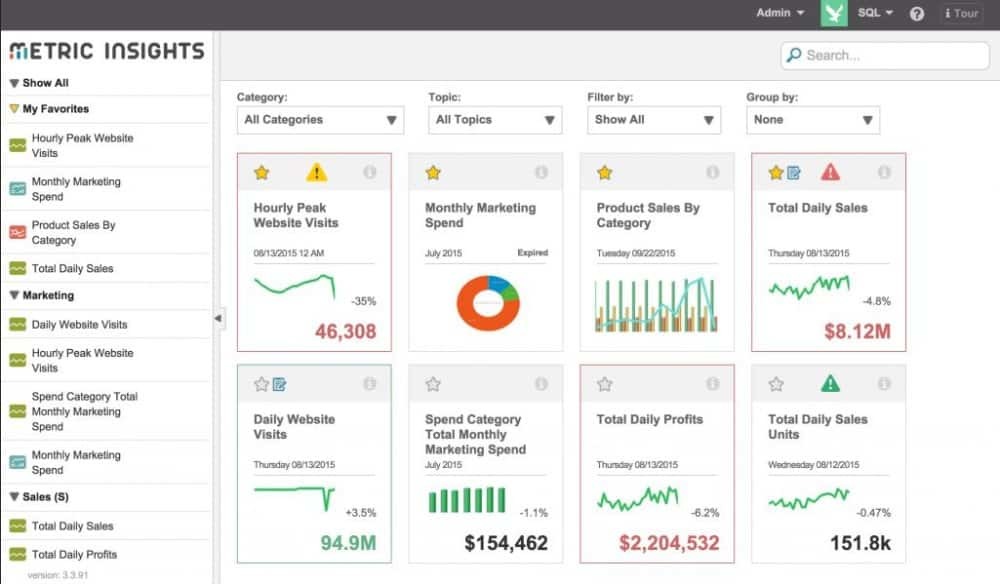 Metric Insights lets users cut through the noise, and focus immediately on the critical business issues that warrant their attention, and take action. The Push Intelligence Platform connects quickly and easily to your existing business intelligence tools, big data and SaaS applications. Metric Insights uniquely delivers a KPI warehouse, collaboration and notification technologies that tell when your key business metrics have changed, and, more importantly, why.
Metric Insights integrates into existing BI systems including Tableau, Qlik, Business Objects, MicroStrategy, TreasureData, HortonWorks, Cloudera and others, it adds a layer of context and relevance to the otherwise confounding amount of data that businesses deal with on a daily basis. With Metric Insights, users receive push alerts that enable action on critical business issues, ranging from system outages to fraud to customer support. It is extensible and used across industry verticals, with particularly strong traction in healthcare, finance, tech, manufacturing and energy. Users can receive Metric Insights alerts on any device, include smartphones, tablets and smartwatches.
Metric Insights combine data from all your sources and provide a personalized portal and news feed to all your users. Enable users to favorite what's important to them ensuring they are getting alerted to events that they can take action on.
The Push Intelligence platform lets customers know when their key business metrics change and why. The company accomplishes this by connecting a KPI Warehouse to metrics from Business Intelligence (BI), SaaS, Big Data and other data visualization tools. Metric Insights Push Intelligence enables anomaly detection, data-driven alerting, email report bursting and user collaboration, driving users to engage with the most relevant Tableau dashboard when significant events occur that they need to take action on.