Review
Exorbyte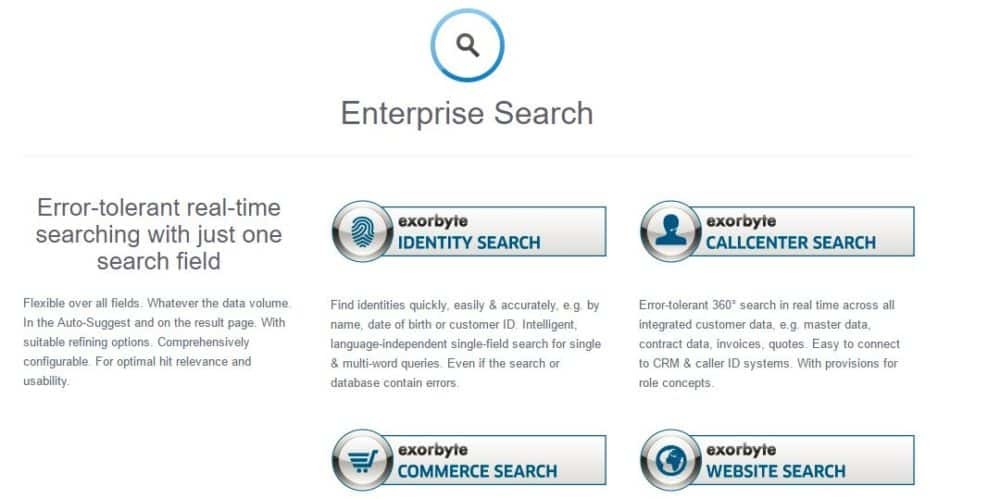 Overview
exorbyte Identity Search makes it possible to search and find identities freely, easily and above all reliably in personal and corporate data – regardless of differences, errors and gaps in the search query or database.
Input managemnet
Enterprise search
Data quality.
Small (<50 employees), Medium (50 to 1000 Enterprise (>1001 employees)
Exorbyte is the search software for databases and structured data offering a large array of phonetic and algorithmic fuzzy search methods. Exorbyte solutions include input management which manages incoming documents that can be assigned directly, efficiently and reliably on receipt, regardless of whether the read results or databases contain unexpected errors. Automatic recognition, extraction and identification of database-relevant entities from full pages, even with misspellings and scattered content. For automatic forwarding directly to the relevant destination, as well as for instant user support.Enterprise search includes identity search, callcenter search, commerce search and website search. Identity search enables to find identities quickly, easily & accurately, e.g. by name, date of birth or customer ID. Intelligent, language-independent single-field search for single & multi-word queries. Even if the search or database contain errors. Callcenter search is an error-tolerant 360° search in real time across all integrated customer data, e.g. master data, contract data, invoices, quotes. Commerce search is an intelligent shop search with strong merchandising functions (e.g. rankings, aliases, campaigns) that can be comprehensively configured via web console. Website search is an ultra-convenient searching in all content & documents on a website, e.g. PDFs. Fully error-tolerant, cross-field & always up-to-date.Data Quality demonstrates better matching and cleansing. Exorbyte matchmaker double is an error-tolerant matching, consolidation & enrichment of master and identity data both internally & against other databases. Exorbyte matchmaker post is an error-tolerant postal identity data verification against valid address databases, correction & enrichment. Allows geodata & other attributes to be factored in as needed. It is superbly effective which is designed for huge quantities for master data, scalability, performance and customizability.