BeyondCore Smart Analytics insights to the business user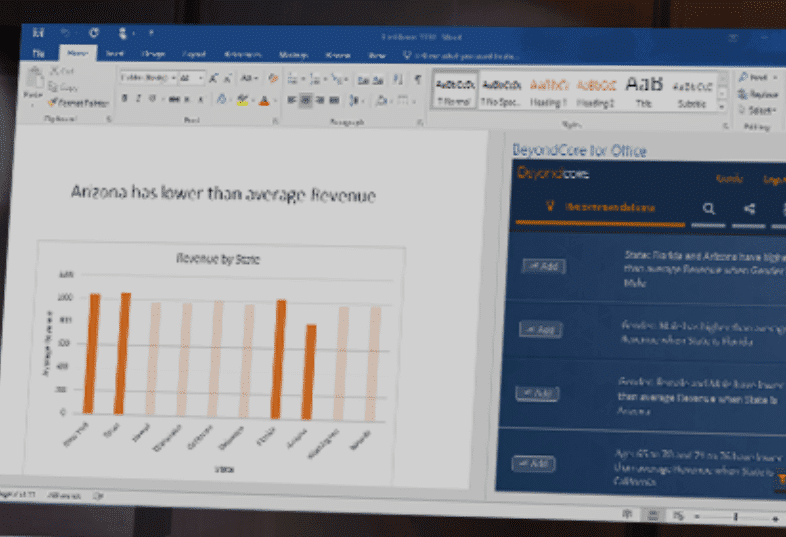 BeyondCore's Smart Data Discovery solution along with its collaboration with Microsoft combines advanced machine learning techniques, powerful analytic engines, and familiar user experiences to bring unmatched analytic insights to the business user, now available for free. The new BeyondCore Analyst for Office provides single-click analysis and detailed story-based explanations of insights directly integrated into the familiar Office suite, empowering business users to exhaustively analyze all data, without the need to formulate sophisticated questions or design complex queries .Cut through the clutter to identify and act on the most relevant, statistically-validated patterns; and visualize, understand, interpret, share and act on the results.
"Microsoft Office is the preferred analytics environment for most businesspeople. We congratulate BeyondCore on the way its Analyst for Office is empowering many more people around the world to extract powerful insights from big data," said Kirk Koenigsbauer, Microsoft corporate vice president, Office 365 Client Apps and Services.
"BeyondCore's mission has always been to dramatically simplify the complexity of analytics, making it instantly available for business users," said BeyondCore Founder and CEO Arijit Sengupta. "But users often feel 'this is too good to be true.' Now with the free version of BeyondCore Analyst for Office, they can just try for themselves and see that analytics has changed forever. After using BeyondCore, users will no longer equate pretty graphs with actionable analysis."
Conventional analytics remain focused on confirming and visualizing pre-conceived 'insights' rather than broadly searching for actionable insights that can move the business outcomes.
BeyondCore overcomes this challenge and the risk of users asking the wrong questions by relieving users of the burden of asking questions entirely. Instead, BeyondCore automatically asks every possible question to show users what they need to know in an easy-to-understand format, revealing hidden details, confounding factors and related patterns that might otherwise go unnoticed. Users can still instantaneously get answers to specific questions, and BeyondCore automatically presents related insights that provide richer context or details related to the graph the user asked to see.
The free version of BeyondCore Analyst for Office lets users conduct up to ten analyses a month on smaller datasets in Excel or Microsoft SQL Server. Users can upgrade to paid versions of BeyondCore Analyst for Office to conduct more analyses, analyze larger datasets or access Big Data sources such as Hadoop.
Enterprise solutions offer additional features such as the ability to schedule analyses to automatically run each day, week or month and email reports in PowerPoint or Word format to specified recipients, secure collaboration, audit and monitoring capabilities; and predictive and prescriptive analysis.
You may also like to read, Predictive Analytics Free Software, Top Predictive Analytics Software, Predictive Analytics Software API, Top Free Data Mining Software, Top Data Mining Software,and Data Ingestion Tools.
Top Predictive Lead Scoring Software, Top Artificial Intelligence Platforms, Top Predictive Pricing Platforms,and Top Artificial Neural Network Software, and Customer Churn, Renew, Upsell, Cross Sell Software Tools
More Information on Predictive Analysis Process
For more information of predictive analytics process, please review the overview of each components in the predictive analytics process: data collection (data mining), data analysis, statistical analysis, predictive modeling and predictive model deployment.