Credit Karma Selects Anodot to Detects Anomalies in Data Real Time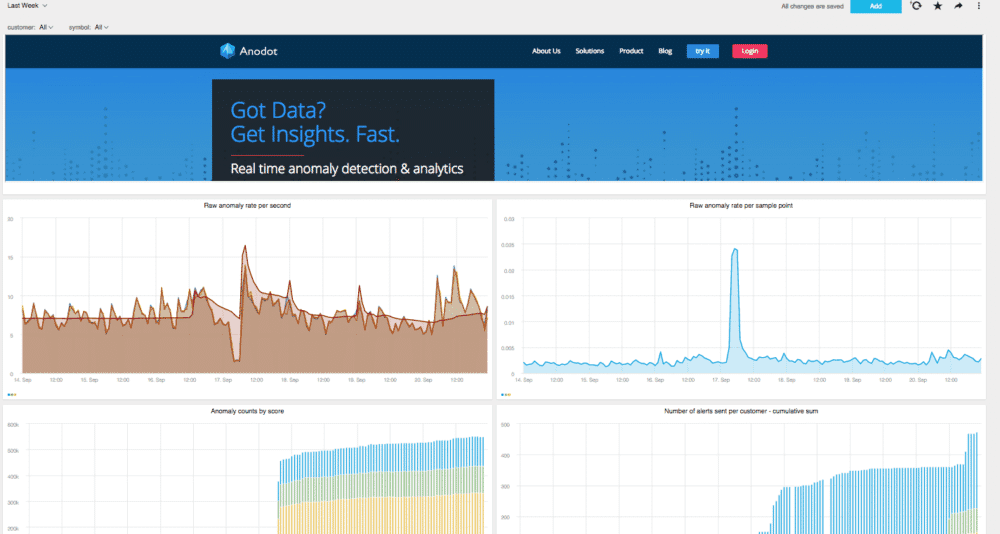 Anodot provides real-time analytics and automated anomaly detection for big data. Using patented machine learning algorithms, Anodot automates the discovery of outliers in vast amounts of data, isolates issues and correlates them across multiple parameters. Operating in real time, Anodot delivers business insights immediately, predicts events before they happen and supports rapid business decisions that help maximize revenues and production for Web-based, e-commerce, ad tech, IoT and manufacturing businesses.
Credit Karma has selected Anodot as its platform of choice for detecting business incidents in real time. With its online provision of free credit scores and financial recommendations to 50 million members, Credit Karma needs to monitor hundreds of thousands of business and technical metrics in order to keep its business running smoothly.
"It used to take us up to several days to identify an issue on a specific page, offer, or service that was draining our revenues," said Pedro Silva, Credit Karma's Senior Product Manager. "Anodot identifies when a metric increases or decreases in real time, so we can resolve it quickly, before business suffers or revenue is lost."
"We see many companies that encounter a similar problem to Credit Karma; they collect massive amounts of data but do not have a way to access the insights that are meaningful for the business in real time," said Uri Maoz, Anodot's head of US Business. "Today's business intelligence solutions are too static to keep pace with the dynamic nature of online and mobile business; Anodot's real-time machine-learning driven solution is becoming a must-have for web-based businesses."
Credit Karma tested multiple monitoring solutions and even considered developing a solution in-house to meet its needs, however found that Anodot's solution was the best fit for its needs.
"Working with Anodot was easy and professional," said Silva. "The other solutions on the market require manual setting of thresholds for business incident detection, which is not scalable for a company like us, with the large number and complexity of metrics we need to track. Anodot sets itself apart with automatic anomaly detection, rather than manually setting thresholds."
Silva further pointed out that Anodot is especially useful for finding slow revenue leaks that might otherwise be hidden in the larger picture. "If the entire service were down, we would know pretty quickly, of course," Silva explained, "but for errors impacting only a specific page, offer, browser, platform, or feature – all of which affect revenue and customer satisfaction – we would not know for at least a day or two using other analytics tools, and Anodot finds them right away."